As a big anime fan and anime figure collector, the annual Bandai Tamashii Nations collector events are some of my favorite occasions to look forward to. Usually I'm looking forward to these shows for news on Gundam or One Piece or Dragon Ball Z, but the last few years Bandai has also had a slight Marvel presence. And at this weekend's Bandai Tamshii Nations Summer 2014 Collection event, they finally debuted their first two figures from Iron Man 3: the SH Figuarts Iron Patriot and Iron Man Mark 42 figures!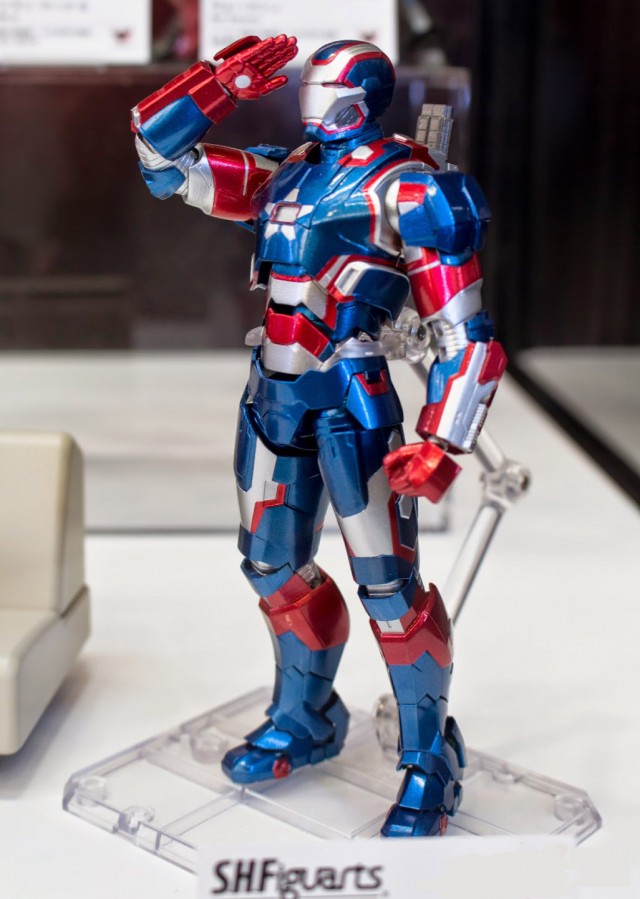 Iron Man 3 is my favorite Marvel movie without "The Avengers" in the title, so despite the monumental amount of merch that's out there for the movie already, I'm always interested in seeing more Iron Man 3 toys. Meanwhile, Bandai's super-articulated SH Figuarts and Robot Damashii lines are some of my favorite import purchases each year.
So when Bandai combines the best of both worlds to give us S.H. Figuarts Iron Man 3 figures? Yeah, I'm there.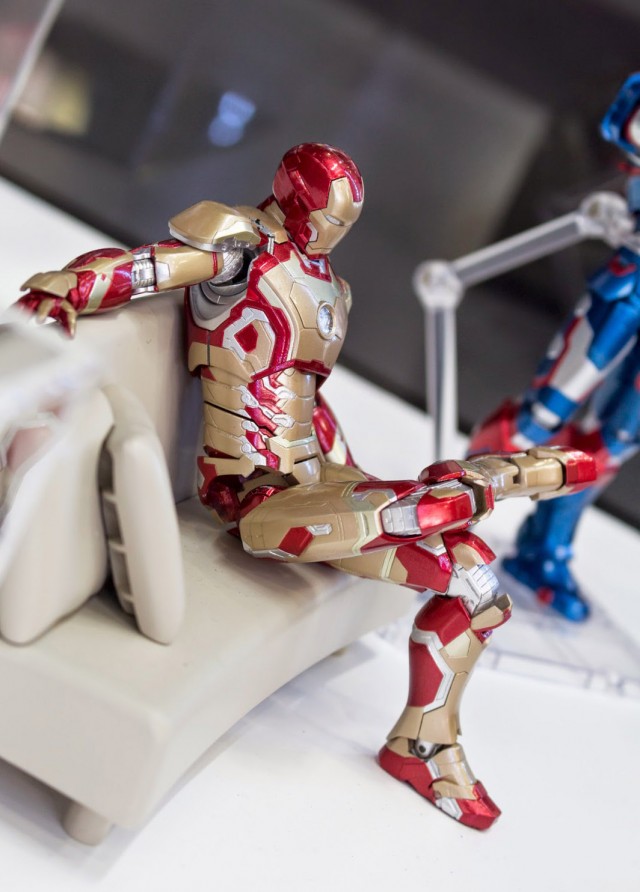 Bandai teased the S.H. Figuarts Iron Man Mark 42 figure themselves by revealing him on the poster for the Bandai Tamashii Nations Summer Collection 2014, but Bandai cleverly chose to show off some of the Iron Man Mark 42 SH Figuarts figure's flexibility by having him casually relaxing on a toy couch in the display at the event. The sculpting, paint and articulation on this Iron Man Mark XLII figure look outstanding, and my only real regret is that it seems unlikely that the couch will come with the figure.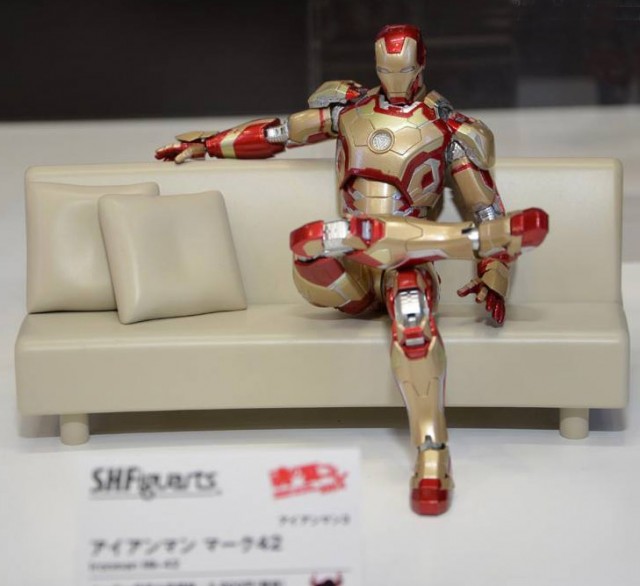 Because Diamond Select Toys botched the paint deco on their Marvel Select Iron Man Mark XLII figure, it looks like the SH Figuarts Iron Man Mark 42 is going to end up being the single best action figure representation of the armor in a 7″ or less scale.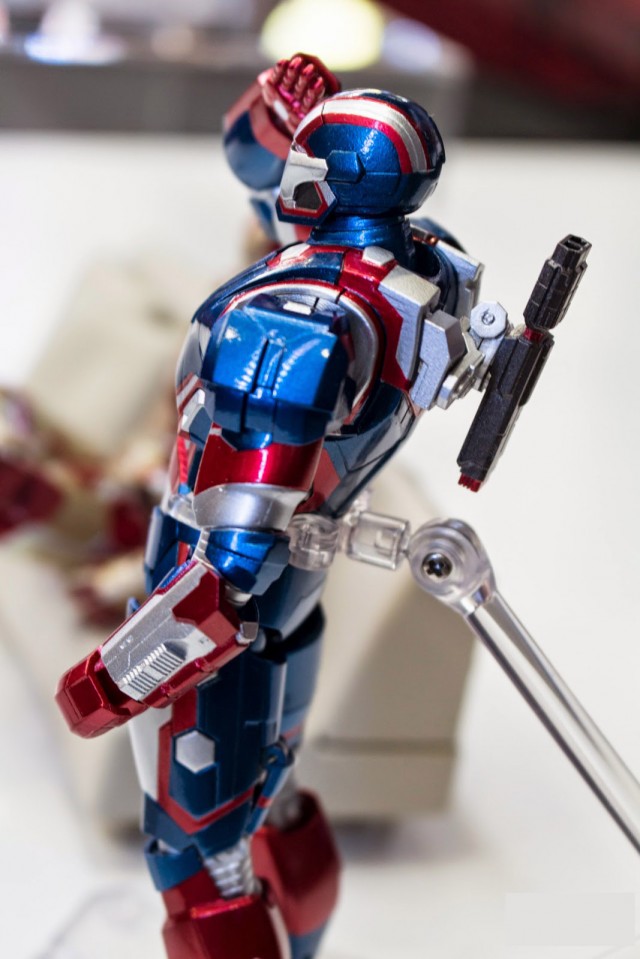 And of course, Bandai couldn't resist the allure of making an S.H. Figuarts Iron Patriot figure. Far and away the most popular armor from the Iron Man 3 movie (don't cry, Iron Man Mark 42–you'll always be my favorite), an Iron Patriot SH Figuarts figure is an absolute no-brainer and a sure-fire best-seller action figure for Bandai.
Obviously the saluting pose that Bandai put the SH Figuarts Iron Patriot action figure into for the event isn't the most dynamic and doesn't show the articulation built into the figure to its fullest potential, but the shiny paint on the Bandai Iron Patriot prototype figure sure does look gorgeous, doesn't it? And given Bandai's track record, I would be totally astonished if there isn't an SH Figuarts War Machine Mark II repaint as a Japan-only exclusive in 2015.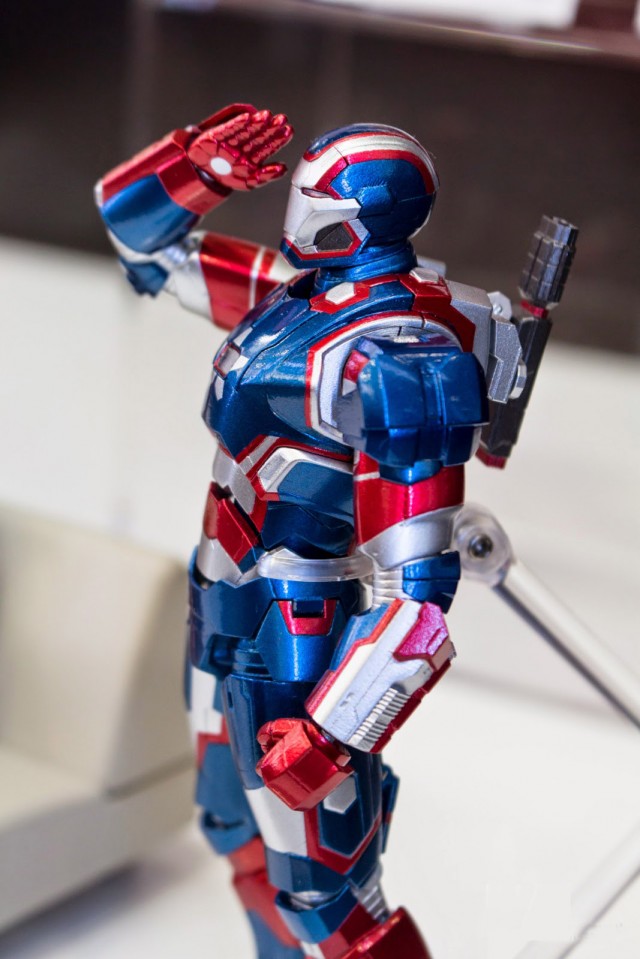 Bandai tends to start showing their new figures on display within a month or so of soliciting them for sale, so these should go up for order this summer and arrive by fall/winter 2014. I'll post an update once pre-orders open for the Iron Man 3 SH Figuarts figures, and you can 'Like' Marvel Toy News on Facebook to have news, photos and updates sent right to your Facebook Newsfeed.
Are you impressed by the SH Figuarts Iron Man Mark XLII and Iron Patriot figures, Marvel fans? Are you willing to spend the likely price-point of $50-$60 each for these figures when they do go up for purchase?