After their debut at the Bandai Tamashii Nations Summer Collection 2014 event last month, many Marvel collectors have been waiting restlessly for the latest pair of Bandai S.H. Figuarts Iron Man 3 figures to go up for pre-order. Well, it took a few more weeks than many fans would like, but the day is here. Bandai doesn't have the rights to distribute these figures in America, so they'll be a tad expensive, but they come with some very cool first edition exclusive extras! The S.H. Figuarts Iron Patriot and Iron Man Mark 42 figures are now up for order!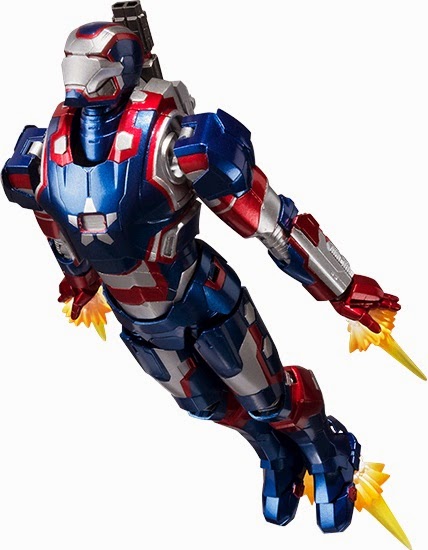 Though many stateside collectors aren't too familiar with Bandai Japan, their S.H. Figuarts Iron Man figures absolutely blow every 1/12 scale Iron Man toy produced by American companies out of the water (no offense, Hasbro). Their previously-released Iron Man 2 SH Figuarts War Machine and Iron Man Mark VI figures were a real thing of beauty, and fans have been excited for the sequel (to the toys, not the movie) ever since.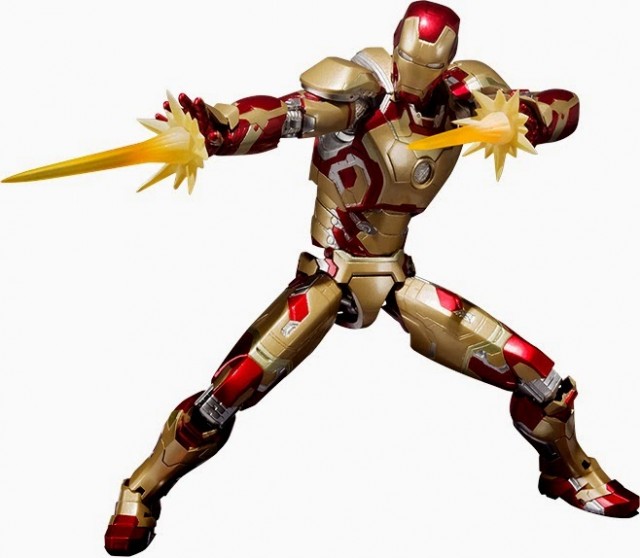 And make no mistake–these Iron Man 3 S.H. Figuarts action figures do
not
disappoint.
The shiny metallic paint that Bandai has chosen for the Iron Man 3 armors is of the highest quality, the sculpts and proportions are as good as any depictions of these armors produced by any other company, and the accessories that come with these Iron Patriot and Iron Man Mark 42 SH Figuarts figures surpass even Hot Toys.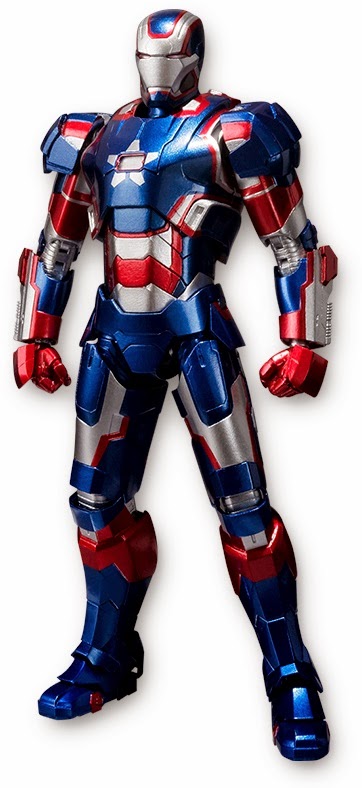 Both the Iron Man 3 SH Figuarts Iron Patriot and Iron Man Mark 42 action figures will include several pairs of alternate hands, as well as effects pieces for both their palms and their feet (for flying action). The specs for these figures don't seem to include stands, but Bandai makes compatible figure/flight stands readily available–so if you want to pose these figures flying, you'll be able to do so without too much fuss.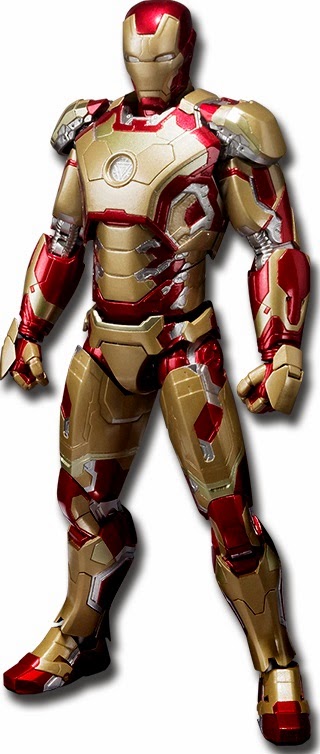 As most of you are no-doubt aware, Bandai does not hold the license for Marvel figures in this scale in the United States. It's for that reason that these figures–which retail for 5,800 yen (about $58) overseas, are going to be costing us a fair bit more in the United States. Only retailers who import the SH Figuarts Iron Man Mark XLII and Iron Patriot figures themselves will be able to sell these figures in the U.S., so we have to be prepared to pay a marked-up price due to the import fees.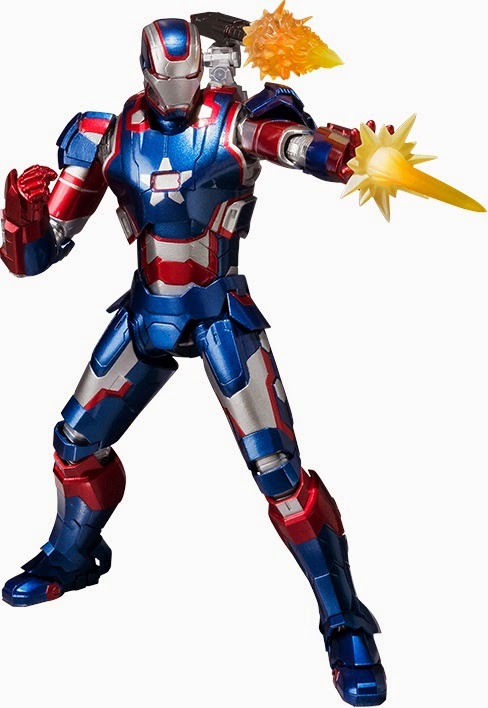 Like many Japanese action figures, the SH Figuarts Iron Man 3 figures will each come with a first-edition exclusive item. In the case of Iron Patriot, the exclusive edition item is an extra effects piece that can attach to Iron Patriot's shoulder-mounted cannon. This isn't a huge deal, but it's a very fun extra that I definitely want to display my Bandai Iron Patriot S.H. Figuarts figure with.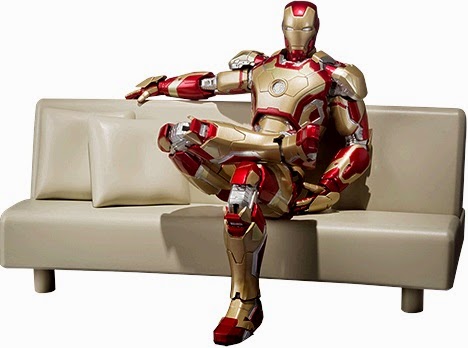 The first production run Iron Man Mark XLII SH Figuarts figure's exclusive item is
far
more enticing–it's a couch for Iron Man Mark 42 to sit on! When I saw this item in the display case at the Tamashii Nations Summer 2014 event I had my suspicions that it was
actually
going to be released (Bandai rarely makes prototype accessories like that to show off and
not
sell), and it's a total must-have bonus accessory for me!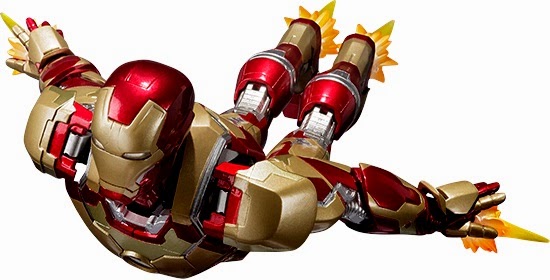 The Bandai SH Figuarts Iron Patriot and Iron Man Mark XLII figures are now available for order, and are scheduled to be released in September/October 2014. The first-edition exclusive runs with the extra couch and gun shot effect accessories are limited, so lock in a pre-order now if you're anxious to get the exclusive items.
At 75 bucks each I blinked a little bit when ordering these, but I know they'll be the nicest 6″ figures that will ever be released for either armor, so I went ahead with the order with no regrets. What about you, Marvel collectors? Are you planning on picking up these magnificent (albeit expensive) S.H. Figuarts Iron Man 3 figures?