After seeing prototypes close to half a year ago, can you not stand to wait one more minute to have a Guardians of the Galaxy Funko Rocket Raccoon POP! Vinyl figure of your very own? Well, now you don't have to! Although the official release of the Funko Guardians of the Galaxy POP Vinyls isn't expected to be until the last week of June, you can have a little bit of extra raccoon in your life early, as a Funko Hot Topic Exclusive Rocket Raccoon pre-release edition POP Vinyl is now available!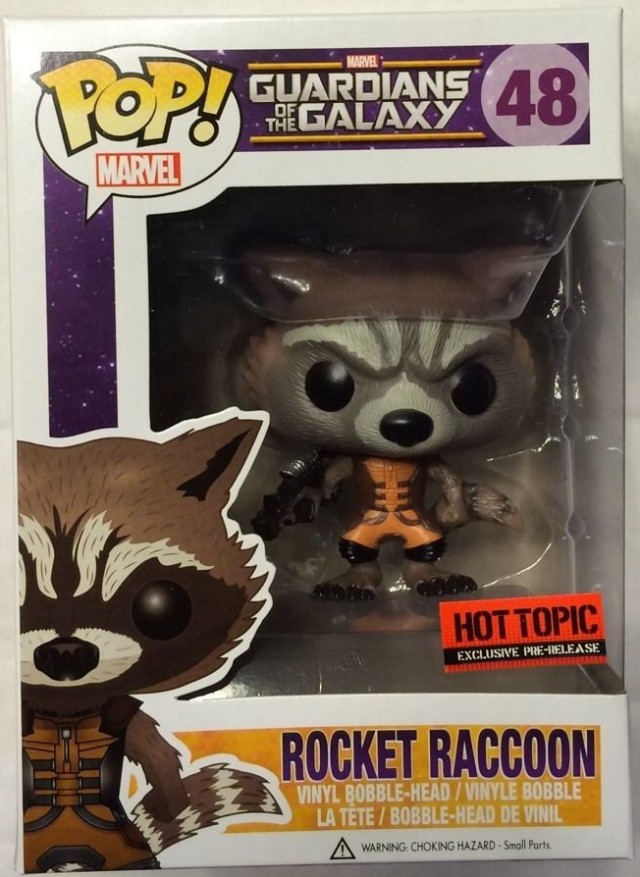 Funko is one of the hottest toy manufacturers in the world these days, and that means that store chains and conventions are beating down their doors looking to get in on the action with their own Funko exclusives. Hot Topic is the single-largest recipient of Funko exclusives over the past year or two, as there have been literally dozens of Hot Topic exclusive Funko POP! Vinyls and Mystery Minis. Sometimes the exclusives are really cool and unique, and sometimes… not so much.
The latest Funko Hot Topic exclusive is only an "exclusive" at all by the skin of its teeth. This past week Hot Topic stores across the country unexpectedly started receiving a Funko Rocket Raccoon POP! Vinyl exclusive Pre-Release figure. Basically, this is the exact same POP! Rocket Raccoon figure that's going to be in every store later this month–just with an inflated price-tag and an exclusive sticker on the box.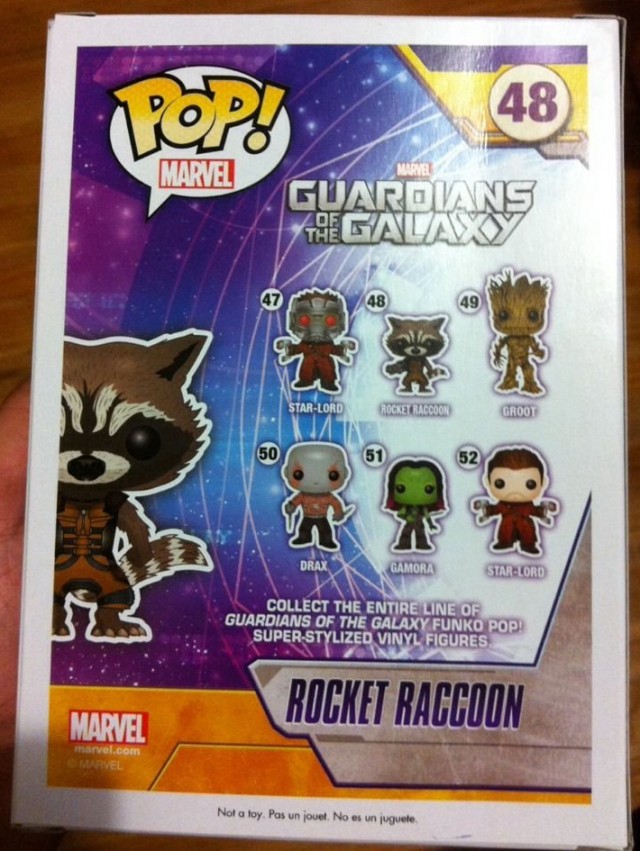 Everything about this Funko POP Vinyls Rocket Raccoon bobble head is exactly the same as the standard version that will be released at the end of month–from the box itself to the figure inside the box. But if you're a Funko Marvel completist (and I seriously pity anyone who is), you may need to pick up this figure anyway due to the "Hot Topic Exclusive Pre-Release" sticker that's been stuck onto the front of the box.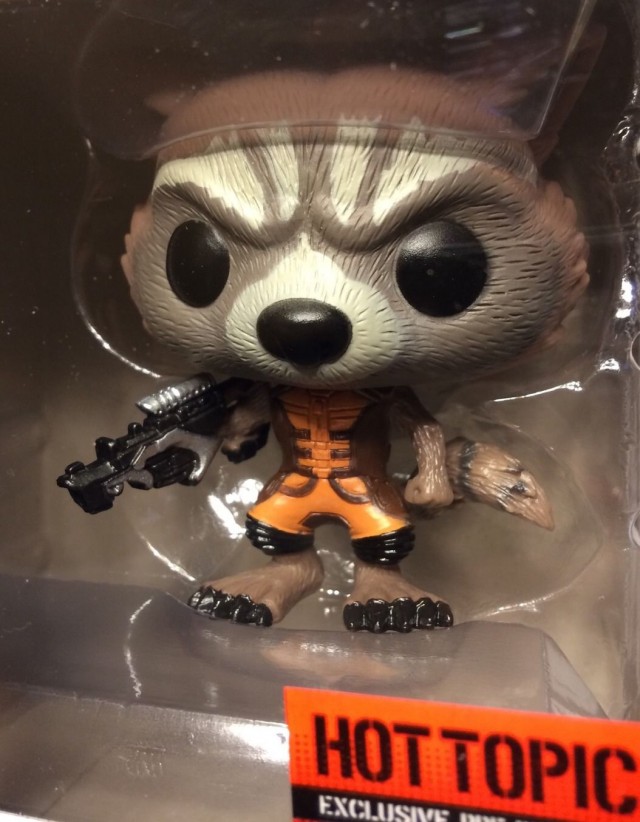 Though the price was a tad higher that what I'd play to get my Rocket Raccoon Funko POP Vinyl from another store a couple weeks from now, I'm a total mark for this anthropomorphic raccoon, so I went ahead and dropped thirteen bucks to bring the Funko Guardians of the Galaxy Rocket Raccoon home early. Not for the sticker–the box is going in the trash–but because I just love the heck out of this gun-toting raccoon.
Any crazy people out there besides me decide to lay down a few extra dollars for the chance to own this Guardians of the Galaxy Funko Rocket Raccoon figure just a few weeks earlier than expected?