Going into the Guardians of the Galaxy movie release last summer, everyone (including me) had pegged Rocket Raccoon as the character who would be the breakout star of the film. Things didn't work out that way. Instead, Groot (and Dancing Baby Groot) ended up claiming the hearts and minds of millions of moviegoers in 2014–as well as the bulk of new collectibles shown off since the movie's premiere. But while he's playing second fiddle to Groot, Rocket Raccoon still has quite a rabid fanbase of his own–and they'll be jazzed to see that a new exclusive Funko Ravagers Rocket Raccoon POP! Vinyl figure is now available for order!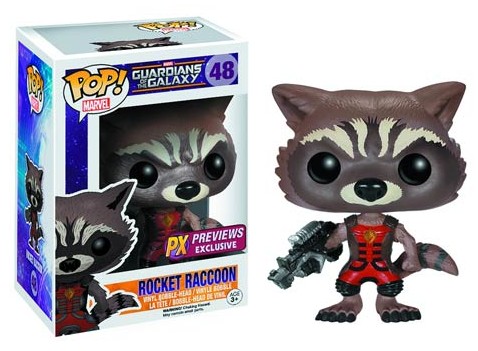 I really, honestly believed that by now we'd have seen every single costume Rocket Raccoon wore in the Guardians of the Galaxy movie represented by Funko and Hot Toys. But for whatever reason, that has no occurred. In fact, outside of his orange flight suit, there really haven't been that many alternate costume Rocket Raccoon toys released at all (though there is a great plush Rocket Raccoon in blue epilogue suit in stores now).
Hot Toys has shocked me by failing to even put up one Rocket Raccoon variant figure up for order past the original figure they solicited last summer, and Funko hasn't produced any Rocket Raccoon POP Vinyls exclusives other than the super-in-demand Flocked Rocket Raccoon that was a SDCC 2014 exclusive.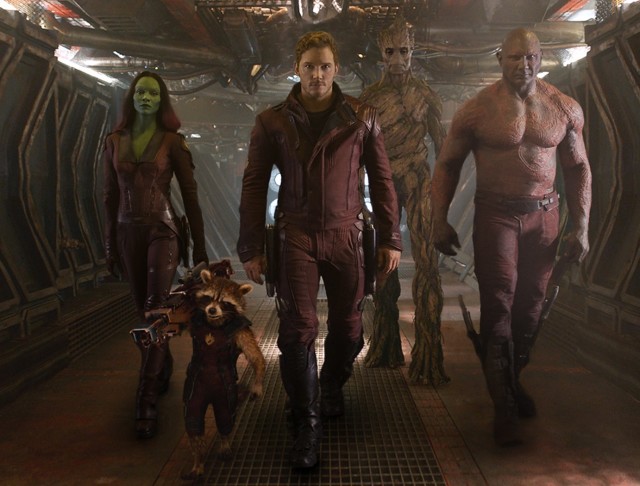 But finally, relief is in sight for Rocket Raccoon fanboys everywhere–a Previews Exclusive 3 3/4″ Ravagers Rocket Raccoon Funko POP Vinyl figure has now been revealed! Representing Rocket in his red costume from the "Cherry Bomb" montage and final battle in the GOTG movie, this limited Funko POP Vinyls Rocket Raccoon Ravagers variant is going to be a total must-have for Guardians of the Galaxy fans (and me).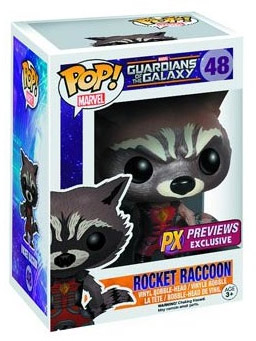 The Funko Ravagers Rocket Raccoon POP Vinyls figure is now available for order, and is scheduled to be released in February 2015 (yes, that's right–next month!). I think it goes without saying that I've already got a pre-order placed for this Funko Rocket Raccoon variant figure, and I'll post a full review and photo comparison of him and the regular version once he arrives next month.
What do you think of the red costume Rocket Raccoon Funko POP Vinyls exclusive figure, Marvel collectors? Will you be adding this "final battle" Rocket Raccoon vinyl to your collection, or are you satisfied with the previously-released orange costume Rocket Raccoon figure?