A couple weeks back I reviewed the 2014 X-Men Marvel Legends Cyclops figure. That 6″ Cyclops figure had its share of flaws and failed to impress me, but Hasbro had one other Cyclops figure lined up for this year: the previously-canceled Marvel Universe Astonishing Cyclops figure. I had high enough hopes for this long-delayed 4″ figure that I didn't mind ordering Cyclops online, but ultimately the Marvel Infinite Series Cyclops figure ended up disappointing me as well…
The Right:
Bravo to Hasbro for getting us another of the long-lost unreleased Marvel Universe figures as part of Marvel Infinite Series Wave 3. I really didn't have a whole lot of faith in this figure ever actually being released, but here he is!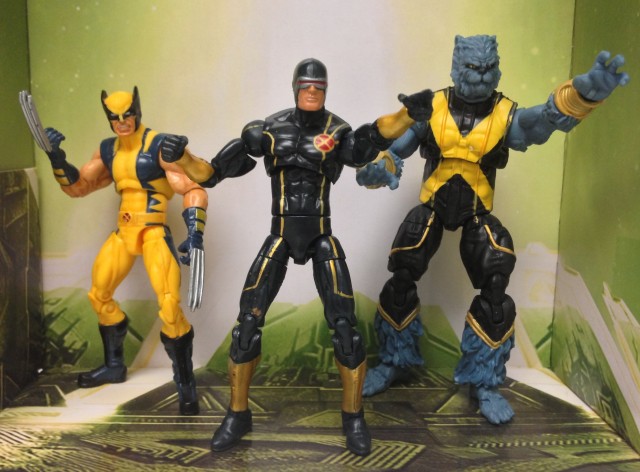 While this Astonishing X-Men Cyclops figure has more than its share of drawbacks (which I'll cover thoroughly in a bit), I'm still glad to get one of the two remaining figures necessary to complete Joss Whedon's Astonishing X-Men lineup in this scale. Whether or not we'll ever get the cancelled Marvel Universe Emma Frost figure to complete the team, I really have no idea, but I'm not feeling optimistic.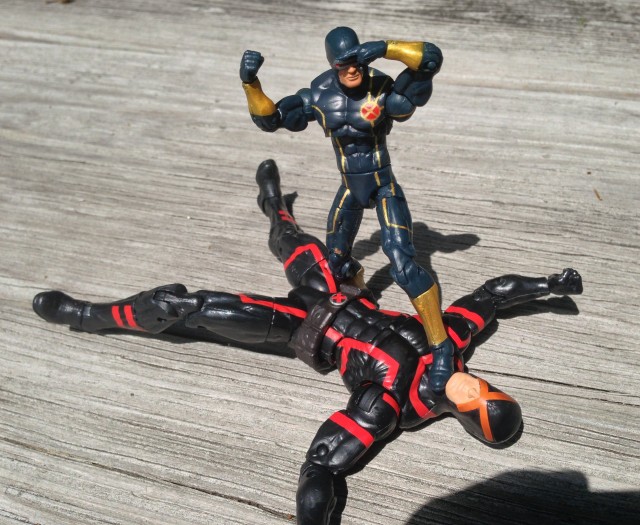 It was always a bit of a concern that Hasbro would try to pull a fast one and reuse the old Cyclops head with the circles on the sides of the visor, but thankfully Hasbro took the high road and gave a Astonishing Cyclops a new head for this release (or at least a head I haven't seen before on my half-dozen MU Cyclops figures).
Hasbro probably could have gotten away with just painting over the circles on the sides of the usual Cyclops head, but they gave us an authentic Astonishing X-Men Cyclops head instead. So thumbs up to Hasbro for accuracy with regards to Cyclops' visor.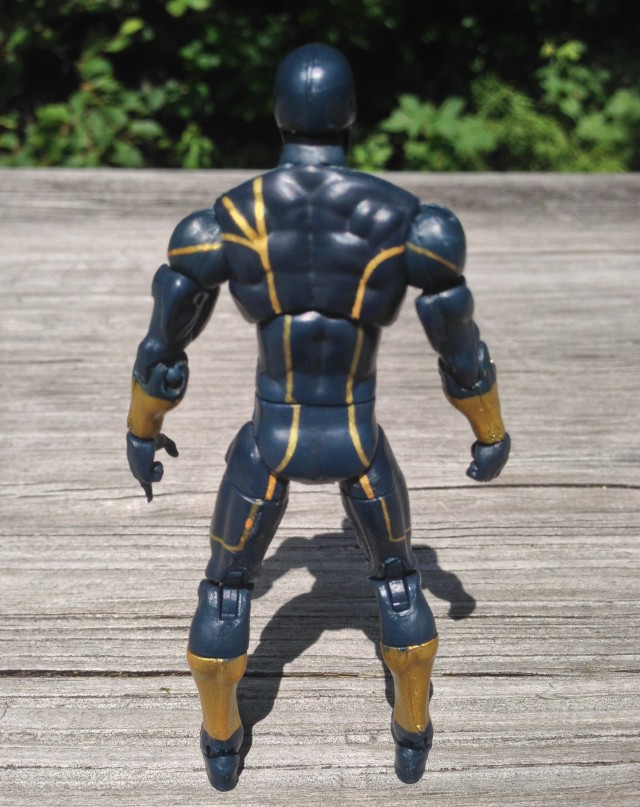 And while I'll be critiquing it a bit later on, Hasbro did give Hasbro a lot of points of articulation. He's got a ball-hinge head, a ball-jointed upper torso, swivel waist, ball-hinge shoulders, swivel biceps, hinge elbows, swivel wrists, ball-jointed hips, swivel thighs, double-jointed knees, swivel calves and hinge ankles with ankle rockers.
The Wrong:
The Marvel Legends 2014 Cyclops I reviewed last month had paints apps that were rather shaky; the Marvel Infinite Series Cyclops' paint deco is even worse. Even from a few feet away I can see all the goofs on this figure's figure's paint deco, which is a clear indication that it's not up to snuff.
The 'X'-Logo on Cyclops' chest is very fuzzy and doesn't look sharp at all, and the gold lines all over his costume have many broken spots and uneven applications. There's also a big splotch of gold paint above Marvel Infinite Series Cyclops's right knee.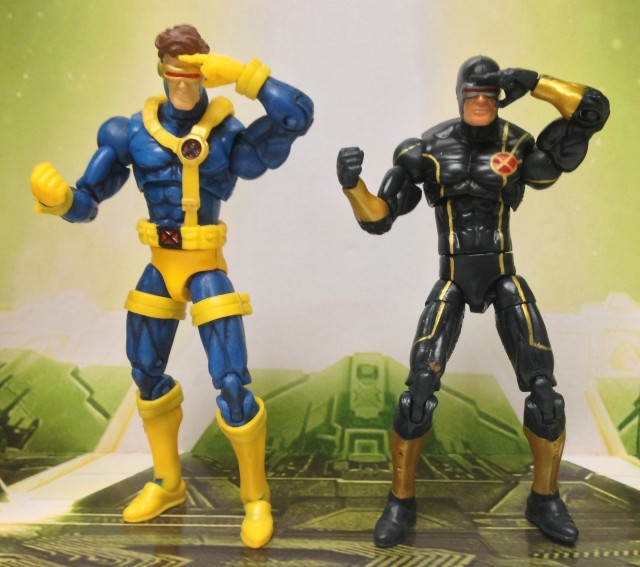 The choice of body mold for this Hasbro Cyclops figure isn't exactly inspiring either. Cyclops' upper torso looks way too ripped for the character–someone at Hasbro must have confused Cyclops with Brock Lesnar or Batista. This is the same mold that was used for the Marvel Universe Jim Lee Cyclops figure, but it worked a lot better on that figure due to the extra straps on top of the mold.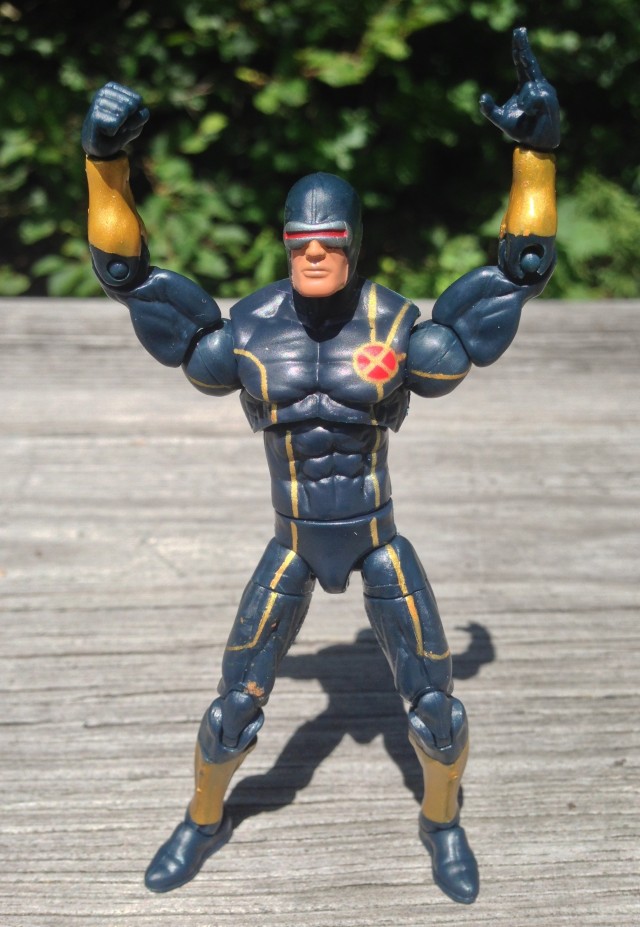 The way this particular Cyclops figure's build looks really reminds me a lot of "He-Man Luke Skywalker" from the start of the Star Wars POTF2 days, which anyone who was collecting back then knows is far from a compliment. His lack of a discernible neck certainly doesn't help matters.
Great articulation could have gone a long way to saving this Marvel Infinite Series Wave 3 Cyclops figure, but while Cyclops has a lot of points of articulation, his flexibility is flawed as well. Cyclops has the awful ball-jointed hips that have next to no side-to-side movement, which greatly limits his poseability.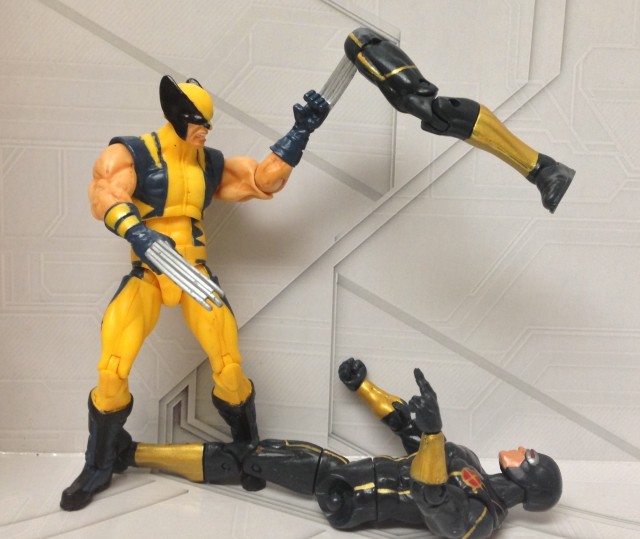 The Marvel Universe Cyclops' left leg also pops off constantly (though not nearly as badly as Ant-Man's), which is positively infuriating. And the lack of a hinge on his swivel wrists is another a restricting factor.
Finally, I just can't help myself from complaining about the lack of any kind of accessories for a $10-$12 figure that's almost a 100% repaint of pre-existing tooling. I don't mind the pointing left hand Cyclops has, but an alternate neutral hand or fist hand would have cost Hasbro pennies, increased the number of his possible poses, and given him at least something in the accessories column.
"Where Can I Buy It?!"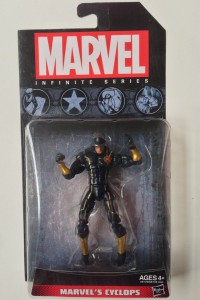 I have literally never seen a Marvel Infinite Series Wave 2 or Wave 3 figure in stores, so I ordered this Cyclops figure online from Entertainment Earth for $11.99. That's more than I like to pay for a 4″ Hasbro action figure, but options for getting this series are pretty limited.
Marvel Infinite Series Cyclops is also available on Amazon for about $13 shipped as of writing, but that price is higher than I'd pay for this particular figure.
Overall: As far as the 4″ Marvel Universe/Marvel Infinite Series figures go, this Astonishing X-Men Cyclops figure is definitely below average. The body isn't the ideal choice for Cyclops, the lack of any accessories or alternate hands really irritates me, his articulation is less than what it should be at this price-point and his paint deco is sloppy. I'm glad to have this Marvel Infinite Series Astonishing Cyclops to bring my 4″ scale Astonishing X-Men closer to completion, but this Cyclops figure itself is purely mediocre.
GRADE: D+