2014 has been a mixed bag for Marvel statue collectors, as the original Marvel statue producer, Bowen Designs, exited Marvel statue production (possibly forever), while newcomers like XM Studios and Gentle Giant Ltd. entered the fray. No one was sure to expect when Gentle Giant announced their first Marvel Cinematic Universe statues in late 2013, but the Gentle Giant Captain America: The Winter Soldier Black Widow 18″ statue has now arrived, and the verdict is in: this statue is spectacular…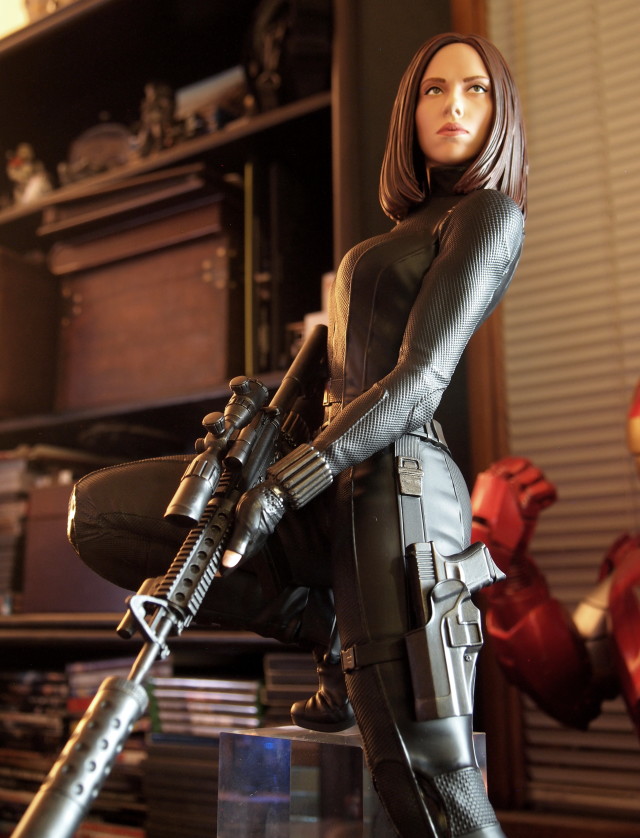 With the exception of a couple of oddball Marvel statues with motorcycles (Deadpool and Captain America), Gentle Giant Ltd. had never even solicited a Marvel statue up until they announced their quarter-scale Iron Patriot and Captain America The Winter Soldier Black Widow statues. Although Gentle Giant has a pretty impressive track record with their various licenses, some collectors were a bit hesitant to fork over around $400 each for Marvel 1/4th scale statues without knowing how the finished product would turn out.
Well, the Gentle Giant Black Widow movie statue has now begun shipping out to buyers, and now there can be no doubt: the 18″ Black Widow statue is absolutely awesome. In fact, I've heard the term "future grail" thrown around quite a bit already with regard to this piece.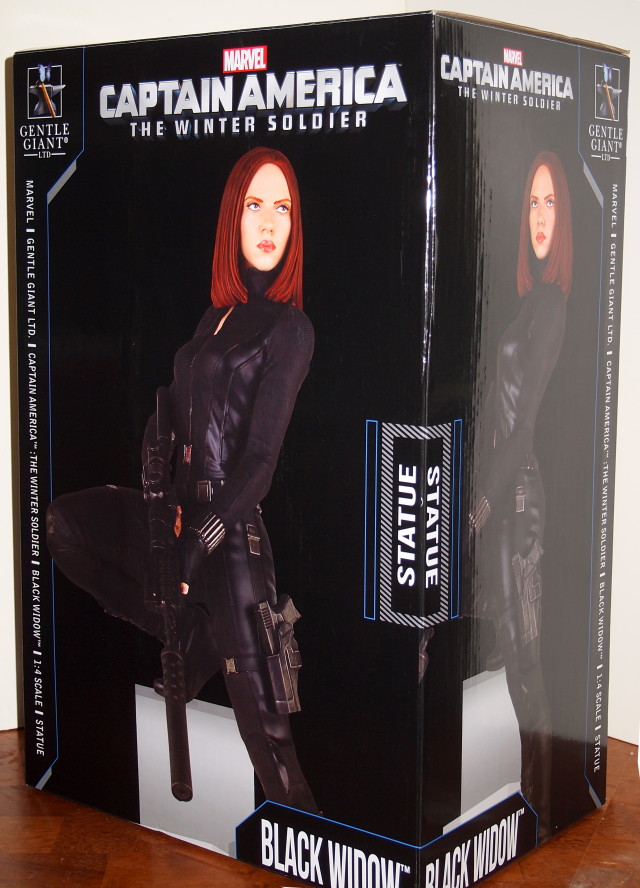 First up, let's take a look at Black Widow's box. It's honestly nothing special-at all–although it does show good full-color shots of the Black Widow statue itself, as well as large print letting collectors know that this items is a "Statue" (in case they couldn't guess).
This is far from the most compelling packaging I've ever seen for a statue, but there's nothing fundamentally wrong with it. I've seen far worse, so I think the job Gentle Giant Ltd. did on the Black Widow box is totally acceptable.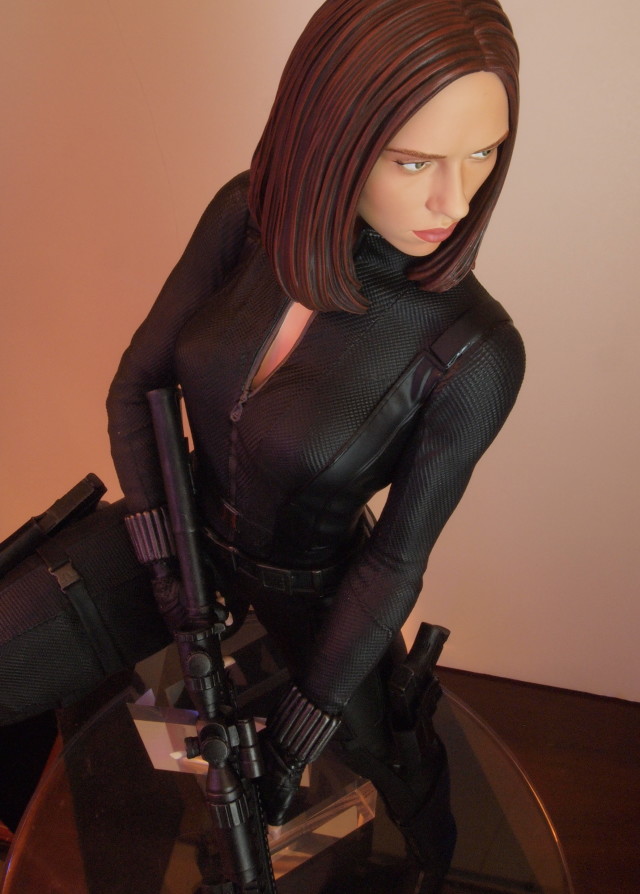 Of course, most of us statue collectors are less interested in a statue's packing and more interested in a statue itself. And thankfully, the movie Black Widow Gentle Giant statue is far more impressive than the box that it comes in.
Rather than a plain old museum pose, Gentle Giant Ltd. opted to put the Scarlett Johnasson statue into a more dynamic pose with Black Widow holding her sniper rifle. That bet paid off, as rather than feeling like just another boring museum-posed Marvel statue, Black Widow feels genuinely more dynamic and ready to strike than past statue versions of the character have been.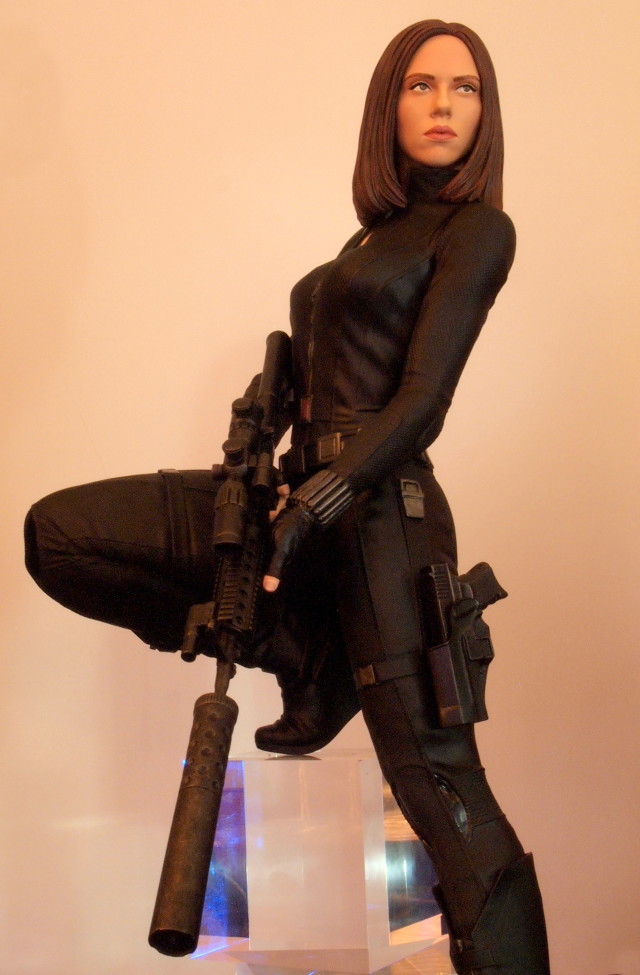 The texture on Black Widow's costume looks incredibly detailed and lifelike, with everything from Natasha's jumpsuit to her guns feeling masterfully developed and well-sculpted.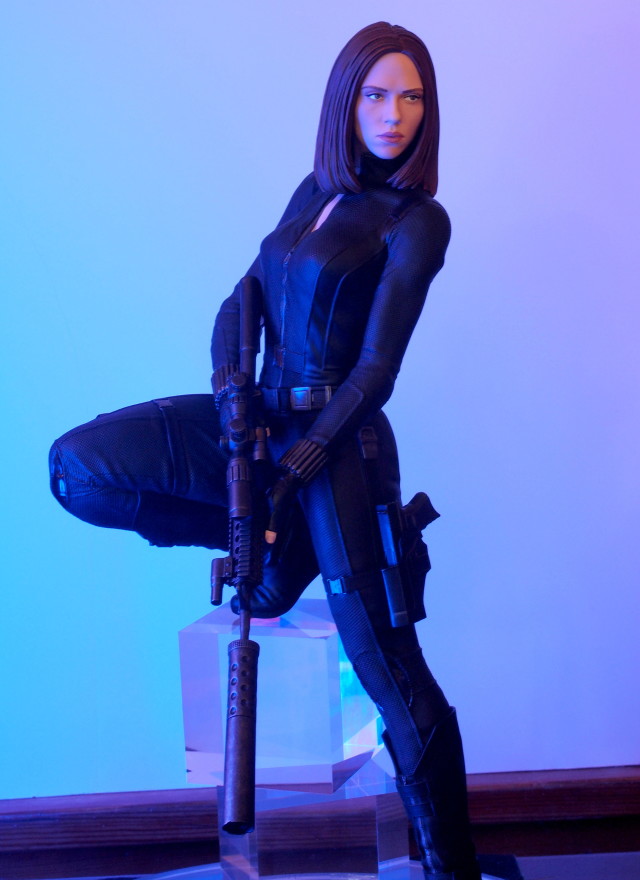 Ever since this Black Widow 1/4th scale statue went up for order, I've heard chatter from folks saying that they're going to commission custom bases for the piece. I was unconvinced about Gentle Giant's clear, unassuming stacked cube base as well, but seeing it on the finished statue, I actually like it quite a bit and think it feels rather classy.
I don't know if I'd want a whole display of statues with clear bases like this, but it looks nice in this instance.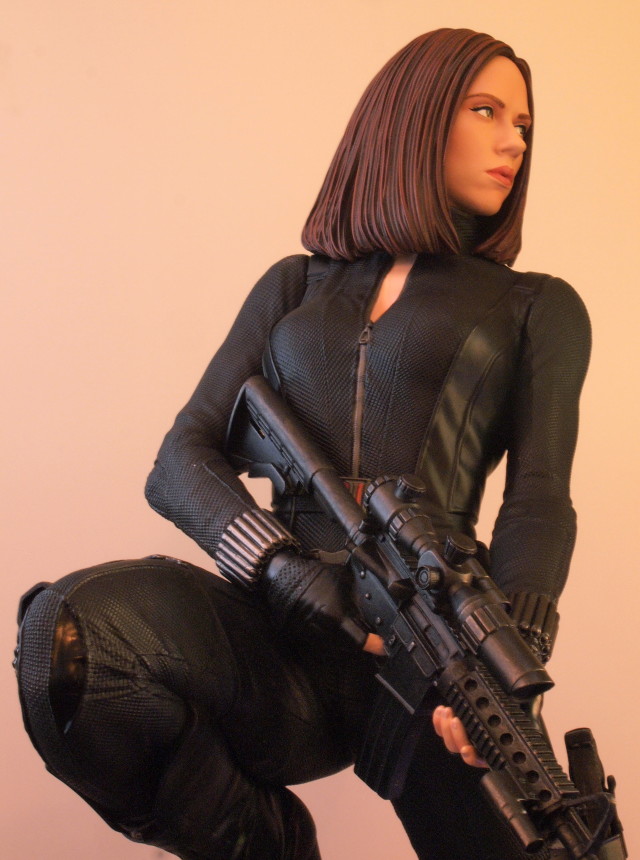 The only real complaint I have with this Black Widow Gentle Giant statue is that the factory clearly painted Black Widow's hair too dark. While you can get away with a straight brown on a non-movie Black Widow piece, Scarlett Johansson is
definitely
a redhead, so having her hair be so dark is the one flaw on an otherwise perfect statue.
If you want this Black Widow statue and didn't pre-order, though, you may want to act fast: the total run size of the Captain America: The Winter Soldier Gentle Giant Black Widow statue is just 600 pieces! That limited edition number is less than just the number of the exclusive editions released for many Marvel Sideshow Premium Format Figures! Yikes!
Big thanks to Kamandi at Sideshow Freaks for giving me permission to run the photos of his Black Widow statue. Kamandi says–and he asked me to quote him on this–"I love this f—ing statue." Thanks, Kamandi!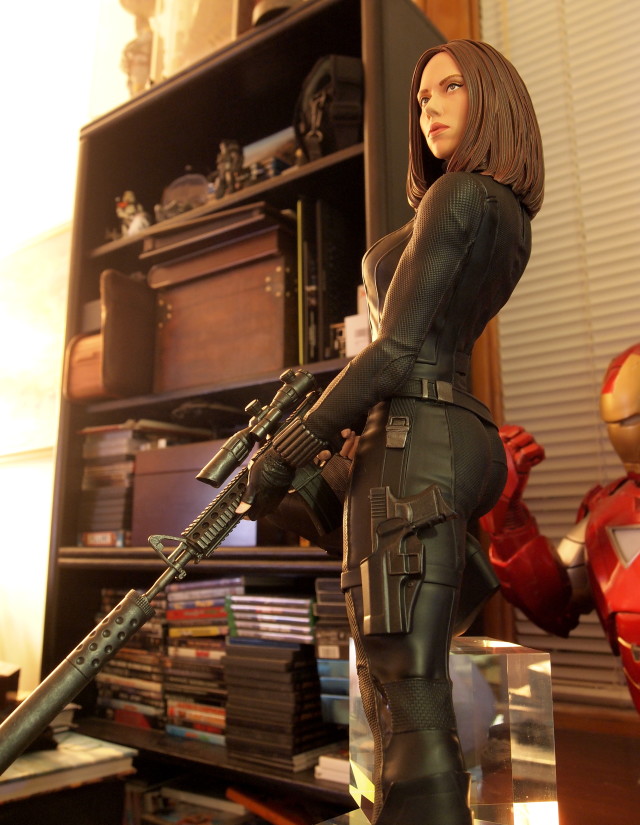 All of the usual online stores are already sold out of this statue, so you'll likely have to to turn to the aftermarket to hunt for the Gentle Giant Black Widow statue for a couple bucks below retail at this point. If nothing else, you can still purchase this statue for full price from Gentle Giant's website, although I like to avoid paying full price for a statue for as long as possible. It's a bit surprising to see a statue this expensive sold out at release these days, but that just goes to show what a hit this Black Widow 1:4 statue has been with fans.
Now that we've seen the finished product, what do you think of the finished Gentle Giant Black Widow quarter-scale statue, Marvel collectors? Are you dying to add this piece to your collection, or are you not $400 impressed by this piece?