Hardly a week goes by this year that we don't see a new Deadpool collectible premiered by some company, but the one Gentle Giant put up for sale this week is definitely not like any other Deadpool toy that's come before it! I am normally not an armless mini-bust collector (at all), but sometimes you've gotta make an exception, and this is one of those time–the Caesar Deadpool Classic Bust is now up for order!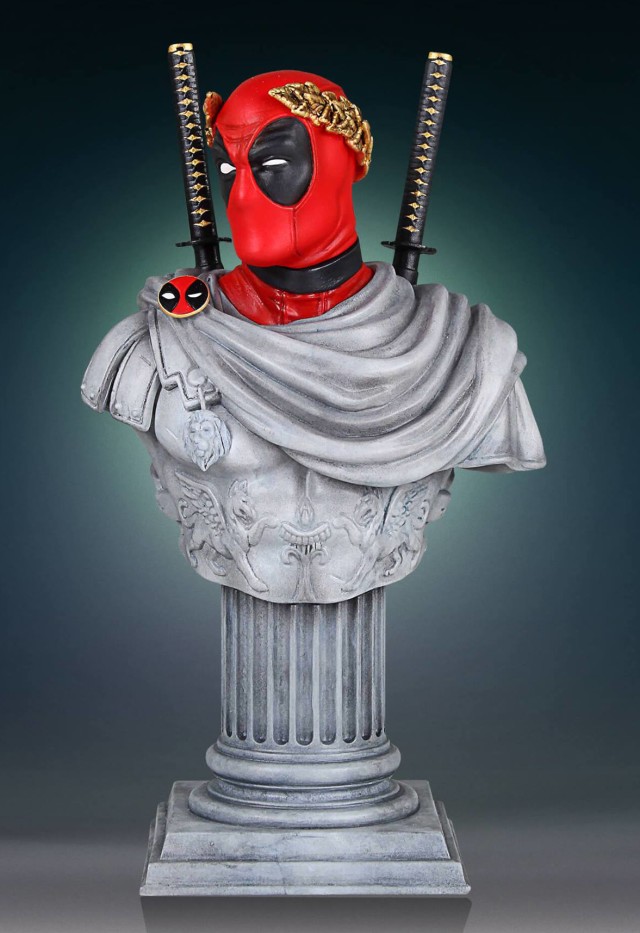 The glorious days of dozens of new Marvel mini-busts being released each year are at an end. Bowen Designs is out of the market for at least another half-decade (if not forever, sadly), and Gentle Giant bust releases have slowed to a trickle over the last couple of years (without even one Marvel gift choice for Premiere Guild 2016 members–alas).
But while things definitely do look pretty bleak for mini-bust collectors, Gentle Giant has concocted at least one super fun and unique Marvel bust for release later this year: the Deadpool Caesar Classic Bust!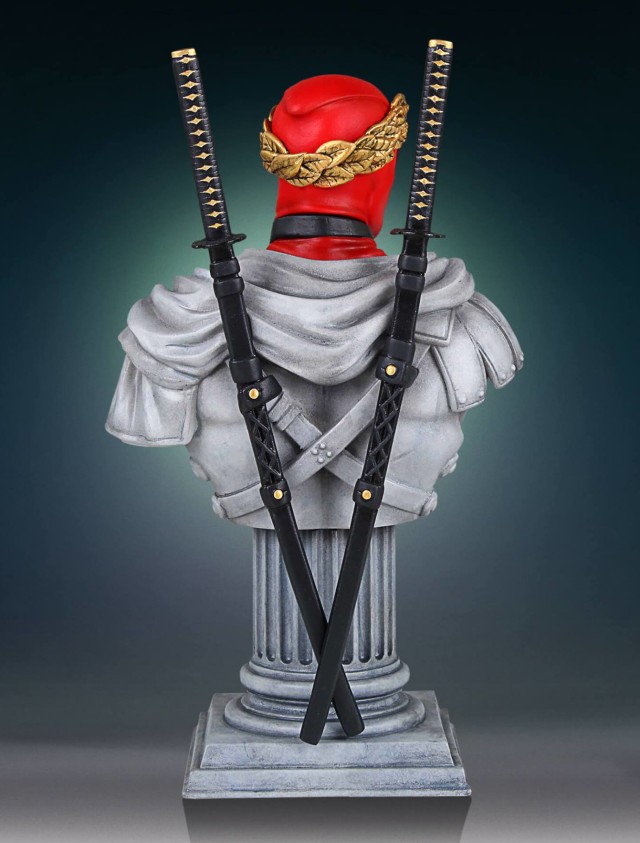 Classic-styled armless busts fell out of favor with collectors well over a decade ago and have sold pretty weakly ever since, but the one Gentle Giant debuted at San Diego Comic-Con 2016 last month is a sure-fire winner.
In fact, Deadpool may be the only character in comic books who could not only pull off this crazy Julius Caesar mashup statue, but actually look totally natural and organic doing so!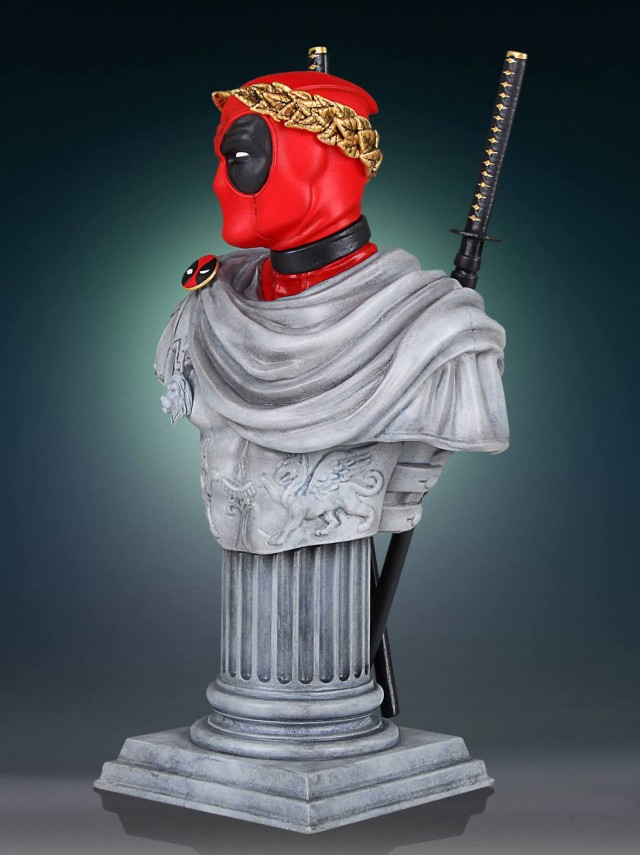 Here's the official product soliciation write-up text fresh from Gentle Giant Ltd. themselves:
"Deadpool Caesar Classic Bust:

Gentle Giant LTD's Classic Mini Bust collection takes the design aesthetics from the ageless masters of decades gone by. The classical antiquity that is conveyed in this amazing series of Greek and Roman inspired works of art is second to none. Classic and classy, who's got enough class to be a Romanesque bust? Why, Deadpool of course! Gentle Giant LTD is proud to present our Deadpool Caesar Classic Mini Bust! This Deadpool Classic Bust combines the timeless aesthetics of sculpture from Greek and Roman antiquity, with one of popular cultures most recognizable characters. Each limited edition, hand-painted polyresin bust comes individually numbered and is paired with a matching certificate of authenticity."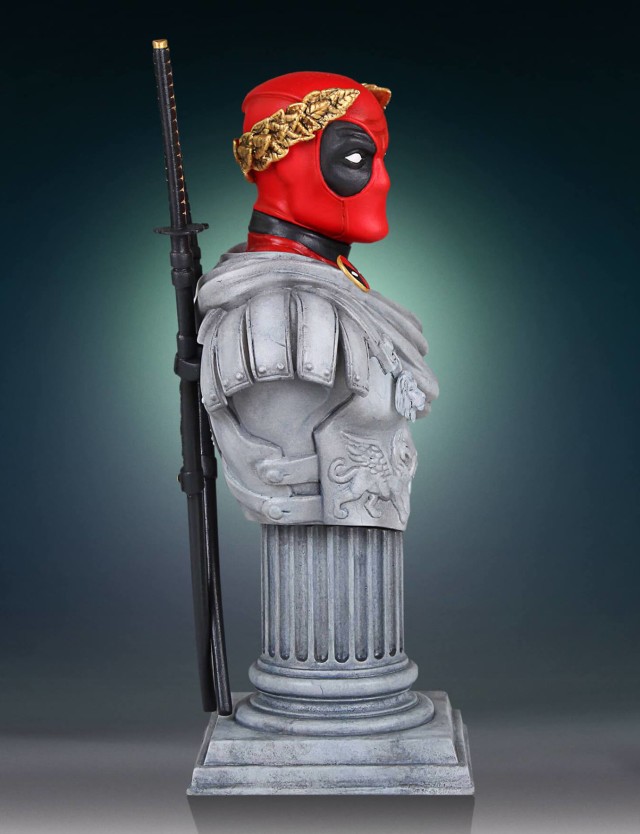 To summarize the important point from the blurb above, the Caesar Deadpool bust will stand approximately 7″ tall and will be made of polyresin, so it'll be nice and hefty and sturdy the way a high-end collectible should be. A matching certificate of authenticity will be included with the statue, as usual.
While I honestly can't remember what the last Marvel mini-bust I purchased new was (it's been a while!), I do know that the next one I buy is going to be this Deadpool Caesar Classic bust. Wildly fun and inventive stuff here from Gentle Giant Ltd.! Kudos!
The Gentle Giant Caesar Deadpool bust is now available for order, and is scheduled to be released in Q4 2016. That's a super-fast turnaround time by Gentle Giant standards, so pre-orders won't be open long on this piece and I sincerely expect it to sell out very early. This is going to be a big success for Gentle Giant!
EE is offering the bust with free shipping, and as shipping on GG busts is typically $18-$25, that's the best deal around for this piece.
This was an instant pre-order for me, but what about you, Marvel collectors? Is a hilariously classic Deadpool Caesar mini-bust in your future, or is this type of crazy product not your style?