We may not even have the first of the Gentle Giant Marvel Collector's Gallery 1/8 scale statues in our hands yet, but now Gentle Giant has unveiled the first of next year's additions to the line. And those expecting another shrunken-down version of a past release are in for a shock, because instead this is a totally-new sculpt of one of Marvel's hottest characters: the Gentle Giant Deadpool Collector's Gallery Statue goes up for order this week!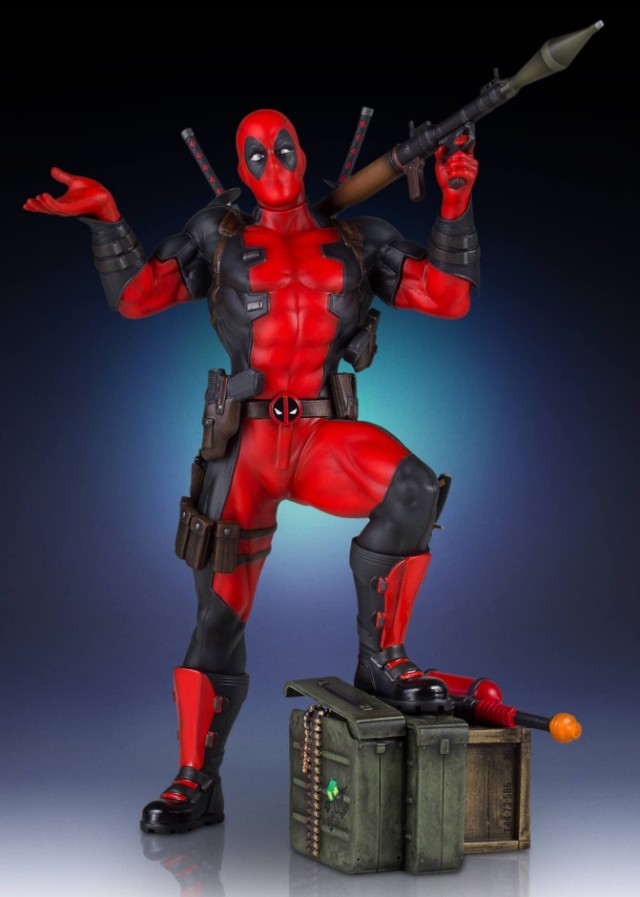 After the immense popularity of the shrunk-down Captain America: The Winter Soldier Black Widow and Iron Man 3 Iron Patriot statues, Marvel collectors have been waiting anxiously for the next Marvel Collectors Gallery statue to be announced.
And while I was really expecting it to be a smaller version of the previously-released Captain America or Rocket Raccoon & Groot statues, it turns out Gentle Giant had their sights set on a different idea altogether–a brand new sculpt of the Merc with a Mouth himself, Deadpool!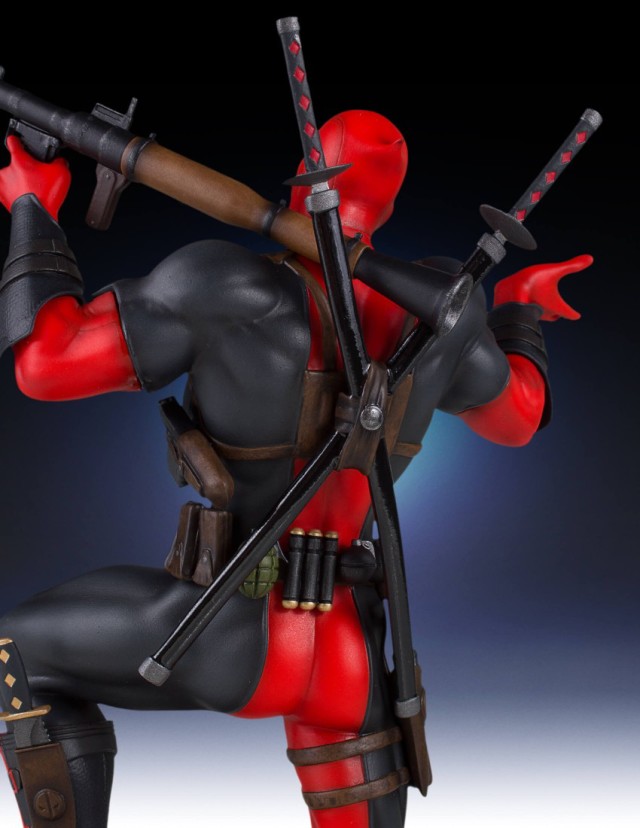 Rather than being posed in a super-serious manner, this Deadpool figure has been sculpted in a more whimsical pose with his right arm shrugging and his left arm clutching a high-powered rocket launcher.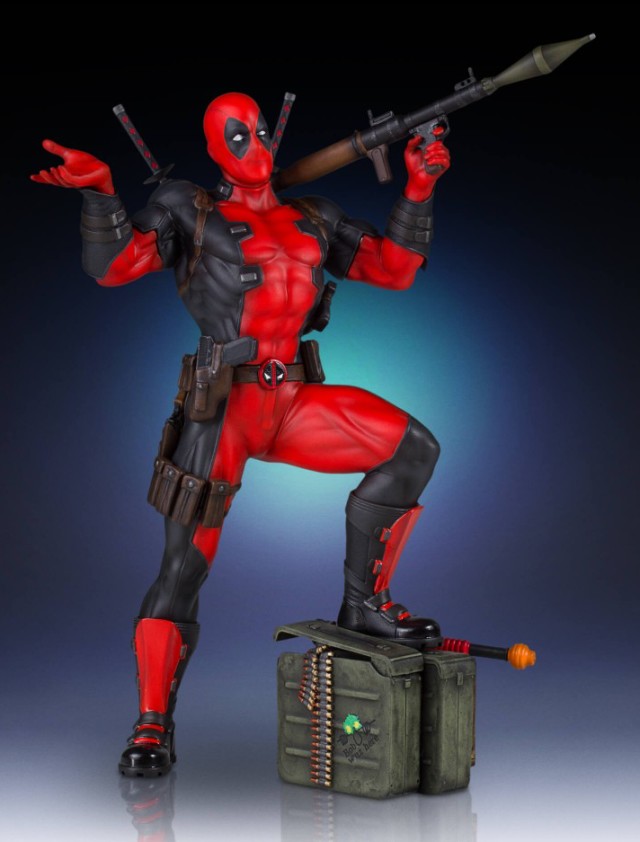 Gentle Giant has put an extraordinary amount of thoughtful detail into this statue, including multi-color patterns on the hilts of Deadpool's knife and katanas, a textured grenade, a couple of clips of ammo with paint deco, textured gauntlets and so much more. I don't know if this is the best Deadpool statue ever overall, but in its price range, this Gentle Giant Deadpool will be tough to top.
It can be a little tough to capture the personality of a character whose entire face is covered with a mask, but Gentle Giant's digitally-sculpted Deadpool Collectors Gallery statue hits the bullseye yet again.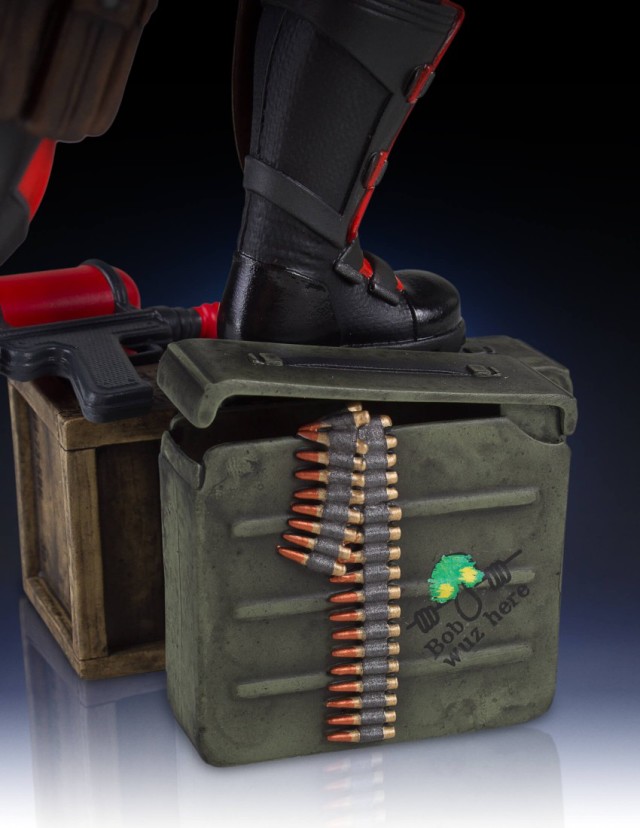 I love the little details on this piece, especially the little "Bob Wuz Here" graffitied onto the weapons crate in honor of Wade's old buddy, Bob (Agent of Hydra).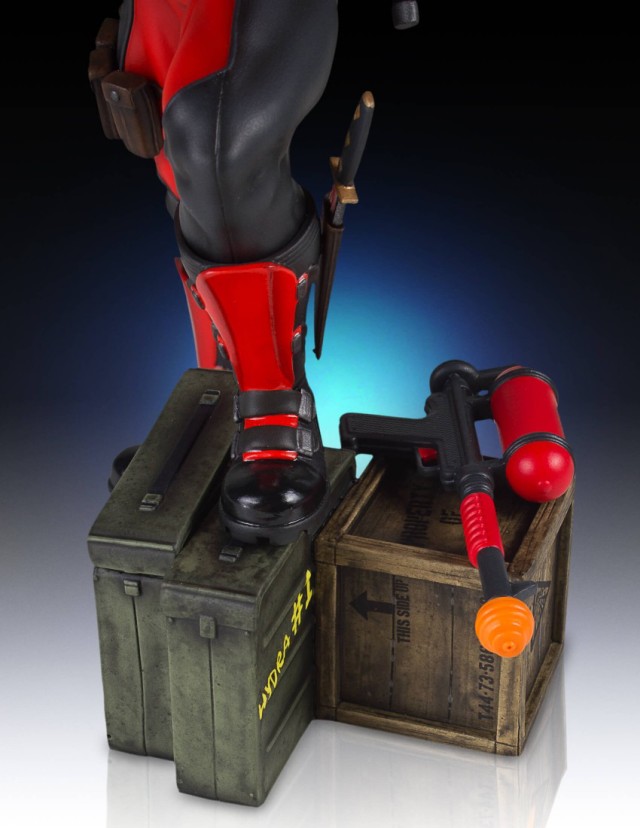 The "Hydra #1" grafitti on the other weapons crate is pretty awesome as well. (And is it me, or does that "ray gun" look like a fancy, super-villain Super Soaker…?)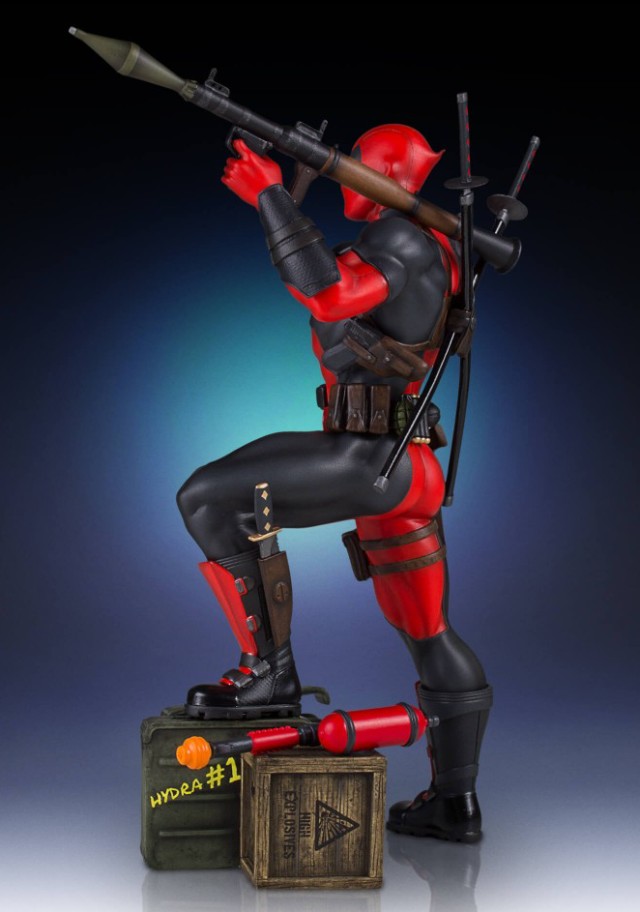 Captured in 1:8 scale, this Collectors Gallery Deadpool statue will stand just over 8″ tall and will retail for about $160. That's a crazy low price for a resin statue in this day and age, and I, for one, appreciate it.
In a world where new Sideshow Premium Format figures cost around $500 each on average these days, smaller scales (and smaller prices) like the ones belonging to this Gentle Giant Gallery line are looking better and better!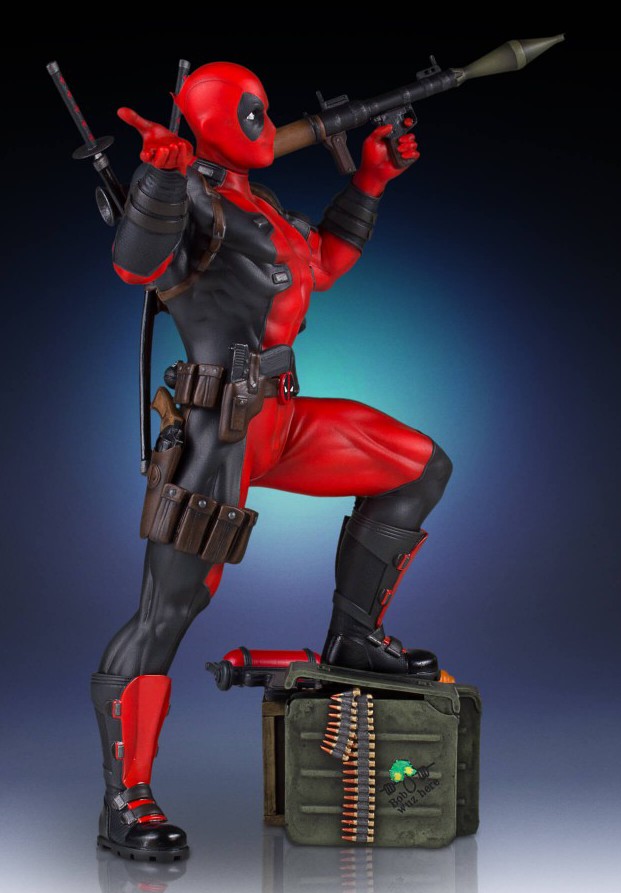 The Gentle Giant Deadpool Collectors Gallery Statue goes up for order this week, and is scheduled to be released in early 2017. None of the statues in this series have sold out yet, but none of them have been released yet either, so who knows how limited and difficult to obtain these statues will end up being once they're actually out? I'm a Deadpool mark, so I went ahead and reserved one to be safe.
What do you think of the latest Deadpool statue to go up for sale, Marvel collectors? Is this masterpiece the best Deadpool yet, or are you quickly reaching the point of Deadpool saturation (if there is such a thing)?