Over the course of the last week I've given my reviews and impressions of all six basic figures that make up the Hasbro Marvel Legends Guardians of the Galaxy Infinite Series (and you can find all those reviews in the archives). But, of course, there's one more figure that needs to be discussed–because you have to buy every other figure in the series just to build him! He needs no introduction, but he will definitely give it anyway–it's the outstanding Marvel Legends Groot Build-A-Figure!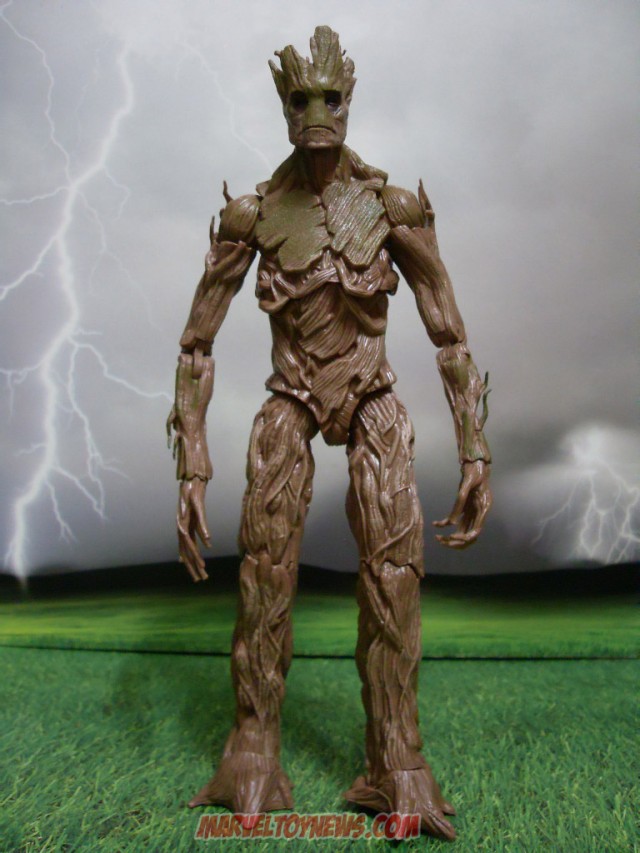 Groot is another Marvel character that hasn't ever been exactly a household name, but after hearing Vin Diesel assert "I am Groot!" dozens of times in the upcoming Guardians of the Galaxy movie, no one will ever fail to know Groot's name again!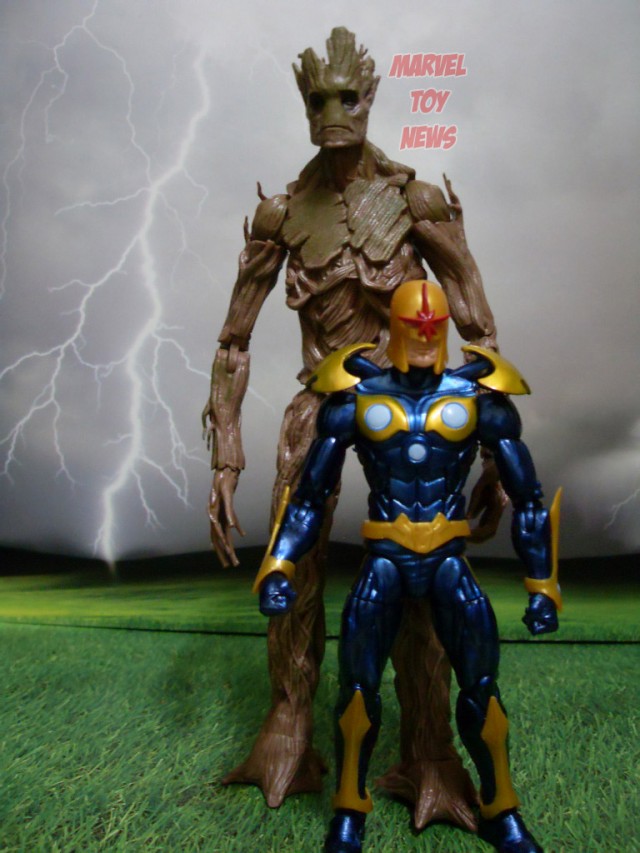 The defining feature of Groot as a character is that he's a towering humanoid tree, and Hasbro has captured that perfectly with with Marvel Legends Groot Build-A-Figure.
As he should, Groot looks down upon all the other Marvel Legends Guardians of the Galaxy Series figures from his lofty 9″ tall height. What with being a living tree and all, Groot has a 100% new mold all to himself. Given the Groot BAF's unique shape and tree-like texture, I can't begin to imagine what character (if any) Hasbro could ever repurpose this particular tooling for.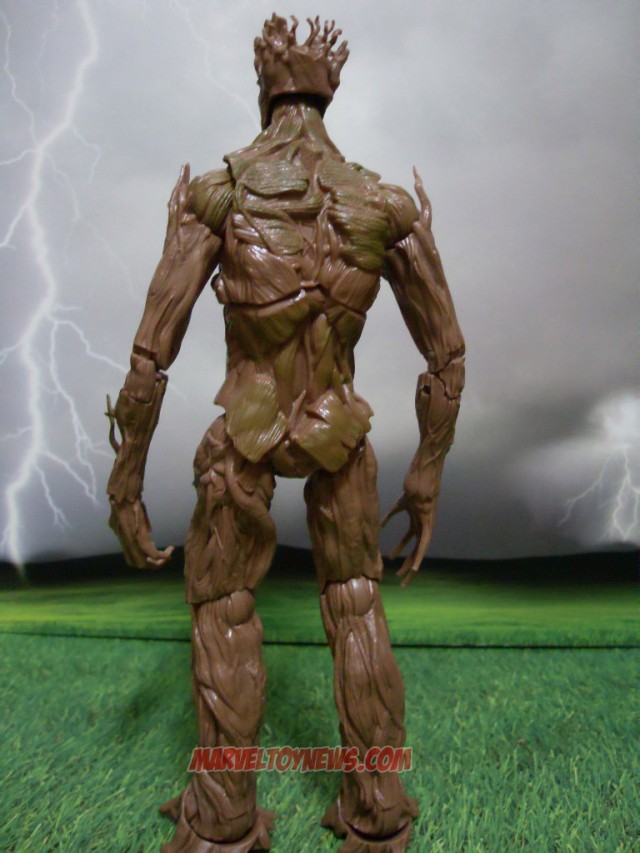 Authentic to his appearance in the Marvel's Guardians of the Galaxy movie, the Marvel legends Groot figure is pretty drab color-wise. But while Hasbro could have probably cheaped-out and just had Groot solely in brown, they went the extra mile and added green "foliage" shading onto the Groot BAF. This deco adds a lot of depth to the appearance of the figure and really improves its overall aesthetic.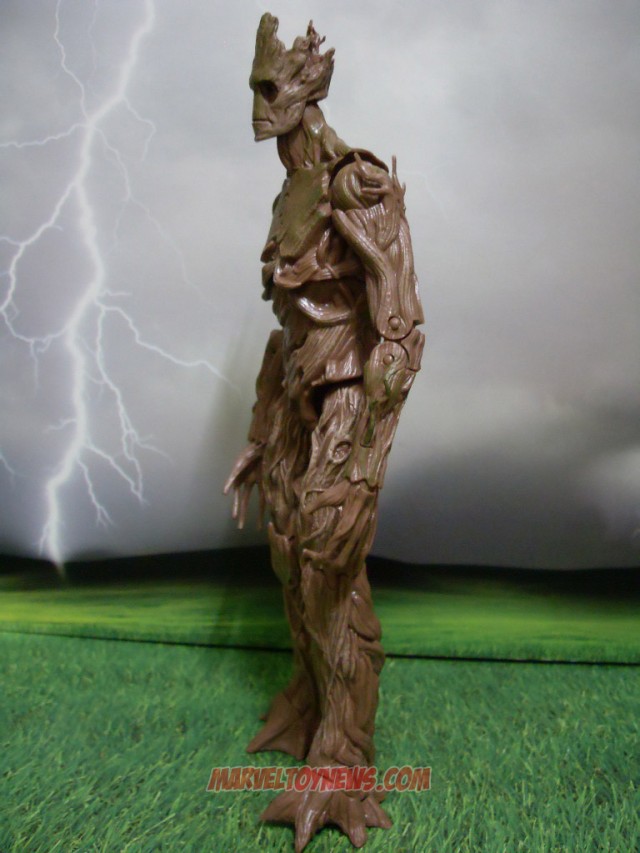 The only real weakness of this 9″ Marvel Legends Groot action figure is his articulation scheme. That's not say it's bad, per se (though I was seriously contemplating making a joke about Groot being rather wooden)–it's just not on par with how exemplary the rest of the figure is.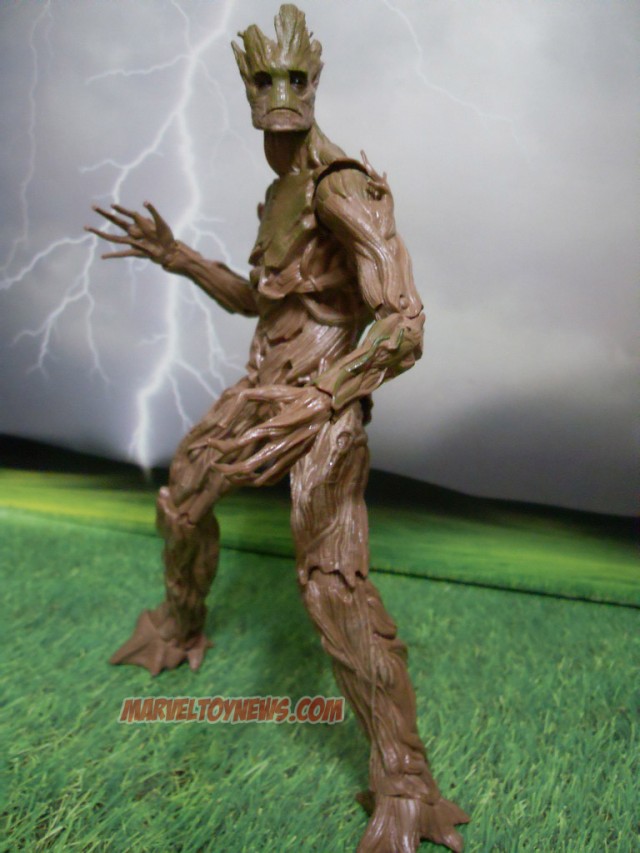 Groot's upper torso ab crunch doesn't work as ideally as it might, and Groot is also missing the now-expected double-jointed knees. Given Groot's massive stature and long legs, having double-jointed knees would have been really appreciated for diversifying the poses you can get the Infinite Series Groot Build-A-Figure into.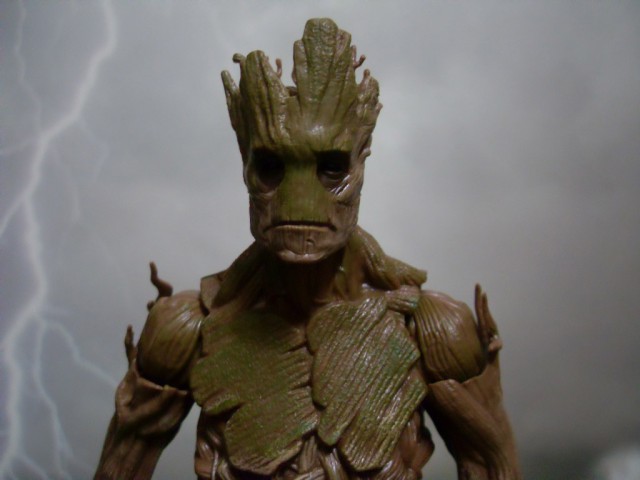 Overall, I am very pleased with the Marvel Legends Groot Build-A-Figure. While it's probably too much to hope for a modern comics Groot figure of this quality, I'll be rooting for a comic-styled Groot to get his due in the Marvel Legends 2015 lineup!
Alright, Marvel collectors! Now that you've seen the whole Guardians of the Galaxy Marvel Legends Infinite Series, is the Groot Marvel Legends figure cool enough to entice you to buy this Build-A-Figure? Will you be buying all (or some) of Hasbro's hottest summer lineup?