It's been a surprisingly quiet last few months for Marvel Hot Toys collectors, with a couple of Iron Man figures and Doctor Strange being the only new items solicited. But the respite is ending this week with what could be the start of a whole new Marvel lineup within the Hot Toys family: Netflix Marvel TV Series Figures! And there's really no other way to lead off this new Movie Masterpiece Series lineup than with the character who kicked off Netflix's Marvel-oriented success: the Hot Toys Daredevil sixth scale figure is now up for order!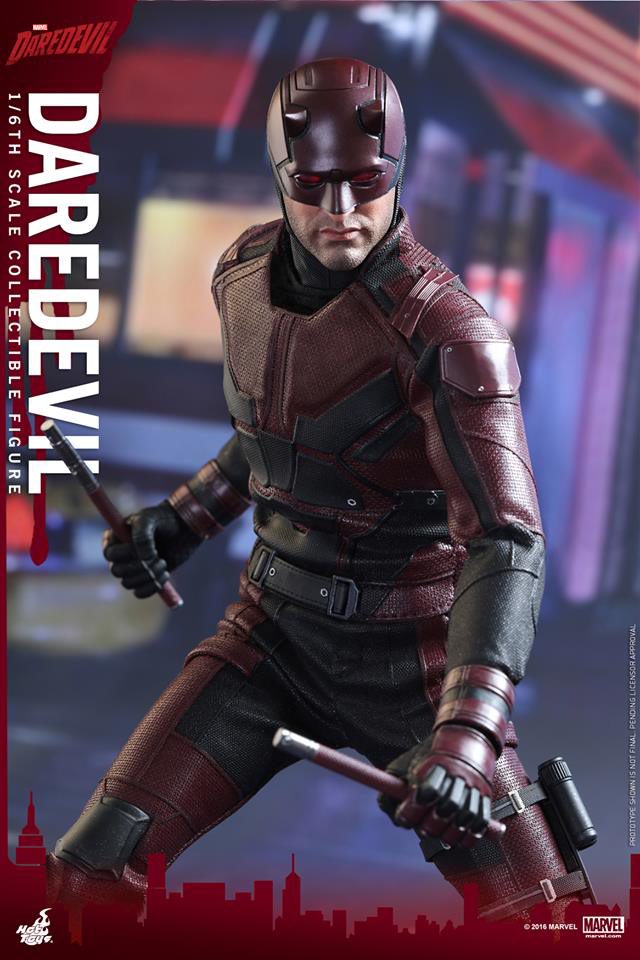 Dark secret time: I really liked the Ben Affleck Daredevil movie. Don't hate me.
Taking into consideration how almost universally reviled that movie is, I was really surprised Netflix chose to begin their Marvel TV Series with ol' Hornhead. Even so, it looks like Netflix made absolutely the right call–the dark and gritty series has been a huge triumph for them, creating millions of new Daredevil fans worldwide.
Generating a fan base for a character that was considered mainstream DOA for years after his movie flopped is quite a feat, and one worthy of commemoration with a spectacular action figure–and there's none finer than a 12″ Hot Toys Movie Masterpiece Series figure!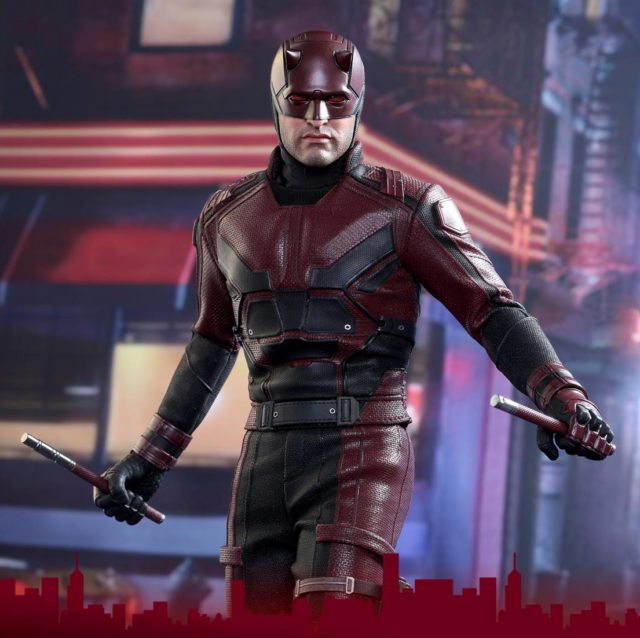 The standout feature of this 1/6 figure–no doubt about it–is that phenomenal costume. No toy company does tailoring better than Hot Toys, and this Daredevil costume is some of their very best work that I've seen.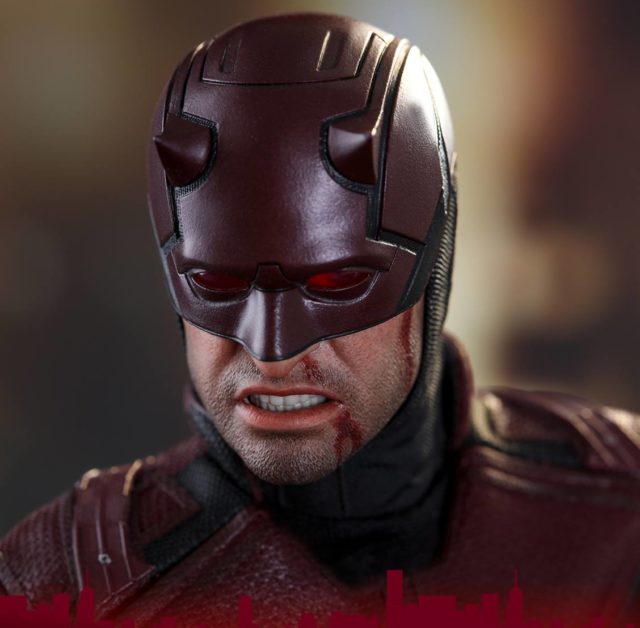 I also love that beaten-up, bloody Daredevil face included! I think this is an instance where getting just a stoic, neutral expression wasn't going to cut it, so I'm very pleased that HT is giving us choices.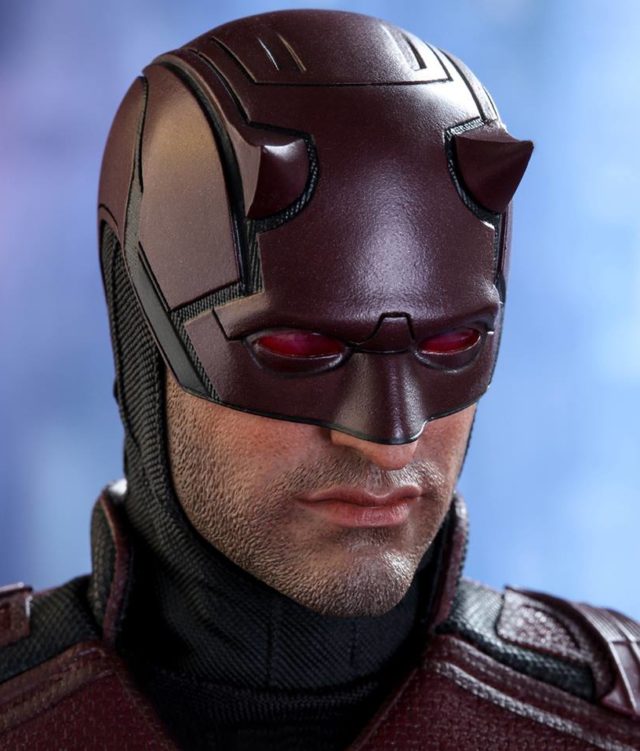 Those who prefer the "museum" heads, have no fear–that option is here as well. There's unfortunately no unmasked Charlie Cox portrait included with this figure, but since Hot Toys went out and paid for the license to make figures of Daredevil and an upcoming Punisher, I wouldn't be too surprised if a Matt Murdock MMS is announced after this figure is a big hit (which it will be).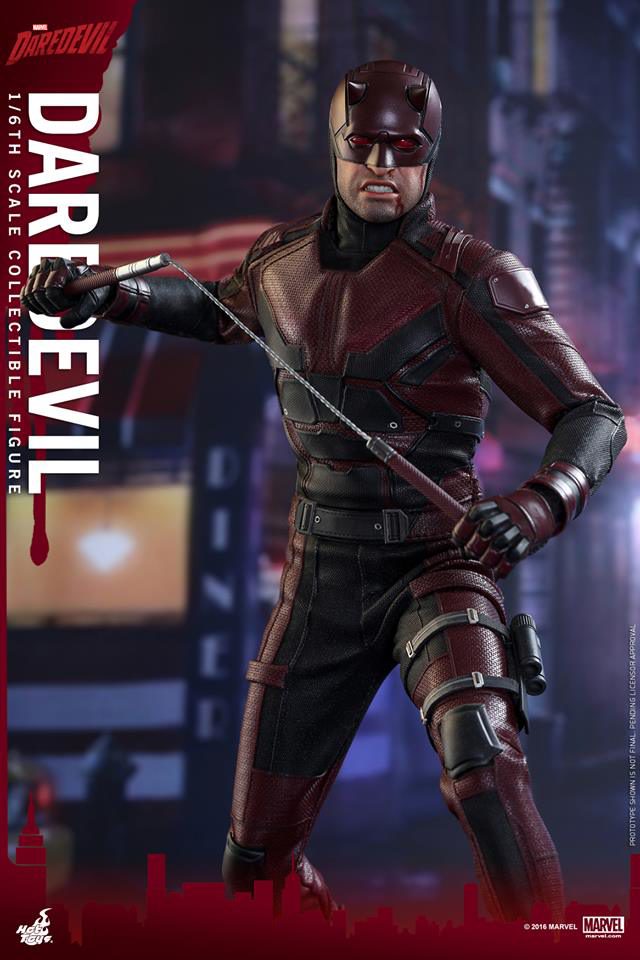 And for those who prefer displaying their DD utilizing the power of nunchaku as opposed to plain ol' trust billy clubs–no worries, you're covered too. The billy clubs can also be stored in the sheath on Dardevil's left thigh (of course).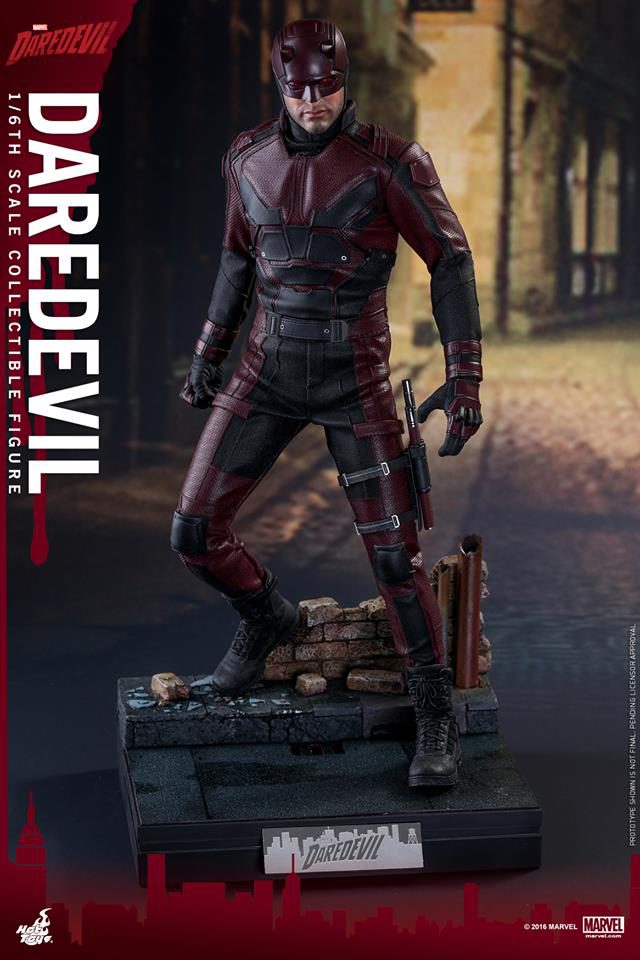 Check out that figure base display stand! This release is obviously a bit removed from the typical MCU MMS figures we get, so we might as well get a more interesting base, right?
Rather than a generic figure stand, Daredevil gets an asphalt road base with a segment of worn-down sidewalk and some crumbling brick. It's not a huge of expensive addition, but it definitely adds a unique flair that helps this figure stand out from the typical crowd.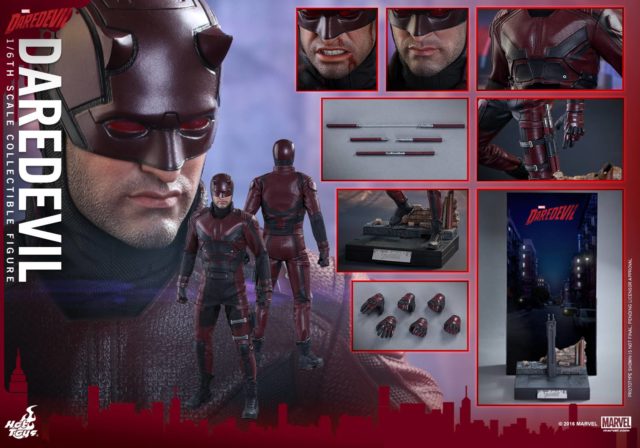 There's also a little Daredevil Hell's Kitchen backdrop that can be attached to the back of the base. It's a little thinner than I prefer my backdrops, but it may add some extra atmosphere for those who choose to display it this way.
There aren't a ton of other accessories included here, but Hot Toys is giving us two interchangeable facial expressions (a feature I'd love to see be more widespread in their releases), three pairs of interchangeable hands and also extended and nunchuck mode Billy Clubs. It's not a lot, but if it keeps the price on this figure down, I'm all for it.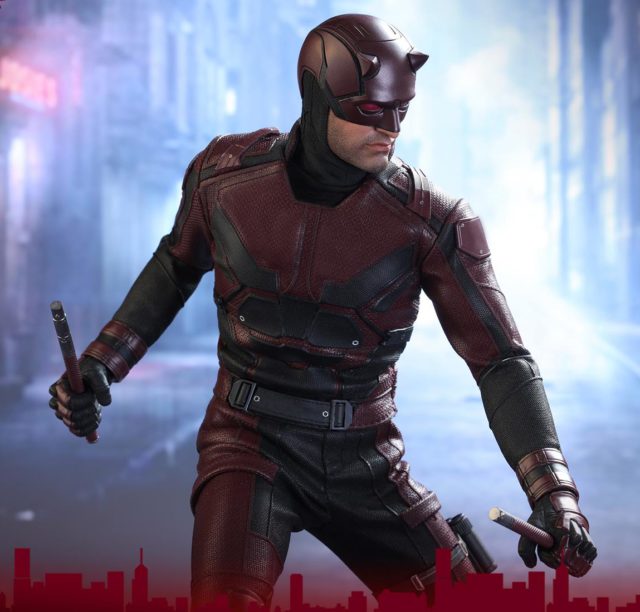 The 1/6 Daredevil Hot Toys figure is now up for order, and is expected to be released in spring 2017. Given the astonishing popularity of this Netfix series and the relative lack of collectibles available for it, I'd be very surprised if Daredevil didn't sell out during the pre-order period like Ant-Man and Deadpool did.
Having seen the official photos, what are your thoughts on the Hot Toys Daredevil MMS, Marvel collectors? Does this figure meet your expectations for a TV Daredevil toy, and what other Netflix Marvel character would you like to see Hot Toys expand to (if any)?