The "official" release date of the Marvel Legends Doctor Strange movie series is under a week away, so let's continue on with in-depth reviews of the figures in the series. I began my reviews with the repainted Dormammu Build-A-Figure, but he's not the only character that's returned from the SDCC Book of Vishanti set! The Marvel Legends Brother Voodoo figure makes an encore appearance in this wave as well… is he worth buying again?
The Right:
Raise your hand if you ever thought you'd be seeing a Brother Voodoo action figure mass released to chain stores all over the world. Uh-huh… that's what I thought.
Mad props to Hasbro–it's a real testament to the strength of the Marvel Legends brand they've built that they can now release characters like Brother Voodoo at mass retail with confidence. Thumbs way up.
When Hasbro released a Doctor Voodoo (Brother Voodoo) six inch figure as part of the 2015 Marvel Legends Book of Vishanti San Diego Comic-Con 2016 set, I thought they did a nearly flawless job with little room for improvement. But a year later, the Brother Voodoo Marvel Legends figure has returned! What's changed?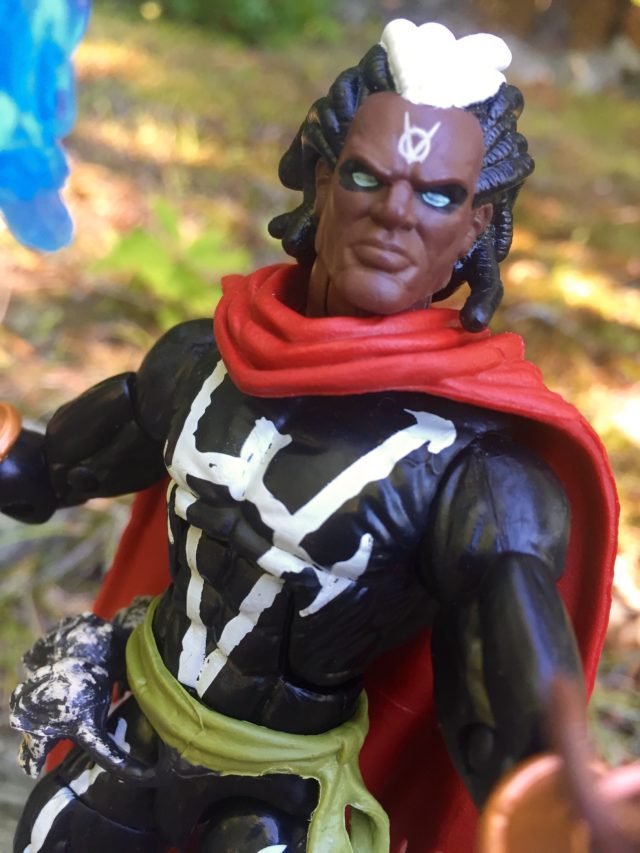 The most obvious–and best–change from the original version of this figure is the repainted head. Whereas the SDCC Brother Voodoo was sporting the skull deco facepaint Brother Vodoo face, that's not the more recognizable or classic look for Jericho Drumm.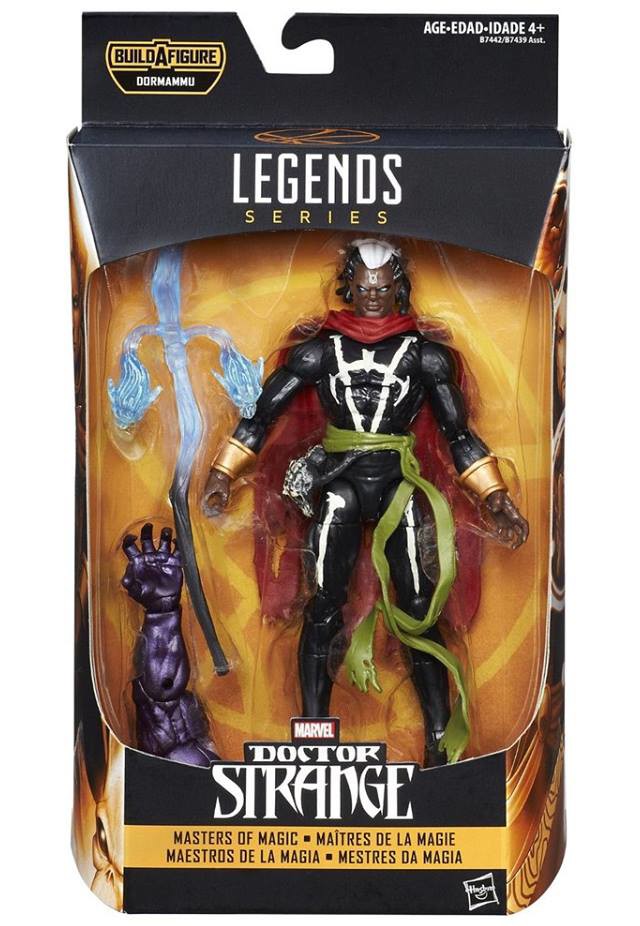 But never one to leave fans without options, Hasbro has remedied that by repainting the head. Now this head sculpt looks perfect–it's exactly what I wanted in the first place (with the awesome dreadlocks still intact).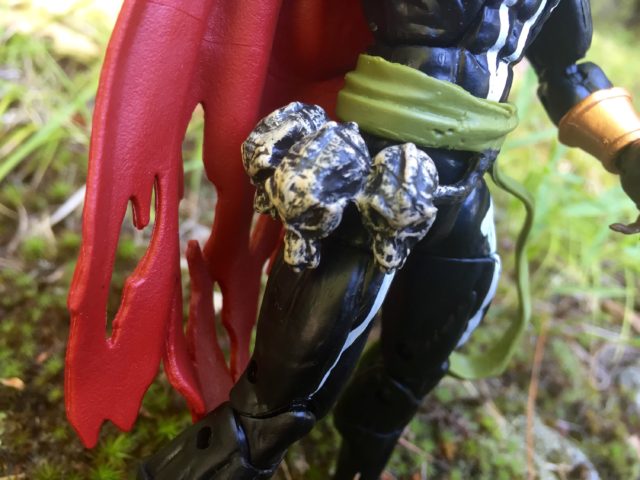 Another change that's pretty blatant is the paint deco on the skulls on the Doctor Strange Legends Brother Voodoo figure's belt. While the SDCC Book of Vishanti figure's skulls had a neat striped paint pattern on them, this time the skulls are painted like, well… skulls.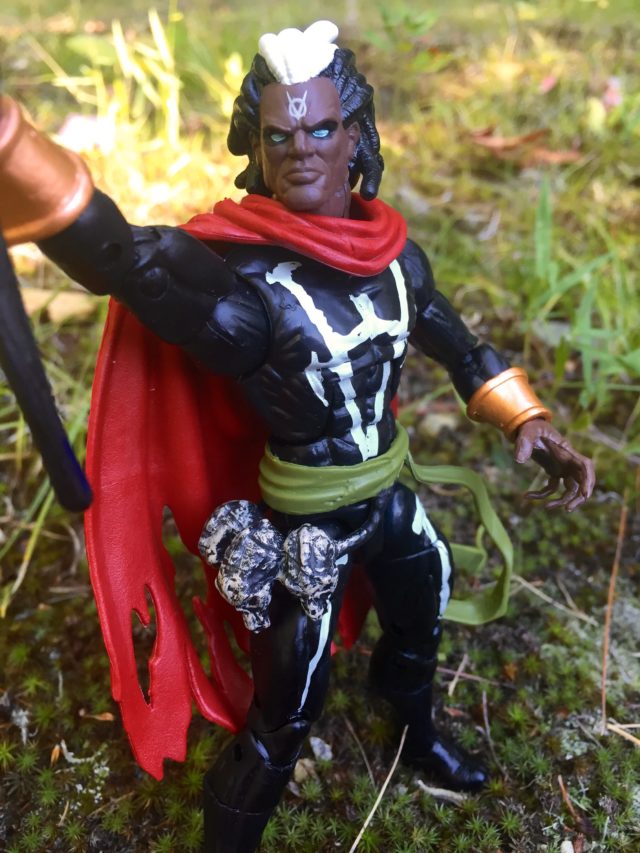 I won't say that this more commonplace look is better than the paint deco on the previous iteration–that's a matter of taste–but I do think the more normal skulls are neat and less distracting to me.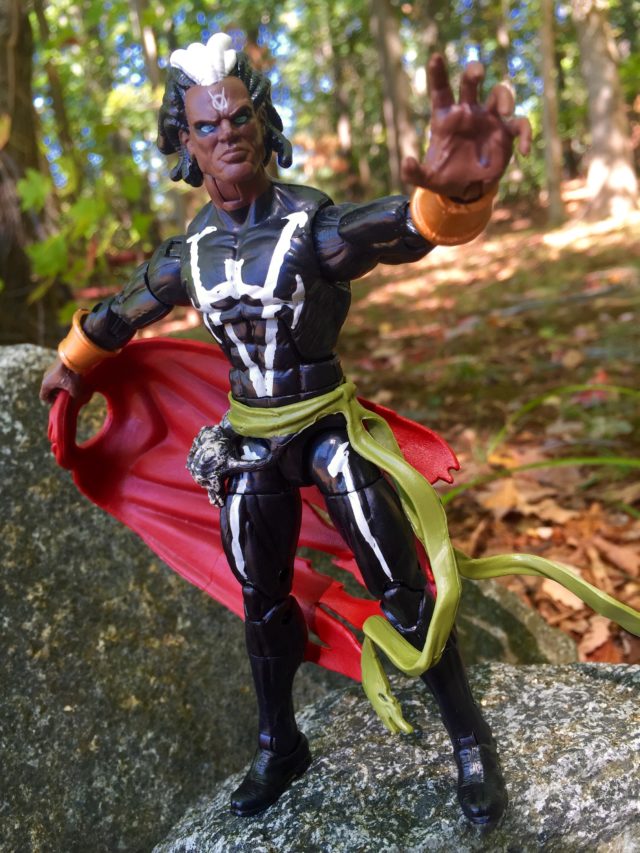 Articulation on ML Brother Voodoo is outstanding as usual for Hasbro Marvel Legends. There's not too many action-based poses that make sense to do with this character, mind you, but having him tossing his removable cape aside is a favorite of mine (along with any variation of hoisting up his amazingly-detailed Staff of Legba accessory).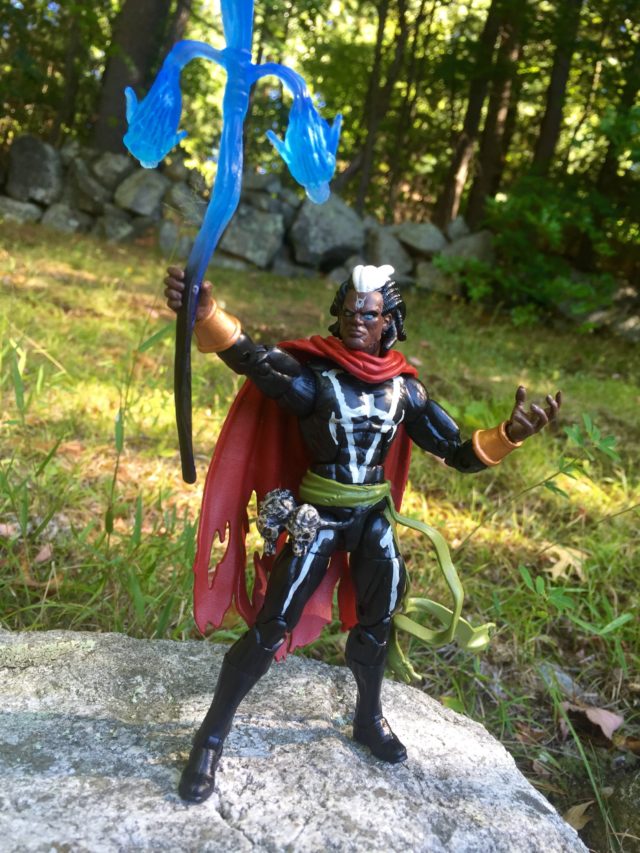 Here's the full articulation rundown: ball-hinge neck, swivel waist, upper-torso ab crunch, ball-hinge shoulders and wrists, swivel biceps and thighs (plus boots), double-jointed elbows and knees, ball-jointed hips and hinged feet with ankle rockers. Every major point of flexibility is present and accounted for.
The Wrong:
While I'm really psyched about the repainted head, the other changes for the mass-release version of Brother Voodoo have left me… less excited.
For whatever reason, the great-looking bone necklace that Doctor Voodoo almost always wears is absent from this action figure, even though the Comic-Con version came with it. Strange.
Furthermore, Hasbro has given this Brother Voodoo figure a different cape that's a darker red and full of tatters–but missing the medallion that Voodoo uses to focus his magical powers!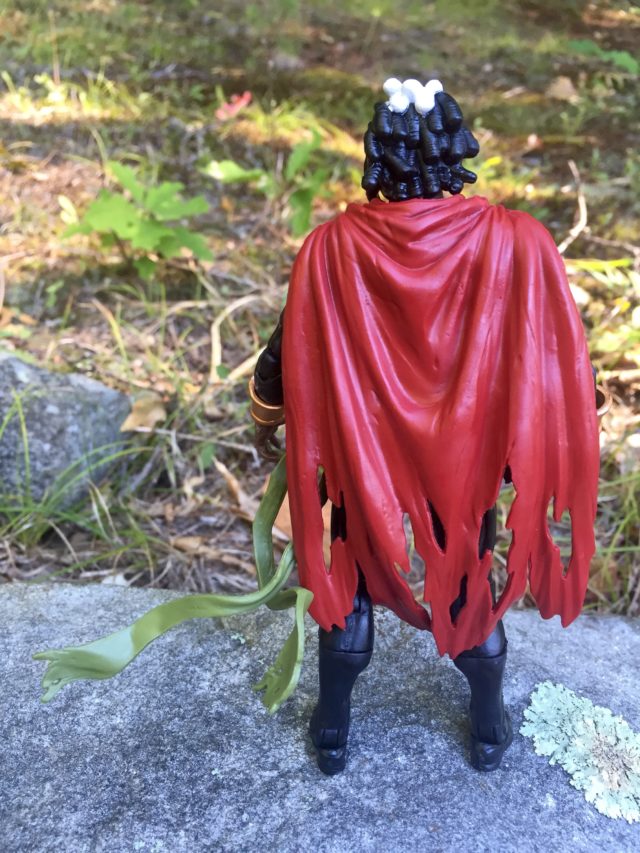 This is another huge exclusion, and while I do like the battle-worn cape (which would be great for an Age of Apocalypse Gambit), Doctor Voodoo looks rather naked without the medallion affixed to him. This is another big loss.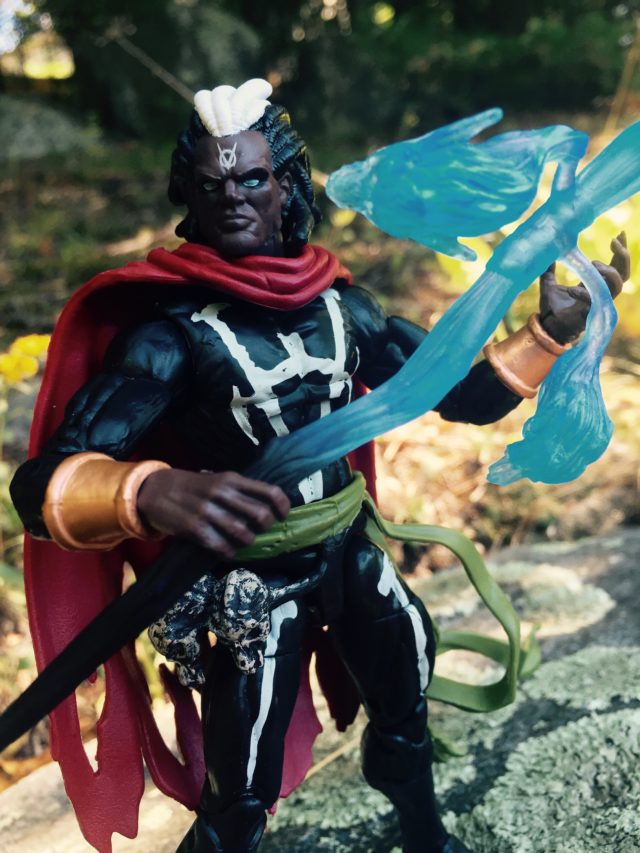 In addition, as stupendous as the Staff of Legba looks, there's two problems with it. First, the blue coloration this time out makes it harder to see the detail on the supernatural heads attached to the Staff compared to last year's SDCC version. It's a minor complaint, but it still doesn't look quite as neat.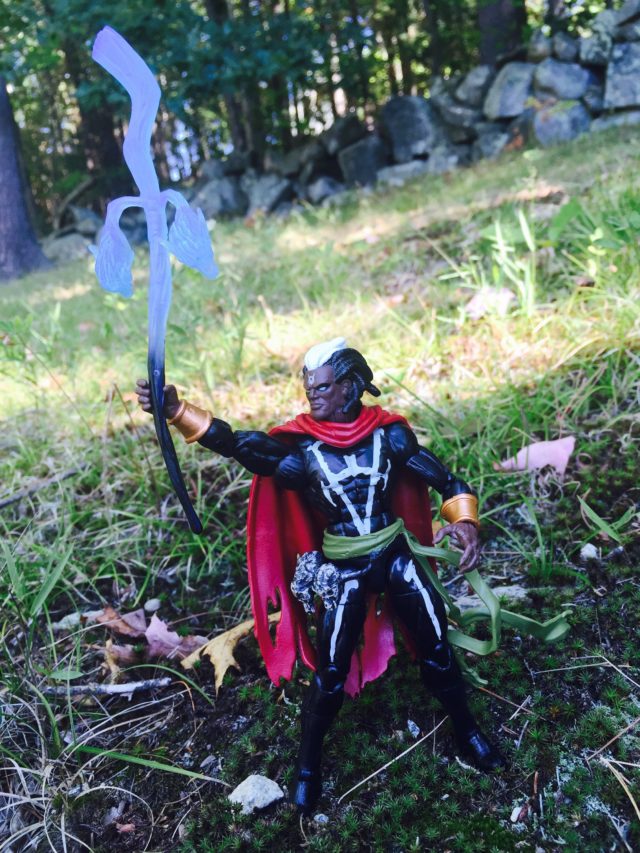 Secondly, Hasbro used the bane of my existence–soft, super-weak plastic–for the joint in Brother Voodoo's elbow and for his wrist. As a result, it's very tricky getting stable, dynamic poses with Brother Vooodoo holding up the Staff of Legba.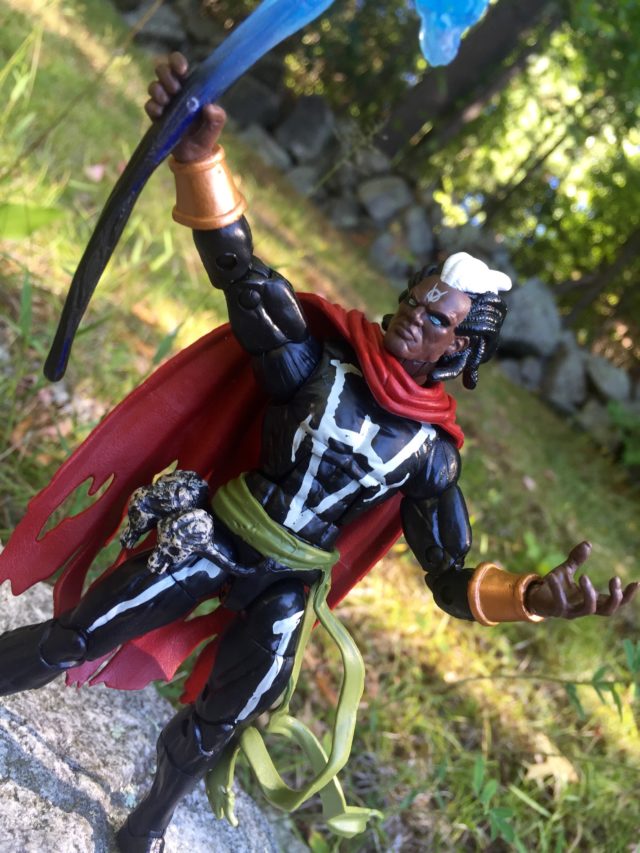 Overall: This repaint of last year's SDCC Exclusive Brother Voodoo figure only brings one positive new element to the table: a head sculpt not marred by the skeleton tattoo deco all over the face. In that respect, I'm really pleased with this figure.
But otherwise, this figure is a clear downgrade from the Book of Vishanti figure, with no bones necklace, a less-cool staff, weak plastic arm joints and a now-tattered cape that's missing Brother Voodoo's iconic medallion. I really like the newly-painted head on this figure, but otherwise the original version is superior.
GRADE: C+