Get ready to have your minds blown, Marvel collectors: it's been nearly two months since Hot Toys put a new Marvel sixth scale figure up for order. Craziness, right?! But the drought is at an end, and what an end it is–the Hot Toys Doctor Strange sixth scale figure is now up for order! I have mixed feelings about the trailers I've seen for the upcoming Doctor Strange movie, but my only feeling about this 12″ figure is that it is awesome…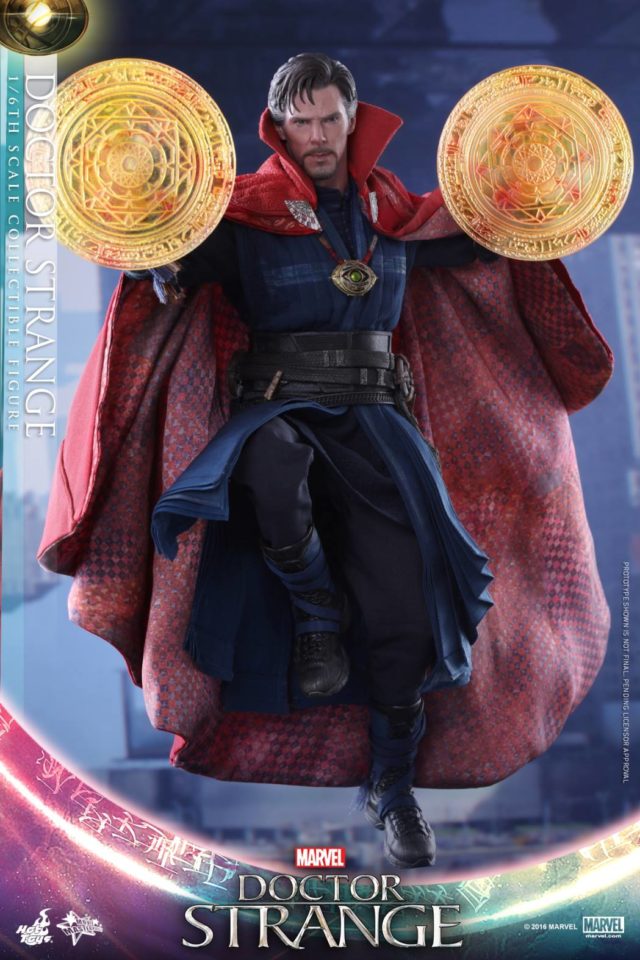 From time to time I'm prone to gushing about the sheer greatness of Hot Toys' best figures. If that irritates you, you'll have to forgive me, because this is going to be one of those instances.
Doctor Stephen Strange isn't even in the conversation when I think about my favorite two dozen or so Marvel characters, and the movie trailers thus far have left me feeling skeptical. But this 12″ Doctor Strange Hot Toys figure? This is a must-have for me.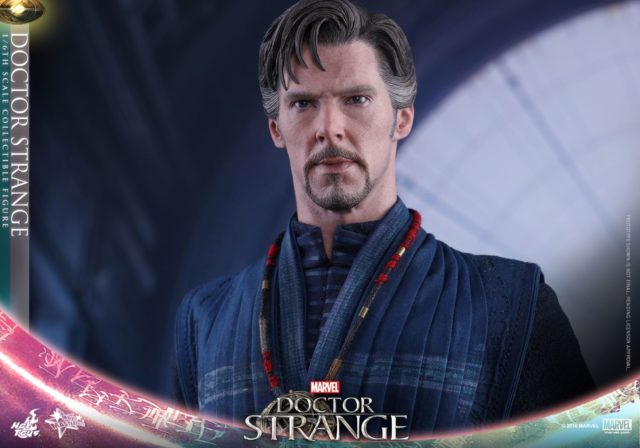 First and foremost–just look at that Benedict Cumberbatch portrait. I don't think it's hyperbole for me to say that this just may be the best likeness I've ever seen on a sixth scale figure. The Benedict Cumberbatch had sculpt likeness is simply amazing.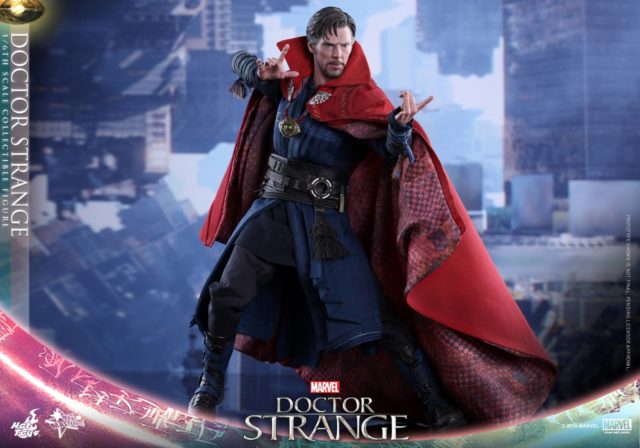 But that's not all that's great about this figure–the Hot Toys Dr. Strange figure features an expertly tailored costume that is again among the company's best work to date. The colors and textures of Strange's tunic and the inside of his cape really are breathtaking (okay, that might be hyperbole, but you get the idea).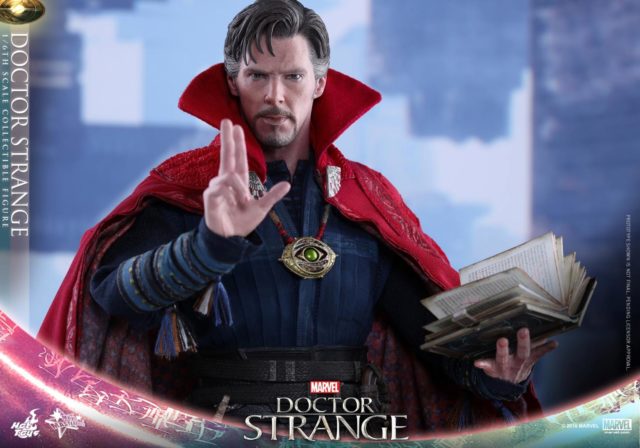 And speaking of the cape, Hot Toys has implemented a feature never seen before in the Marvel Movie Masterpiece Series for this figure: the glorious, plush Cloak of Levitation attached magnetically to the sixth scale figure, so it can be instantly attached and removed without any fuss or marring of the base figure itself! Brilliant!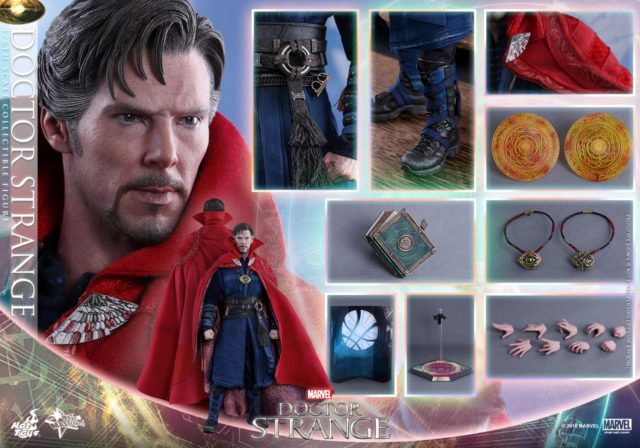 Hot Toys is known for going all-out with accessories, and they are truly giving us a veritable treasure trove of goodies with this Doctor Strange MMS.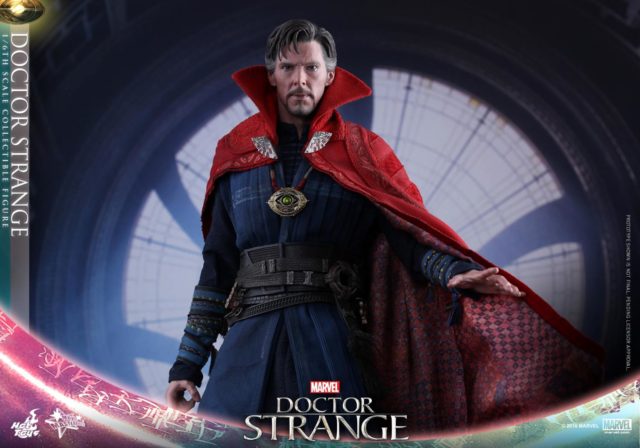 Along with the nine interchangeable hands and figure base with flight stand, we're also getting the Book of Cagliostro, two Eye of Agamotto amulet necklaces (both open and closed versions!), two slightly different rune effects pieces,  the magnetically-attaching cloak of levitation, and even a Sanctum Sanctorum backdrop! Hot Toys is well and truly spoiling us with this release!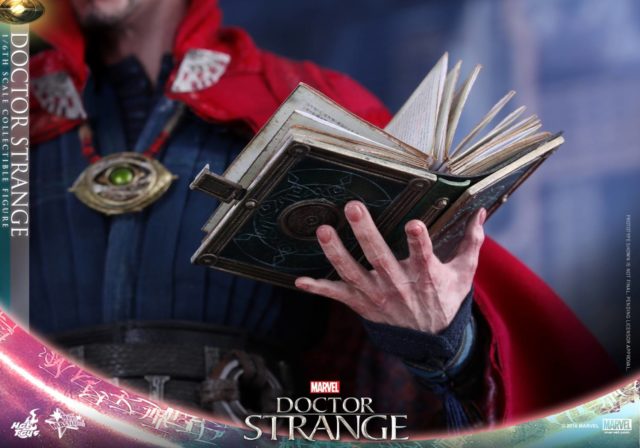 The Book of Cagliostro looks especially nice, with real miniaturized text writing on the pages inside! This book is going to drop a lot of jaws when folks see it in person for the first time.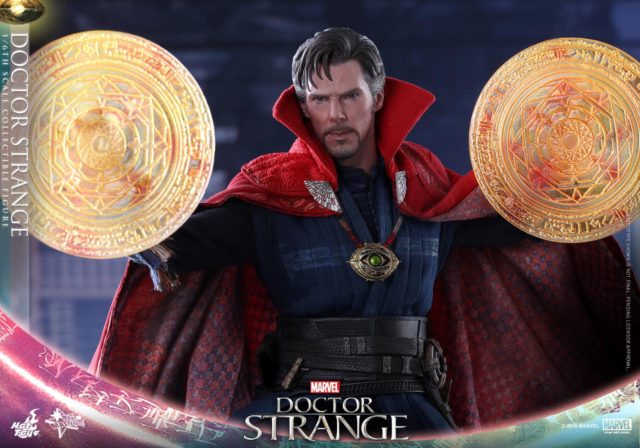 I'm also a huge fan of the magical effects pieces (runes) included with this figure. I love that Hot Toys has designed them to look slightly different, and the colors and plastic chosen for these runes look superb.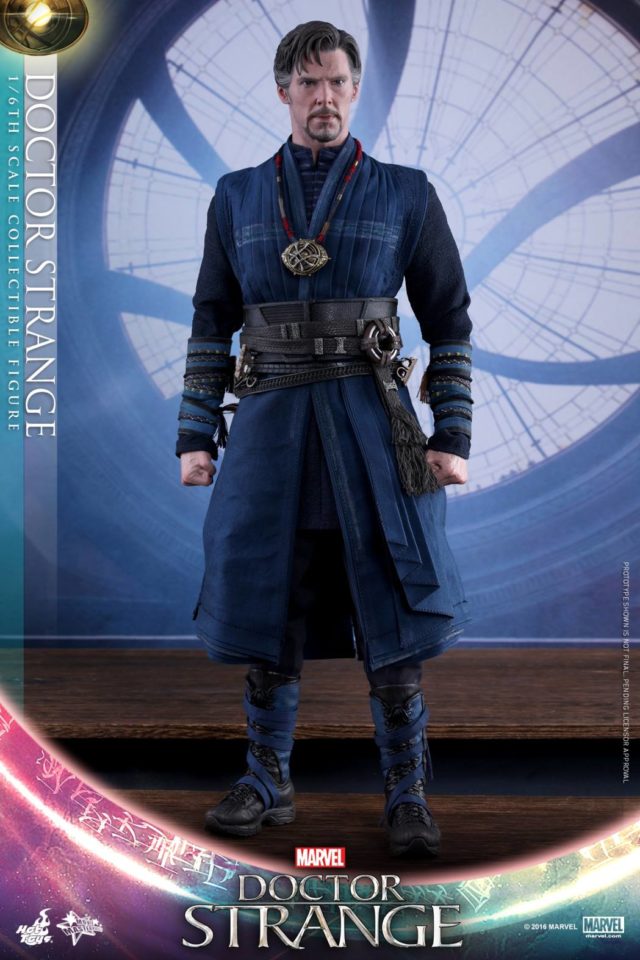 You'll note that this time out, the pole of Doctor Strange's figure stand is clear instead of the usual black. That's a bit of a switch, but there's a good reason for the change–the clear stand will allow the Sorcerer Supreme to be posed in levitating poses, including the ever-popular "setting cross-legged and levitating" pose!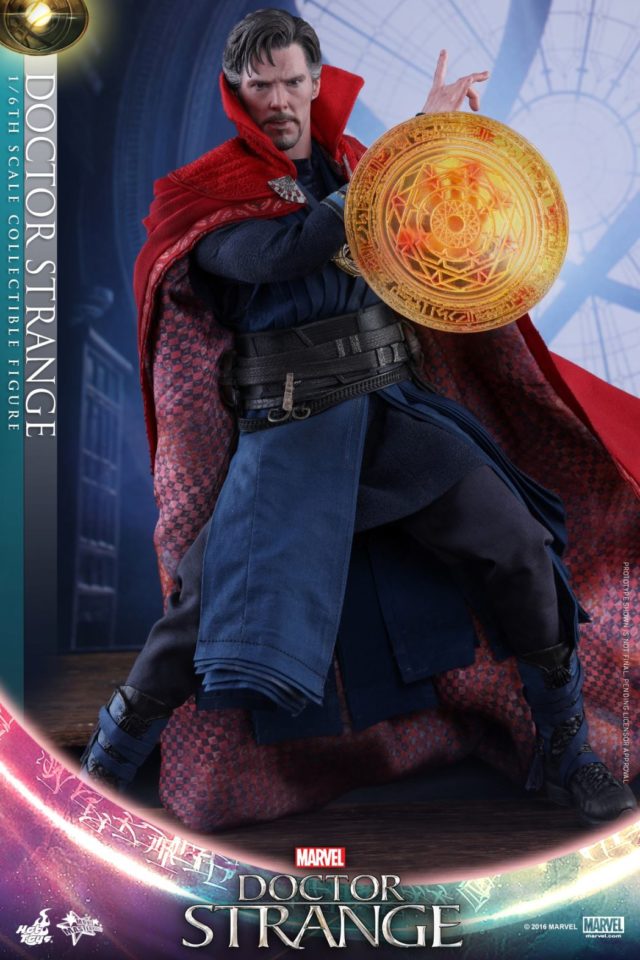 If there's one downside to this magnificent sixth scale Doctor Strange figure, it's that we're going to have to wait quite a while for him. While pre-orders will be opening up for him imminently, the estimates release date isn't until Q2/Q3 2017 (April to September 2017).
Sideshow Collectibles just announced the pricing for this figure in the United States a few minutes ago, and the price ended up being ever lower than the best I'd hoped for: just $234.99! At that price, this quality of figure with tons of excellent accessories is a real steal–something that I don't get to say very often at all when it comes to Hot Toys!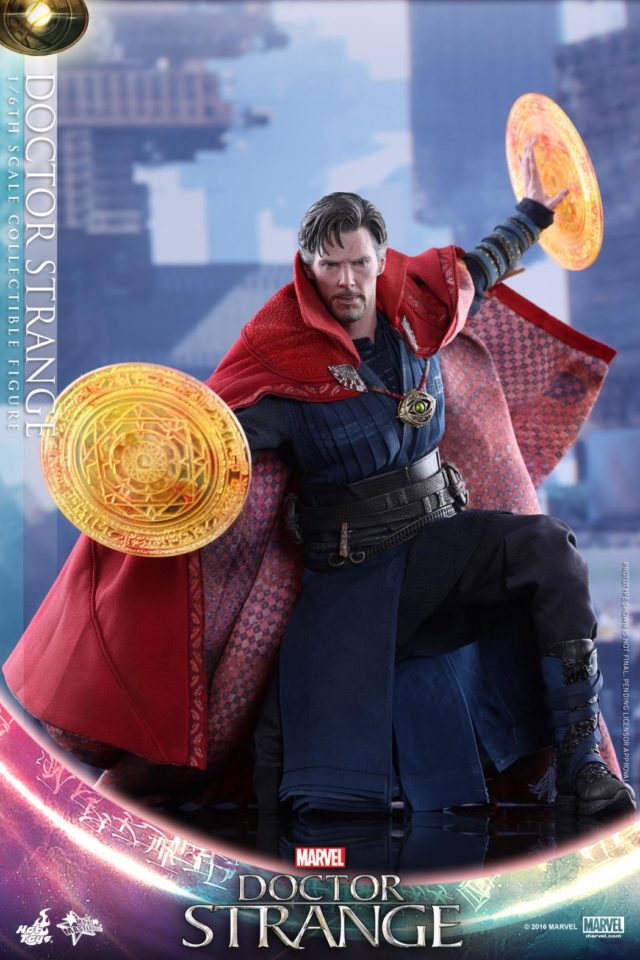 The 1/6 Doctor Strange Hot Toys MMS figure is now up for order, and is scheduled to ship in Q2 2016. Following the Hot Toys Deadpool and Ant-Man figures selling out in the pre-order phase, I have a hunch this Stephen Strange will be selling out early as well. Don't delay too long if you know you want this masterpiece.
Now that we've seen the official photos of this glorious figure, are you in for the Hot Toys Doctor Strange movie figure, Marvel collectors? And am I crazy, or is this seriously the best armor head sculpt that Hot Toys has ever done?