When Baby Groot danced into our hearts at the end of the first Guardians of the Galaxy movie, collectibles companies were caught off-guard and needed quite a few months to catch up. History did not repeat itself with GOTG Vol. 2, as virtually every company was ready to strike with their own little Groot! I genuinely thought maybe the only high-end version I needed was the Sideshow maquette, but now that the Hot Toys Life-Size Groot figure has begun shipping, I realize I was lying to myself…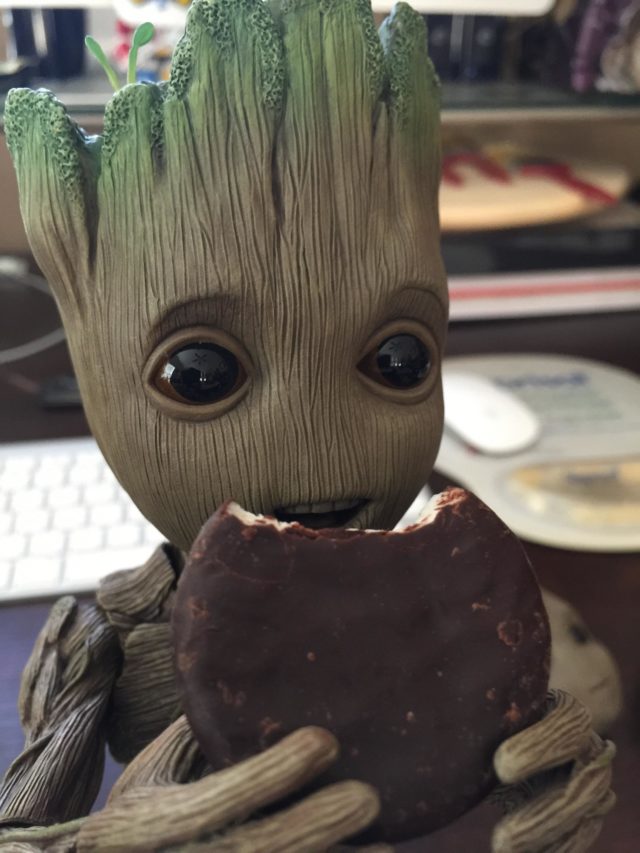 One of the things that I've had to accept over the course of the last two years is that I just don't have space for every toy I like. Since I started collecting high-end figures and statues seriously and had to start storing their enormous boxes (somehow), space has become a
real
concern.
And so, I ended up deciding I only needed to buy one high-end life-size Groot from Guardians of the Galaxy Vol. 2: the Sideshow Groot Maquette.
…At least, that was what I thought right up until I saw some superb photos of just how fun, awesome, and fun (did I already say that?) the Baby Groot Hot Toys figure is. Turns out I needed two Groots after all!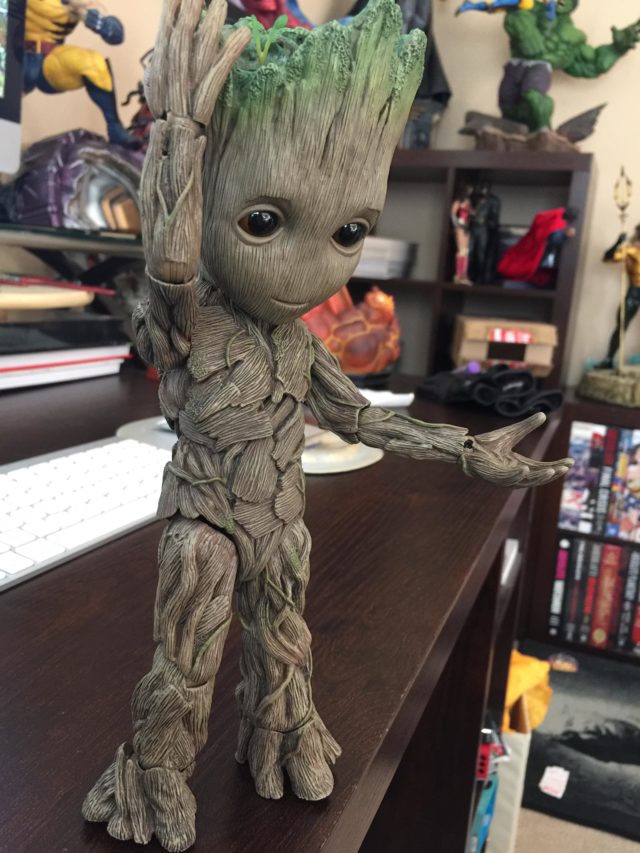 The maquette hasn't released yet, so it's still a bit up in the air how that's going to turn out. But this Hot Toys figure…? Yeah—it looks like Groot danced right off the screen (I mean, if he wasn't a CGI construct).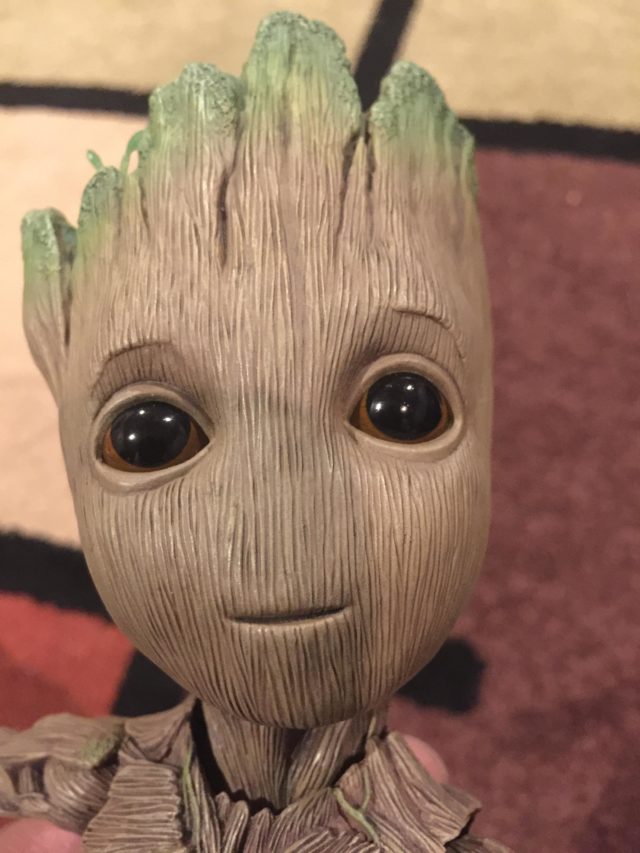 The intricate sculpting on his tree-like body is off the charts accurate, and the paint deco and shading look just as good. Hot Toys rarely misfires on a major Marvel product, and this is no exception.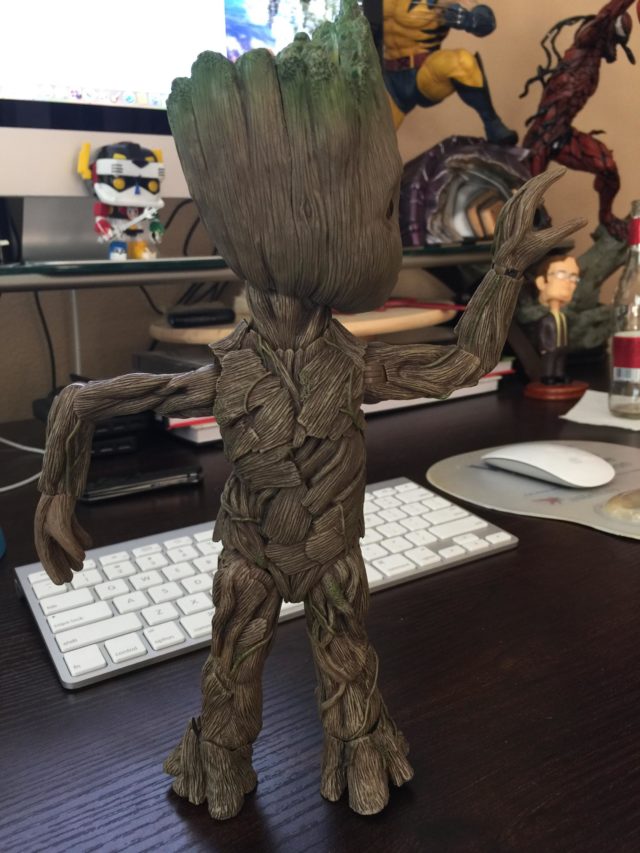 As much as I'm looking forward to my Sideshow maquette of this character arriving, I'm not convinced that they're going to be able to make a Groot that looks as lifelike as this one.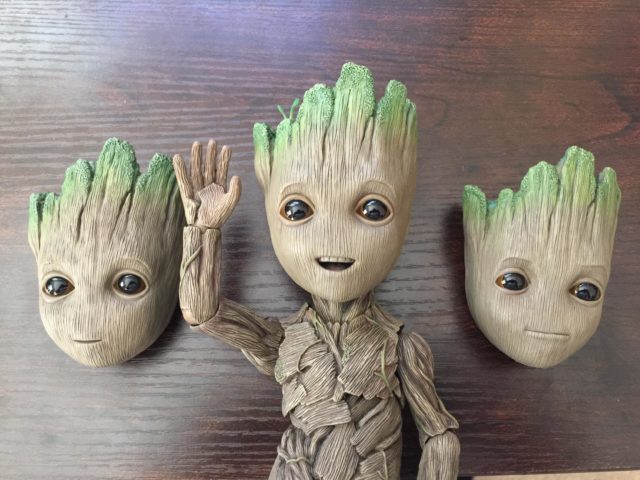 Kid Groot is pretty expressive in GOTG 2, so it's a godsend that this figure comes with three interchangeable faces: neutral smile, open mouth smile and grumpy.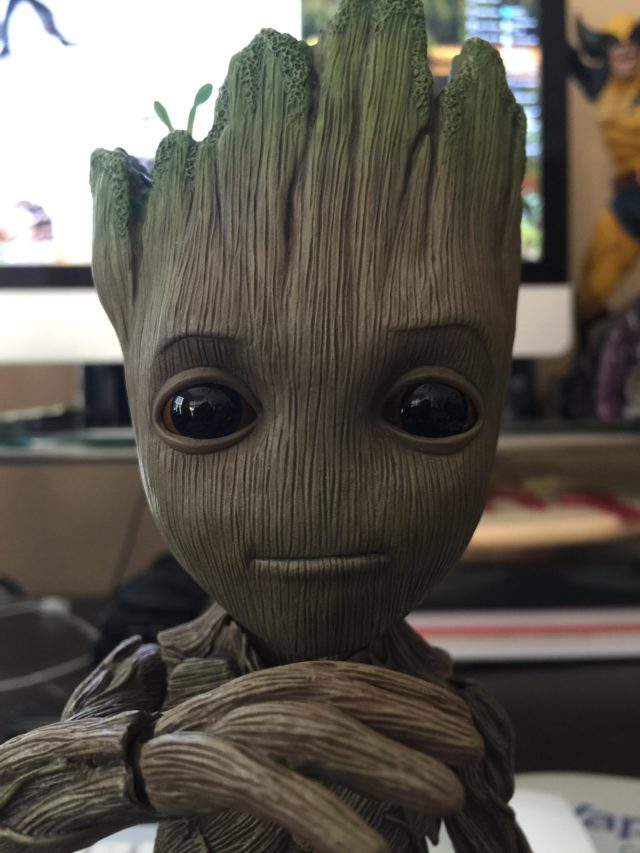 I think the "grumpy" Groot face would have benefitted a ton from being a super pissed-off "angry" Groot face instead, and would have paired much better with the included attack hands. The lack of a true angry head is actually my one big complaint about this figure.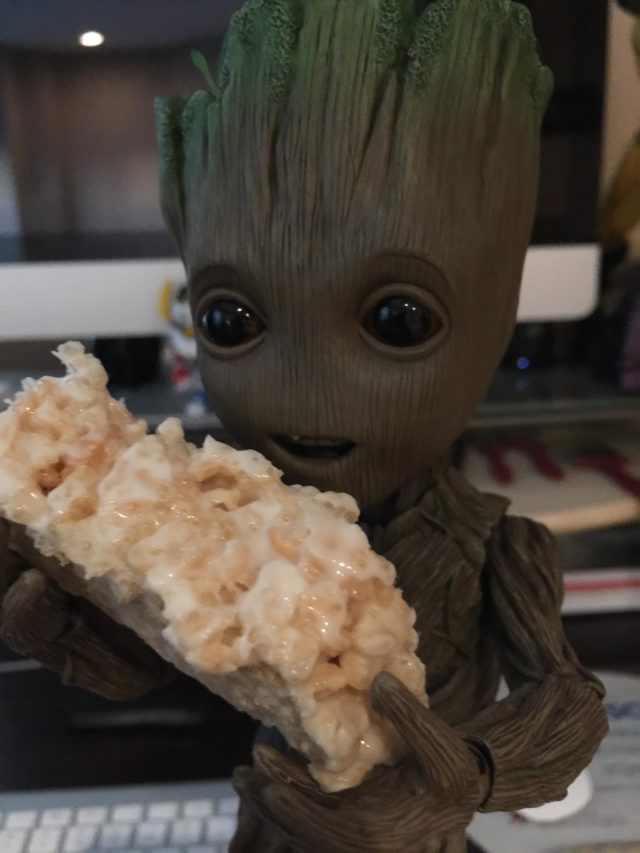 Speaking of his hands—the figure comes with both the aforementioned attack hands (with posing wires in them) and relaxed hands (for holding whatever you can think of). I've seen tons of hilarious and dynamic photos of the Hot Toys Baby Groot figure holding a huge range of things—this is one seriously fun figure.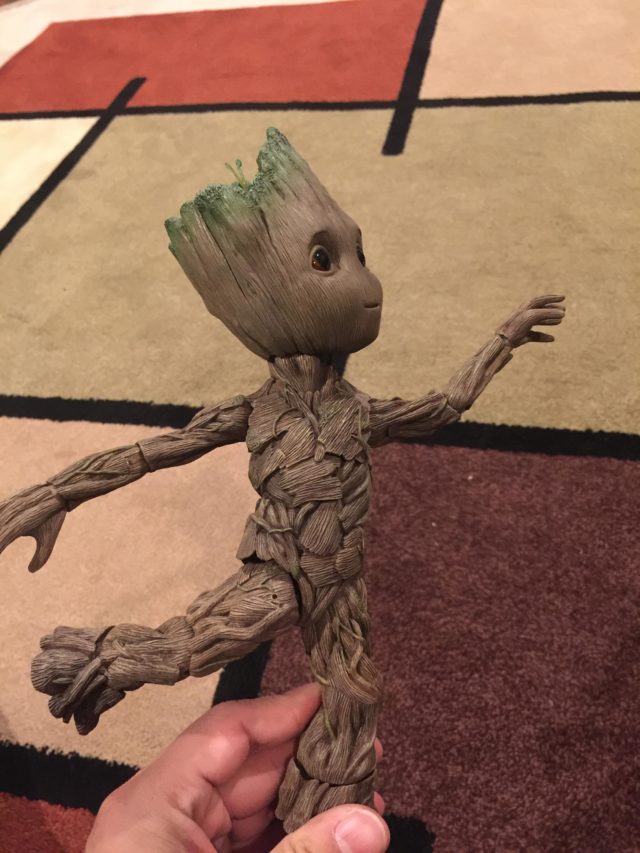 And if you're worried about the joints being either too tight or too loose for posing, don't be: the figure feels nice and solid and has joints that work smoothly and hold poses without a hitch.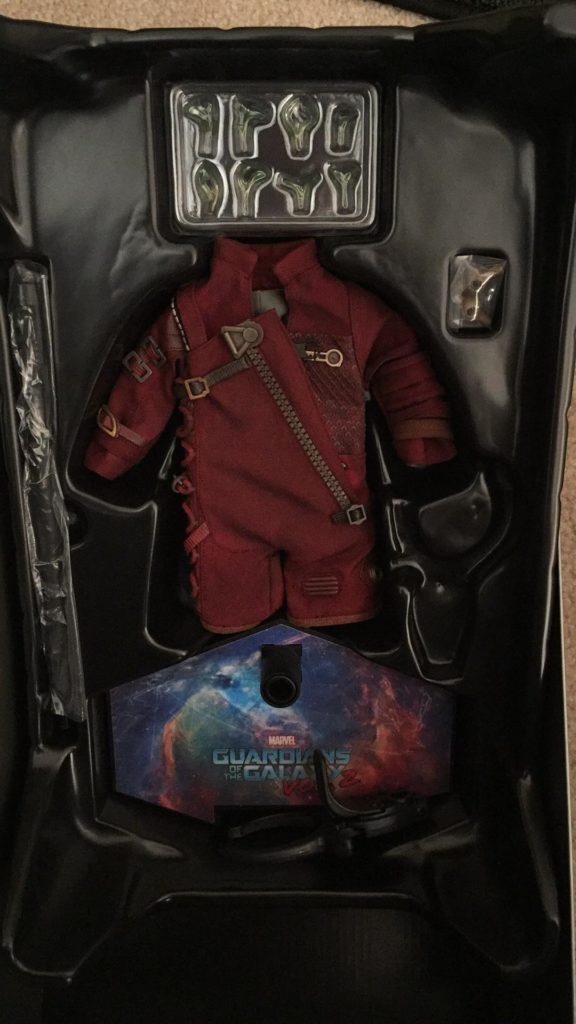 Groot's Ravagers costume is also included, so it's not like this figure is soft goods-free. Unfortunately, something happened between when I first saw the red Ravagers costume and fell in love and now: I saw the movie. Knowing that this costume is basically a torture device for poor little Groot does not make me want to ever force him into it, y'know?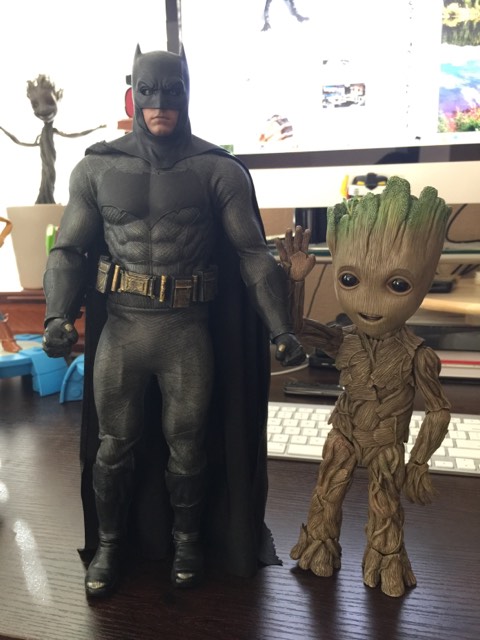 Now, as usual, the price is the breaking point for most collectors who decide to stay away from Hot Toys, as even the cheapest Marvel Hot Toys sixth scale figures these days tend to retail for $220+.
Luckily, the Groot Life Size figure is lower-priced (although perhaps not by as much as many would like): $189.99. That's certainly not "cheap" for a 10" figure, but I think it's acceptable given the amount of accessories and that this is a 100% unique sculpt that can't be reused.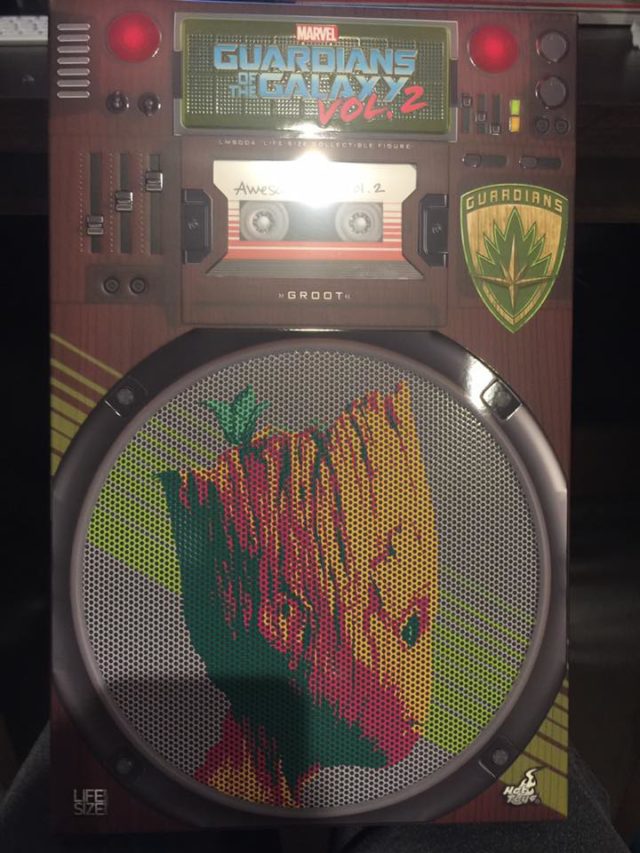 Overall, while I initially opted for the Sideshow Baby Groot Maquette Statue, I'm glad that I ultimately decided to order this figure as well. The Hot Toys Life Size Baby Groot is a humongous winner in sculpting, paint, articulation and quality. I'd have liked some fists and a more angry face to be included to put this into top-rated territory, but it's still a fantastic piece just the way it is.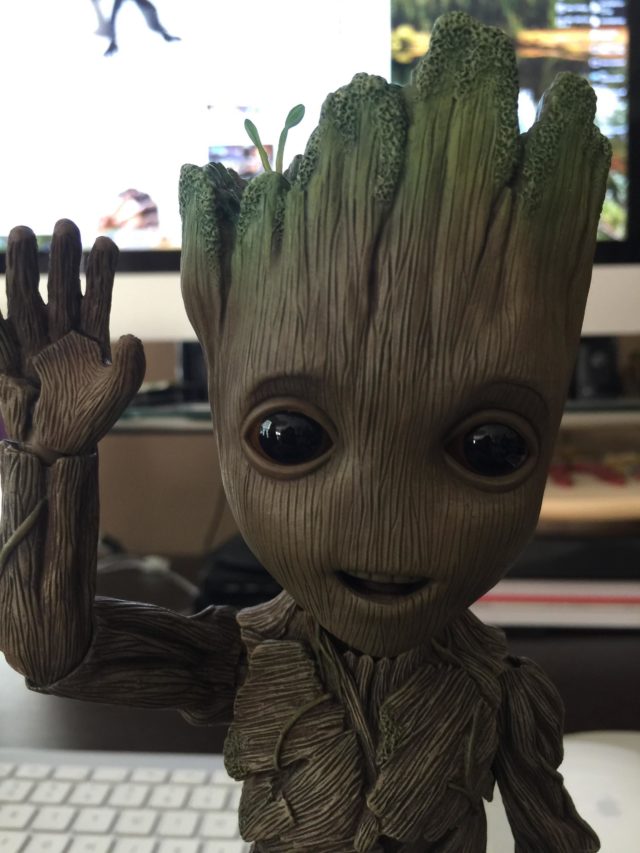 And a huge thanks to the great Bang H Lee for sending over his photos and convincing me to buy this figure! You're a hero, Bang!
GRADE: A