11 months ago, Mezco Toyz held their annual pre-Toy Fair 2017 event, where they debuted several of their most ambitious Marvel ONE:12 Collective figures to date. But even amongst figures like ONE:12 Collective Doctor Strange with his elaborate costume, one figure stood out—because it had no soft goods at all! Almost a year later, the ONE:12 Collective Iron Man figure is now up for order! Is this figure worth more than quadruple the cost of a Marvel Legends?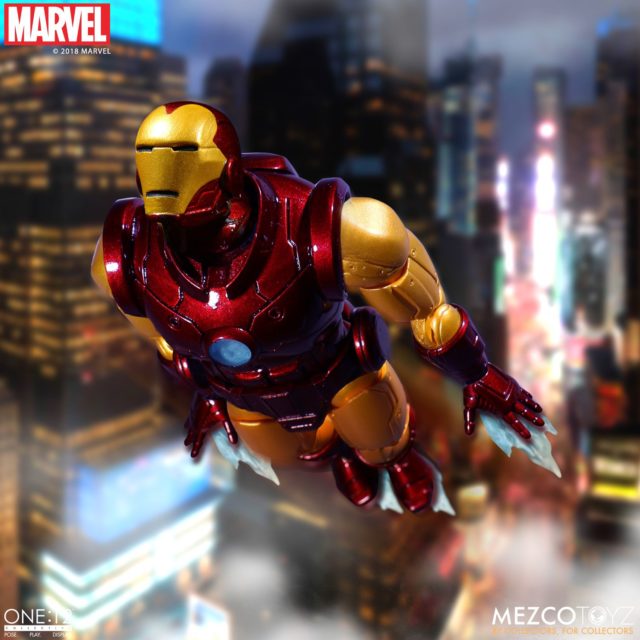 One Marvel character that I thought it might be a longshot to see during the first few years of the Mezco ONE:12 Collective Marvel Figures line was Iron Man, since the line focuses on fabric costumes—and Iron Man (obviously) doesn't wear any fabric.
But in retrospect, that was a stupid notion I had. ONE:12 Collective figures are basically smaller Hot Toys, and Hot Toys has created more Iron Man figures than any other character ever. And now, Mezco Toyz is following suit with their first!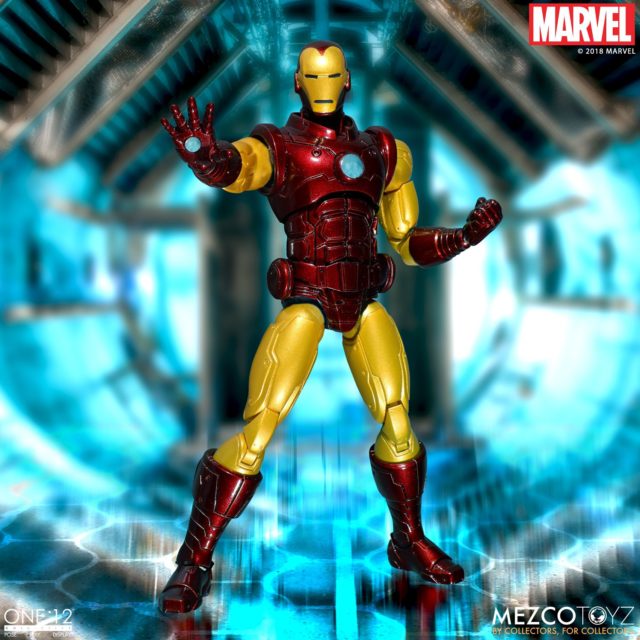 Mezco Toyz is wisely coming out of the gate with what's the most likely surefire seller: a classic red-and-yellow Iron Man armor. The retro vibe of this armor will fit in nicely with the many other classic costumed characters we've seen in this line.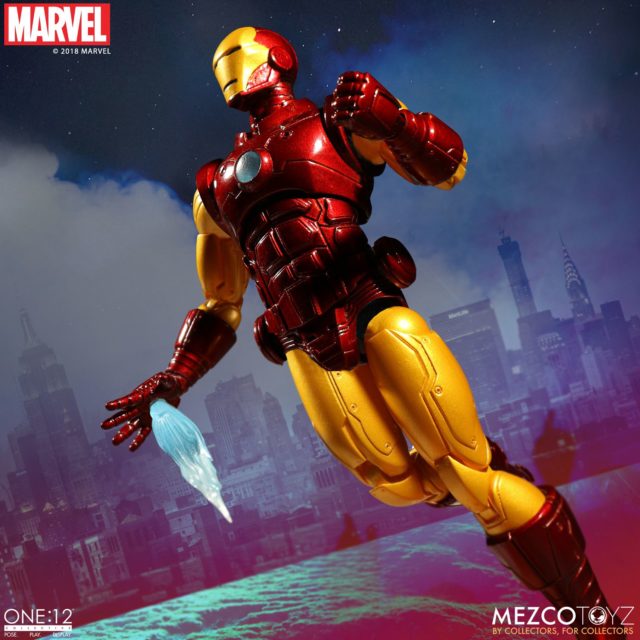 Of course, with zero soft goods, is this Iron Man ONE:12 Collective figure really worth 450% the price of a Marvel Legends figure…? Let's discuss!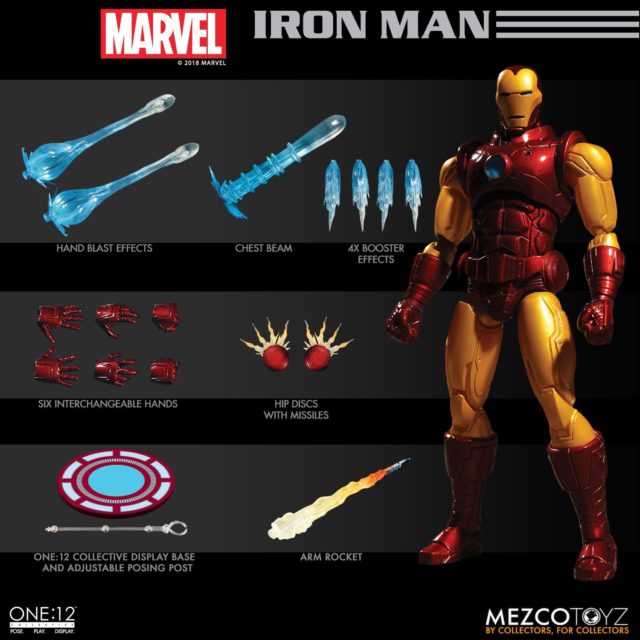 One area where the Mezco Iron Man  absolutely annihilates every Hasbro Iron Man Marvel Legends figure ever released is accessories. The ONE:12 Collective figure comes packed with a whopping eighteen accessories!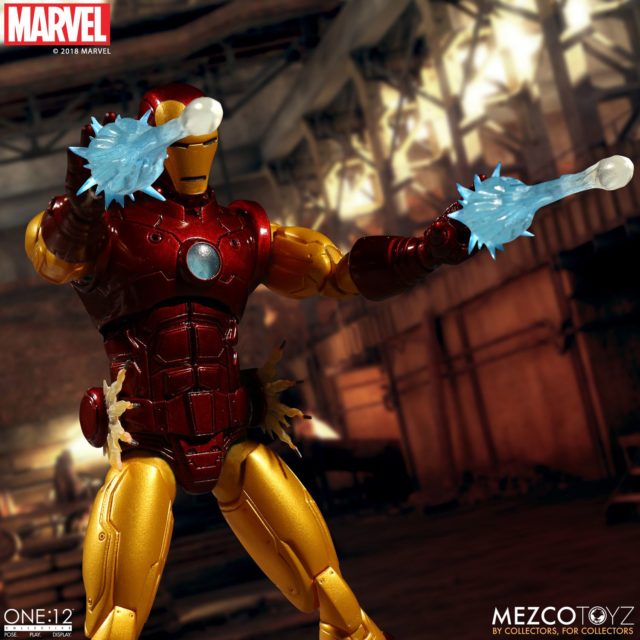 In addition to the six interchangeable hands and obligatory display base with posing pole, we also get a chest beam effects piece, two hip discs with missiles, a firing missile effects piece, a pair of hand blast effects and a quartet of booster effects. That is quite an assortment for a 6" figure!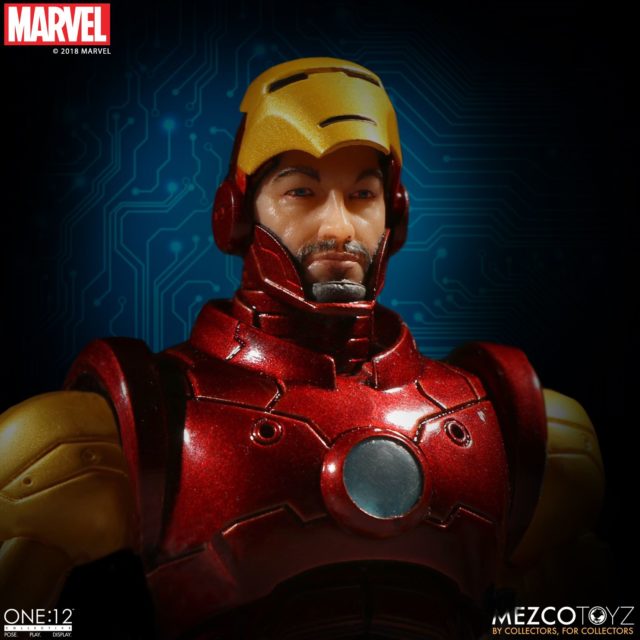 In addition, the Iron Man faceplate can be flipped up to reveal a comics-based Tony Stark portrait beneath. This is a feature we've come to expect from Hot Toys versions of the character, and it's great to see it now on a 1:12 scale figure as well.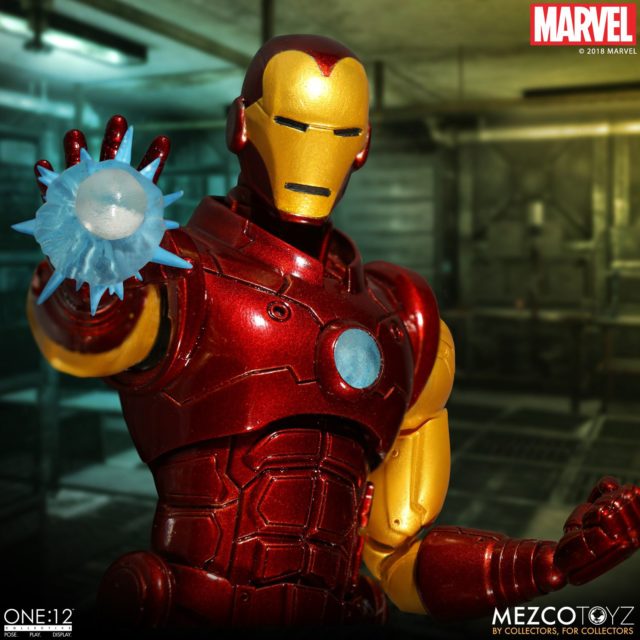 It's also worth noting that the the metallic red paint apps on this figure look phenomenal. It's hard to judge without having the actual figure in-hand, but it seems pretty clear that the paint on this Iron Man will be superior to that of any Marvel Legends Iron Man in the land.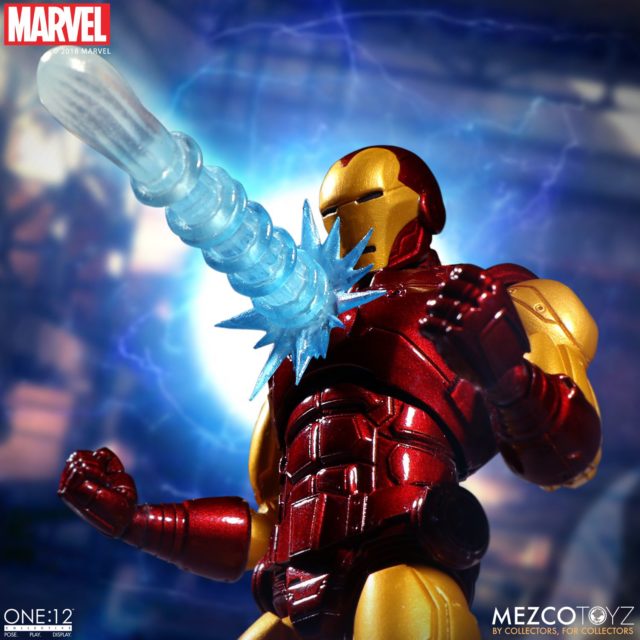 There's also a light-up feature for the chest reactor for this Iron Man, just like we've become accustomed to from Hot Toys! This is another feature I wouldn't expect to see Hasbro implement any time soon (if ever). And hey–Mezco Toyz is even including a battery. Thanks, Mezco!
The question remains, though: do these features and extras make this figure worth $90? That's a question that's going to vary from collector to collector, and also one I'm going to have to ponder a bit myself.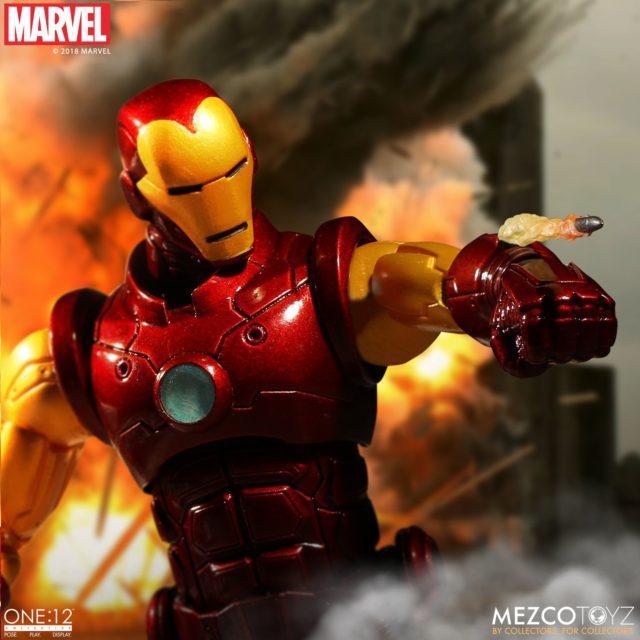 The Mezco ONE:12 Collective Iron Man figure is now up for order, and is scheduled to ship out in Q3 2018 (July-September 2018). Mezco Toyz is notoriously bad about meeting their release targets, however, and consequently I'd be pretty shocked if this arrives before Q4 2018 at the earliest. But I'd be even more shocked if we don't see a blue Stealth Iron Man revealed as an exclusive later this year!
Do you think this 6" Iron Man figure is worth 90 bucks, Marvel collectors? Are you planning to invest in one yourself, or are you content with your Marvel Legends versions of the character that cost a quarter of the price?