Lightbulbs will not be going off in the heads of the vast, vast majority of the billions of people in the world when they hear the name "Erik Killmonger". Maybe that will change significantly after he appears in a major movie release next month (or maybe not–poor Malekith!), but for now, Killmonger is a bit of a no-name among all but the most hardcore comic fans. Even so, the first super-articulated Marvel Legends Killmonger figure is now available–and he just may end up being one of the surprise hit best figures of 2018…
The Right:
When I saw the first trailer for next month's Black Panther movie, my mind was immediately boggled. "A second, evil Black Panther is the villain? What?!" I thought it was a pretty stupid idea, but didn't think much about it.
Then I saw the toys for the movie, and started to get a feeling for just how cool a slightly differently-looking evil Black Panther could be. But until I actually had him in hand, I truly didn't understand just how neat this "Golden Jaguar" Killmonger figure actually is…!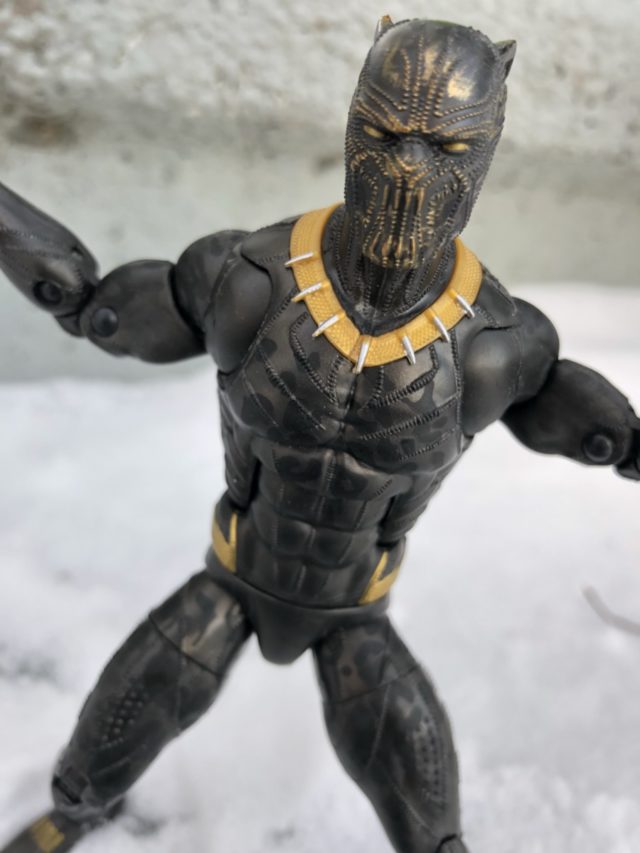 While you might not have noticed it in online photos if you weren't paying close attention (and I honest to God did not), the main color on this figure is not straight-up black.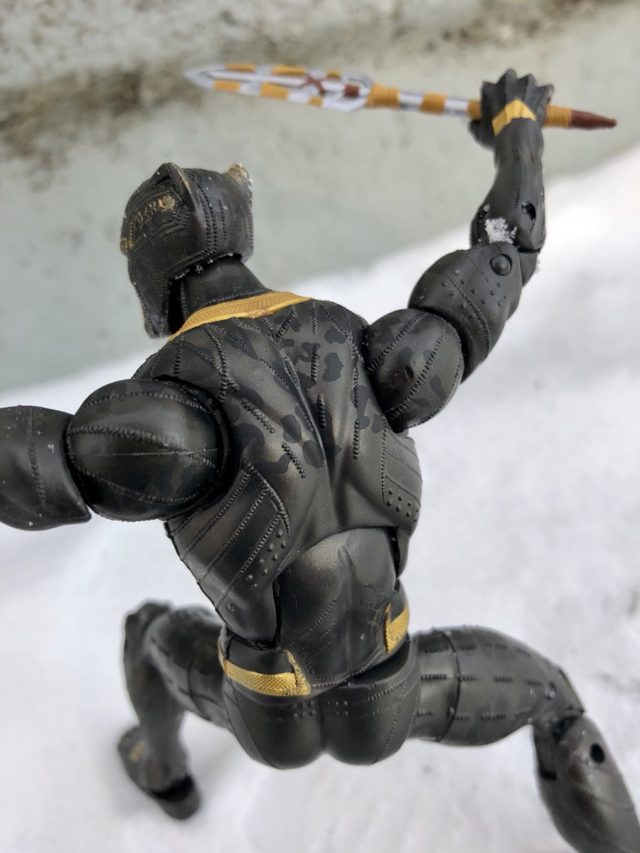 In brighter lighting conditions, it's very clear that the costume on this figure has a real sheen to it, with "jaguar spots" printed onto the glossy—almost metallic—dark finish on the rest of the body. Depending on the level of light, the costume can look silver, grey, or even a very dark bronze. It always looks tremendous, though.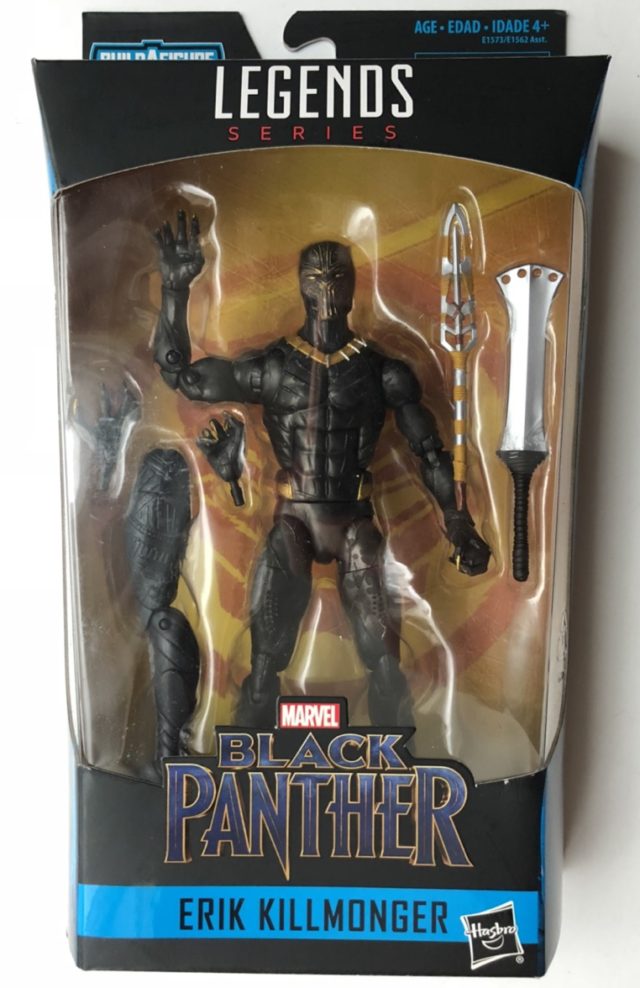 The effect looks simply awesome, making this one of the best-looking paint jobs I've ever seen on a Hasbro Marvel Legends action figure. I'm pretty much in love with how this figure looks.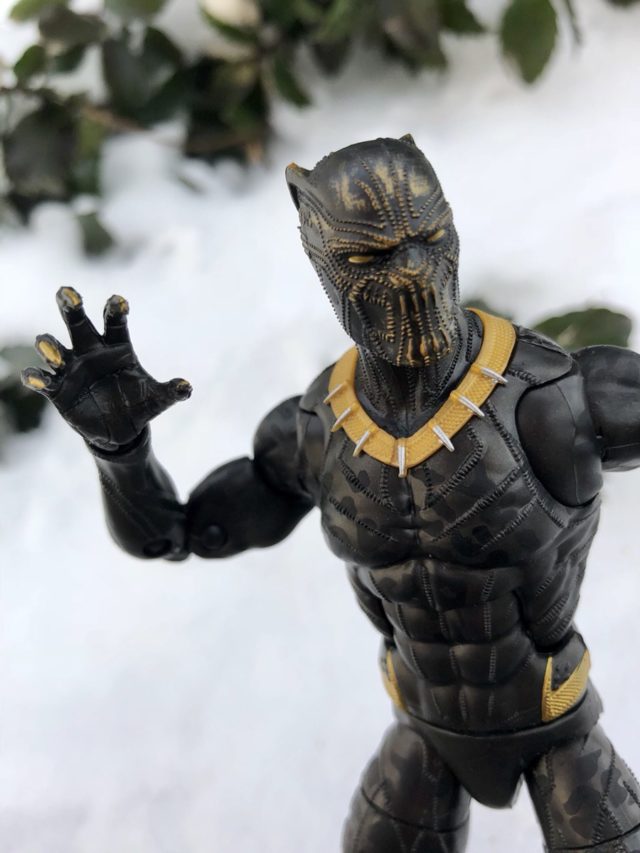 The gold accents on ML Killmonger's mask, waist, feet, claws and necklace also complement the figure beautifully. The sculpting detail on Killmonger's mask is mind-blowing, and the head is one of my all-time favorites as a result.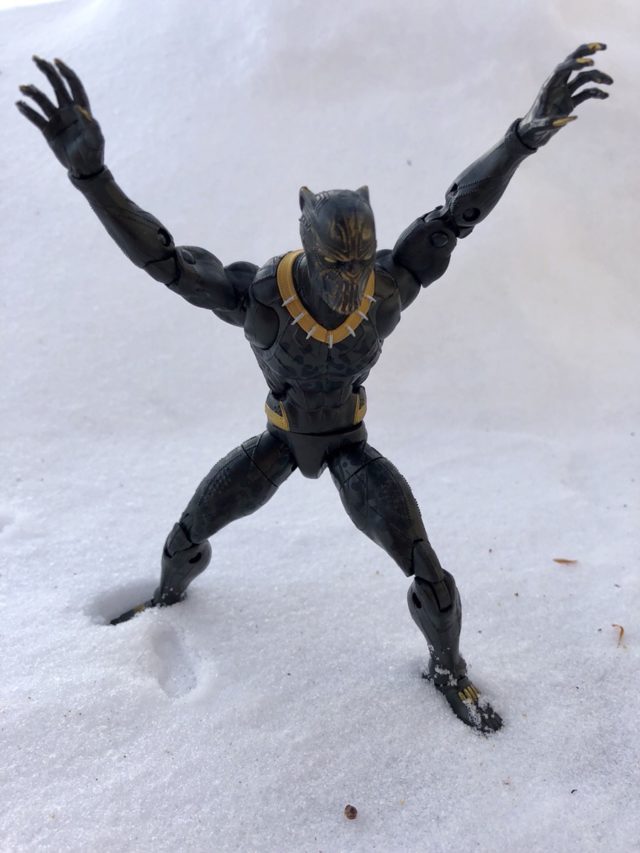 There's also silver paint deco on the necklace, which grabs your eye and makes the necklace really pop visually. This is a sensational design aesthetically, and Hasbro has done a bang-up job capturing it in toy form.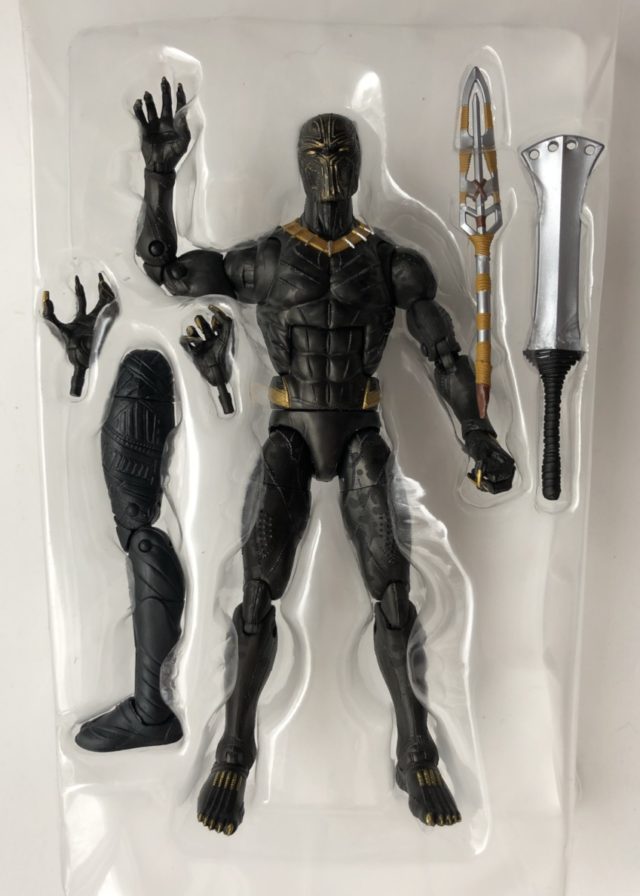 You also get five accessories with this figure, and every one of them is worthwhile: the Okoye Build-A-Figure left leg, a pair of interchangeable weapon-holding hands, and two unique swords.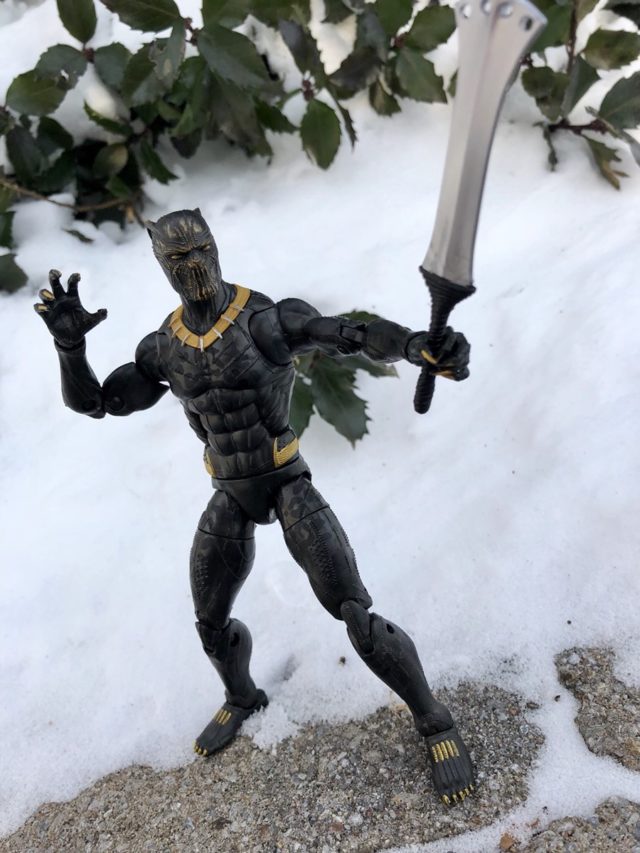 The grasping hands can hold the swords in place very tightly, and both swords have terrific paint deco that brings them to life. I especially love the sword with all of the yellowing wrappings around it—it looks particularly unique compared to all other swords we get from Hasbro.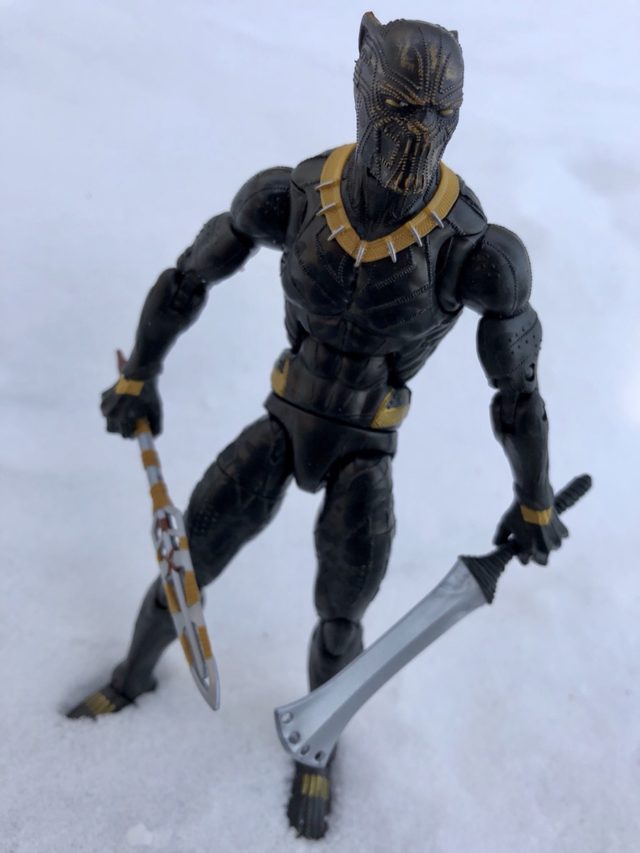 While I enjoy posing Black Panther himself in a slashing pose, it always makes me feel a little sad when I take away both great swords from this Killmonger six inch figure.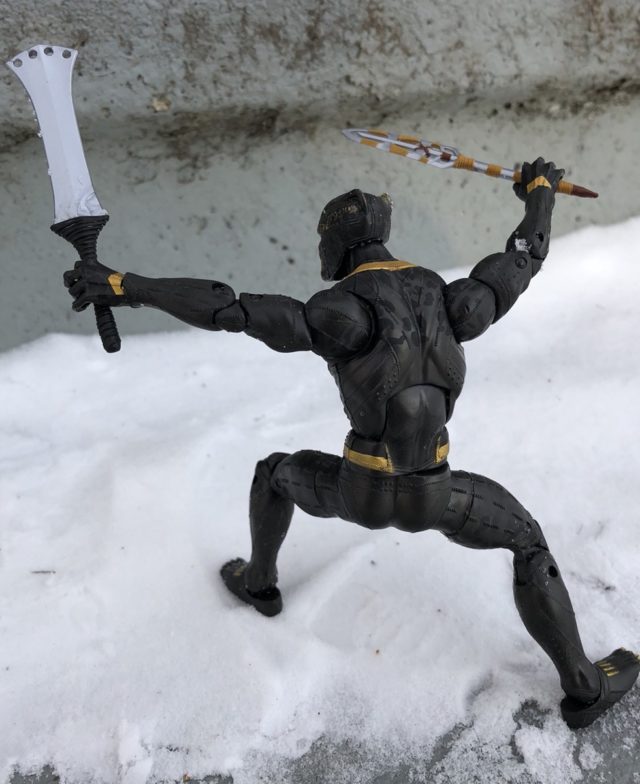 The articulation scheme on the Black Panther Legends Killmonger figure is nothing short of awesome. The highlight is the inclusion of butterfly swivel shoulders, the best thing to happen to Marvel Legends articulation since ankle rockers.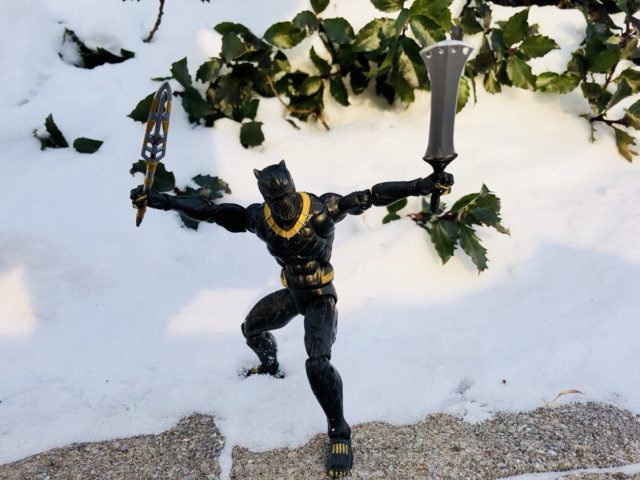 The full articulation rundown is: ball-hinge head and shoulders, butterfly swivel on the shoulders, swivel waist/biceps/thighs; double-jointed knees and elbows; swivel-hinge wrists; ball-jointed hips and upper torso ab crunch.
Erik Killmonger can't quite get into as deep and convincing of a crouch as the new 6" Black Panther figure (which I'll be reviewing soon), but he gets dang close.

The Wrong:
Alright, I've gushed about this figure aplenty. Time for the nitpicks!
The one genuine disappointment I have about the 6" Marvel Legends Erik Killmonger movie figure is the lack of an alternate, unmasked Killmonger Head.
T'Challa gets an unmasked head, and it's extremely unlikely we'll ever see Killmonger revisited by Hasbro, so it's a real downer that he doesn't get an unmasked portrait. Michael B. Jordan looks really cool unmasked in the movie, too. Alas.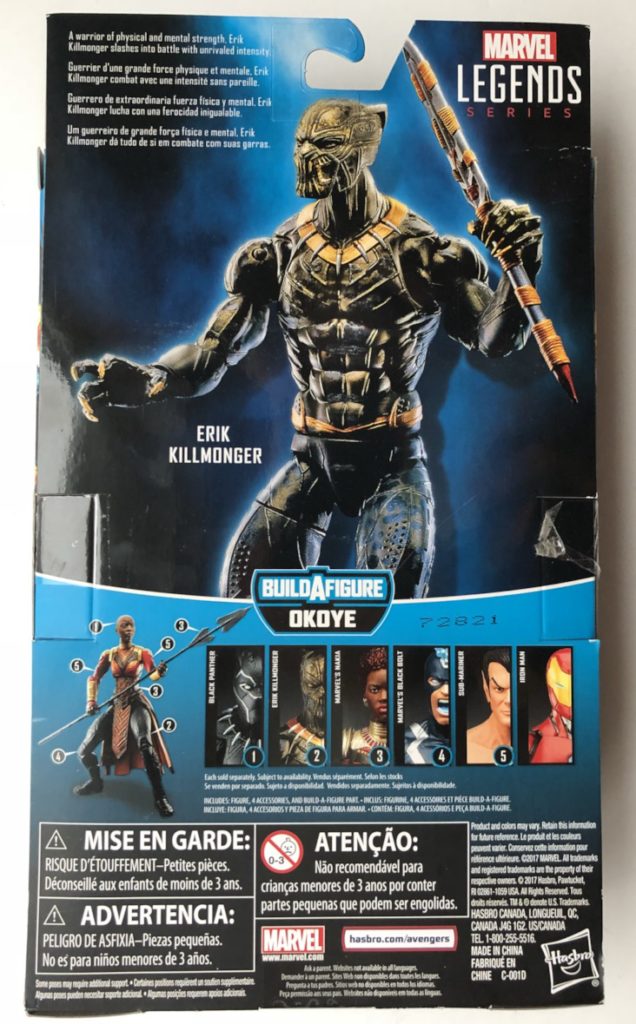 Another thing that the Black Panther movie figure gets that Erik does not is fists. I appreciate the slashing and weapons-holding hands here a lot, but it's a shame that Killmonger and T'Challa will never be able to have a straight-up fist fight on our shelves.
Other than those quibbles, I've got no real beef with this dude.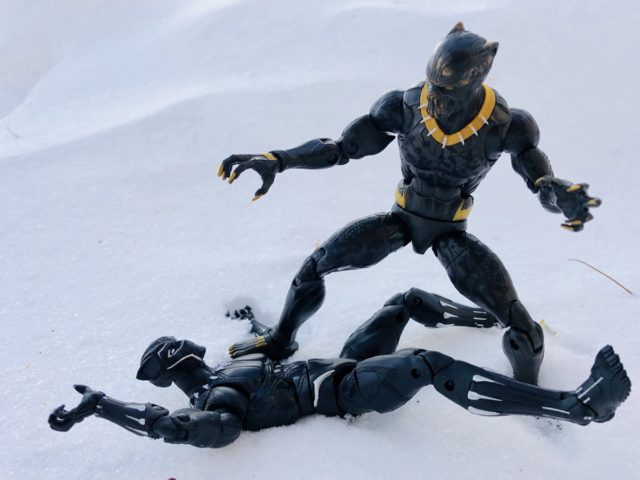 Overall: In case you couldn't tell, I really, really like this Erik Killmonger Marvel Legends figure. It's a shame that there's no unmasked head and included and that he can't get into quite as good a crouch as T'Challa (though he's close!), because including those would have put him into 'A+' territory. As it is, this figure is still a huge victory, and I sincerely hope he doesn't end up languishing on the shelves. Marvel movie villain or no, this figure is an absolute winner.
GRADE: A