Diamond Select Toys only releases around a dozen total Marvel Select action figures per year, so ordinarily they put their best foot forward and seldom disappoint. But to my dismay, one of the first releases of 2018 looked like it was going to be a rare misfire based off of the final packaged photos. My Marvel Select Drax and Baby Groot Figures I ordered online finally arrived this week—were my fears for naught, or is the DST Drax ultimately a letdown?
The Right:
The biggest "right" about the Guardians of the Galaxy Vol. 2 Marvel Select Drax figure is the sheer fact that Diamond Select Toys has released it at all. Many toy companies like Bandai and Hot Toys skipped out on releasing figures of Gamora and Drax for the new movie at all.
So whatever else I may say about the Drax figure in this review: thanks for making him, DST. But let's start with what I like best about this figure: the Marvel Select Baby Groot pack-in figure!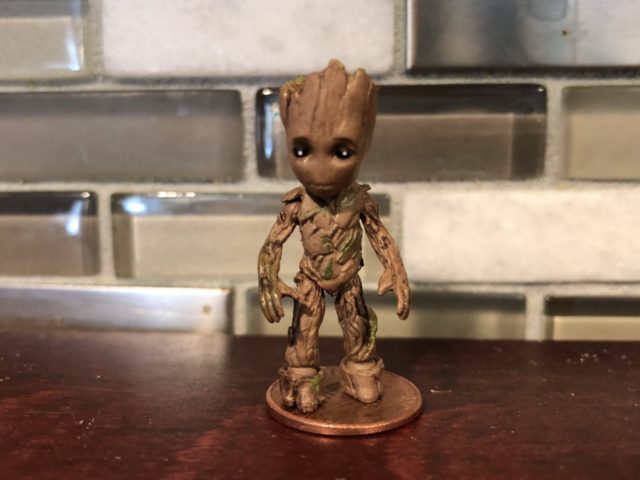 As he's been created to-scale, this little guy is TINY. That's actually a good thing, though, as his size feels authentic and makes Drax feel larger and more formidable (as he should).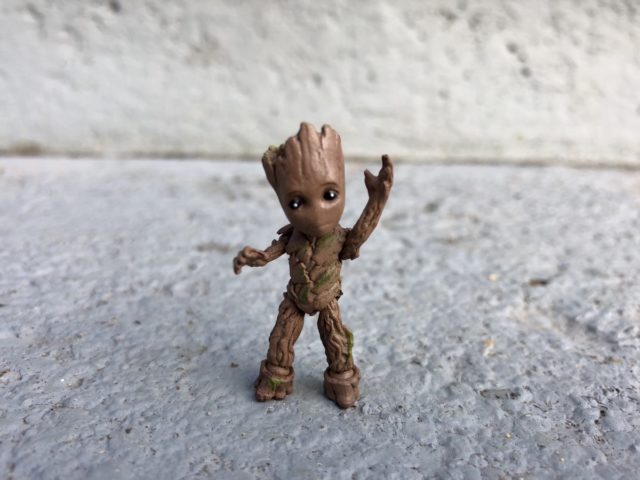 Remarkably, this little Groot figure has seven (!) points of articulation built in—more than standard 3.75" Star Wars figures Hasbro releases these days!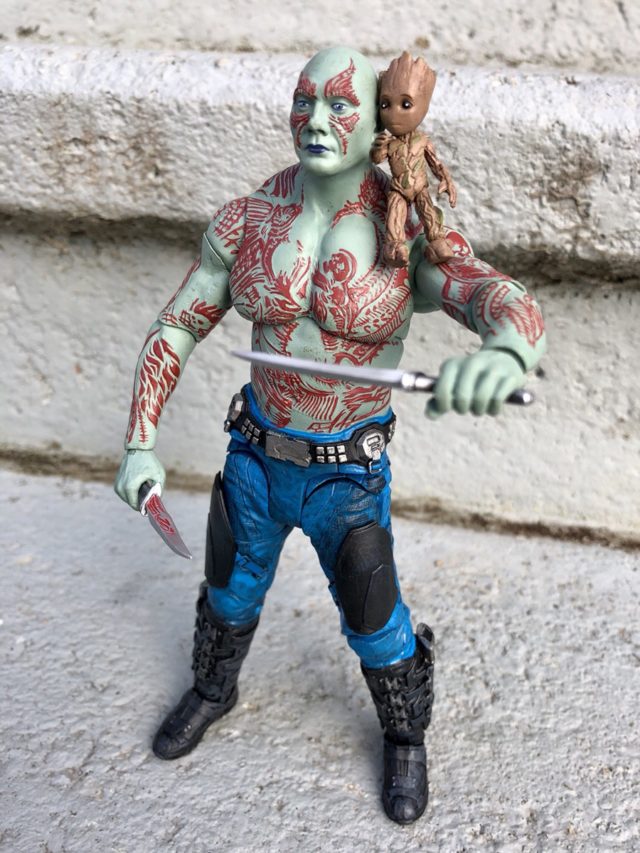 Marvel Select Baby Groot has articulation in his neck, shoulders, hips and even itty bitty feet. It's a bit rubbery and it can be a challenge to get him to stand up, but by default the articulation on this dude crushes the Hasbro Marvel Legends version.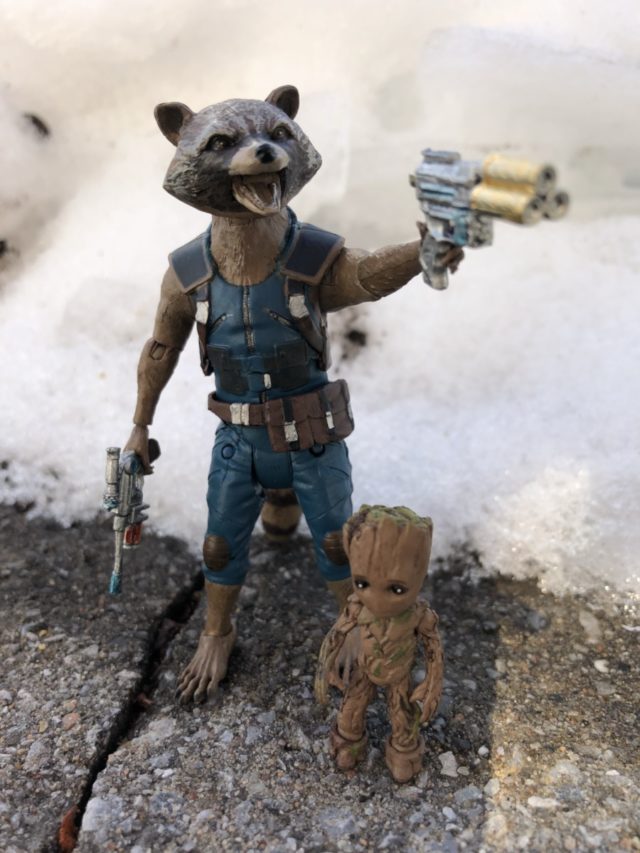 The sculpting on this tiny figure is good, there's some nice paint deco (particularly on top of his head), and he's got a cute face. This is a win for Diamond Select Toys!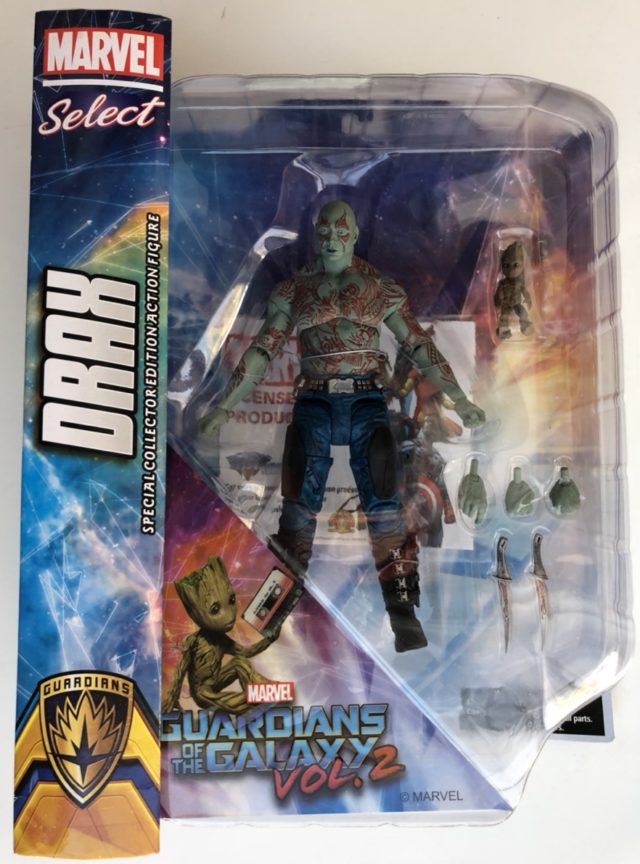 The actual Drax Marvel Select figure itself… is less so. I think that DST did their usual impressive job with the sculpting on Drax the Destroyer, with the raised bumps for his tattoos being a very solid touch.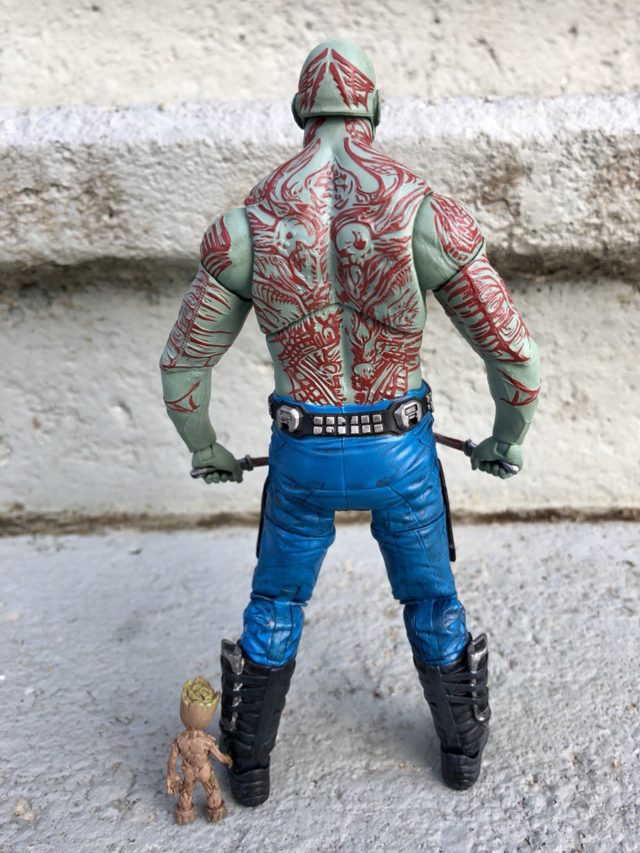 But unfortunately, the figure is otherwise riddled with problems. So let's get right to them in…
The Wrong:
Drax is one of the most expressive members of the Guardians of the Galaxy, with his common facial expressions including hysterical laughs, brutal war cries and vicious sneers.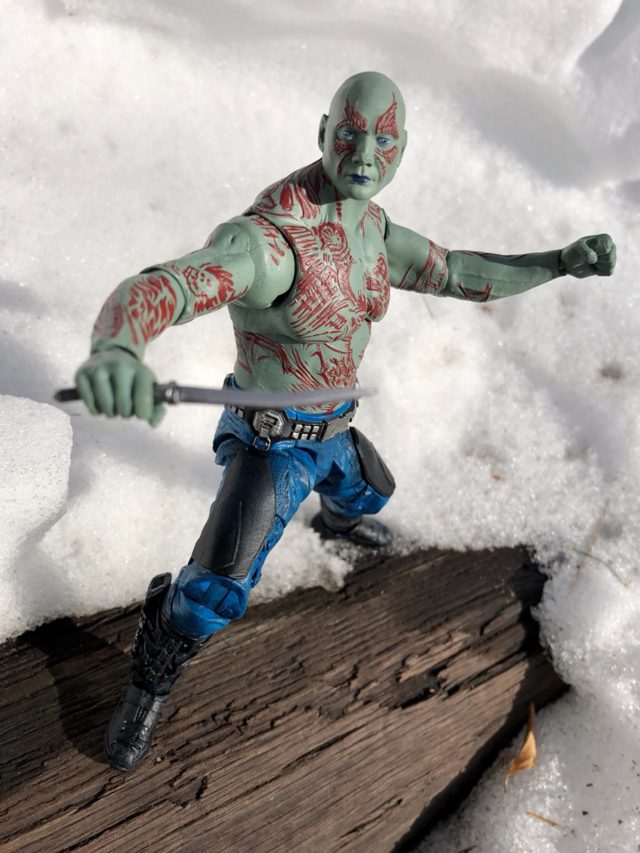 Unfortunately, DST opted for a facial expression where Drax is… staring blankly at you. He might as well be an emotionless Vulcan like Spock given the lack of life in this portrait. This was a weird choice that just doesn't work for the character.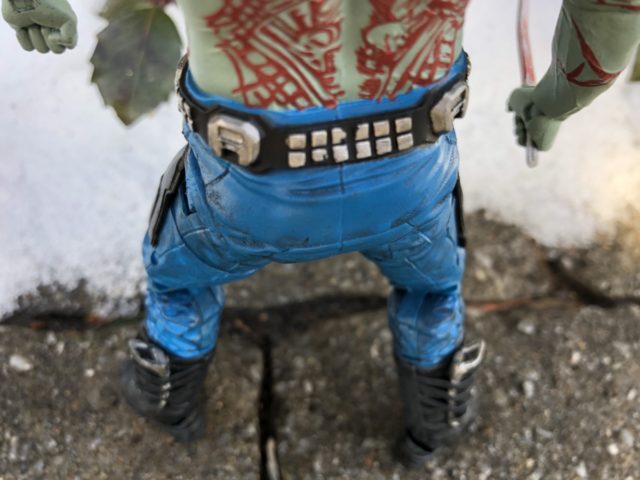 And speaking of weird choices: when I waned to pop in Drax's fists and went to slide his knives into the sheaths on his boots, I was shocked to see that the sheaths are totally non-functional and filled in with plastic. Wha?! This makes little sense to me and leaves no way of storing the knives. Disappointing.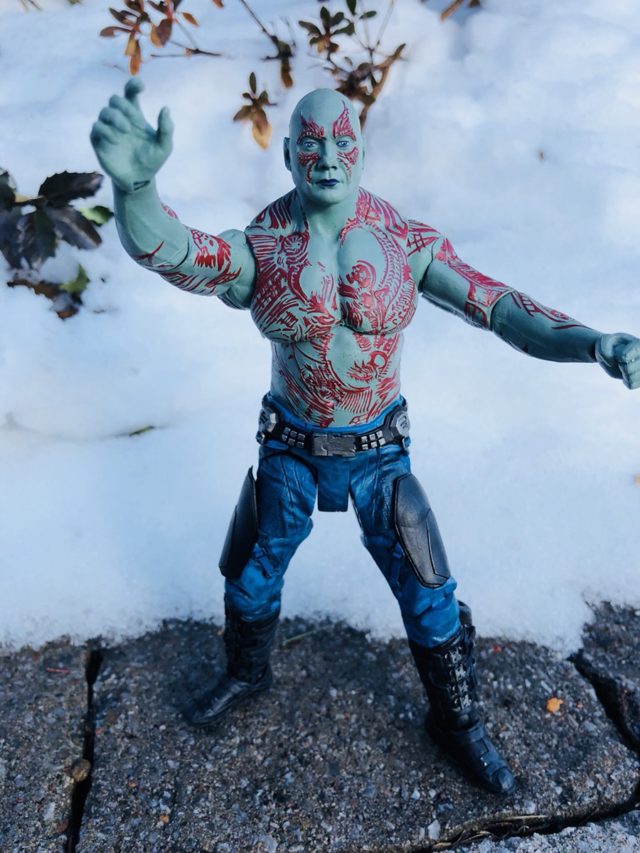 Likewise, it's strange that we get one open hand with Drax that has nothing to hold at all (the grip is too wide for one of the knives). Perhaps this is a remnant from an earlier thought to give Drax a gun of some sort?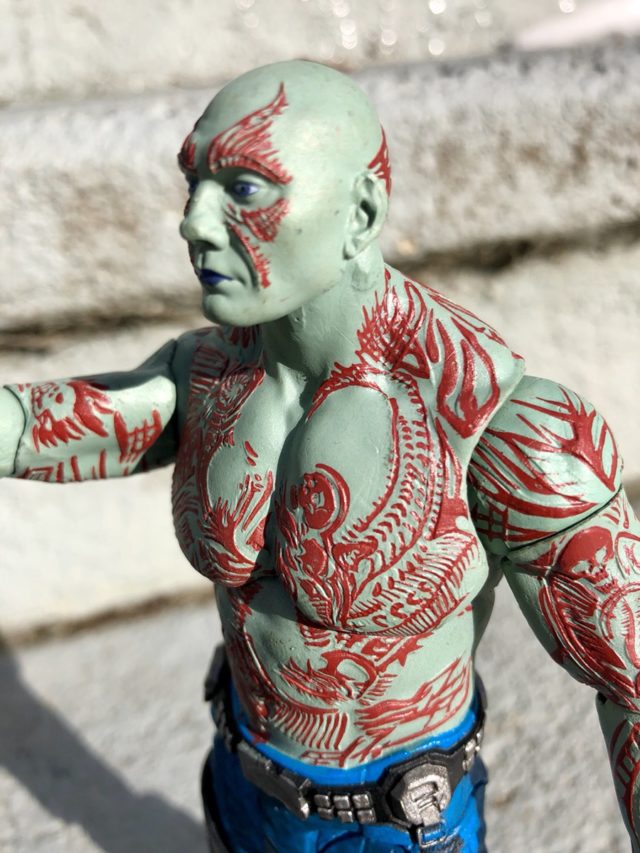 In general, DST does some of the best paint applications around on 6"-7" action figures—but Drax is a bad example of this.
The figure I got has numerous paint defects, with light pink colored scuffs on his face, paint bleeding off his belt onto the buttons, the paint for his tattoos misaligned and running off the raised parts of his back… this is just not up to the usual Diamond Select Toys standard. And there's one part of the paint deco that's so bad, it needs a section of its own in a bit…
The Ridiculous:
The first time I saw finished photos of the Drax Select figure, my jaw just about hit the floor when I saw his dark, humongous lips. I hoped maybe it was a bad photo or a one-off defect or something, but alas… Drax's lips really look that horrendous.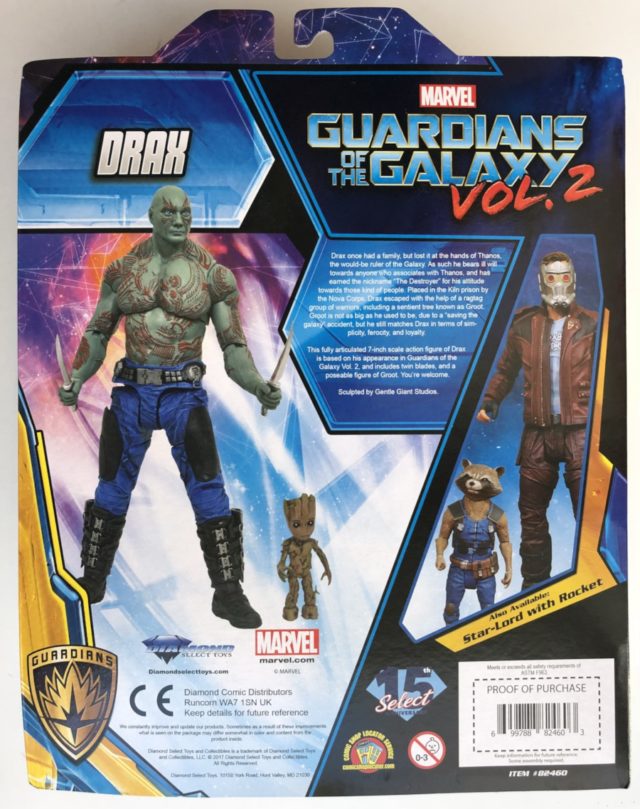 The lips look straight-up horrid on this figure. It doesn't look like this was the intent of the paint apps based off the photos on the back of the package, but this is what we ended up with. Strong painters and customizers might be able to fix this up, but straight from the box, this is terrible.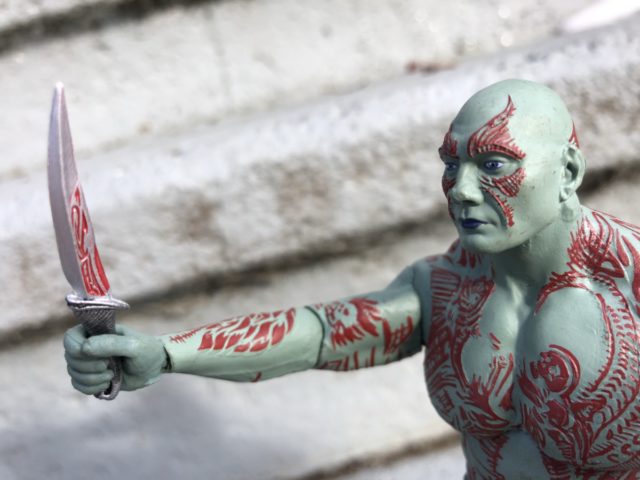 But wait… there's more! I never expect Marvel Legends-level super-articulation from Marvel Select Figures, but I also expect at least basic articulation. The single-hinge elbows on this Drax Select figure are a nightmare, as the joints can literally only bend a couple degrees. What you see in that photo up above, where Drax's arm looks totally straight? Yeah–that's the maximum bend. Oy.
You can see the maximum bend from another angle below. As you might expect, this has a hugely negative impact on posing this figure, and it's the primary reason why there's not much in the way of "fun" poses in my photos of DST Drax.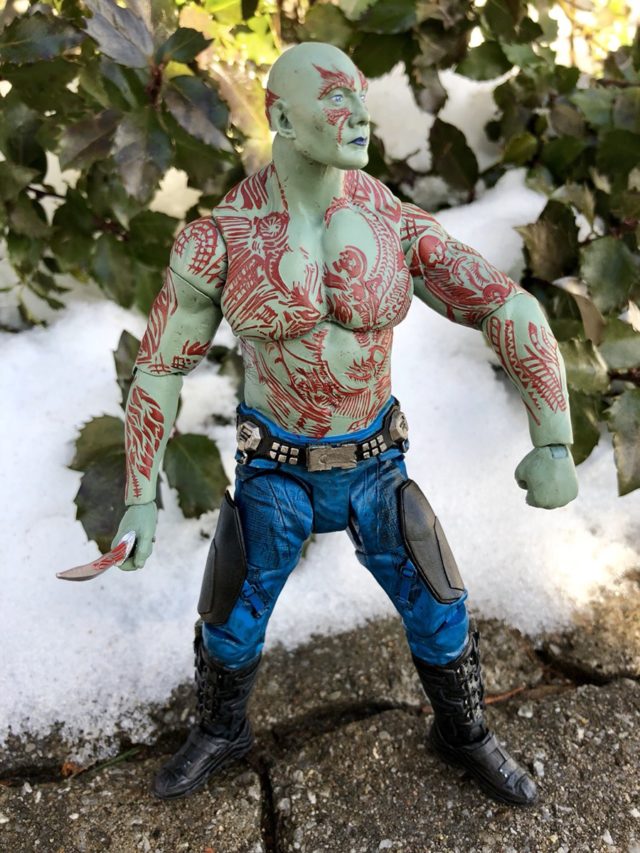 Overall: Guardians of the Galaxy Vol. 2 is my favorite Marvel movie, so I dearly wanted to be in love with this Drax and Baby Groot two-pack. Well… one out of two ain't bad, I guess. The little Groot figure is a delight with surprising articulation and detail for the size, but DST Drax is a bust. The paint deco on him is terrible—particularly the awful lips—and I'm baffled by choices such as elbows that might as well not bend at all, an inexpressive bored face sculpt, and filled in sheaths for his knives. It doesn't happen often, but this is an overall below average release from Diamond Select Toys.
GRADE: D+