Way back in February, Hasbro unexpectedly revealed their line of Marvel Legends Premium Role-Play Prop Replicas, including a super-cool life-size Captain America Shield and Iron Man helmet. Many fans cried foul, though, desiring a genuine metal version of Cap's shield instead of a high-quality plastic version. And to my surprise, Hasbro has heard and obliged–the Marvel Legends Metal Captain America Shield is now up for order! But it will cost you…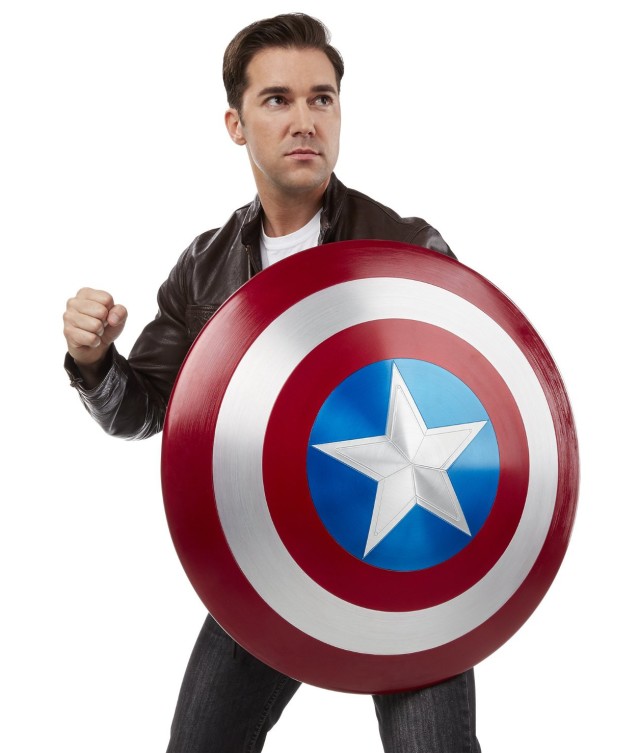 I was
really
pleased with
the Marvel Legends Life-Size Captain America Shield that Hasbro debuted at New York Toy Fair 2016
. It may be made of plastic, but pics don't do it justice–the shield looks
awesome
. So awesome, in fact, that I went home and pre-ordered one for myself–and I am not a prop replica kind of guy.
But many collectors were angry to learn that that shield wasn't made of metal–and apparently, there was enough of an outcry that a real metal version is now coming in the fall!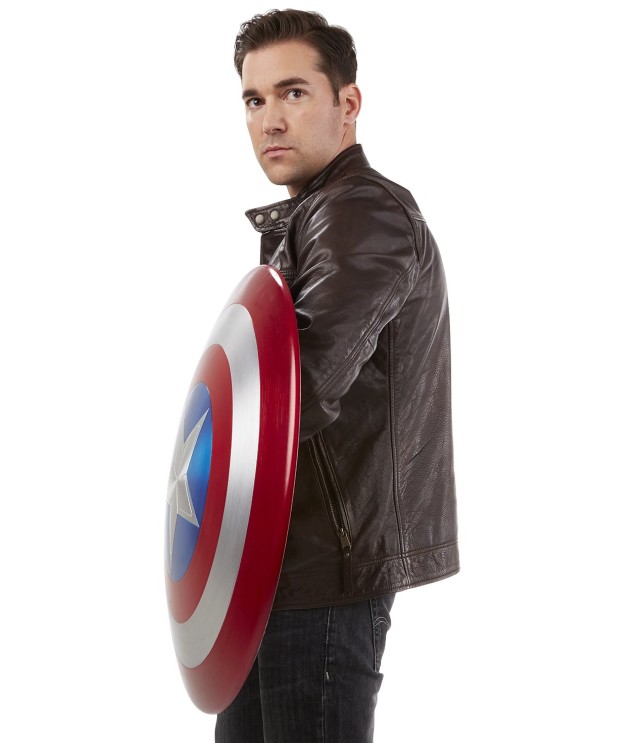 Now, let's talk about pricing and logistics for a moment. There's no way–no way–that Hasbro could have sold a life-size Captain America shield prop replica made of actual metal for the mere $99.99 that the plastic version (with premium metallic paint) is selling for.
I know some folks don't like the plastic version, but having seen it in person, it is huge and high-quality and amazing and priced such that I'm willing to pay for it. I think it's going to be a huge hit that collectors who ordered it are going to be thrilled with when they receive the shield.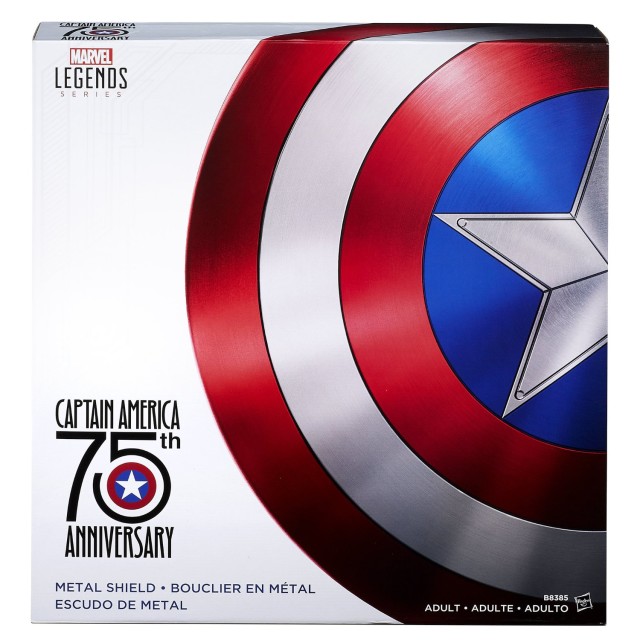 Even so, for many fans, nothing but an authentic metal Captain America shield will do. And for those collectors, Hasbro has a special treat: a special, limited 75th Anniversary Captain America Metal Shield.
Check out the "premium packaging" box for the Metal Captain America Shield Marvel Legends prop replica above! It looks super-slick and classy! And note the "Adult" label on the box–whereas the plastic version of the shield weighs in at just 2.2 pounds, the metal shield will weigh a whopping 7 pounds–definitely not something you want your small children waving around!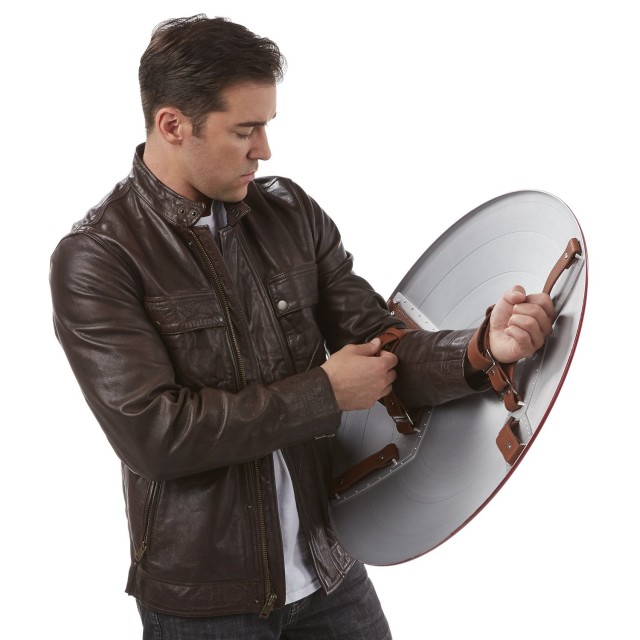 While it looks pretty similar aesthetically to the regular 1:1 shield Hasbro has had up for order since February (and which they recently raised the MSRP of), the obvious difference here is the real metal construction of this version of this collectible. That metal comes at a heavy price, though: this role-play prop replica will retail for $275–nearly triple the retail price of the plastic version.
Now, $275 is actually really cheap for a high-quality prop replica of this size and construction, but it also makes this the single highest-priced Marvel Legends toy that Hasbro has ever produced. This is definitely not for everyone.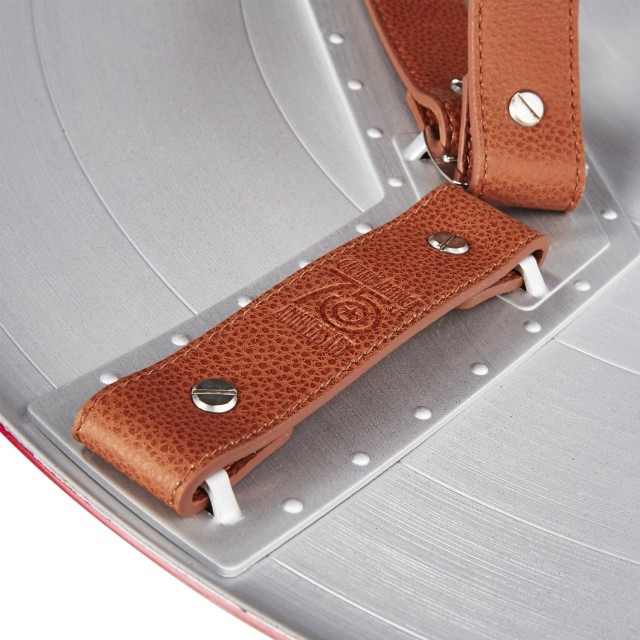 There's one other difference between the two versions of the 24″ shield besides the material used and the packaging: the metal version's adjustable straps (which will also allow you to wear the shield on your back) have a "Captain America 75th Anniversary" logo embossed on them, whereas the plastic version's straps are plain.
Personally, I actually prefer the plain straps without any logo on them, but as this is a special 75th Anniversary limited edition product, I imagine some collectors will like having the logo on the straps. I'll stick with my non-logo strapped plastic shield, personally.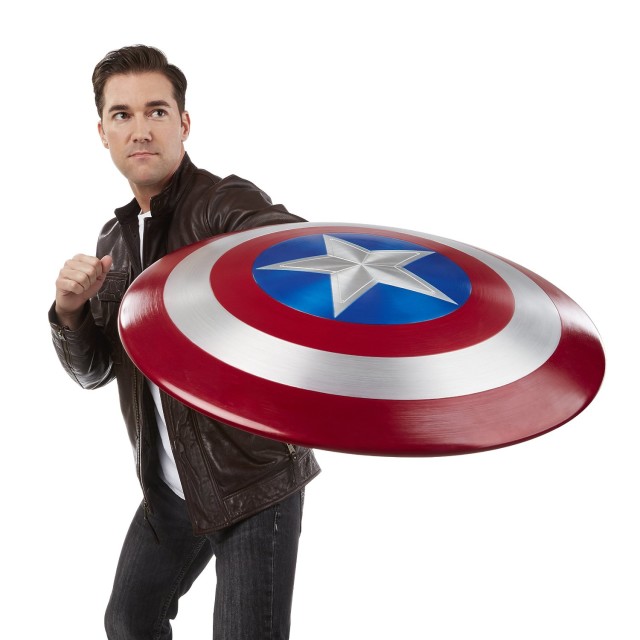 The Marvel Legends Captain America 75th Anniversary Metal Shield is now available for pre-order, and is scheduled to ship in October 2016. This version is a late addition to the role-play lineup for this year and is shipping out later than the plastic version of the shield, but for those who only a real metal shield will do for, I suspect it will be worth the wait.
What do you think of the surprise addition of a metal version of the Marvel Legends Life-Size Captain America Shield prop replica, Marvel collectors? Are you opting for this metal shield, the far cheaper plastic version, or no Hasbro life-size Captain America shield at all?