Not only is this summer's Hasbro Marvel Legends X-Men figures series momentous for being the first series of X-Men figures in two years, but it's also the most female-loaded Marvel Legends series ever, with three female characters present in the lineup! I reviewed the very nice Phoenix figure last week, and tonight I'm taking a look at what I hoped would be the definitive version of one of my favorite X-Women: Marvel Legends Rogue!
The Right:
Considering that Rogue is unquestionably one of the three most famous X-Women ever (along with Storm and Jean Grey), you might think that we'd have had tons of Rogue 6″ figures over the years. Surprisingly, though, we have not. And the last time we got a 6″ Southern Belle in her most famous Jim Lee costume, it was over a decade ago in a Toybiz Marvel Legends box set! Yikes!
And so, Hasbro claimed our hearts–and our dollars–with this X-Men Marvel Legends Rogue figure. But is she worth the $40+ she's yielding on the aftermarket right now…?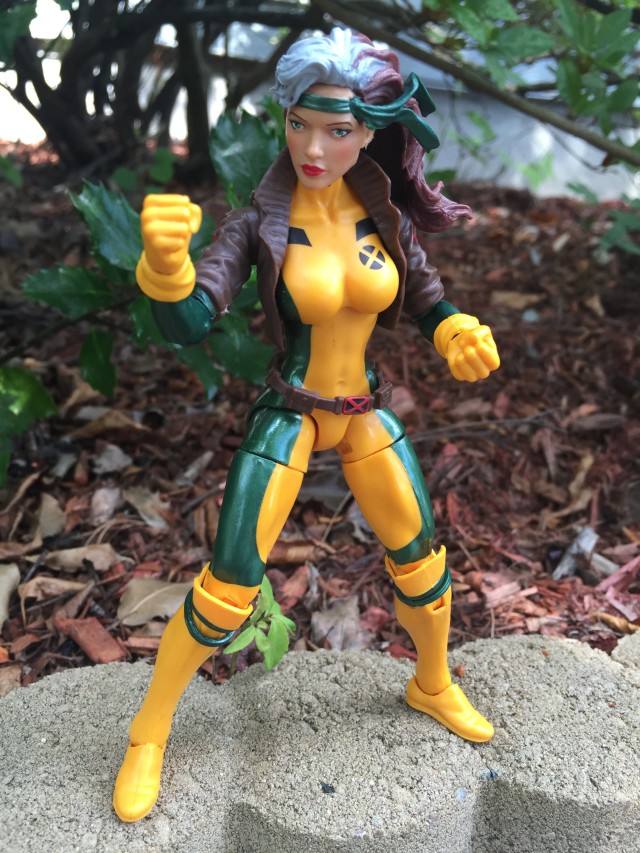 First off, let me commend Hasbro on the authenticity of this figure: they have absolutely nailed the Jim Lee Rogue costume with this action figure.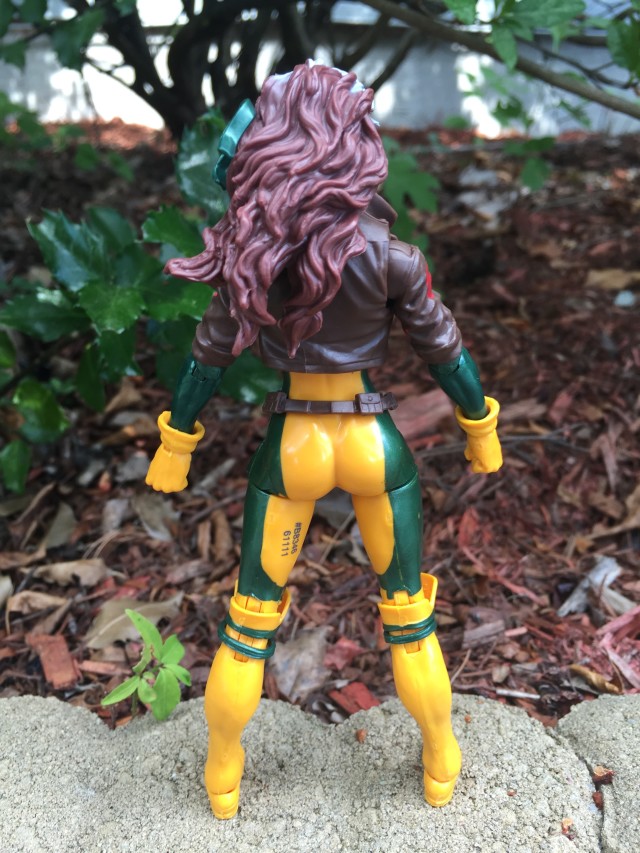 This is Rogue's most famous look, and Hasbro has captured it perfectly–from the sideways belt to the brown bomber jacket to the raised kneepads of her boots and headband, every element you'd expect to find on a toy outfitted in the the Rogue Jim Lee costume is present.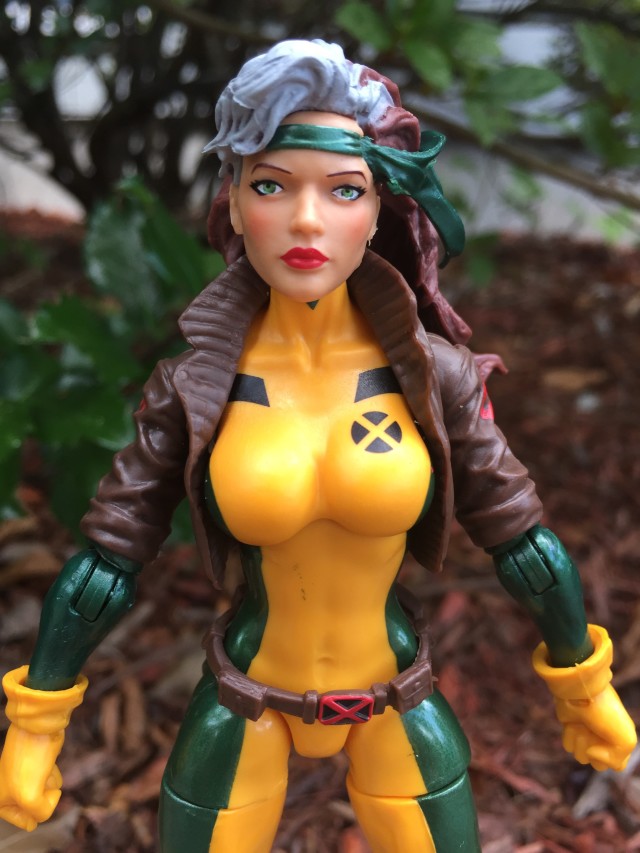 And it's not just the costume that's been captured perfectly here–Rogue's soft face and flowing brown and white hair are also gorgeous. This figure is simply beautiful–there's no way around it.
The paint deco choices Hasbro made on the Rogue Marvel Legends figure are also downright phenomenal. The glossy yellow paint and shiny metallic green of Rogue's costume look amazing and are incredibly eye-grabbing. These are easily the best paints ever on a Rogue toy.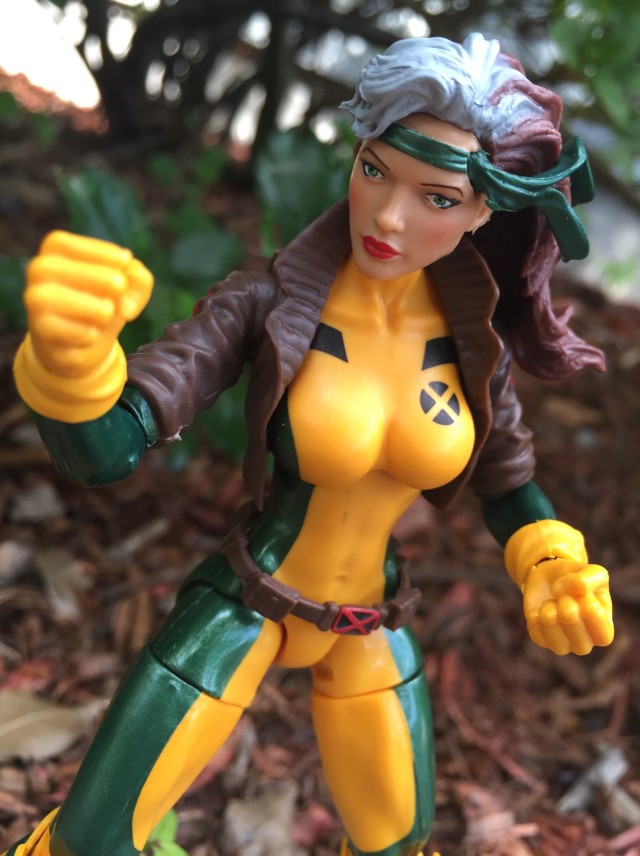 By default, Rogue has two closed fists as her hands. And in this instance, that is totally fine–Rogue is bashin' brawler type character, and having fists instead of grappling hands makes complete sense.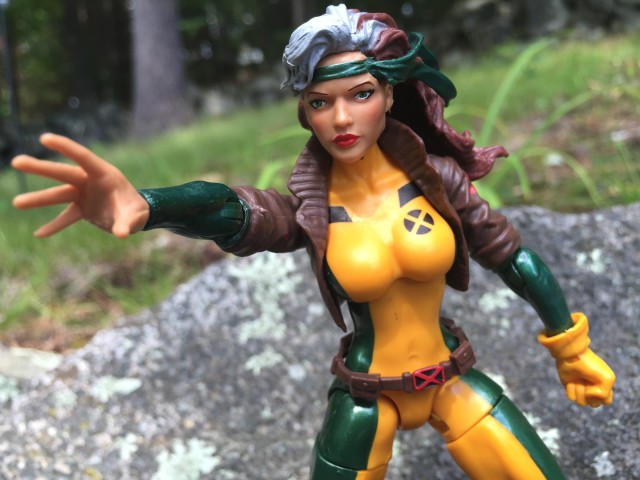 But wait–in addition to her Juggernaut Build-A-Figure piece, Rogue has one more hand option as an accessory! For the first time ever on a Rogue figure, an interchangeable ungloved hand has been included!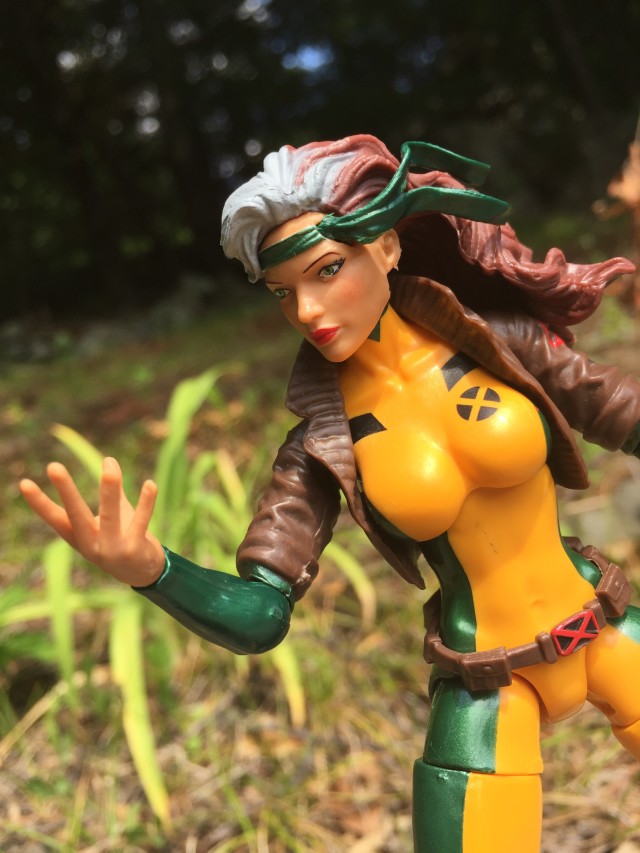 Rogue's ungloved hand is just as articulated as her fists, and allows for some really fun alternatives to her standard poses. It's not a huge extra, but it's still a million times better than the nada accessories that the Phoenix figure got.
The Wrong:
Once again, based off of my gushing praise in the opening paragraphs, you might be thinking that this Marvel Legends Rogue 6″ figure is perfect. But alas, it is not.
First off, the articulation on this figure is good–but it's not great. Like all Marvel Legends females, Rogue is lacking double-jointed elbows (an important joint for a woman who punches a lot).
In addition, Rogue's head and hips both have restricted articulation that keeps her from getting into some of the cool dynamic, action poses that I'd hope for. You can see the extent of her hip range-of-motion in the photo above.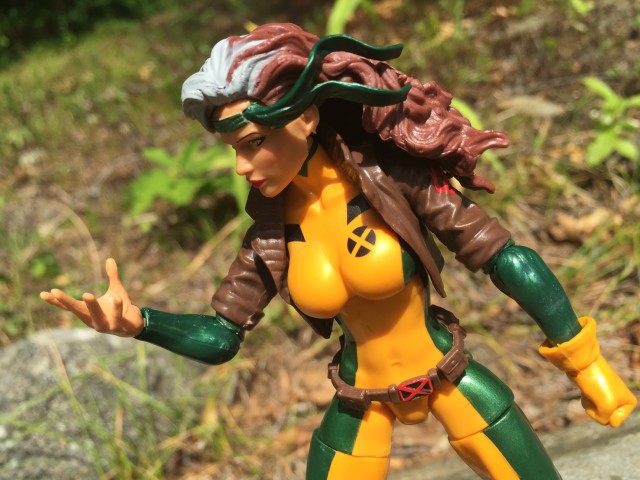 In addition, I'm not as thrilled with the quality control on this X-Men Legends Rogue figure as I'd hoped to be–on several fronts.
This is the only figure in the Juggernaut Build-A-Figure Series to have sloppy paint applications with paint lines missing or splashed where they're not supposed to be, from little streaks of green on yellow to missing paint on green areas. This may or may not be widespread, but it's the only Rogue I've got to review.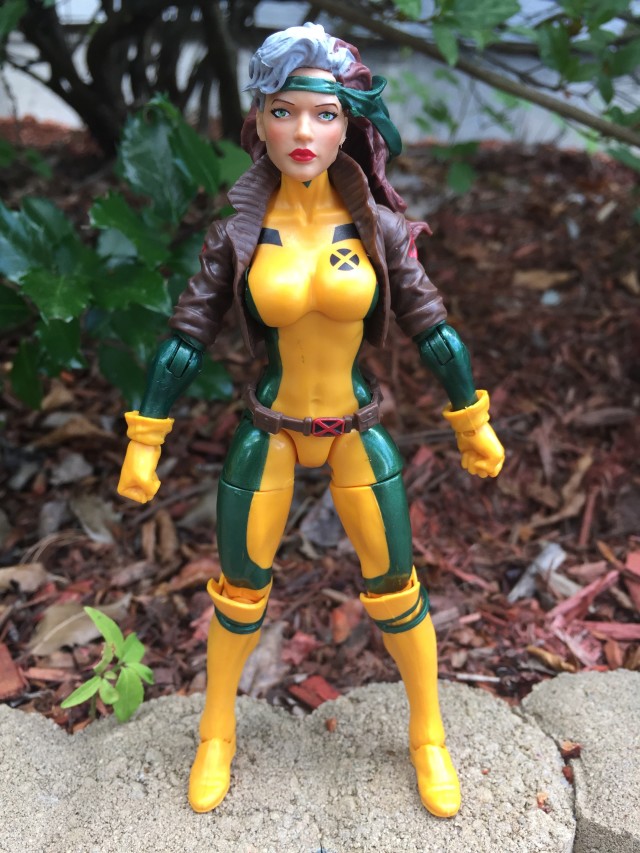 Also, the yellow plastic used for Rogue's legs is extremely rubbery and feels rather cheap, which further complicates problems with her limited leg articulation and getting her to stand up stably in all but simple poses.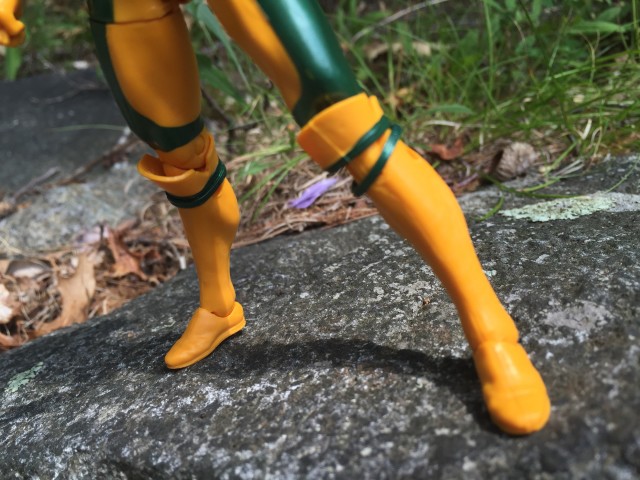 Finally (yes, there's more), while I can almost let the floppy belt slide in this case (as Rogue's belt isn't supposed to be tight), the floppy "kneepads" that are the add-on pieces comprising Rogue's "upper boots" are way too loose and jittery for me. Between the kneepads and the belt, Rogue puts my OCD into overdrive.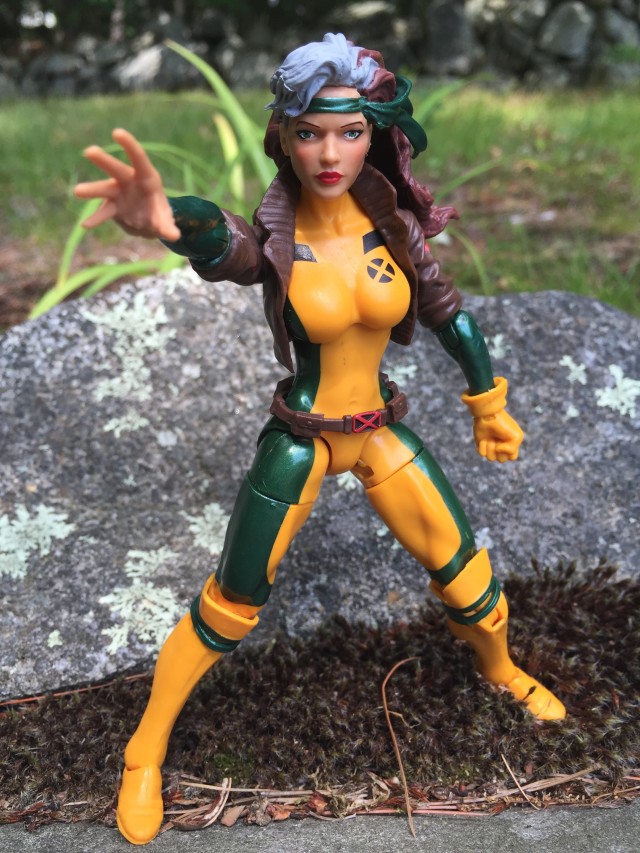 Overall: Rogue is one of my favorite X-Men and this is the best figure ever of her in her most iconic costume. Even so, this figure is not perfect. The articulation is good–but not great, the quality control on the plastic and paint apps could be better, and she's got floppy belt (and kneepad!) syndrome making me insane.
That said, the X-Men Legends Rogue figure has a beautiful sculpt, a fun interchangeable ungloved hand and a great look overall. This is the best Rogue action figure ever released–by a landslide–and it earns a strong recommendation. Just don't expect perfection.
GRADE: B+