We're still in the first quarter of 2016, but already Hasbro has given us some of the most-anticipated figures of the year, including Marvel Legends Venom, Spider-Gwen and Taskmaster. But in the flip side, some of the figures released thus far have been… "less" popular. Such is the case with the subject of today's review. You can get the Spider-Man Marvel Legends Beetle female figure for below her retail price now online… should you?
The Right:
As one of the 16,000-ish readers who read all of the "Superior Foes of Spider-Man" comic book series, I was pretty excited when a Hasbro Marvel Legends Beetle 6″ figure was announced of the modern female Beetle, Janice Lincoln.
Those who weren't among those 16,000 readers were… less enthused. And unfortunately, way more than 16,000 of these figures had to be produced. But while the new Beetle Marvel Legends figure isn't exactly tearing up the aftermarket like Spider-Gwen is, the first-ever action figure of Tombstone's daughter is actually quite nice!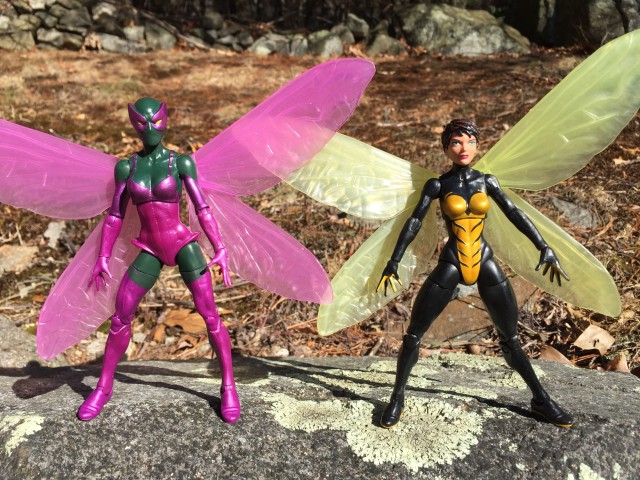 While some collectors immediately wrote the 6″ Beetle figure off as a repaint of last year's Marvel Legends Wasp figure with a new head, that's not quite true.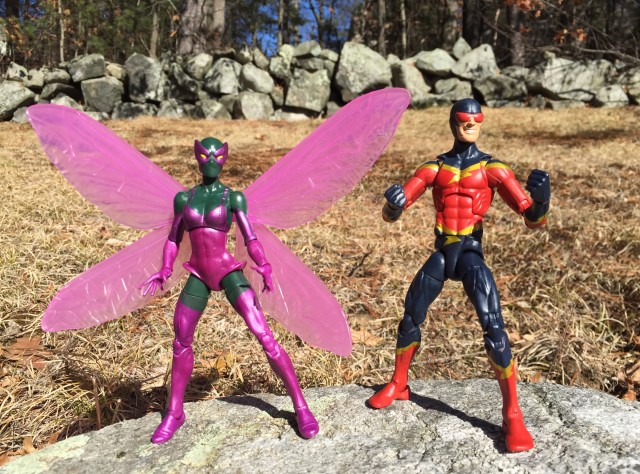 In order to be accurate to the source material, this female Beetle figure features three body parts that I believe are all-new: her head, her upper torso (with straps), and her lower torso (with unique shape). These changes go a long way to making Beetle differentiated–and dare I say better than?–the Ant-Man Legends Wasp.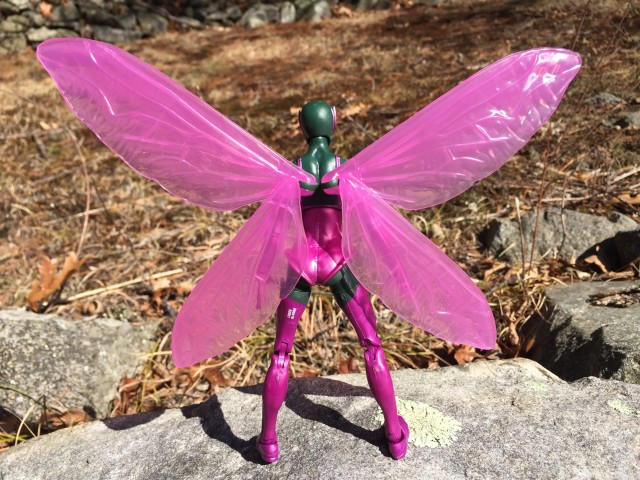 My favorite feature of this figure is her wings, which are completely recycled from the ML Wasp figure (what, you thought Hasbro was gonna tool those parts just for a one-time use?). The wings looked good in yellow, but I feel like they look great in pink, as the translucent pink plastic really highlights all of the sculpting details.
Hasbro went with high-gloss green and purple paint/plastic for Beetle's costume, and its shininess pops and is a real treat. Even if you're not familiar with this character (and comic book sales stats show that most folks are not), this is a visually-striking figure that will look great on a shelf.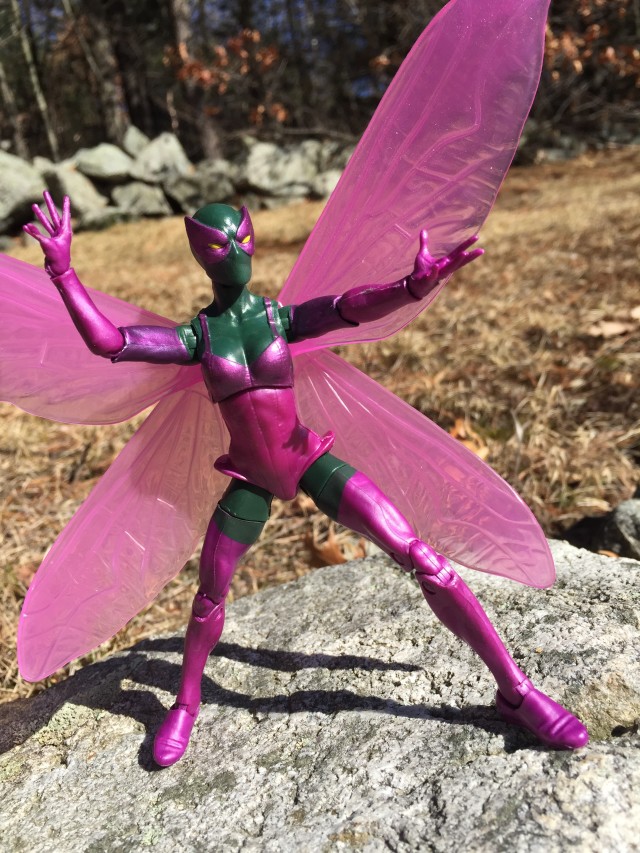 As far as posing goes, I'll be complaining about what articulation points are missing in just a minute, but the points that are there are pretty decent: ball-hinge head, shoulders, elbows, wrists and ankles (with ankle rockers); ball-jointed upper torso and hips; swivel thighs; double-jointed knees and ball-swivel wings.
The Wrong:
The only really disappointing part of this Spider-Man Legends Beetle figure is her total lack of accessories outside of her wings and Absorbing Man Build-A-Figure Leg piece.
Beetle has the same "open-palmed flying hands" as the Wasp did, but the character would fare much better with interchangeable fists or a rocket launcher or basically anything that would give her offensive capabilities. As it is, she can just sorta… stand there and wiggle her fingers at you.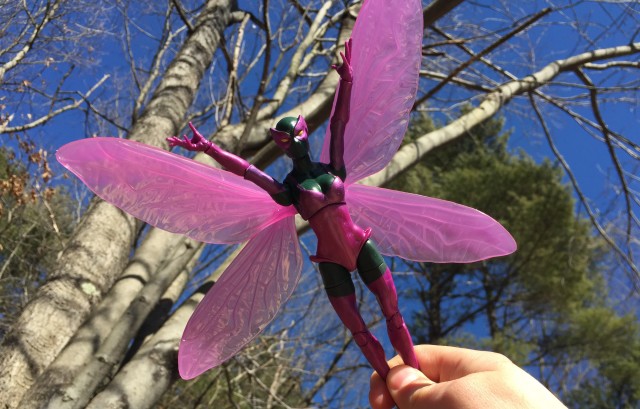 In addition, Beetle suffers from the same "lesser" super-articulation that Hasbro seems to give every female mold, which means no swivel biceps or calves and no double-jointed elbows. It's really quite annoying that Hasbro keeps giving female figures the short end of the stick.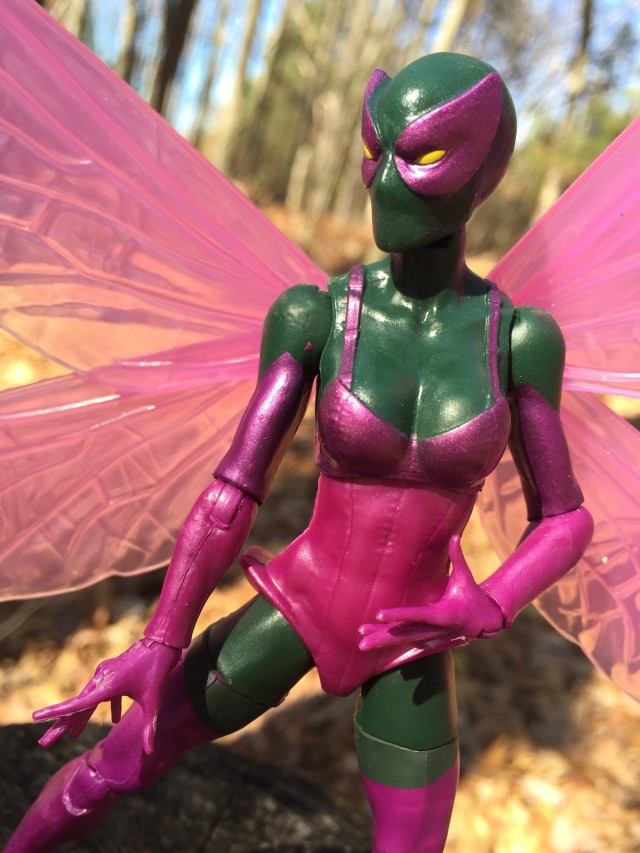 Overall: This is a very good action figure of a character that many fans couldn't care less about. The Marvel Legends 2016 Beetle figure features some solid new unique tooling and looks fantastic in her purple-and-green color scheme with translucent pink wings. The articulation is below the level we're used to for male figures and she could use a few accessories, but I think Beetle is a worthwhile addition for the $16-$17 shipped she's selling for online right now.
GRADE: B+