To my deep appreciation, Hasbro has released the summer 2013 Marvel Legends Wave 5 set on time, and now the reviews can begin. Ordinarily I'd start with the individuals and work my way up to the Build-A-Figure, but lets skip to the chase this time and talk about what I really care about in this set: the anthropomorphic raccoon! It's the Marvel Legends Rocket Raccoon Build-A-Figure–and it… is… awesome!

The Right:

When Hasbro unveiled this series at the 2013 New York Toy Fair, some people persisted that the Rocket Raccoon figure might only be an upscaled version of the statuesque Marvel Universe Rocket Raccoon released in 2011. Luckily, this Rocket Raccoon Marvel Legends Build-A-Figure is actually a huge improvement in every conceivable way over that first figure of Rocket.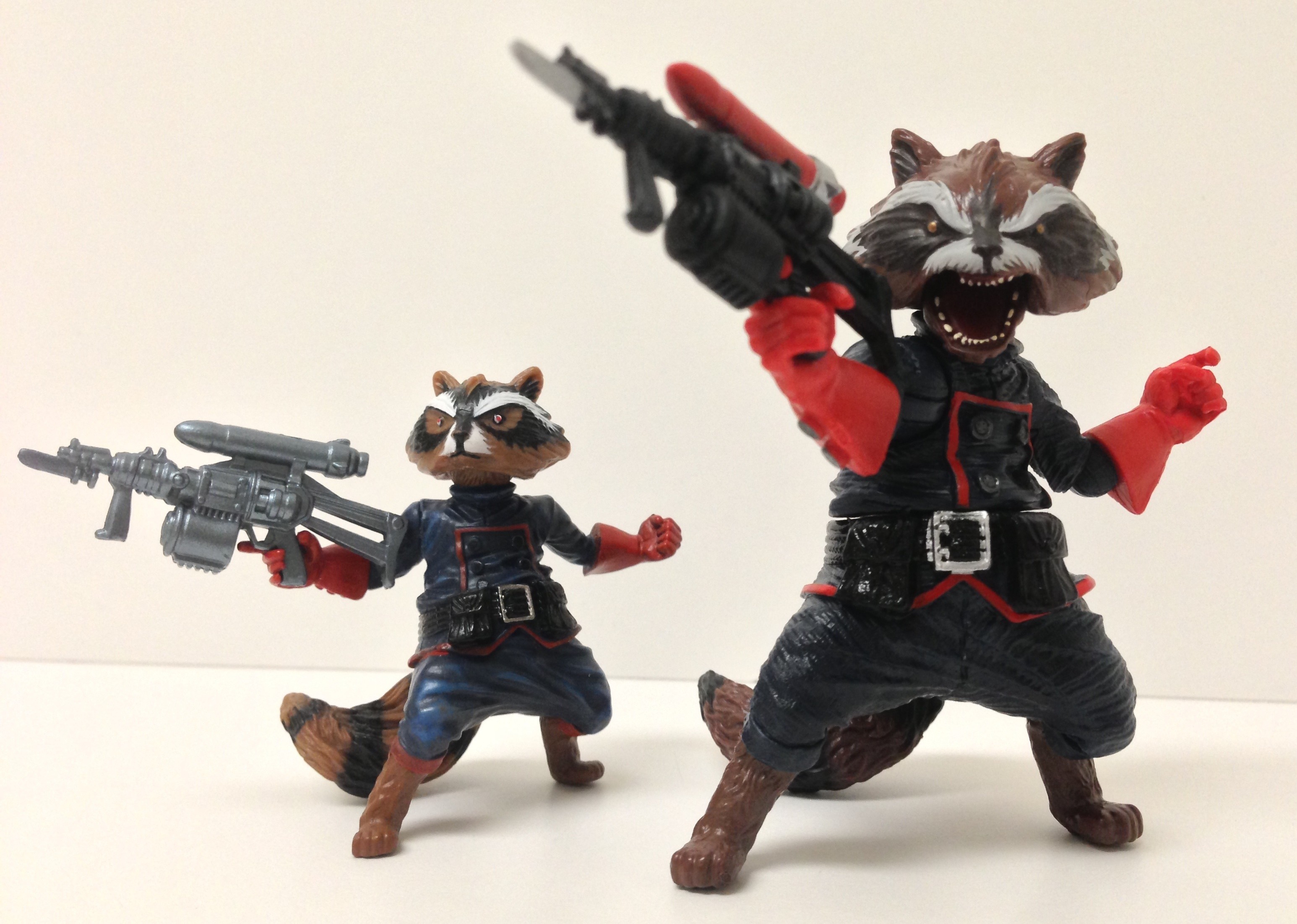 First off, the articulation on this Rocket Raccoon action figure is just short of fantastic. He has a ball-jointed head, opening hinge jaw, ball-hinge shoulders, ball-hinge elbows, swivel forearms, ball-jointed raccoon tail and a swivel waist.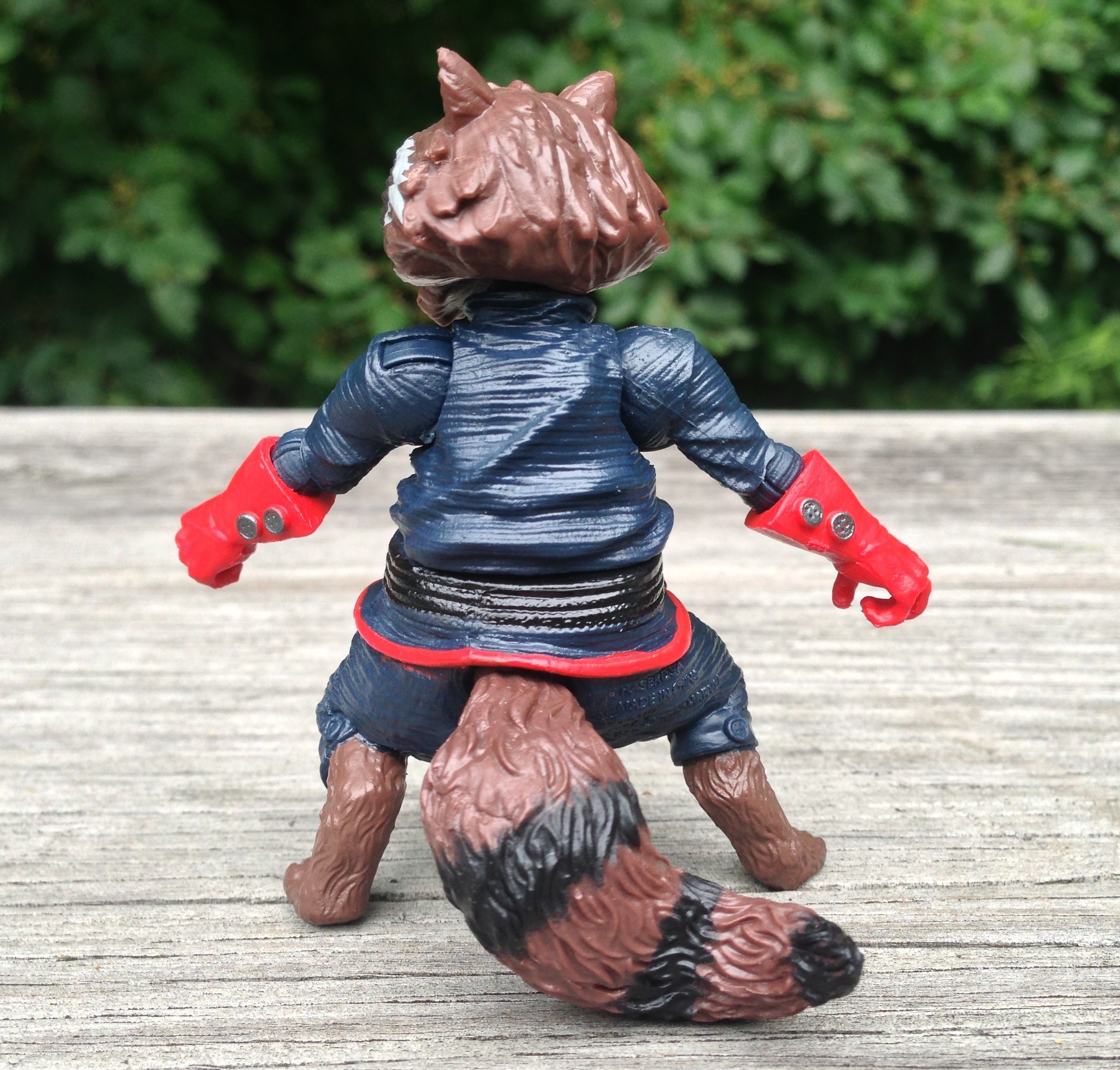 This isn't the most flexible Marvel Legends figure ever, but it's the most super-articulated Rocket Raccoon figure ever made by a longshot (though I suspect the inevitable Hot Toys Rocket Raccoon Guardians of the Galaxy sixth scale figure gets released in 2014).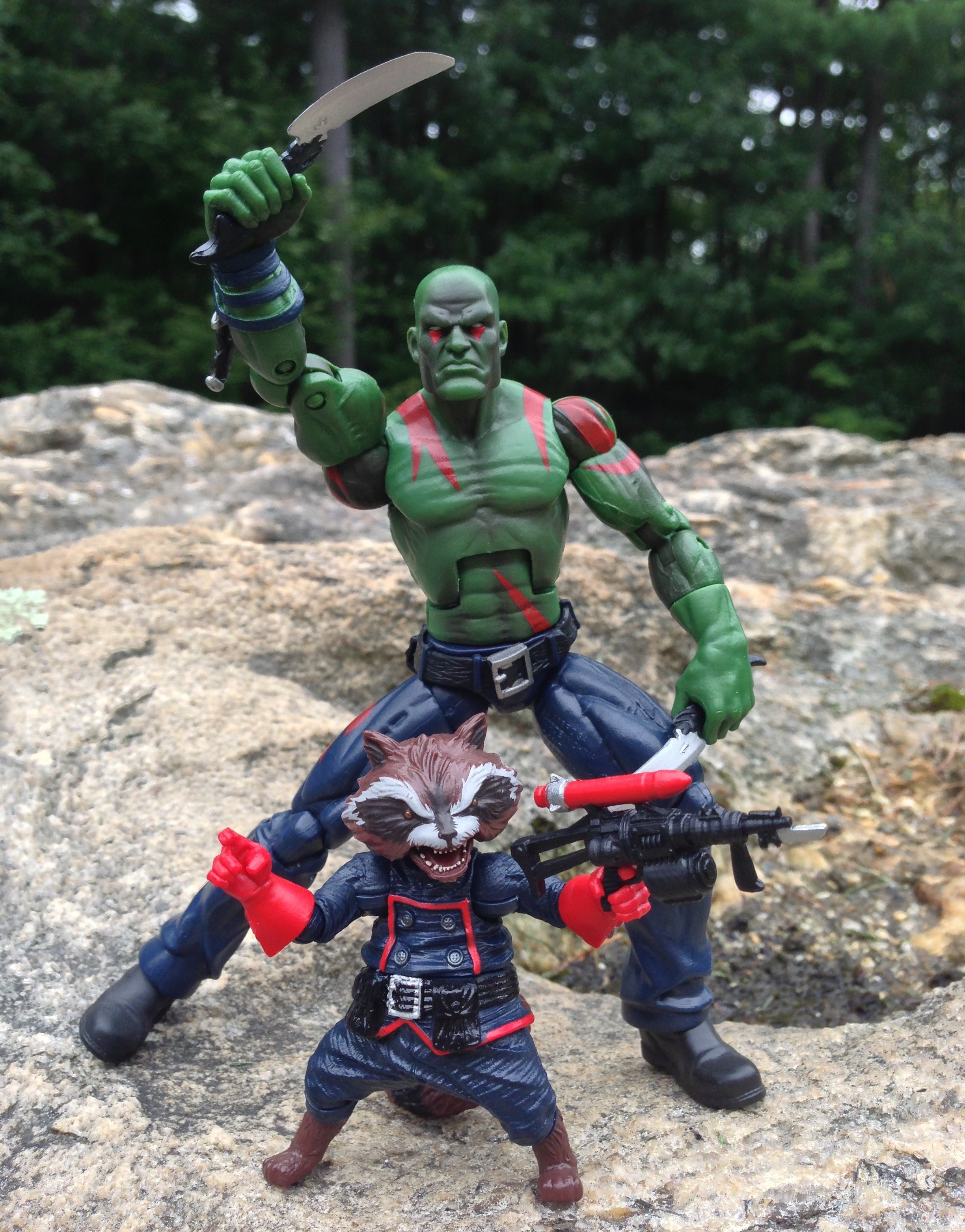 The paint applications on the Rocket Raccoon Marvel Legends Build-A-Figure are excellent. There's no paint slop or uneven lines, and all the paint deco on Rocky is clean and neat. Rocket's fur is particularly impressive when compared to the old Hasbro Marvel Universe Rocket Racoon action figure.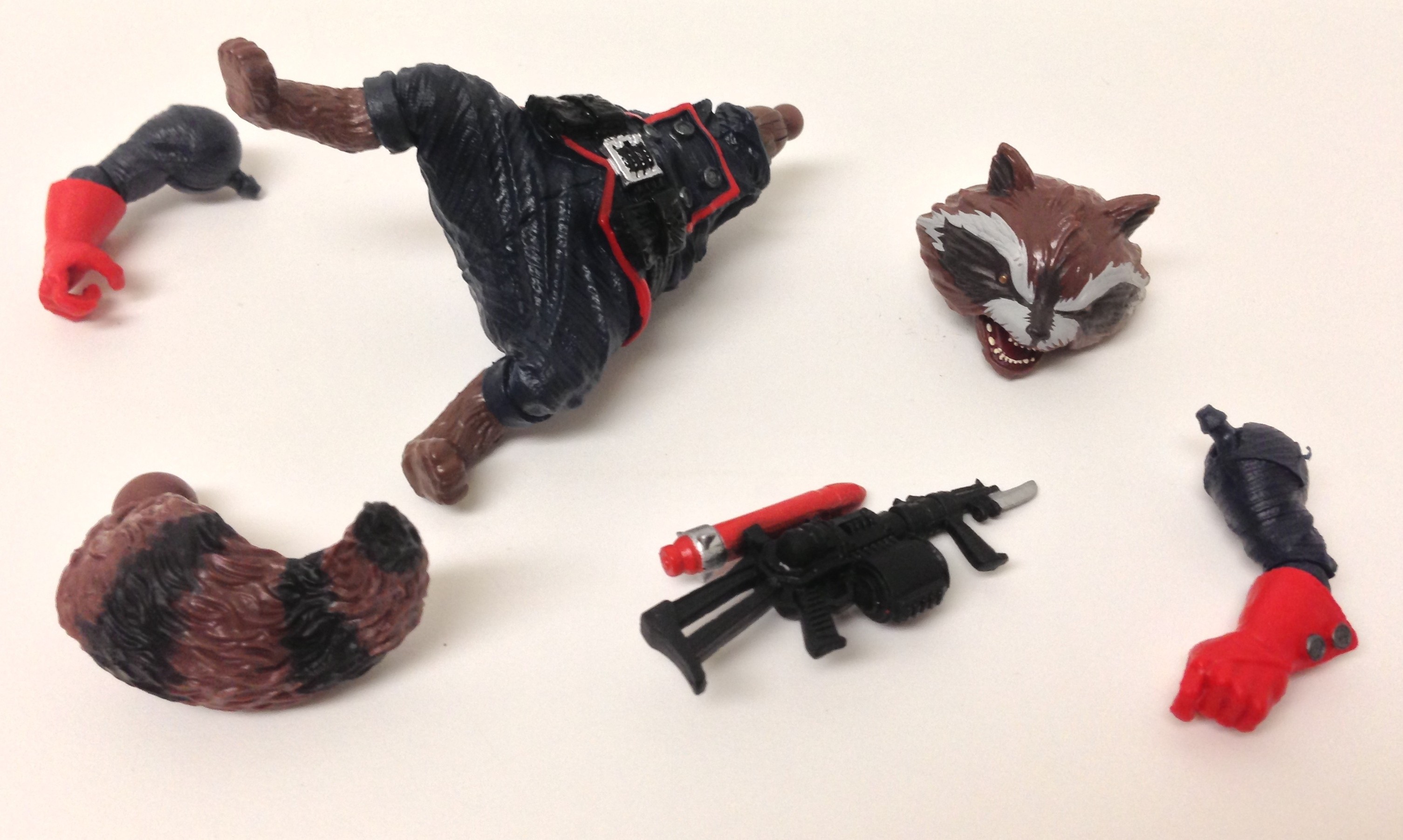 As is fair with a "mini" Build-A-Figure like Rocket Raccoon, you don't have to buy every figure in Marvel Legends Wave 5 in order to build Rocky. You can get all the pieces of the Build-A-Figure Rocket Raccoon just by buying three figures from the set: Jean Grey, The Wrecker or Bulldozer of the Wrecking Crew, and Black Panther. So if you don't want to pay for a Marvel Legends Hawkeye or Scarlet Spider you don't have to (although obviously I'm a big advocate for Scarlet Spider).
The scale on Rocket Raccoon looks just about right to me–different artists have different interpretations of Rocket's height/size, but he stands about up to Marvel Legends Wave 2 Drax's waist, which is right where I'd expect him to be. The Marvel Legends Rocket Raccoon BAF comes with one accessory: a blaster gun very similar to the one the Marvel Universe Rocket Raccoon action figure came with (except this time with paint deco and much more detail).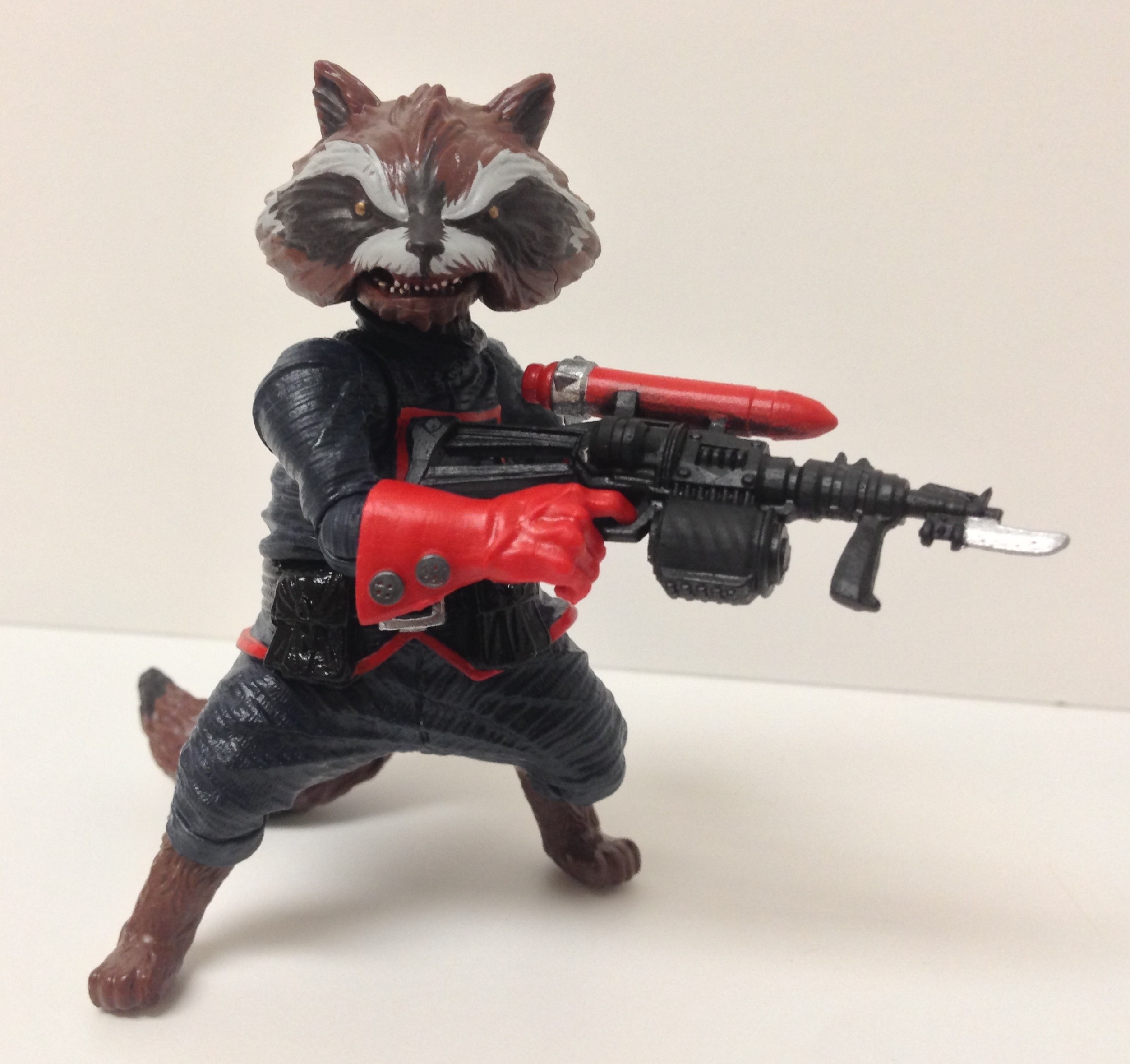 The old Marvel Universe Rocket Raccoon figure could sort of hold his gun–loosely–but not all that well. To my delight, the Marvel Legends Wave 6 Rocket Raccoon figure can hold his gun tightly in not just one, but both of his hands. In fact, Rocket even has a trigger finger on each hand (paw?) that curves perfectly around the gun's handle.
The Wrong:
There's real only one major bummer with regards to this Rocket Raccoon figure, and that's the total lack of lower body articulation (besides the tail, if you want to count that). Maybe it's because adding leg/ankle joints would mess with the figure's stability, and maybe it's because Hasbro was just being cheap, but it's definitely a let down that poor Rocky Raccoon has such limited posing potential beyond his upper-body. For the series Build-A-Figure, I think Hasbro could have taken this figure's articulation scheme just a little bit further.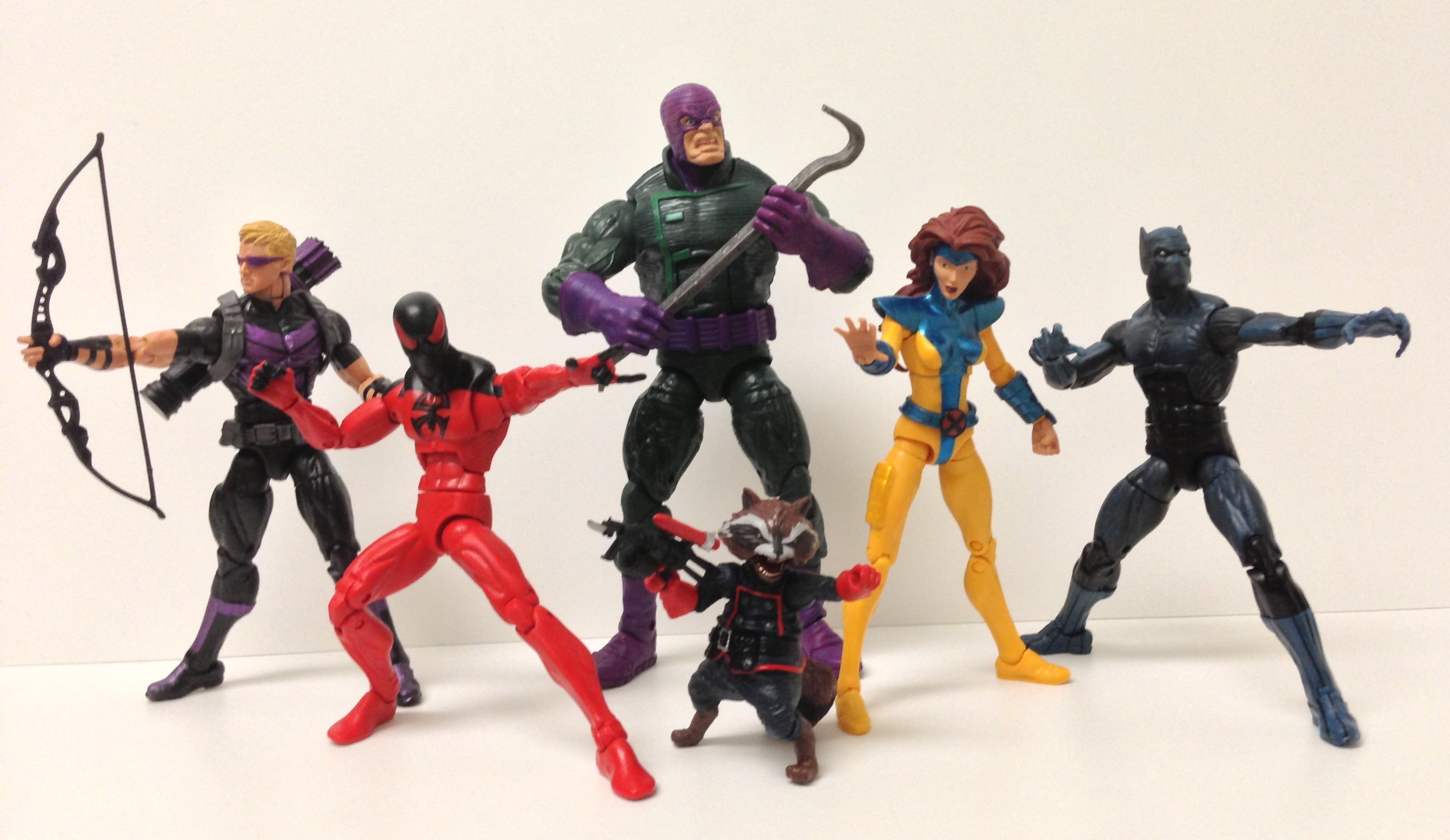 "Where Can I Buy It?!"
I bought my Marvel Legends Wave 5 case from BigBadToyStore, which still has cases of the Rocket Raccoon series in-stock now. If you only want to purchase a complete Rocket Raccoon Build-A-Figure or individual figures from the set, ebay is probably your best bet for specific Wave 5 figures right now. Hopefully this wave will be more abundant in stores than Waves 3 and 4 were.
Overall: As a huge Guardians of the Galaxy groupie–and Rocket Raccoon fanatic in particular–I'd be happy with this Marvel Legends 2013 Series 2 Rocket Raccoon figure even if it was mediocre. It's not–it's actually a terrific action figure. While the total lack of lower body articulation is a downer, the highly-detailed sculpts, surprisingly good upper body articulation and excellent paint deco make this Rocket Raccoon figure a real winner that's well worth buying Marvel Legends Series 6 to assemble.
GRADE: A-