When Diamond Select Toys announced the three figures making up the totality of their Avengers Age of Ultron Marvel Select lineup, the choices weren't met with universal praise. In fact, many collectors turned their noses up entirely at the AOU Hulk and Thor figures. But now that the Avengers 2 Marvel Select Hulk figure I ordered online has arrived, it's very clear to me that (redo or not) this is an outstanding (and humongous) movie Hulk action figure that utterly smashes every other AOU Hulk figure released thus far…
The Right:
The first thing I noticed when I took my Marvel Select Avengers Age of Ultron Hulk figure out of its shipping box was that it seemed to weigh a ton (I'm hyperbolizing, I know). I took Hulk straight over to my postal scale, where I discovered he was just short of 32 ounces–a full two pounds!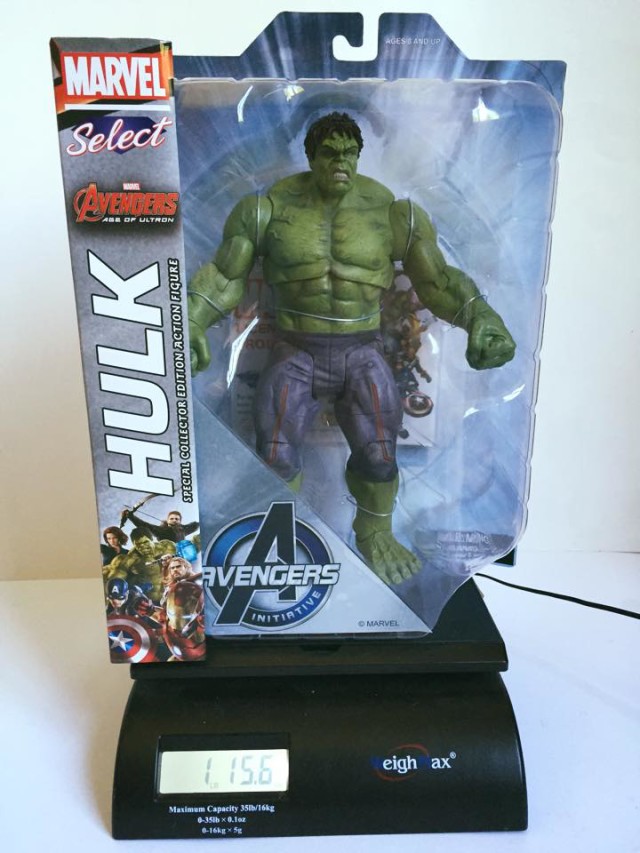 It's natural to expect some heft in an enormous figure like this Diamond Select Hulk, and it does not disappoint. While typical Marvel Legends figures weight about two ounces (Marvel Legends Anti-Venom weighed four ounces, for comparison's sake), MS Hulk (while still in his package) weighs in at almost
thirty-two
ounces.
That's the equivalent of sixteen regular-sized Marvel Legends figures or eight Anti-Venoms! Now that is a beastly action figure.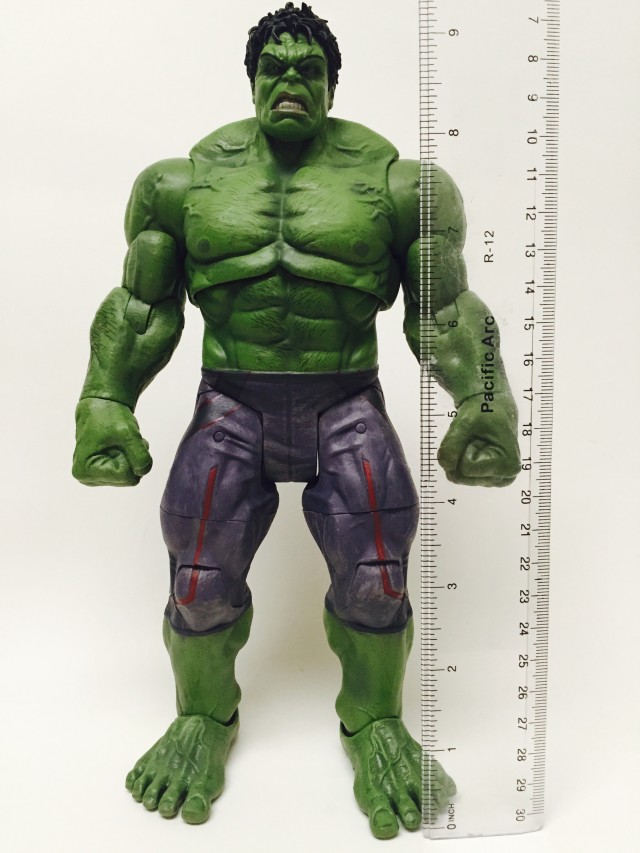 Not only is Hulk heavy–he's also gigantic. The Diamond Select Toys Age of Ultron Hulk figure stands over 9″ tall, making him over 50% bigger than a standard Marvel Legends figure.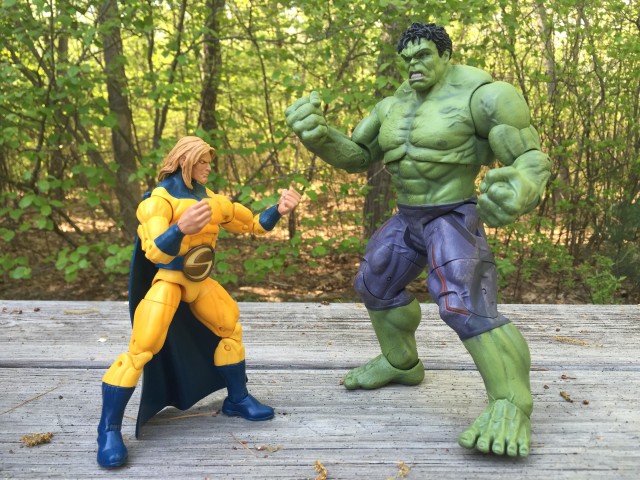 That may or may not be a smidge too big to display with Marvel Legends figures (scale is a point of contention with movie Hulk), but it's perfect for matching this Hulk action figure up with the 7″ scale Marvel Select movie figures.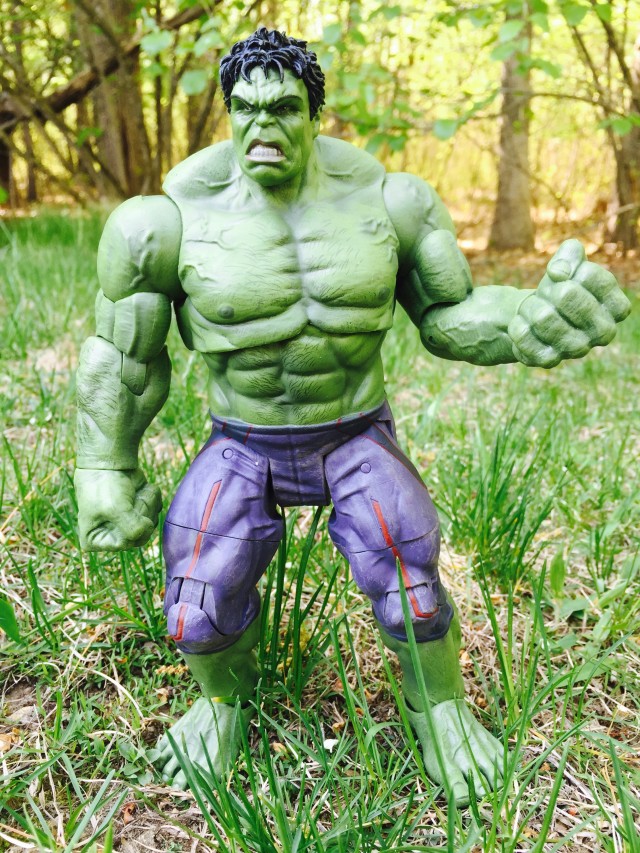 Sometimes companies cheap out on the articulation on big figures, but Diamond Select Toys is not one of them. The Avengers 2 Hulk Marvel Select figures has 16 points of articulation: ball-jointed head, ball-jointed upper torso, ball-jointed shoulders, swivel biceps, hinge elbows, swivel wrists, swivel-hinge hips, hinge knees and ankle rockers.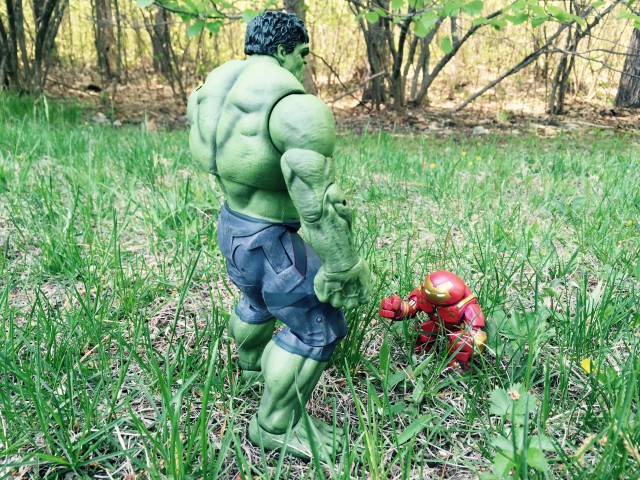 You won't be able to get Hulk into any crazy ninja finesse poses with this articulation, but you can get him into position to smash and bash to his (and your) heart's content.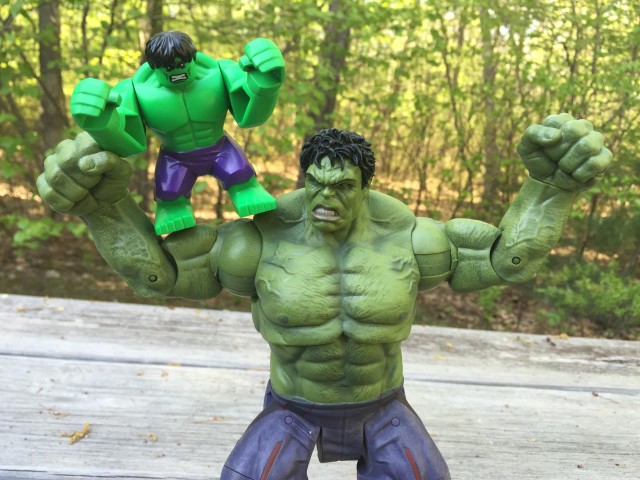 The Hulk Age of Ultron figure also features paint deco that is vastly superior to that of the Marvel Legends Age of Ultron Hulk figure. While that Hasbro figure looks like a big hunk of unpainted plastic, the DST Hulk figure has paint washes on virtually every speck of area on him, from his pants to his skin.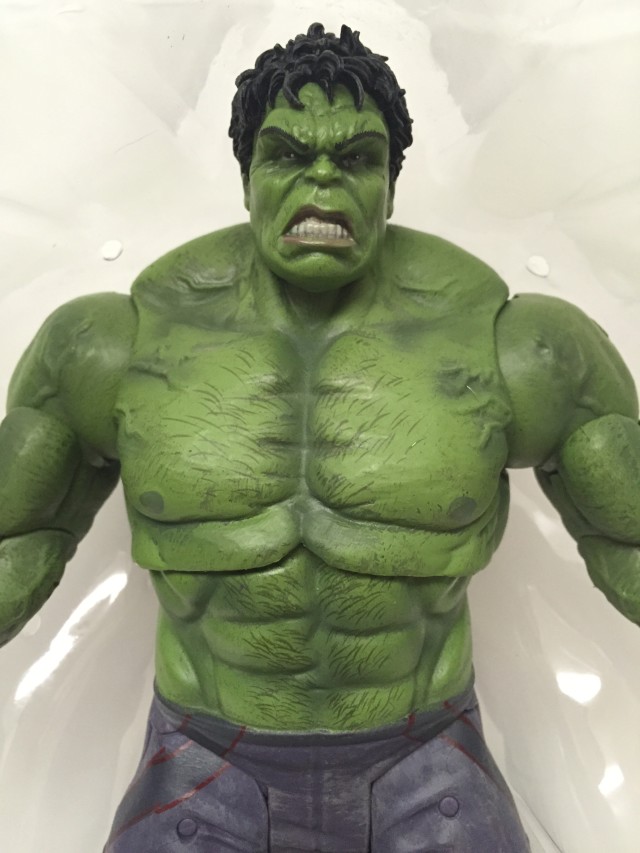 With convincing paint strokes for his arm and chest hair and even little dark circles perfectly placed on his pecs, Diamond Select didn't miss a beat with the possible places to add paint to this monstrously big figure.
For the head sculpt, DST chose the oft-done teeth-bared, sneering facial expression for Hulk. It's probably not the best movie Hulk head that will ever be sculpted, but it is again miles ahead of Hasbro's attempt.
The size, level of paint detail and sculpting detail simply blow away Hasbro's attempt at the AOU Hulk figure, making this clearly the best Avengers 2 movie Hulk toy in a 6″-7″ scale.
The Wrong:
As impressed as I am with this Diamond Select Toys Hulk Avengers Age of Ultron figure, it's not a perfect toy. As soon as I removed him from his plastic prison, Hulk's legs started flipping around of their own accord. It's not unusual for huge and heavy figures to have loose hip joints, and Marvel Select Age of Ultron Hulk is another victim of this trend.
The loose joints are very annoying when posing Hulk, but they are thankfully still tight enough that he can hold a pose (most of the time) once you get him standing. If you're OCD about weak joints like I am, though, beware.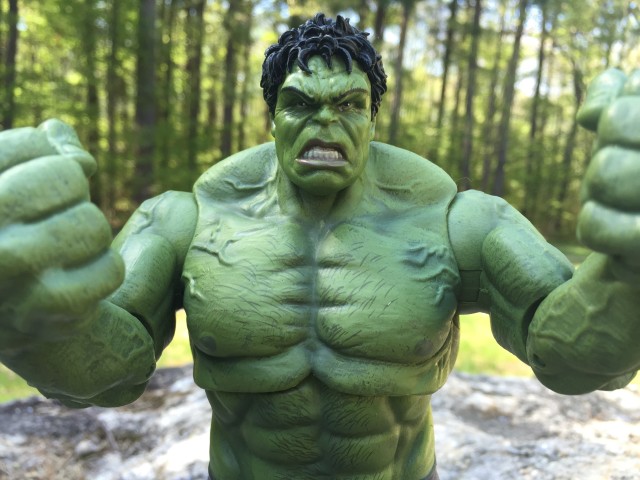 In addition to the floppy legs, my Hulk had a handful of paint quality-control issues–which is a handful more paint issues than I usually have with a Marvel Select figure.
Hulk has a little splotch of black on the left side of his face, a spot where the purple paint chipped off on his pants (revealing white underneath), and a few other little areas where the paint applications fell short. It's hard to see the little imperfections in photos, but up-close they definitely bug me a little bit.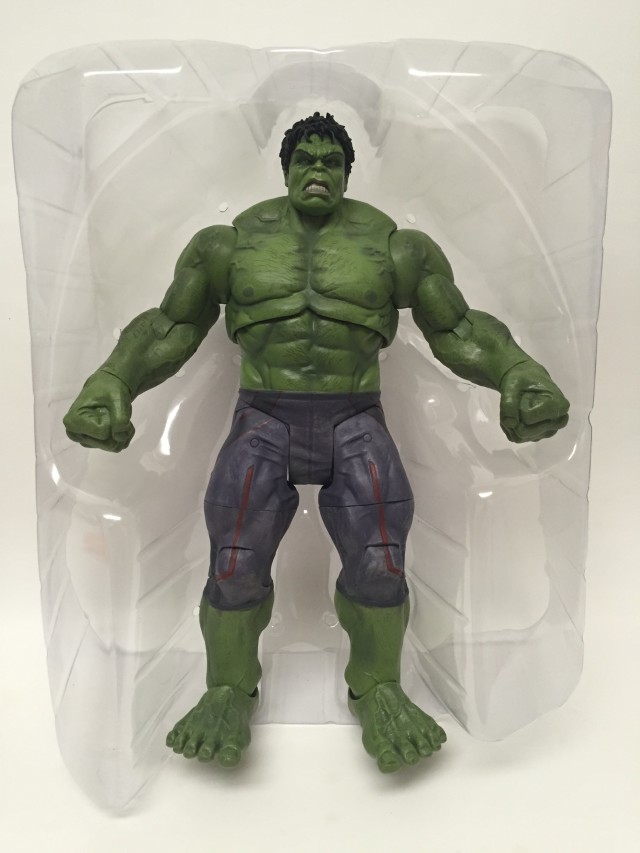 Finally, I'm a little disappointed that we get absolutely nothing in the way of accessories with this Hulk Marvel Select movie figure. I'm not asking for a super-deluxe base or anything here–maybe just an alternate grasping hand or something.
Hulk's poses are limited by having dual fists, and with the tooling dollars saved by reusing an old mold for the majority of this figure, I would have liked if DST had budgeted in another hand or head or, well… anything. It's not a deal breaker, but it's always tough seeing a $25 figure come with bupkis in the way of accessories.
Overall: I hemmed and hawed over awarding this Marvel Select AOU Hulk figure an 'A-' or a 'B+', but ultimately I nudged him down slightly. While the movie Hulk figure itself is gigantic and definitely worth his price-tag, his lack of any accessories at all, loose hip joints and a couple paint apps problems keep him out of the realm of perfection. Even so, this is easily the best movie Hulk figure on the market that's under 16″ tall, and a very fair value at $20-$30. With only one production run and already sold out at most retailers, grab this Age of Ultron Hulk figure now if you want one, before his price skyrockets like his predecessor's.
GRADE: B+