Ordinarily I'm not a Monday person, but when Diamond Select Toys announced that two new comics-based Marvel Select figures would be revealed on Monday, February 1st 2016, I knew that this Monday was gonna be a good one–and so it is! After DST announced there was no Black Panther in the Civil War movie line, I knew it was a matter of time until a comics Black Panther was announced. And now he has been–the exclusive Marvel Select Black Panther figure is now up for order… and he's brought a new Avenging Captain America with him!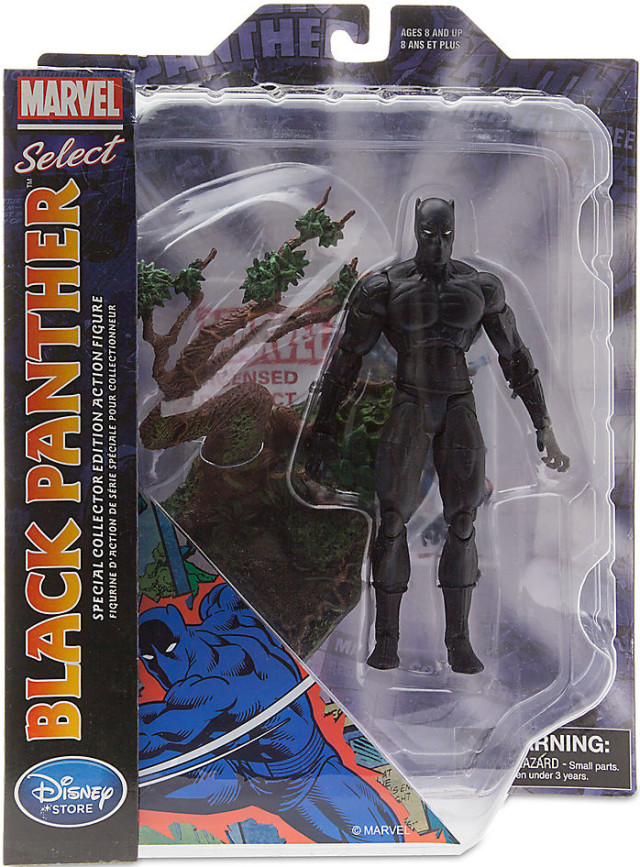 Despite the fact that he was the first black superhero in Marvel Comics (and any mainstream comics company, for that matter), it hasn't exactly rained Black Panther merchandise over the years. Yes, he's had a handful of figures sprinkled here and there, but perhaps not the cornucopia of collectibles that such an integral character deserves.
But it looks like that's all about to change, starting this year, as Black Panther makes his cinematic debut in "Captain America: Civil War" and the flood of Black Panther toys and collectibles begins to rush in! It took over a decade, but the Diamond Select Toys Black Panther figure is now joining the Marvel Select party!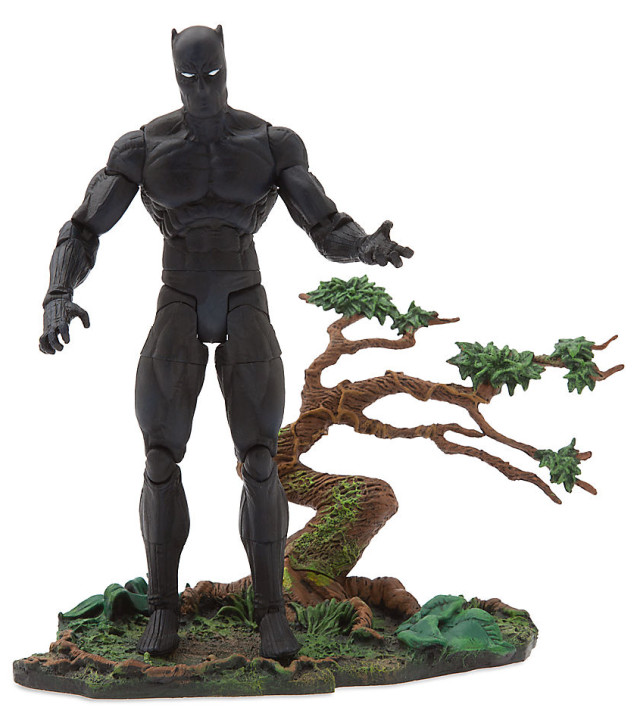 This 7″ Marvel Select Black Panther figure is a 100% new sculpt, and comes with an awesome all-new jungle base. Nobody does bases like DST, that's for sure! And while the character design is a bit simplistic for T'Challa, you can see the great work that Diamond Select did sculpting the texture on his boots and gloves and mask.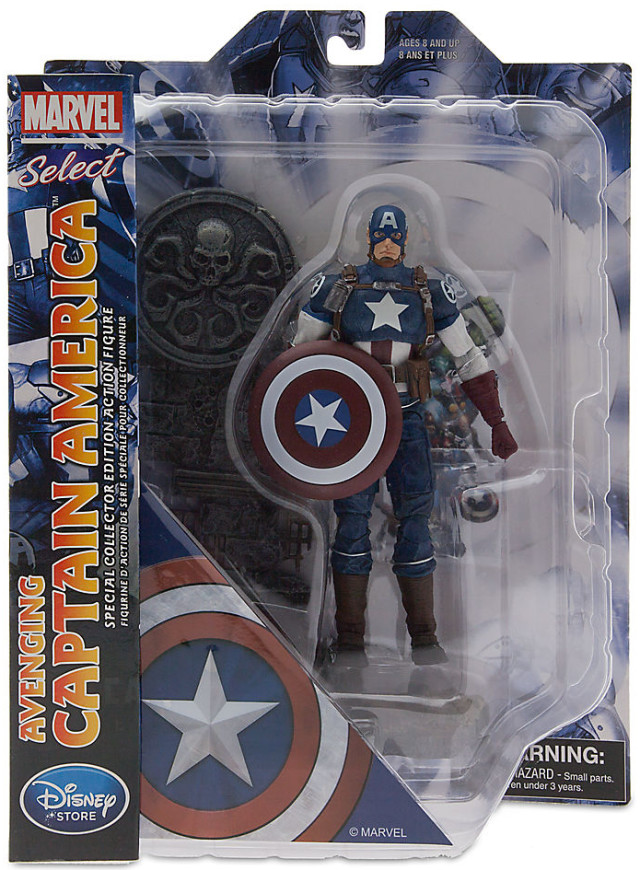 Of course, T'Challa isn't coming to the part alone–he's bringing an all-new Marvel Select Avenging Captain America figure along with him! We've had more than a few DST Captain America action figures over the years, but this one is one of my favorites, as it represents the modern (pre-Old Man) Steve Rogers costume from comic books.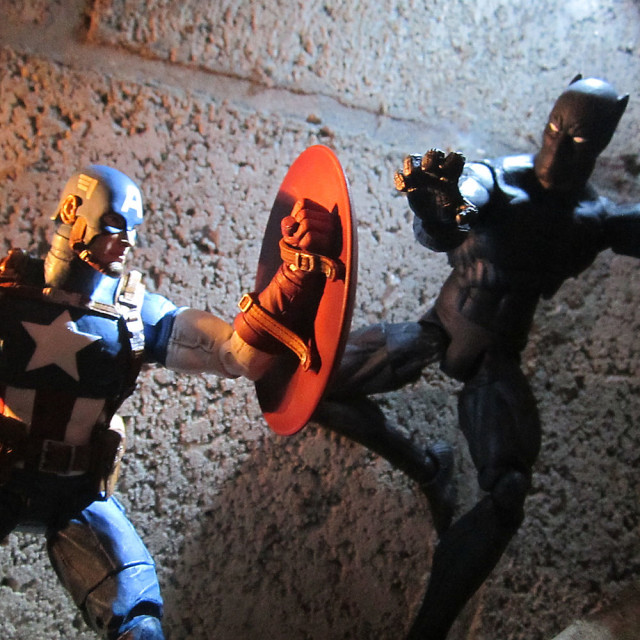 Just like this year's Marvel Legends Captain America Cap-Wolf figure, Diamond Select Toys has included the brown straps (for holding his shield) on Cap's shoulders. But unlike Hasbro's attempt, this figure's straps looks like they will actually stay on. Thanks, DST!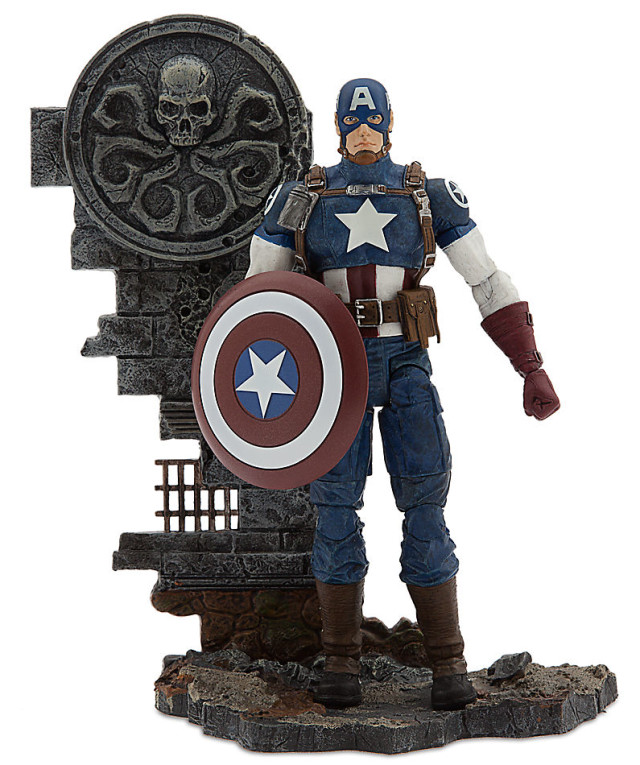 Both the Black Panther and Avenging Captain America figures are in the 7″ scale, so be aware that they'll each look about an inch too tall to display right next to Hasbro Marvel Legends 6″ figures. You've got a bit more leeway with giant characters such as the DST Red Hulk, Juggernaut, Rhino and so forth, but these guys will definitely stick out if you try to plant them directly amidst your favorite Legends.
Thankfully, I've got enough Marvel Select figures at this point that finding good characters in this same 7 inch scale to pose Cap and Panther with isn't going to be an issue for me, but your collection may vary.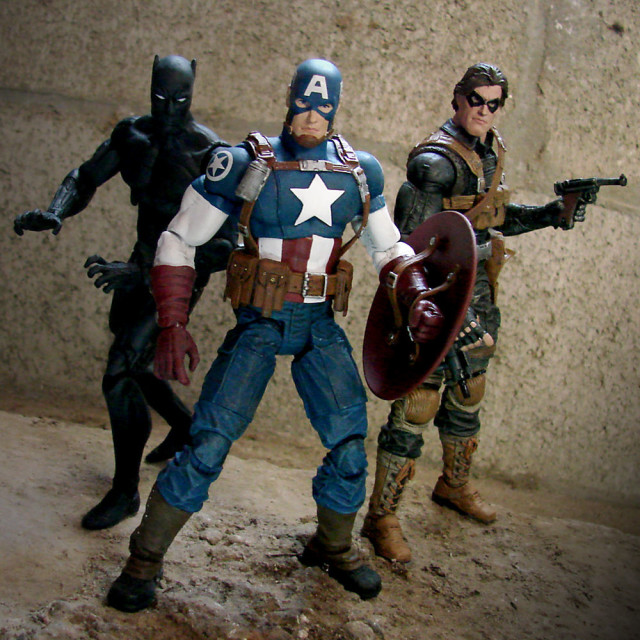 The Marvel Select Avenging Captain America and Black Panther figures are now available for order online, and are scheduled to ship out by the end of February (whenever the shipments arrive at the warehouse). Both figures are Disney Store exclusives, and will only be available via the online Disney Store and physical chain of Disney Stores.
What do you think of the first Diamond Black Panther (and umpteenth Captain America), Marvel collectors? Is there a space in your collection for DST's take on the King of Wakanda, or are you holding out for the movie-based Marvel Legends Black Panther that Hasbro previously revealed last month instead?