Just when we all thought that Hasbro had produced every feasible, viable iteration of Captain America in action figure form, Hasbro hit us with a version nobody was expecting: Werewolf Captain America! Some collectors thought we were being punked when the Marvel Legends Cap-Wolf was first shown, but this is no prank: the Captain America Legends Cap-Wolf figure is now available, and he's a fun (if not flawed) addition to the line…
The Right:
In one of the more bizarre stories in his long and illustrious comic book career, Steve Rogers was transformed into an anthropomorphic wolf man.
…No, really!
As you might expect, that story arc was long one of the more ridiculous Captain America comics, but it's finally come back into fashion as the fun and quirky story that it was. And not only was the Sam Wilson Cap transformed into Cap-Wolf recently in comic books, but now there's even a Hasbro 6″ Marvel Legends Cap-Wolf figure to review!
Rather than giving us yet another in a long line of boring Cap variants, Hasbro is giving us the craziest Captain America Legends figure ever this time out. That's a huge thumbs up from me.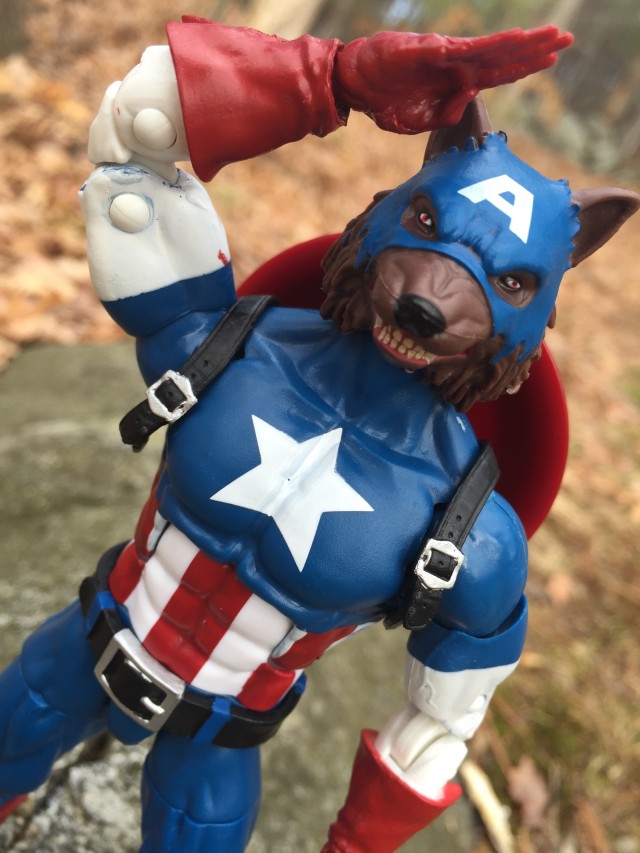 There's only one part of this figure that's really new, but it's a good one: the interchangeable wolf Captain America head. This is (obviously) a 100% new mold, and it looks pretty dang great.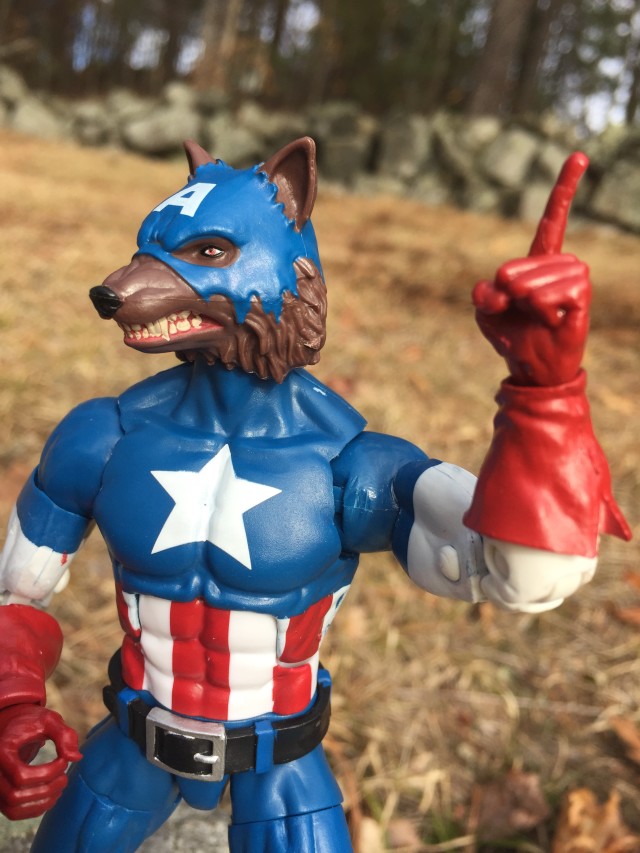 From the bared teeth to the furry texture and the tattered mask, I just love this wolf head. There's a lot of paint deco on this head, with colors including brown, white, red, pink black and blue. It all comes together and makes this a can't-miss figure (at least, for me).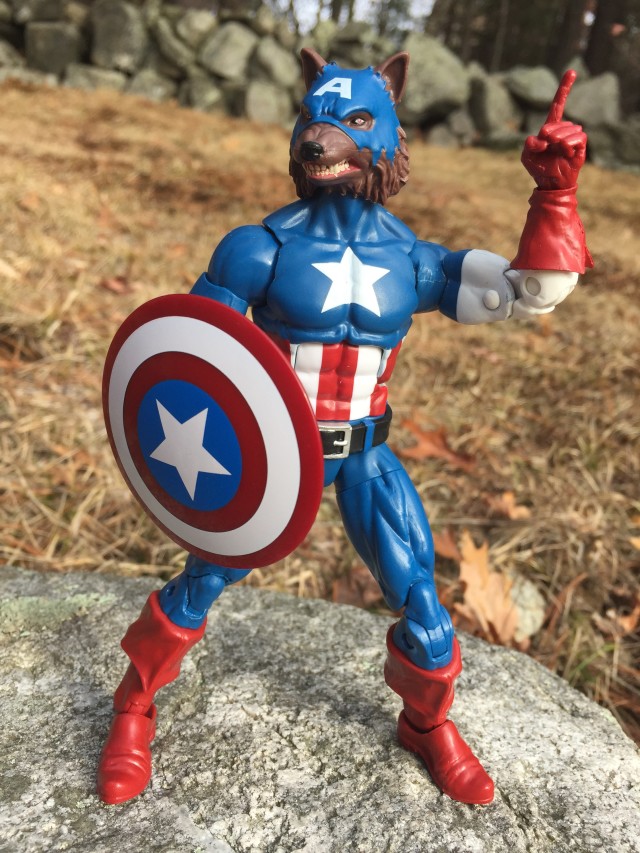 There's no surprises with the articulation on this body mold since we've seen it quite frequently (more on that in a minute), but the posing potential is as excellent as ever with double-jointed knees and elbows, ankle rockers, swivel waist and upper torso ab crunch, swivel calves, biceps and thighs, and so forth.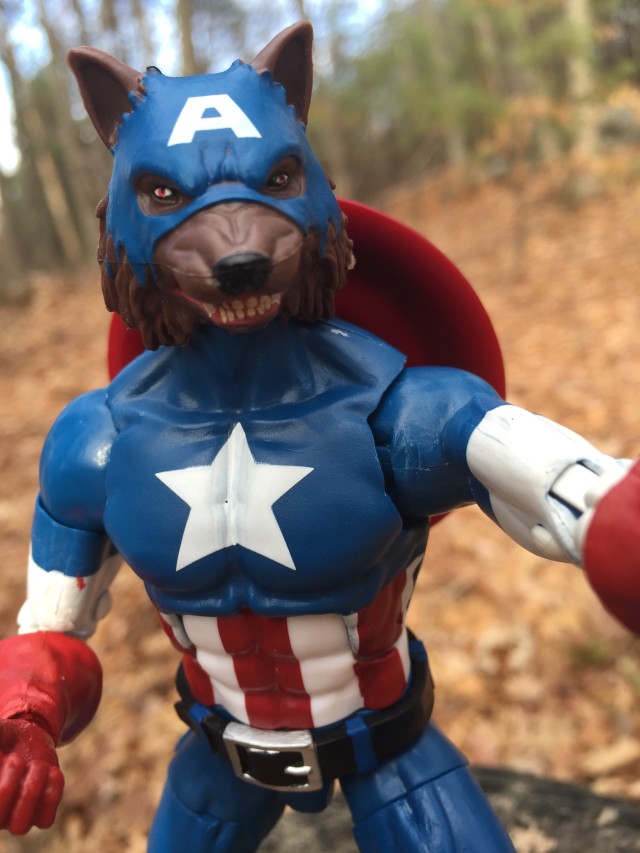 With the exception of the wolf head not being able to pivot upwards to howl at the moon, I am completely satisfied with the flexibility of this Cap-Wolf action figure.
The Wrong:
While this is a nice enough Captain America when using its standard head, it doesn't exactly feel all that new. While this is the first time the Grim Reaper/Kraven mold is being used for Cap, the figure's look and articulation/range-of-motion is so similar that I didn't even realize this wasn't the same-old Cap action figure until someone pointed it out to me.
I applaud Hasbro for not making us purchase the exact same Captain America as we have several times before, but it's just not exciting to have to re-buy Classic Cap again after such a short time, even if it does come with a cool interchangeable head and a different body mold this time out. As crazy as it sounds, I wouldn't mind if this was the last "classic Captain America" 6″ figure that got released for a good, long time.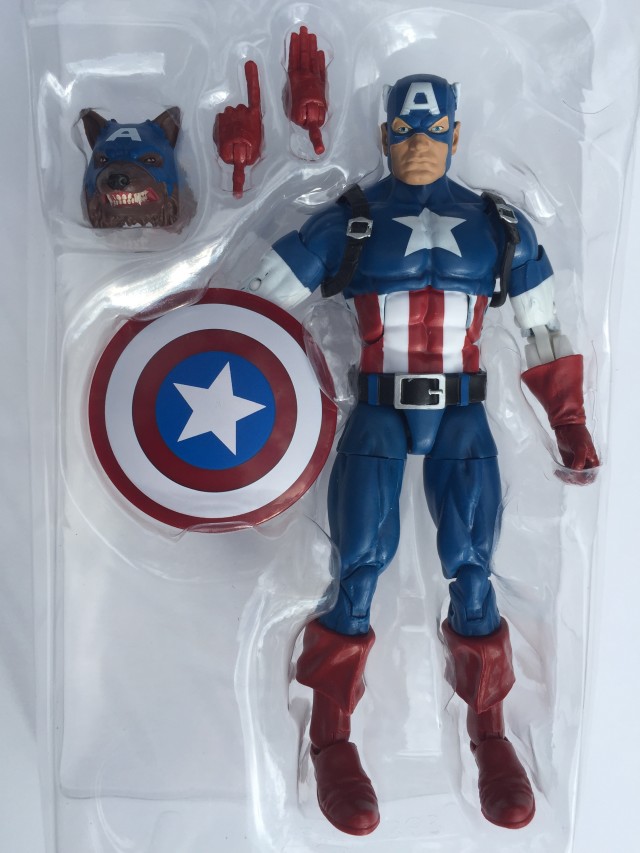 I'm also really disappointed that this Marvel Legends Captain America figure, a toy of a hero who only throws a shield and punches stuff, comes with four hands (two open hands, a pointing hand and a karate chap/saluting hand) and no closed fists.
It's just weird–especially since no "tattered glove wolf hands" have been included either. Those would have really completed this figure and made it feel more fresh than just the alt head.
In addition, the paint apps on this toy were a lot more careless and messy than I've seen on any of my other 2016 6″ Legends. I'll give Hasbro the benefit of a doubt and say this is an anomaly, but check your paint apps carefully when purchasing this figure.
The Ridiculous:
One of the innovations that I thought would really set this Cap apart was the addition of the removable shoulder straps. Unfortunately, while the straps look nice when they're in place,
keeping them in place
is next to impossible.
I don't know if the straps use a shoddy plastic or the factory got them wrong or what, but they flop off at the slightest touch, rendering them near-useless. And with the number of corroborating reports I've heard, it's clear that this is a widespread problem. Disappointing.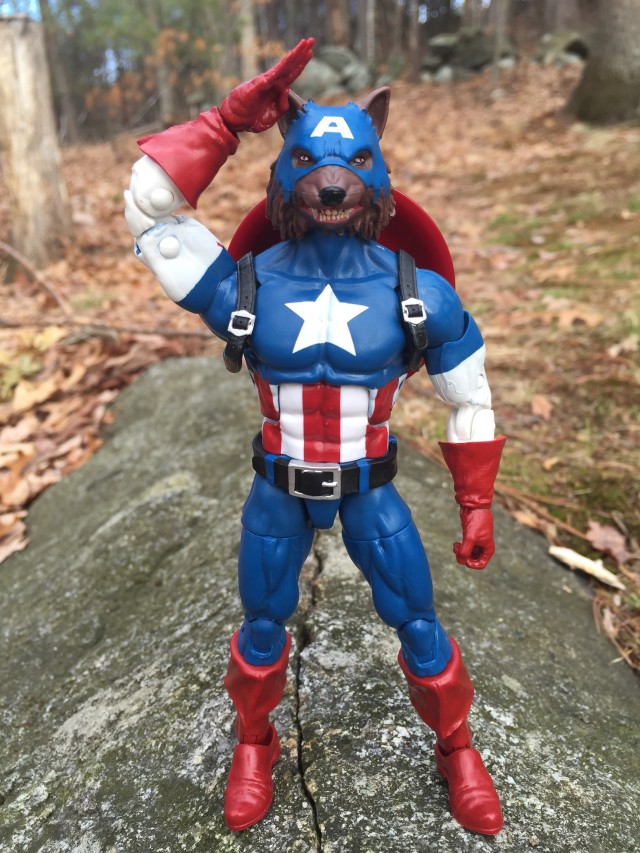 Overall: This is pretty average, solid Captain America action figure with one fun gimmick: the Captain America wolf head. The body itself is solid, but feels more like a retread than an improvement–and the lack of fists or wolf claws for this figure is baffling. And while the shoulder straps were a good idea, the execution on them is atrocious. Even so, Hasbro is trying something different here and I definitely appreciate it. If the idea of Wolf Captain America strikes your fancy or you need a decent (but not outstanding) comic-based Cap figure, this is the one for you.
GRADE: B