When the incredible Marvel Select Venom figure (which may well have been the very best Marvel figure released that year) came out in early 2013, collectors immediately began demanding a Carnage figure of similar quality. Well, we had to wait until San Diego Comic-Con 2014 to see it, but the Diamond Select Toys Carnage figure finally debuted. And after waiting since last July for him, Marvel Select Carnage finally arrives online and in stores this week! I received my Carnage a few days early, so I decided to put together an early review. While the Carnage Marvel Select figure is near-perfect, it does suffer from one big (literally) problem…
The Right:
Whereas the Hasbro Marvel Legends Carnage figure released last year went for a clean, classic comic book look for Carnage (think Maximum Carnage and Spider-Man: The Animated Series), the Diamond Select Toys approach strives for a vastly more detailed and gritty Carnage. The result is an 8″ Carnage figure with more sculpting detail and better texturing than any other Carnage toy ever made.
Seriously–every square centimeter of Carnage is covered in bumpy, symbiotic texture. It actually looks and feels like Carnage is a living creature and not just some dude wearing spandex.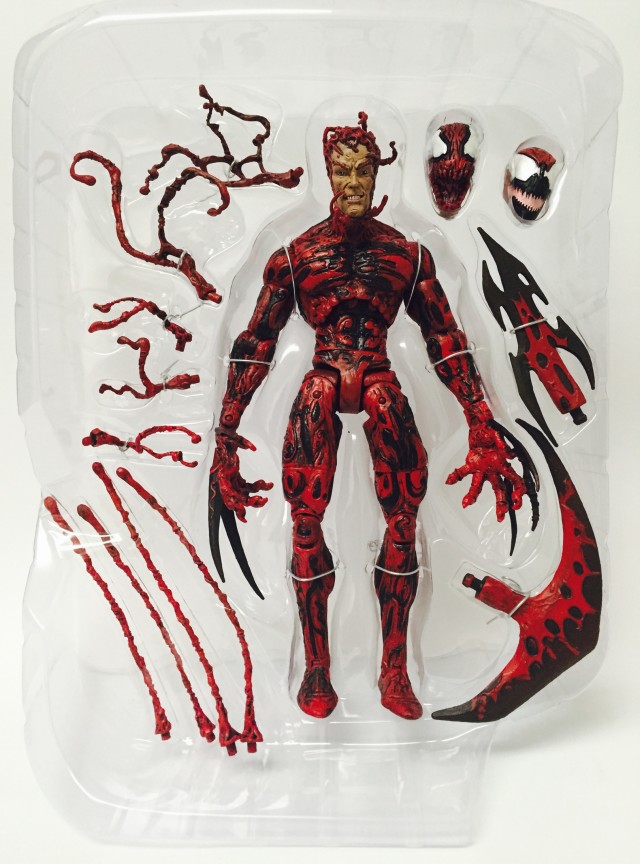 Sculpting isn't the only area where the Diamond Select Toys blows away all predecessors, however. This Carnage figure may legitimately come with more accessories than every other Carnage figure ever released combined!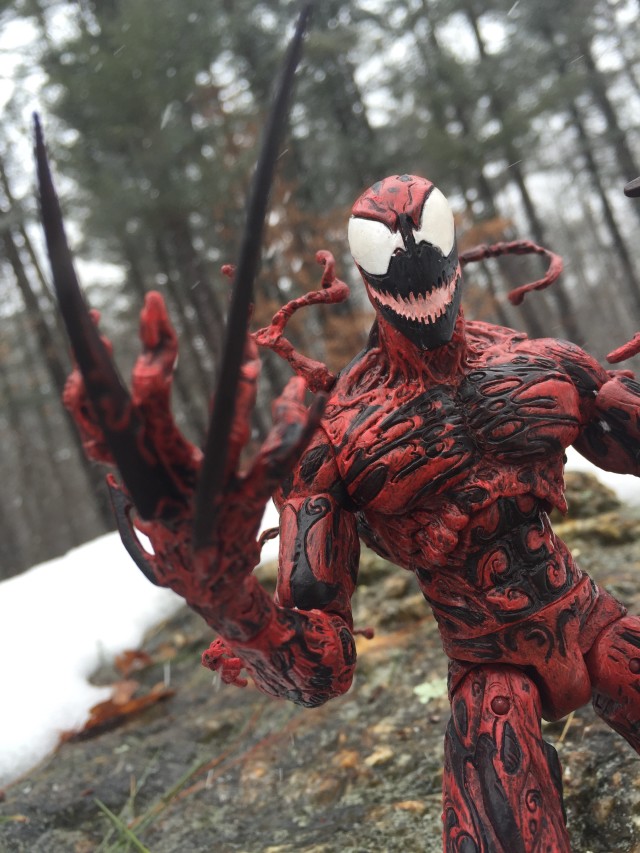 You get not one, not two, but three heads for the Marvel Select Carnage action figure: a classic Carnage head, a modern Carnage head and a Cletus Kassidy "unmasked" Carnage head.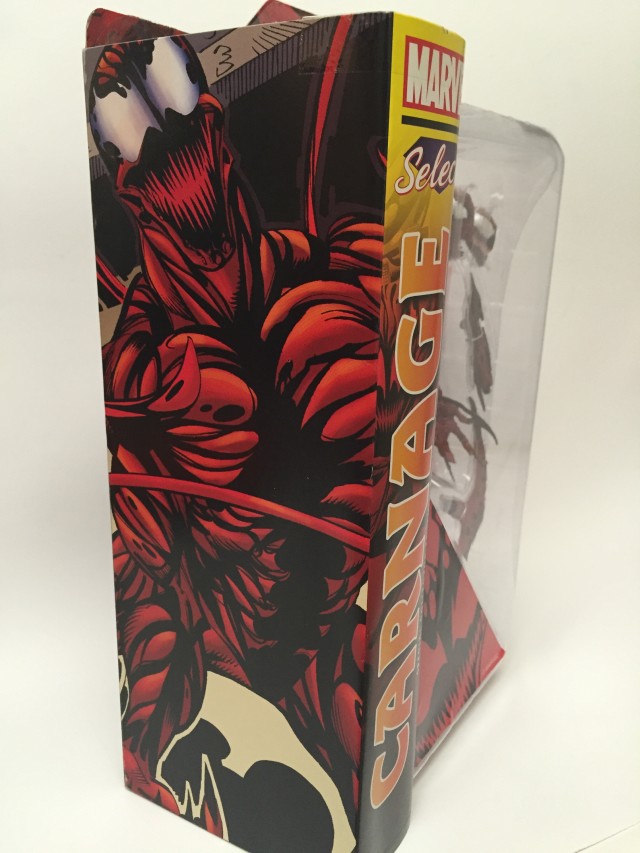 The classic 90's Carnage head is going to be the one my Carnage Marvel Select figure is wearing permanently after taking photos for this review (especially since I can't change the head on my figure anymore easily–more on that later), but that's not to say that the other two heads aren't outstanding.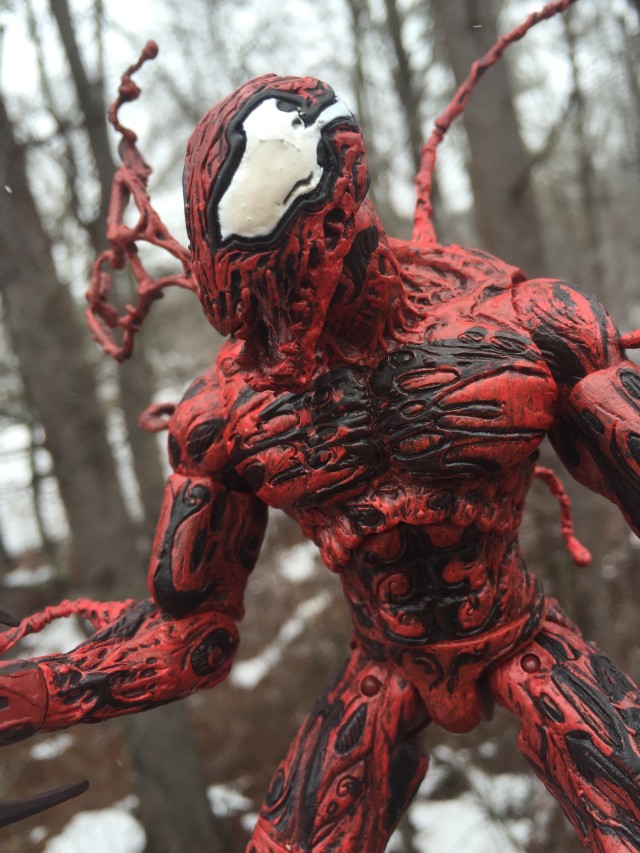 In fact, though I don't especially care for the look of modern Carnage or Cletus Kassidy's insane face, I am truly impressed with the sculpting and look of both heads. I can definitely see some fans buying multiples of this figure to display different versions of Carnage on their shelves at the same time.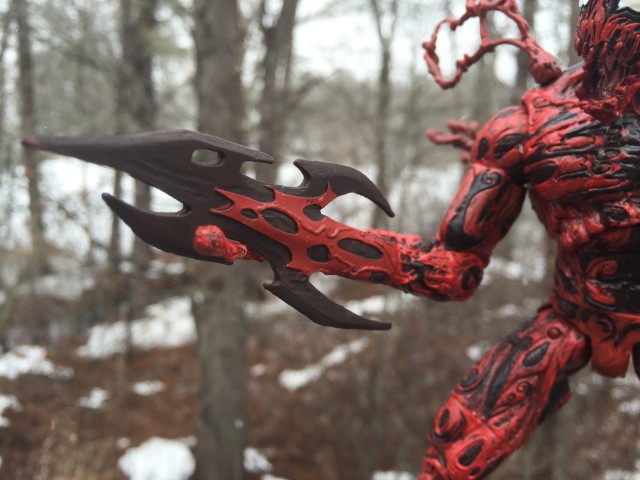 Along with the alternate heads, Carnage also includes two interchangeable arms (a spear arm and a scythe arm), as well as five tendril-like attachments that can be attached to various ports on Carnage's body, and an additional four web line-like tendrils. That's thirteen accessories–a  pretty huge number for any mass market figure with an MSRP of under $25 to come with!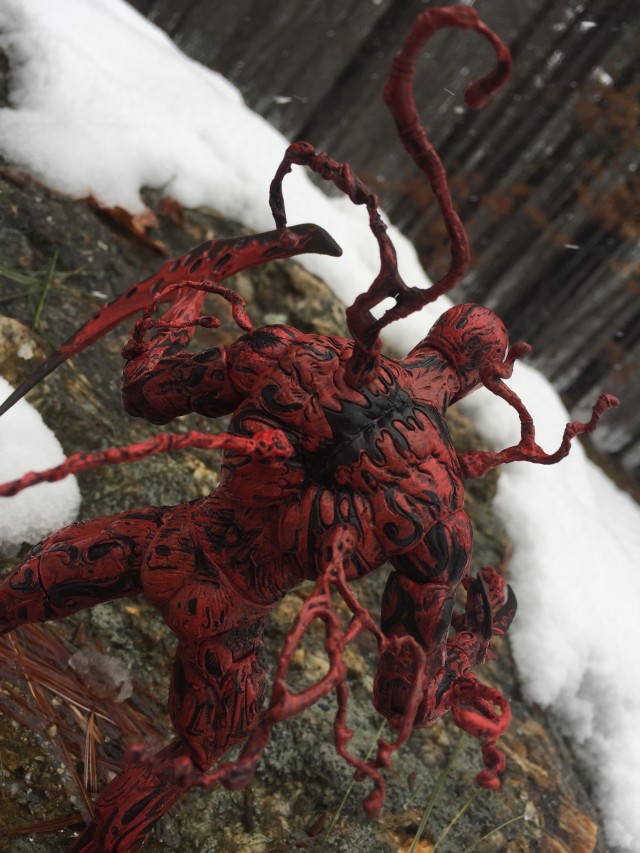 All of the symbiote tendrils can be attached in any of the ports on Carnage backs, shoulder and arms, and add a ton of visual appeal to the figure. I love these symbiote tendrils so much that I sincerely doubt that I'll ever want to display Carnage without them (although it is tons of fun to move them around on Marvel Select Carnage for alternate display looks).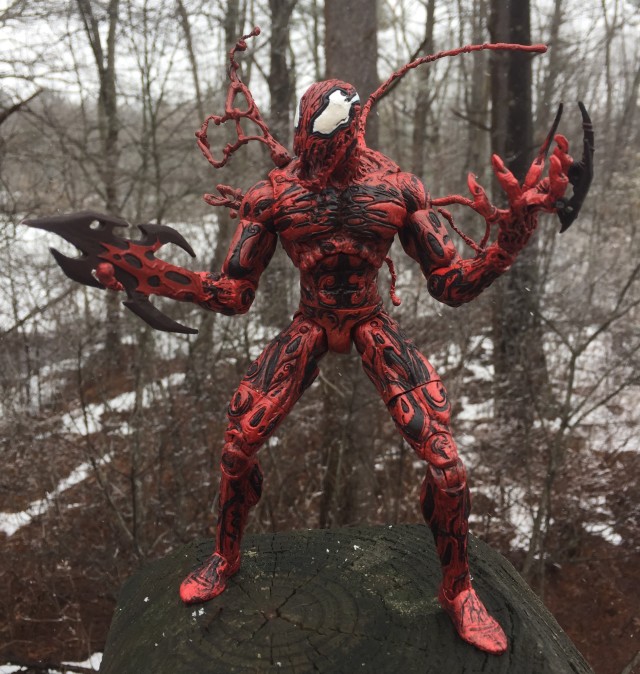 Finally, we come to the articulation scheme. While DST's license restricts their offerings to 16 points of articulation, they make the best of the limited articulation on the Carnage Select figure. Carnage has a ball-jointed head, an upper torso ab crunch, ball-hinge shoulders, swivel biceps, hinge elbows, swivel-hinge wrists, swivel waist, swivel-hinge hips, swivel thighs, double-jointed knees, and hinge ankles with ankle rockers.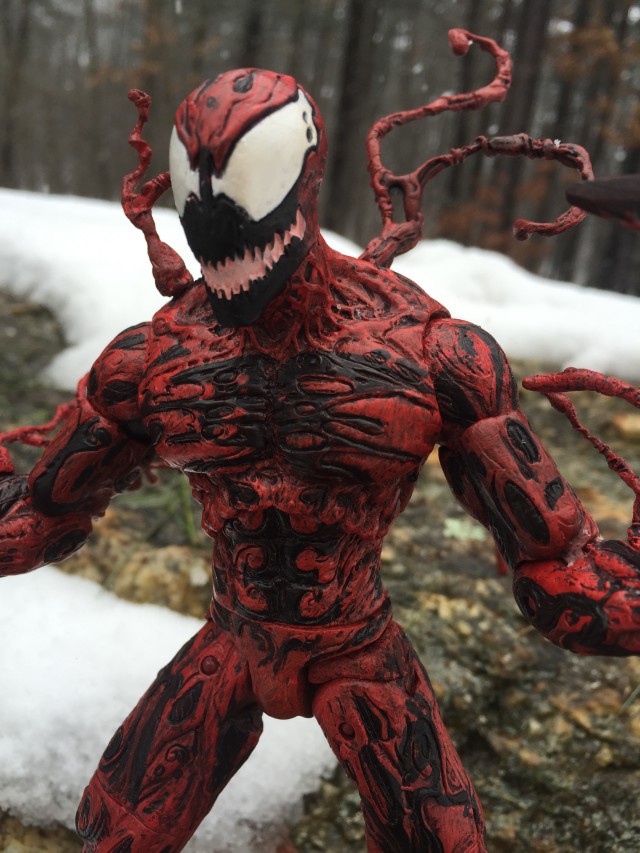 While you might not be able to get this 8″ Carnage action figure into any supreme martial arts poses, the articulation that's built in is more than sufficient to display Carnage in a plethora of intimidating, battle-ready poses. Limited articulation or no, Diamond Select Toys hit all the right notes with the articulation chosen for this figure.
The Wrong:
As fantastic as this Carnage action figure is, it does have one quality that a lot of collectors–myself included–are considering to be a
big
flaw: this Marvel Select Carnage figure is
humongous
. Carnage stands about a full 8″ tall, and as such, he towers over Spider-Man and is ever so slightly larger than the awesome Marvel Select Venom figure.
Despite any official stats, Carnage is almost never depicted in Marvel media as being a huge monster that's far bigger than Cable and other big guys in the Marvel Universe, nor should he be bigger than Venom (in fact, Venom is almost always larger than Carnage). The perception of Carnage's scale being oversized is definitely going to bother many fans, and if you're one of them–then be aware.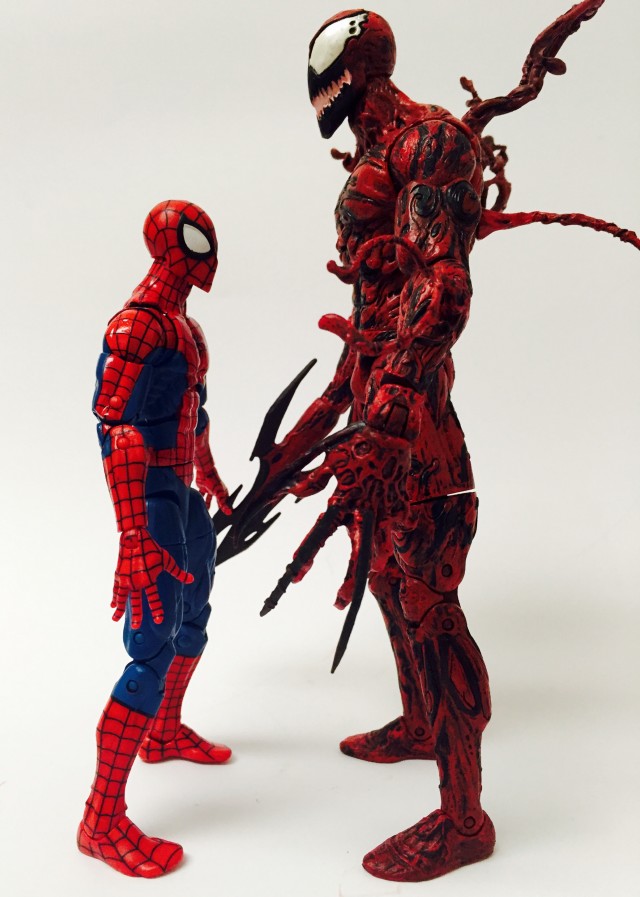 Also, for those wondering, Carnage is way way too big to be compatible with Hasbro Marvel Legends figures. Diamond Select Toys figures are in a larger 7″ scale (compared to the Hasbro 6″ scale) to begin with, so you wouldn't expect Carnage to fit in perfectly with Marvel Legends–and he definitely does not. This isn't a flaw, as this Carnage is meant to be part of a larger line of figures–but it is something else for collectors to be aware of.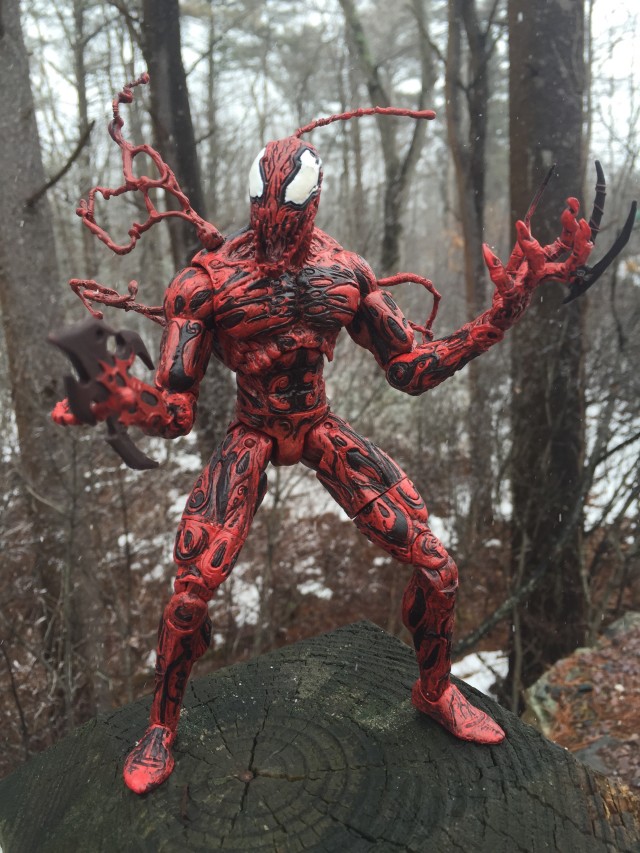 Unfortunately, my Diamond Select Carnage figure also suffers from several disappointing quality-control issues. The primary one is that after I changed the head on Carnage for the first time and went to swap heads again, the ball-joint ripped out of the body and was stuck in the 90's Carnage head.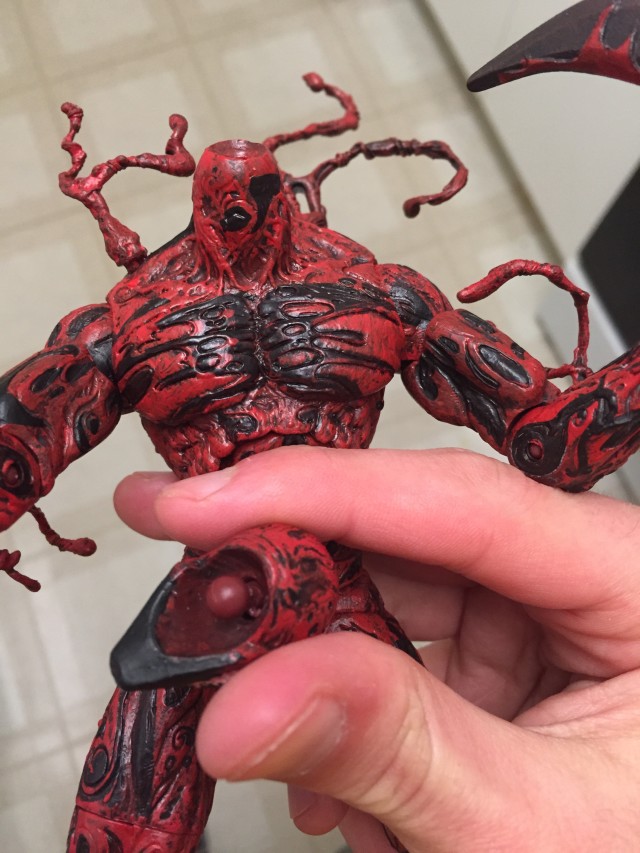 Using my best pliers I was finally able to pry the ball-joint back into the body and attach the modern head, but when I pull that off the ball-joint comes out too and I need to repeat the pliars surgery. I've never had this problem with a DST Marvel Select figure before and the problem may be unique to mine, but it sure is annoying.
In addition, my Carnage has a super-floppy left forearm (where you plug in the different alternate left hands). As soon as I pick Carnage up, his left hand wobbles like crazy and doesn't always keep the pose I want. This is another frustrating and unfortunate problem with an otherwise very nice figure.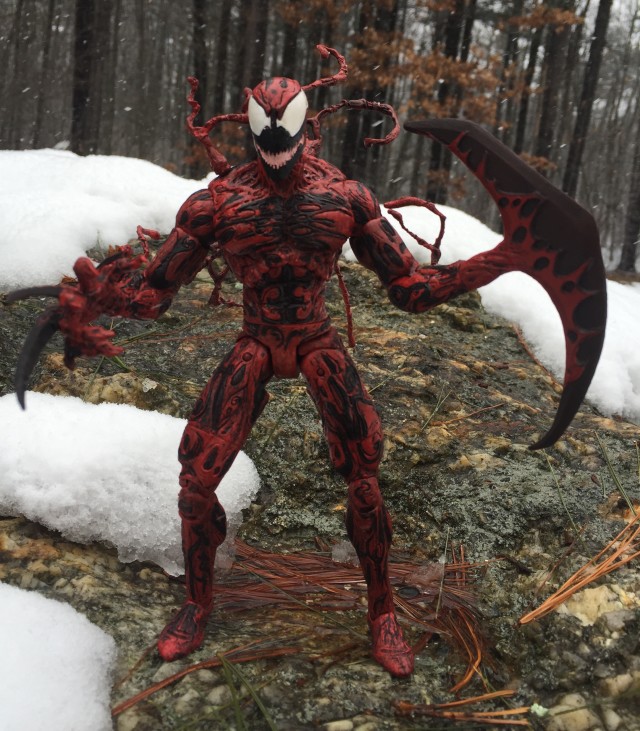 Overall: The Marvel Select Carnage figure is a very difficult one for me to assign a grade to. The sculpting detail and accessories are an "A++" to me, with an "A" for paintwork, a "D-" for scale and a "C-" for the quality control on the one I got. Overall it's an beautifully sculpted figure with an insane amount of accessories, but the scale is extremely jarring and is going to be difficult for many collectors to get past. This Carnage Marvel Select figure is a very good figure and I'm glad I bought it, but it fails to reach the high mark of excellence of the previous Venom.
GRADE: B+