Ordinarily I try to get in-hand photos of the latest Marvel Select figures posted as soon as the figures ship out to comic book stores, but I was foiled twice this month–first by my comic shop getting the Lady Deadpool Select in late, and then by my hosting company botching the transfer to the new server for the site. But now that both problems have been remedied, here's some in-hand photos to help give those thinking of ordering Marvel Select Lady Deadpool online a better idea of how the final figure turned out…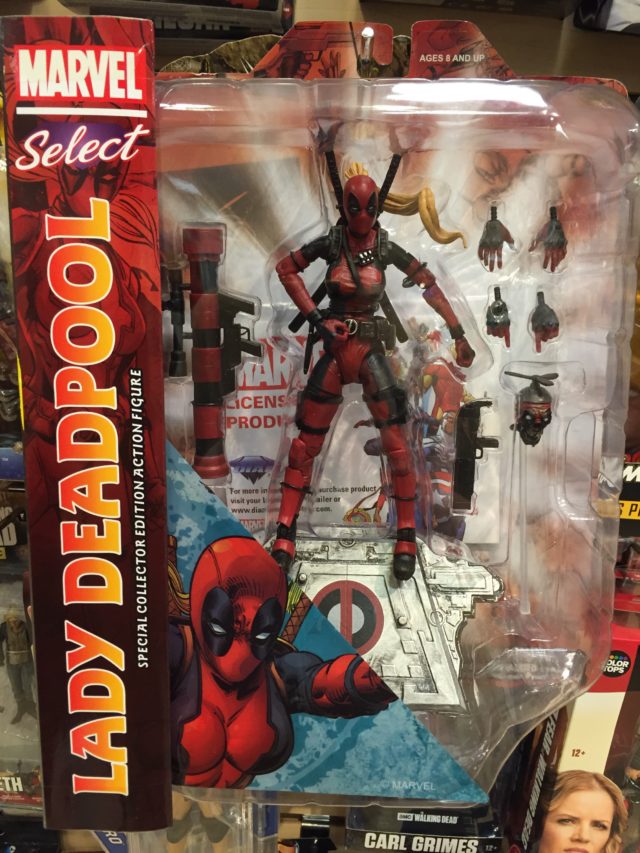 When Diamond Select Toys announced a Lady Deadpool 7″ figure earlier this year, I was thrown for a bit of a loop. DST ordinarily only covers top-tier headliner characters in their Marvel Select figure line, and surely Hasbro would be doing Lady Deadpool in their then-rumored Deadpool Marvel Legends series, right…?
Well, it turns out DST was more on the money than me, because there's no 6″ Marvel Legends Lady Deadpool figure announced as in the works, and the MS version is now the only 6″-7″ version available from any company.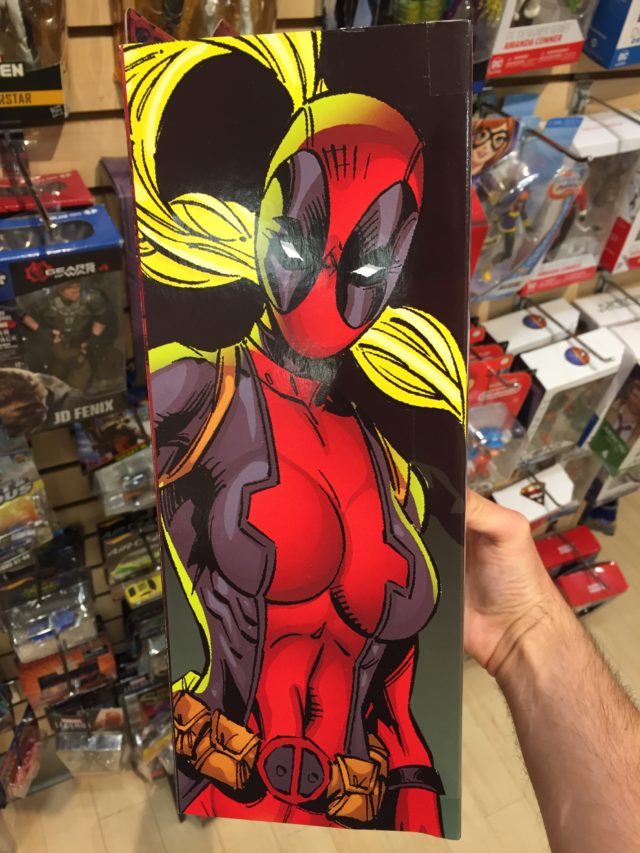 While Wanda Wilson, the Deadpool of Earth-3010, doesn't even crack the list of my top 1000 favorite characters, her connection to Deadpool seems to have made her more marketable than you might think. Kotobukiya sold out of a large Bishoujo PVC figure run of the character, and Sideshow is (somehow) trying to sell a $650+ Premium Format Figure of her.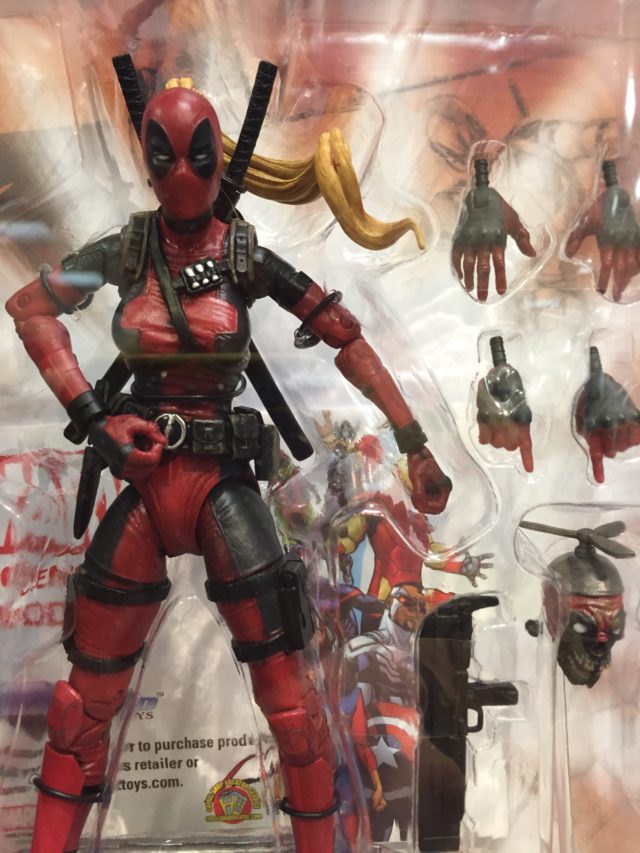 While this is clearly a vastly cheaper representation of the character, I kind of think I like this Diamond Select Lady Deadpool more than any other piece of Wanda Wilson merch out there.
Gentle Giant has knocked the sculpt for this figure out of the ballpark (which is their thing, so not really a surprise), and DST's paint deco is on a level beyond what we get from Hasbro Marvel Legends. Whether Wanda's your favorite character or not (and she certainly isn't mine), this toy looks great.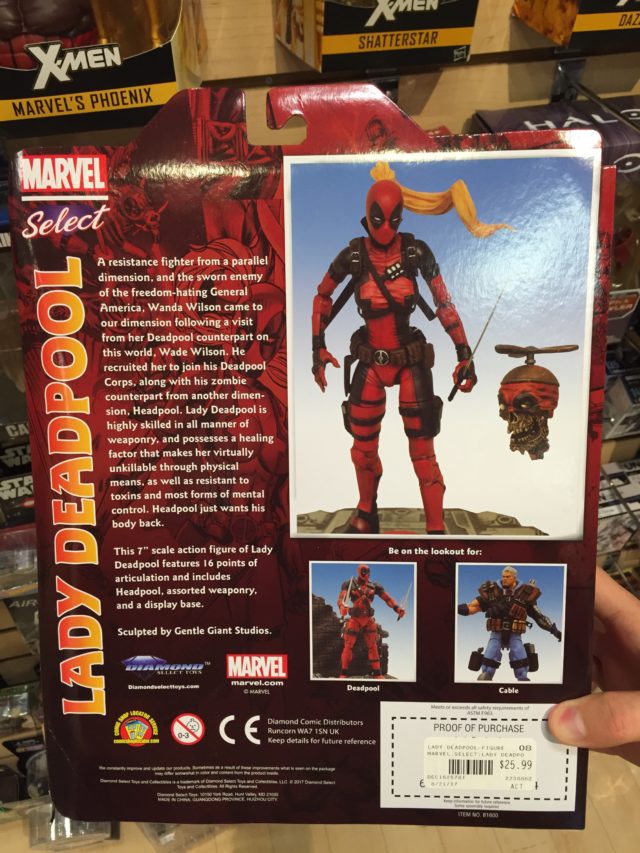 The back of the package gives a short bio of Lady Deadpool (plus a one-sentence description of good ol' Headpool!), and then wisely shows off related characters–Deadpool and Cable–instead of just random more recent releases.
On the accessories front, Lady Deadpool includes a themed display base (with the cute Deadpool head icon on the front), a Headpool pack-in figure (with flight stand), a bazooka, a gun, six interchangeable hands and twin katanas. Not a bad loadout at all.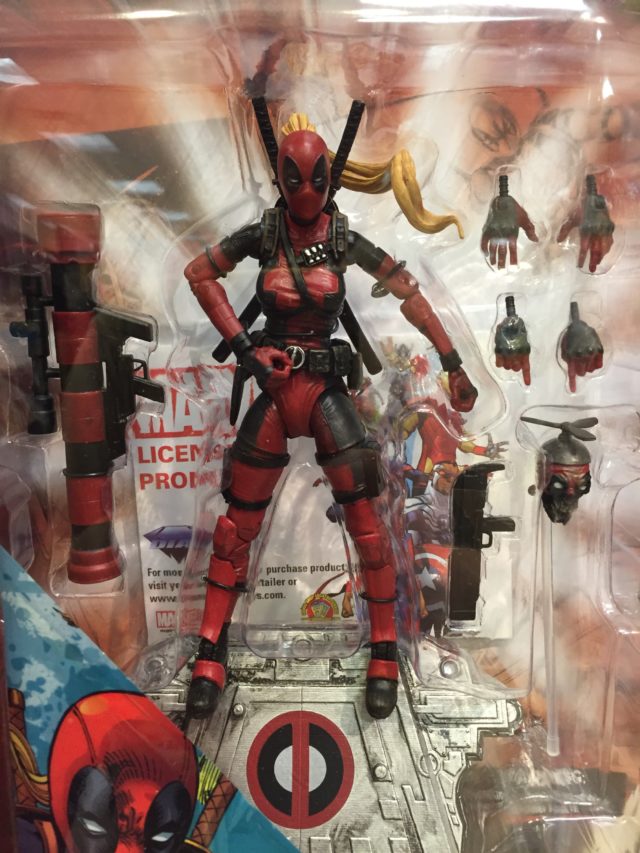 The DST Lady Deadpool Marvel Select figure is now in-stock online and at many comic book/specialty stores. She's priced around $25 MSRP. I've heard several collectors say that theirs came with stuck joints–make sure to heat the joints if they're stuck before moving them the first time so as not to break them.
Since she's been out in the wild for a over a week now, who's already scored their own 7″ Lady Deadpool action figure? If you have one, are you happy with her? And would anyone like to see Kidpool and Dogpool released in this format to complete the Corps?