A couple years back, it looked like the Play Arts Kai Marvel Variant line might be on its last legs when they released a trio of straight-up "Special Color Version" repaints. Among these was an Iron Man Special Color Ver. figure that had been repainted into War Machine colors. At the time, that seemed likely to be the only Play Arts War Machine figure that would ever be produced. But there's bucks to be made on revisiting the second most popular Iron Man character, and Square-Enix is set on making them–the Play Arts Kai War Machine figure is now up for order!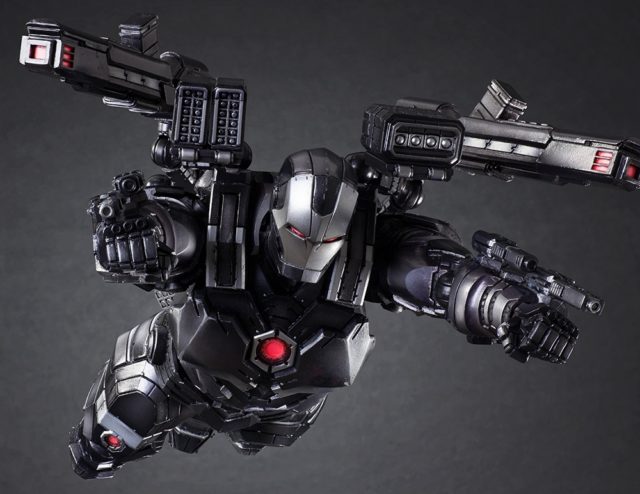 This particular topic may fall outside of the statute of limitations on what qualifies as "news", since it was announced over a week ago (while this site was down). Even so, I've discussed every Marvel Play Arts Kai figure ever here on Marvel Toy News, and I'd rather keep that streak going while talking about War Machine late (instead of never).
A lot of collectors weren't in love with the Special Color Ver. Iron Man figure that was masquerading as PAK War Machine a couple years back, but I think this new version of James Rhodes will put a lot of smiles on those folks' faces…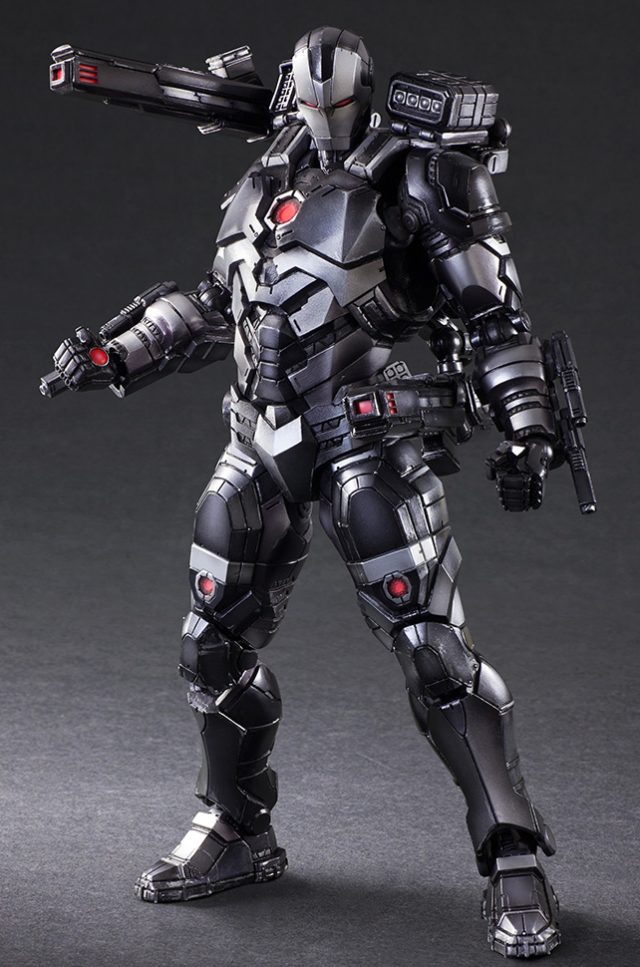 Fans who weren't satisfied with the previous "War Machine"-wannabe Play Arts Kai figure will be pleased to see that this new version is a 100% new sculpt that reuses zero parts from the old Iron Man figure. War Machine is its own unique armor, just the way it should be.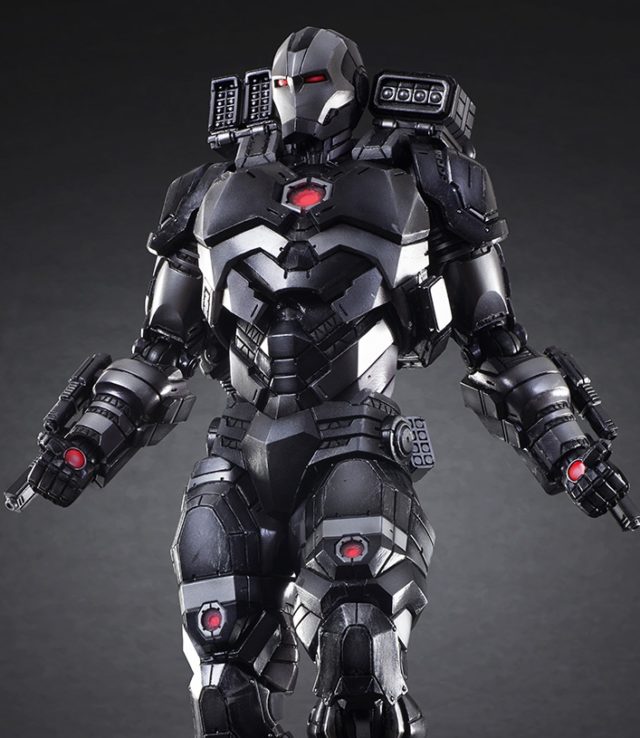 And unlike the piddly amount of extras we got with the Iron Man PAK Variant, Play Arts Kai Variant War Machine is packing major heat. He's got two huge shoulder-mountable machine guns, along with two shoulder-mountable missile pods and four wrist-mounted lasers. You can change up what weapons you want where to achieve your desired vision of War Machine.
Of course, it would be pretty lame if all you could do was "stick" this heavy artillery into stationery positions on War Machine's back, so Square-Enix has built in special ratcheting joints from the figure's shoulders to his back that allow the weapons to be moved around and mounted in various positions.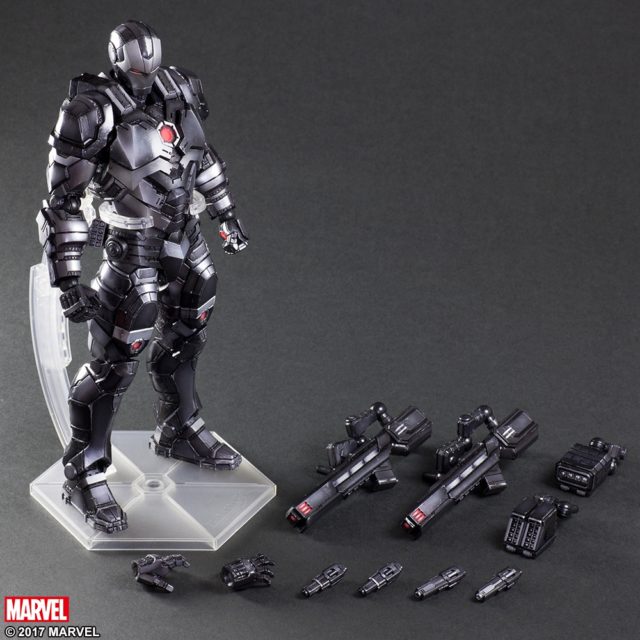 It sounds minor and boring, but in actuality these ratchet joints are a
huge
win for this figure that really help it to stand apart aesthetically from every other Play Arts Kai Marvel figure. In addition to the various armaments, we get interchangeable fists/grasping hands and the usual display stand with Rhodey.
Also, rather than going with the  pristine "like new" look we typically get with PAK, Square-Enix is using a paint wash to give War Machine a "distressed" battle-damaged look so he doesn't look like he just popped off the assembly line. Good call.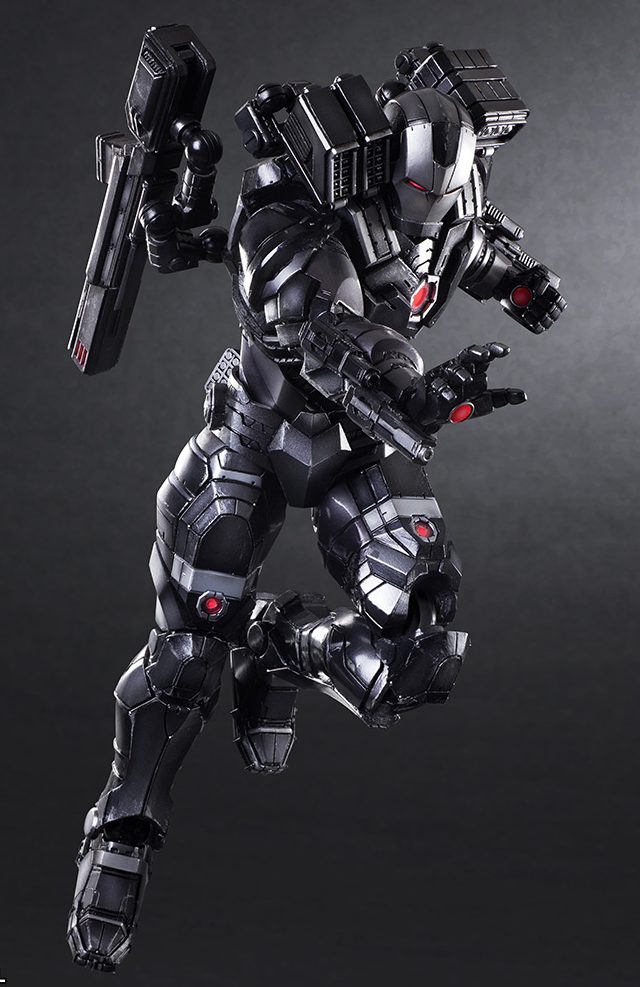 The 10.6″ War Machine Play Arts Kai figure is now up for order, and is scheduled to be released in January 2018. He's carrying the usual cringe-worthy MSRP of $149.99, although EE has him with free shipping right now, the best price around. I haven't bought every Marvel PAK, but SE is on a roll this year, and this is one I will be picking up.
Now that Square-Enix is finally doing justice to War Machine, who would you like to see them cover next in Marvel Play Arts Kai, Marvel collectors? With all of the heaviest hitters covered at this point (besides Hulk), are there any characters you still want from this line at all?