When Hasbro got back into the 12″ action figure business this year, their efforts didn't necessarily light the collecting world aflame with impressed fans. Even so, the Hasbro Marvel Universe Titan Hero Series of large-scale action figures fills a niche that's otherwise gone unfilled recently–that of cheap big figures for kids to collect. I'd be lying if I said I was paying a ton of attention to these figures, but two Target exclusive sets that are now on sale did catch my eye over the weekend…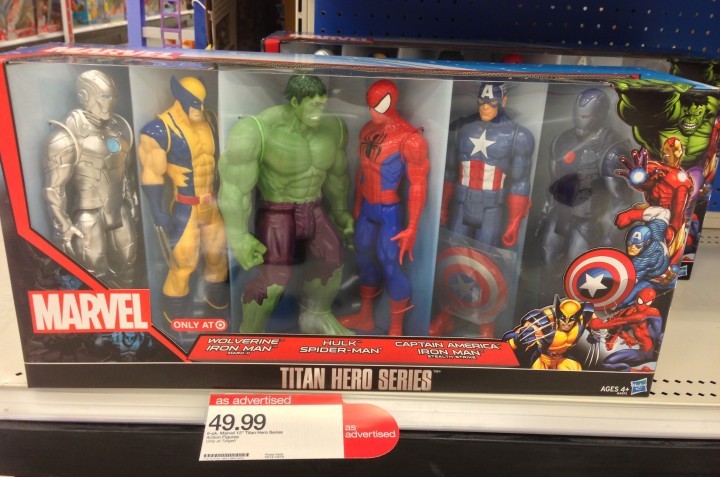 At this point in my collecting life, I would rather have one really amazing, hyper-detailed Hot Toys Iron Patriot sixth scale figure than thirty Marvel Universe Titan Hero figures, but I can definitely see the appeal of low-priced 12″ Marvel figures to kids, parents and collectors.
Target presently has two exclusive sets of these cheap 12″ figures: a Marvel Universe Titan Hero Series 6-pack and an Iron Man 3 Titan Hero Series 3-pack. The six-pack runs $49.99, which is slightly over 8 dollars per figure. That's a pretty fair deal, considering I can't even buy a 4″ Marvel Universe or Star Wars figure in most stores for just eight bucks anymore!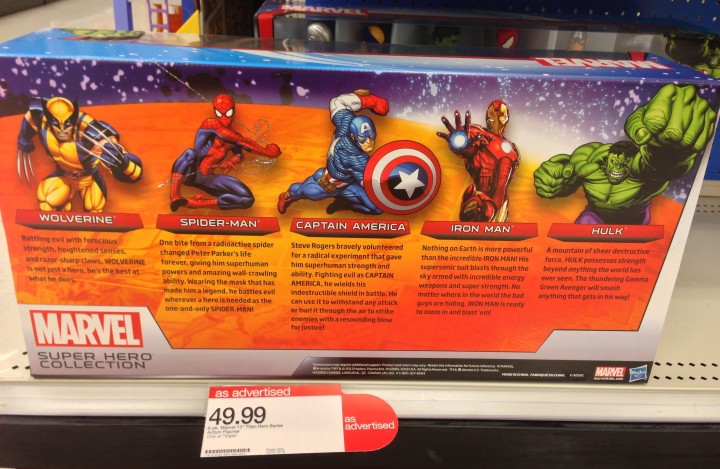 The Titan Hero Marvel Universe six pack includes Hulk, Captain America, Spider-Man, Wolverine, Iron Man Mark 2 and Stealth Iron Man (AKA "Iron Man Stealth Strike"). The latter two are the ones that really got my attention, as both are very cool-looking Titan Hero Iron Man repaints that I don't recall having seen released on their own before.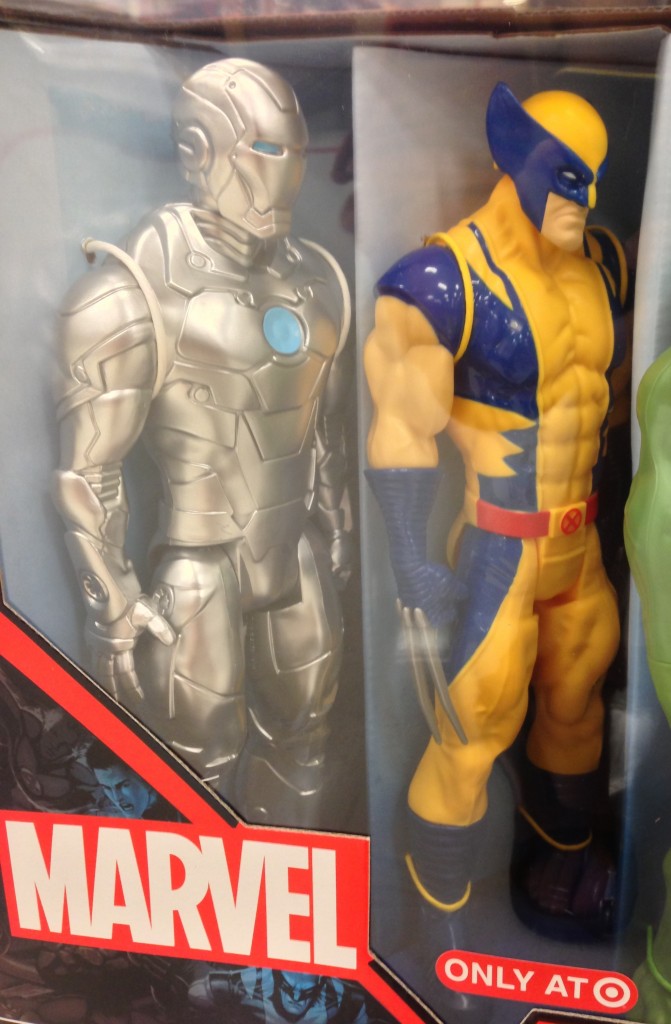 There's no stickers on the Target Titan Hero Series six-pack denoting the Iron Man Mark 2 and Iron Man Stealth Strike Titan Heroes figures as being exclusive to the set, but I haven't seen or heard anything indicating that either of those figures are scheduled to be released in any other format. I don't have the Hot Toys Iron Man Mark 2 figure, and I am half-contemplating getting this set just for the Mark 2 Iron Man (although the style will clash so brutally with my Hot Toys Iron Man figures that I don't think I'll actually get this set).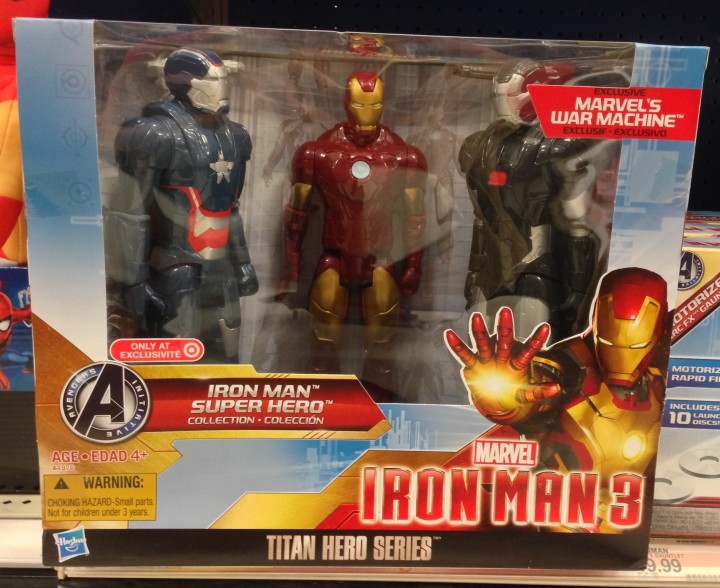 The other set is a $24.99 Iron Man 3 Titan Hero Series 3-pack, also exclusive to Target, which contains a Titan Hero War Machine, Iron Patriot, and an Iron Man figure.This set was probably released over the summer and I just didn't notice it, but I do somewhat like the War Machine figure, which might tide some folks over until the Hot Toys War Machine Mark II MMS figure arrives next year.
The Titan Hero Iron Man included is the same classic Iron Man 12″ action figure included in the single boxes that have been everywhere all summer, while the War Machine Titan Hero figure is only available in this set. It seems a bit bizarre to me that this Titan Hero Iron Man 3 three-pack includes zero armors that Tony Stark actually wore in the Iron Man 3 film, but the War Machine does look pretty good (for what it is, anyway).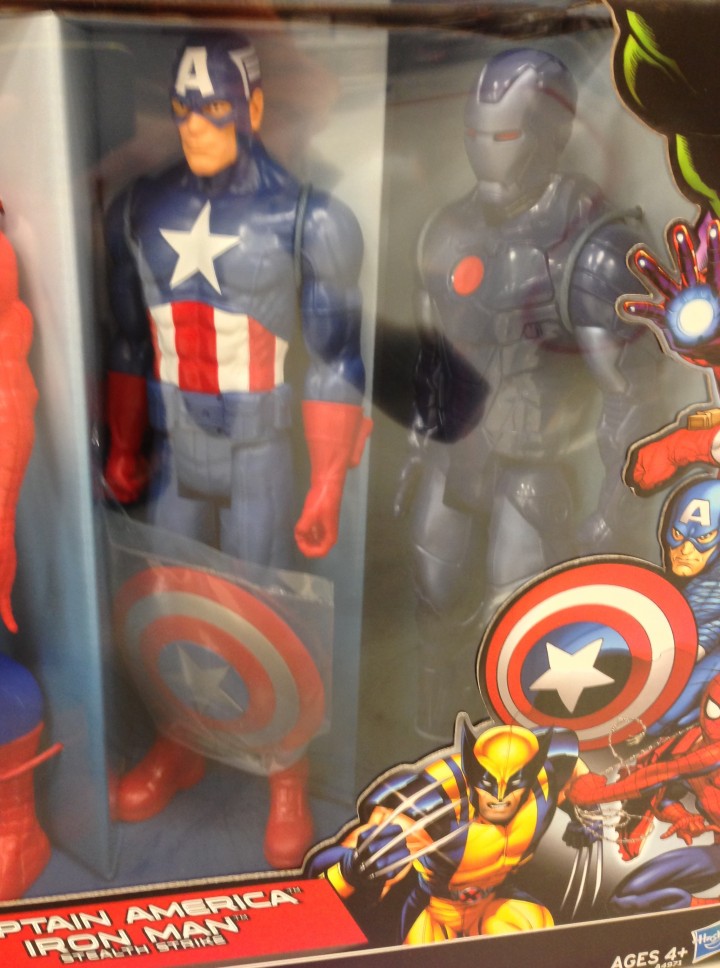 While none of these Marvel Universe Hasbro Titan Hero sets will be on my Christmas list, I suspect a lot of younger Marvel fans (and probably some older ones too) will really enjoy getting either of these sets a holiday gift for 2013. If you want to get either Target exclusive set as a Christmas gift for someone in your life (or yourself), you honestly might want to snap up what you want soon–at this low price-point for such large, recognizable characters, I can legitimately see these two Hasbro sets being hot items that sell out quickly as the holiday shopping season ramps up.
What do you think of the Marvel Universe Titan Hero Series, Marvel collectors? Too "kiddie" for your collection, or does the low price strike your wallet in just the right way?