I've done way more than my fair share of whining and complaining about the miniscule amount of Marvel New York Comic Con 2013 exclusives, but I'm ready to take it all back now and fall down on my knees, praising Marvel for their kindness and benevolence. Marvel has just announced the list of exclusives that they'll have on-hand at NYCC 2013 at the Marvel booth, and one of the items is perhaps my favorite exclusive by any company this year: the Marvel Shop 2013 NYCC Exclusive Rocket Raccoon plush toy!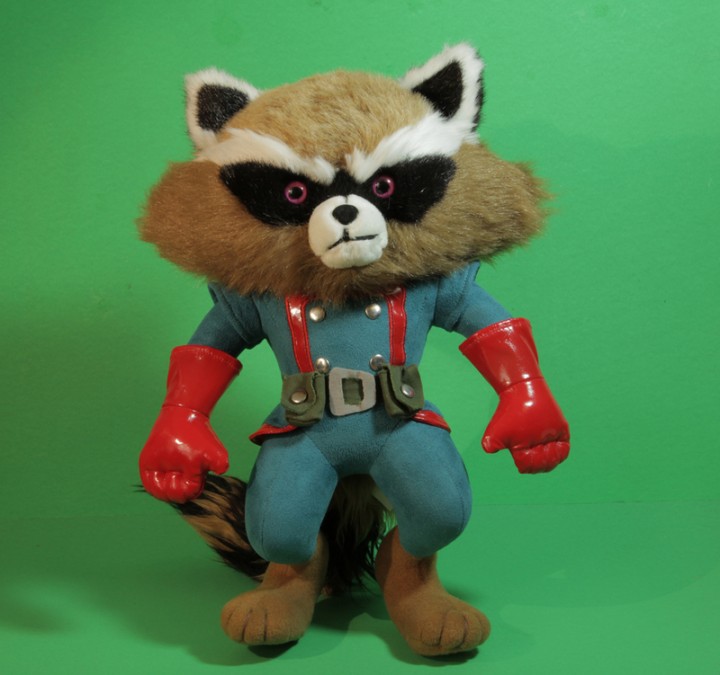 If you've read this blog regularly, you no doubt are aware that I have a major thing for Rocket Raccoon. So I'll forgo verbally fawning all over this plush Rocket Raccoon toy and just note that it's my
must-have
exclusive of New York Comic Con 2013 (if not my must-have Marvel item of the year). Is it the best plush toy I've ever seen? Nope. Is it the best Rocket Raccoon plush toy ever made? Be default, yes–which makes it an essential collectible for hardcore Rocket Raccoon and/or Guardians of the Galaxy fanboy.
The Guardians of the Galaxy Rocket Raccoon stuffed toy has been designed and manufactured by Just Play, a company primarily known for their work making stuffed animals of Disney characters like Mickey Mouse, Kermit the Frog and so forth. It's sort of weird when you think about it, but with Disney owning Marvel, Rocket Raccoon is sort of like Mickey Mouse's cousin!
But wait–! There's more…!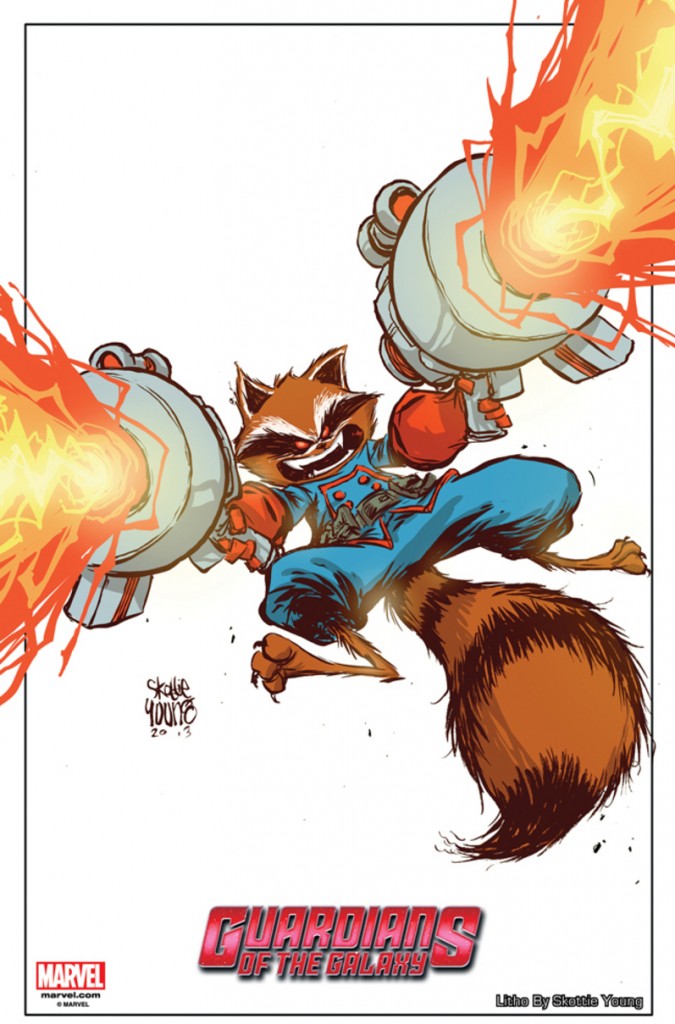 For the low, low price of $34.95 (oh God, I sound like a TV sales as now), not only do you get the downright adorable Guardians of the Galaxy Rocket Raccoon plush toy, but you also get an exclusive Rocket Raccoon Lithograph by artist Skottie Young!
I'm ashamed to say that I used to hate Skottie Young quite a bit close to a decade ago, but he really won me over with his take on the Wizard of Oz. The extra-cute Skottie Young Rocket Raccoon lithograph will be more than welcome to be framed and popped up on the wall in my office.
The Guardians of the Galaxy Rocket Raccoon Plush Toy and Lithograph will be available exclusively at the Marvel Shop booth at NYCC 2013 next week, and will be limited to 1000 pieces at the event. In case you weren't paying attention, I will be picking this set up, and I'm sure I'll be posting all kinds of crazy photos of stuffed Rocket Raccoon in the very near future.