I was taking my sweet time getting around to talking about the updated Marvel Select Carnage figure that was shown off at the Diamond Select Toys booth at New York Comic Con 2014, confident that the new Carnage action figure wouldn't go up for order for weeks yet so I could leisurely discuss him whenever I got around to it. Well, it turns out that I'm going to have to get around to talking about this magnificent maniac action figure right now, because the Marvel Select Carnage figure is now up for order!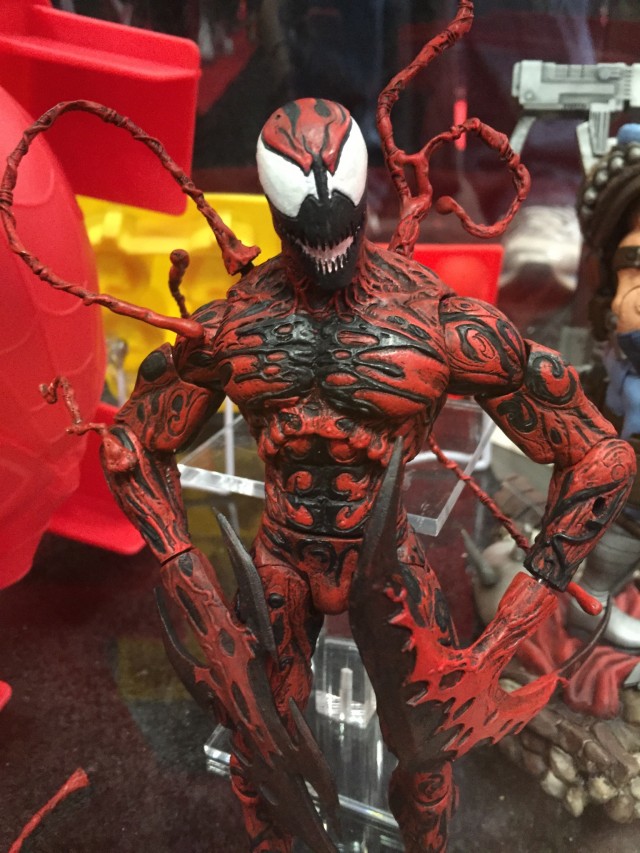 Hasbro showed off some great new Marvel Legends 2015 figures at SDCC 2014, but Diamond Select Toys debuted a figure at the show that was even more killer (literally): the long-awaited 7″ Marvel Select Carnage figure!
Though DST didn't bring any new Marvel Select figures to reveal at NYCC 2014 earlier this month, they did bring along their Marvel Select Carnage figure to show off with his accessories and alternate heads for the very first time!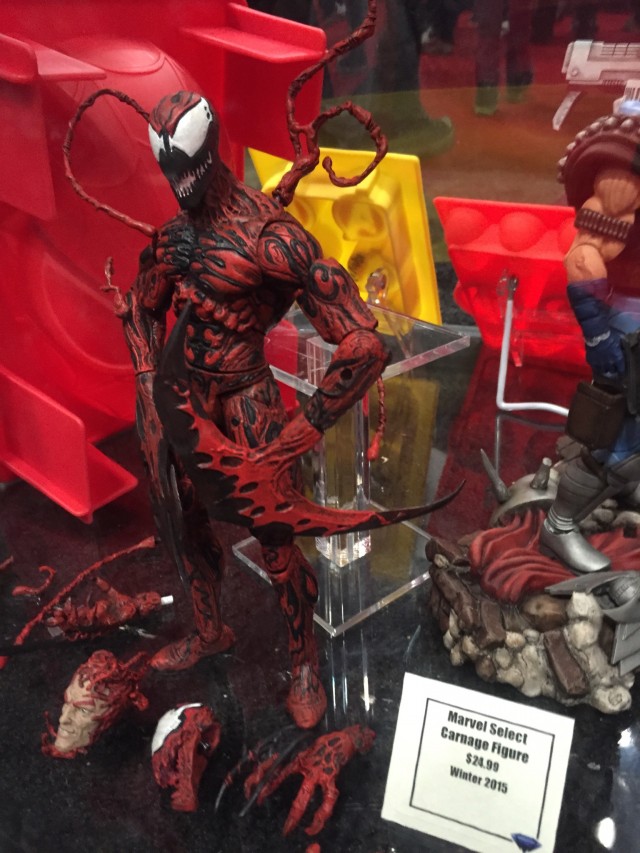 While Hasbro released a really excellent (and really difficult to find) Marvel Legends Carnage figure in early 2014, that figure can't really compete with the level of sculpting detail, paint deco and accessories that the Carnage Marvel Select figure includes.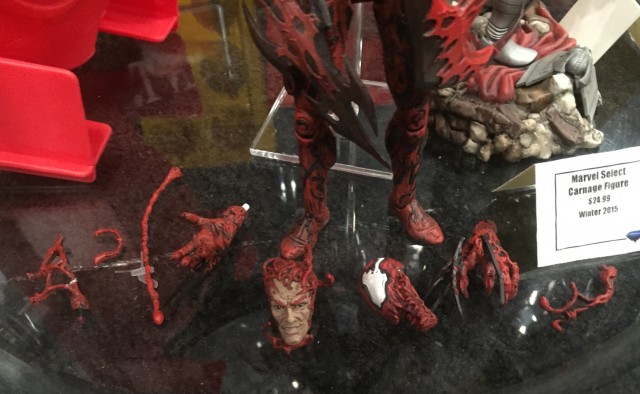 Want to display your Carnage with his classic "Maximum Carnage" era comic book head? Fine. Want to display Carnage with his symbiote retracted and his creepy Cletus Kassidy face? You're covered! And if you swing that way, you can even pop on a modern era Carnage head to give your Marvel Select Carnage his recent appearance. Whatever Carnage floats your boat, Diamond Select Toys is ready for you.
In addition to the alternate heads, the Marvel Select 2015 Carnage figure includes various alternate hands and arm appendages, including a wicked scythe arm, claw hands and a spear arm. This is one homicidal, chaos-worshiping killer you do not wanna mess with.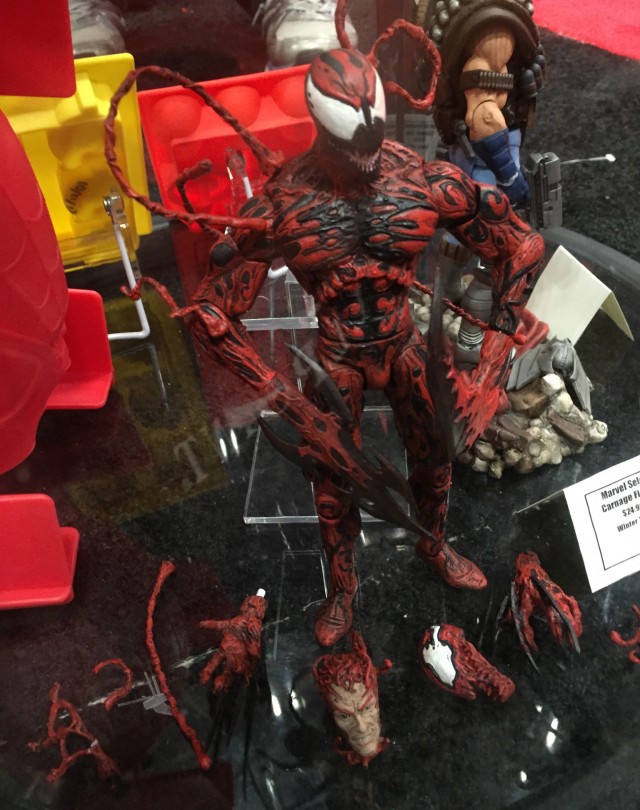 The Marvel Select Carnage figure is now available for order, and is expected to be released in March 2015. The Marvel Select Venom figure that was released in 2013 was insanely popular and was sold out for over half a year before Diamond Select Toys was able to catch up and reissue that figure, so if you want in for the first batch of Marvel Select Carnage figures, you might be well-served to get a pre-order for him while you can.
Now that you've seen the finished prototype for the Diamond Select Toys Carnage figure and all his accessories, what's your verdict, Marvel collectors? Is this the best Carnage action figure ever made, or are you standing by your Spider-Man Marvel Legends Carnage figure?