One month ago at San Diego Comic-Con 2015, Square-Enix gave fans their first glimpse at two new Marvel Play Arts Kai variant figures: the Black Widow we saw painted photos a few weeks ago, and an armored Captain America that painted images of were just revealed this week. I'd been wondering which of the two Avengers was going to be the next to go up for order, and today I got the answer I'd been waiting for: BOTH! The Square-Enix Play Arts Kai Captain America and Black Widow figures are now up for order… but they may end up costing a few more dollars than you'd like…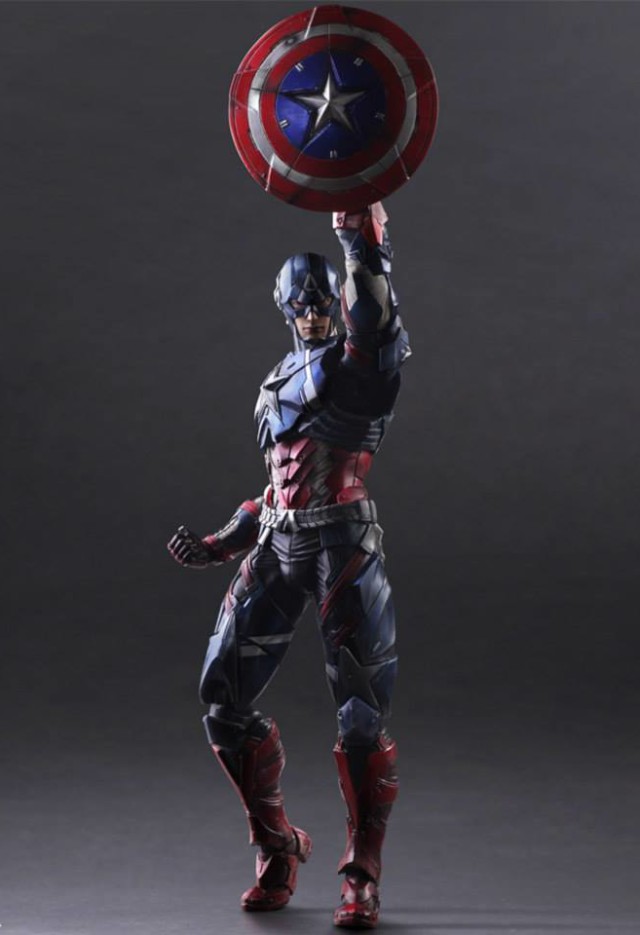 I was very excited when Square-Enix revealed not one, but two new entries into their Play Arts Kai Marvel Variant line at SDCC 2015. Captain America is obviously a
mus
t-have character for any line of Marvel figures, and the announcement of Black Widow dispelled any notions that the Marvel Play Arts figure line was just going to be a big sausage-fest.
It's been well over a month now since a new Play Arts Marvel figure went up for sale, but Square-Enix made up for it this weekend by placing both Cap and Natasha up for order!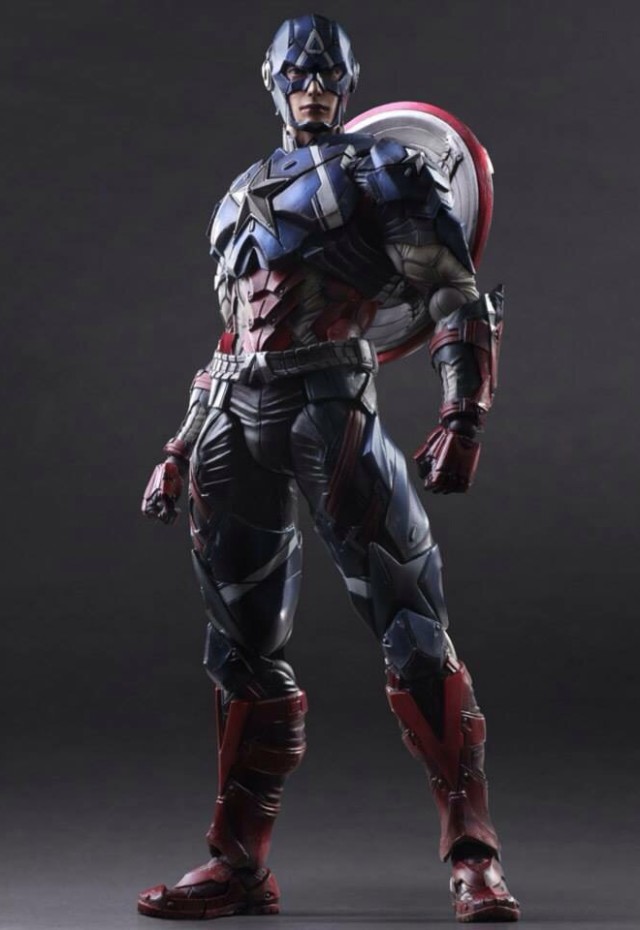 First, let's look at the redesigned Steve Rogers himself, Captain America! This is obviously a more armored and angular design for Cap than we're used to seeing. While I wasn't crazy about the unpainted prototype of this figure shown in San-Diego, once this figure was painted up I discovered that I loved it. This armor-wearing look feels a lot more realistic to me than the spandex costume-wearing Captain America that we're all so used to seeing.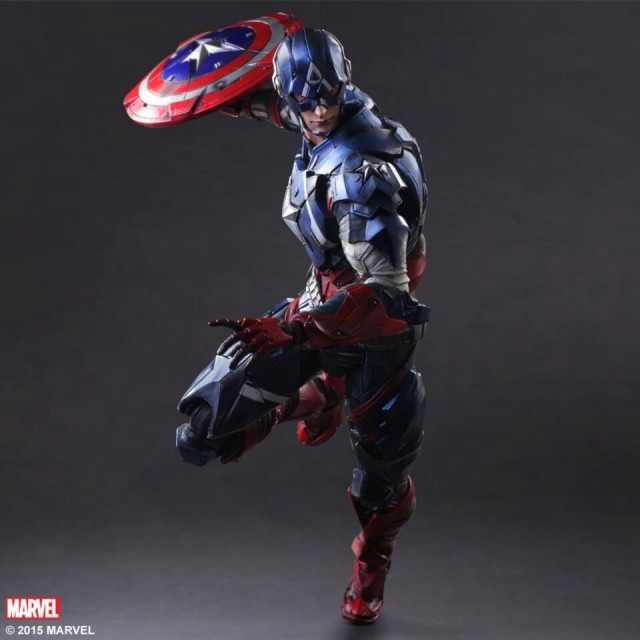 There's three poses that any Captain America action figure has to be able to pull off: holding his shield, "throwing" his shield, and mounting his shield on his back. Thankfully, the Play Arts Kai Cap is capable of doing all three. And hey–that shield looks terrific, with loads of battle-damage paint deco and sculpting detail!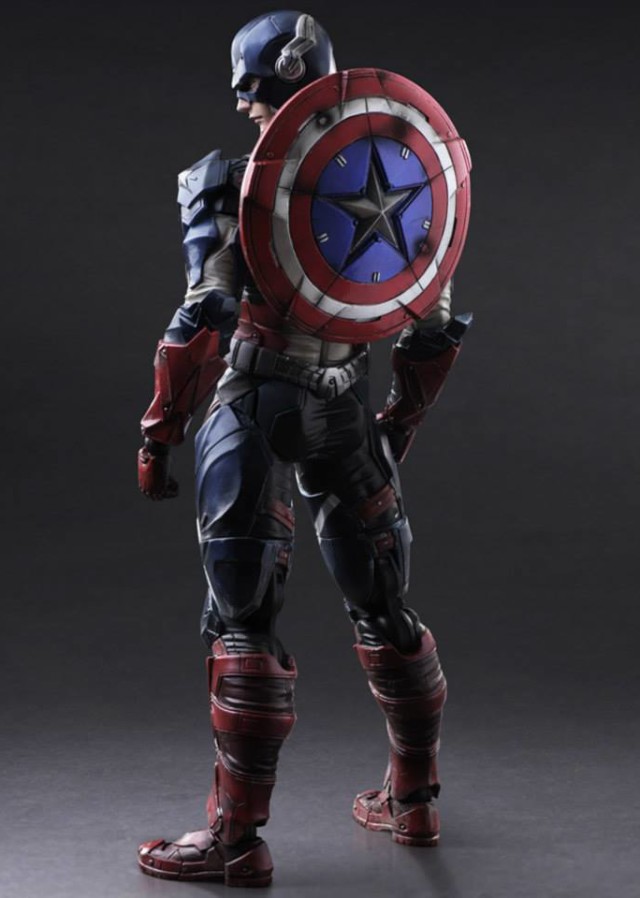 The only real qualm I have with this Captain America Square-Enix figure is the way they've handle the "ears" on his helmet. From the front he looks a lot like the Avengers movie version, but from the side it really looks like he has white "Flash" lightning bolts on his head. Not a deal breaker, but I'm really not sure what Square was going for with these.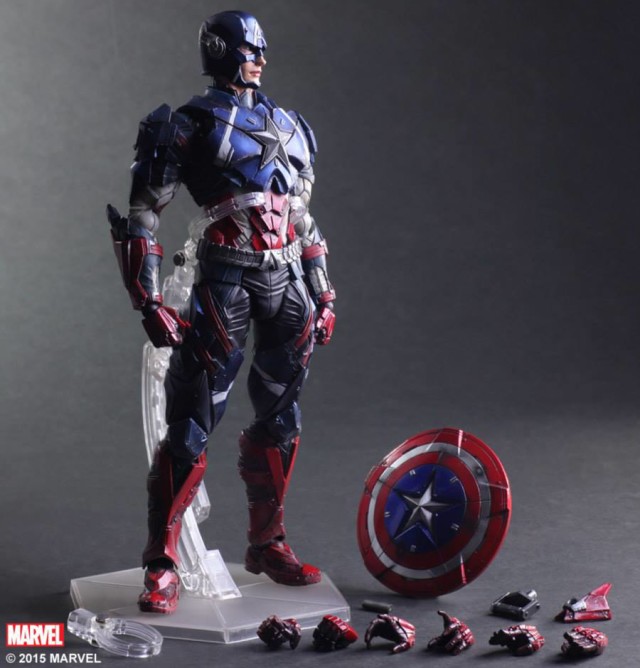 Like all of the Marvel Play Arts Kai figures released thus far, Cap includes a plethora of accessories (as he should, given the extortionist price on these figures–more on that later).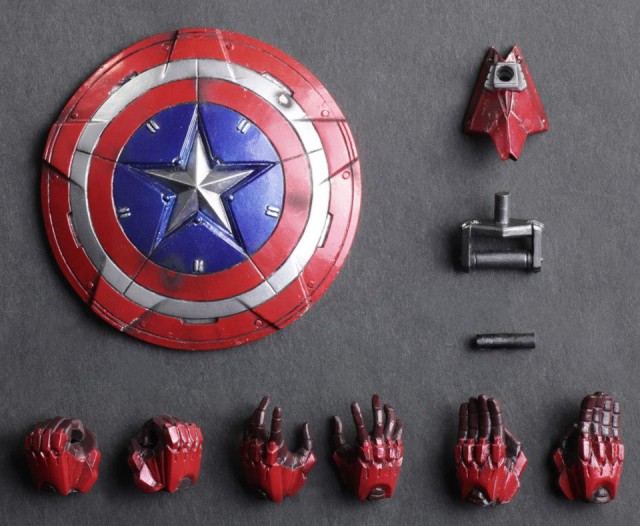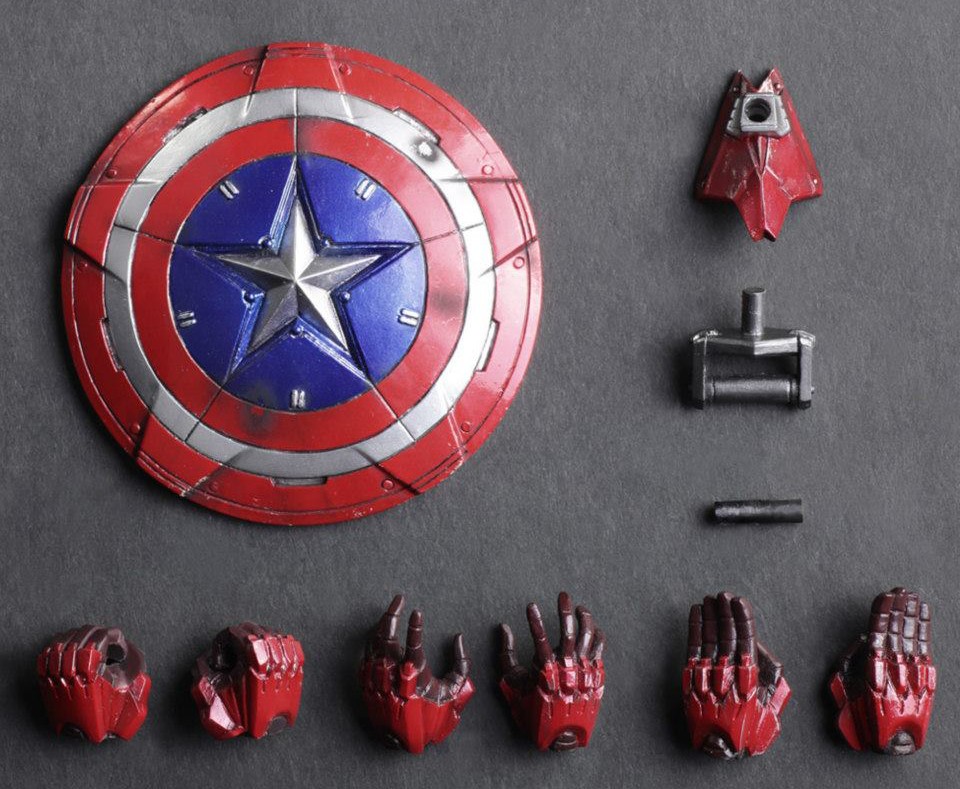 The Play Arts Kai Captain America includes six interchangeable hands, a figure stand, his aforementioned shield, and a couple little handles and attachment for mounting the shield in various places. It's not a ton of accessories, but I don't know what else Square-Enix would have included (besides a second head for the figure, which I'm very surprised isn't present).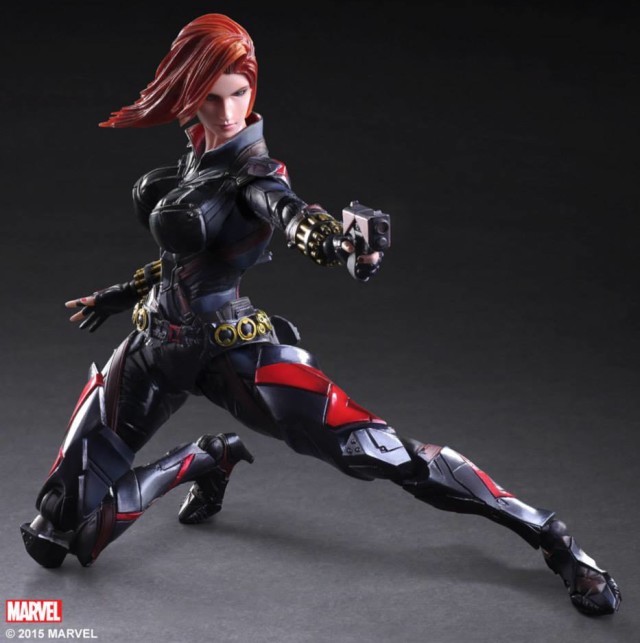 As much as I like Cap, though, I may be doubly excited for the Play Arts Kai Scarlet from G.I. Joe! Wait, what…? Oh, apparently, this is a Play Arts Black Widow figure, but I definitely get a movie Scarlet vibe from it. Regardless, this figure looks awesome. Highly-articulated and with tons of detailing on the costume, I just love the look of this Black Widow to death (aside from her immense bazongas, which are definitely a mite exaggerated).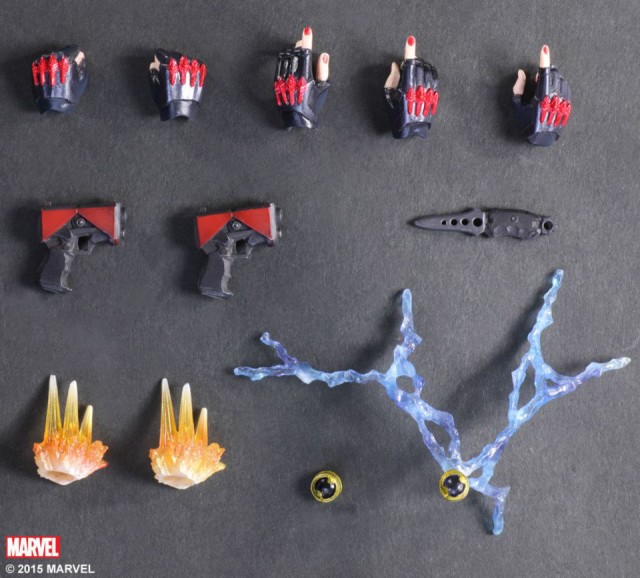 The Marvel Play Arts Kai Black Widow variant figure includes a figure stand, dual pistols (with paint deco on each–nice), a knife, five interchangeable hands and several add-on effects pieces. She also has holsters on her body to hold all of these weapons, which I adore. As far as included accessories go, I'm once again totally happy with what's included–with the exception of no alternate head once again. Oh well.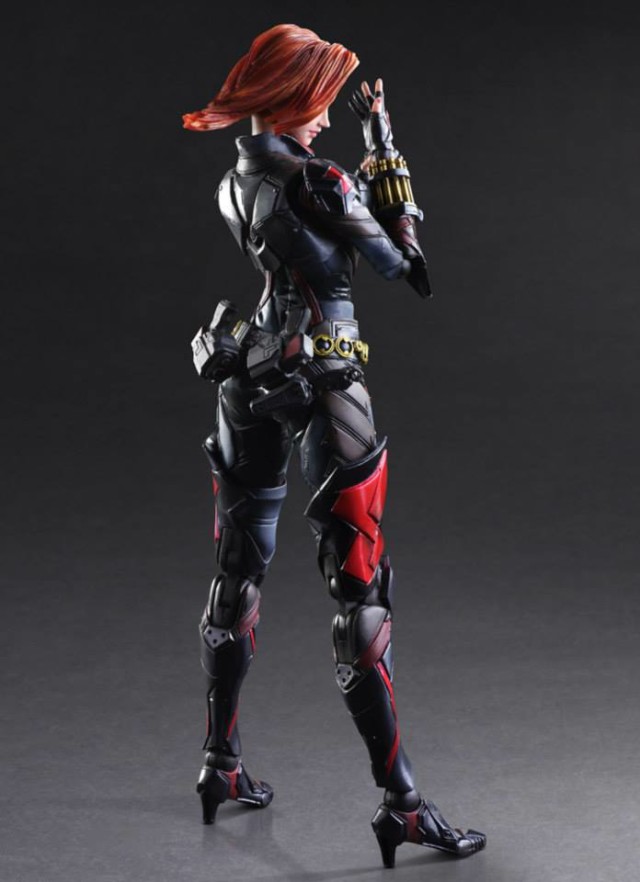 There is a dark cloud hanging over this pair of newly-solicited Square-Enix Marvel figures, however, and that cloud is unfortunately the
price
. Up until now, the most expensive figure in this lineup was the huge and heavily-armored Thor figure, who had a retail price of around $139 US. That was a pretty big chunk of change, but I justified it because Thor was such a large action figure and contained over-sized accessories such as a Mjolnir effects piece and a bigass cape.
Unfortunately, Black Widow will match the expensive MSRP on Thor, and Captain America will actually exceed it, as the two will be retailing for $139 and $149, respectively. Yipes. It's true that these are large ~11″ figures that require all-unique tooling, but that's still a lot of money per figure. We're almost getting into Hot Toys territory at this point.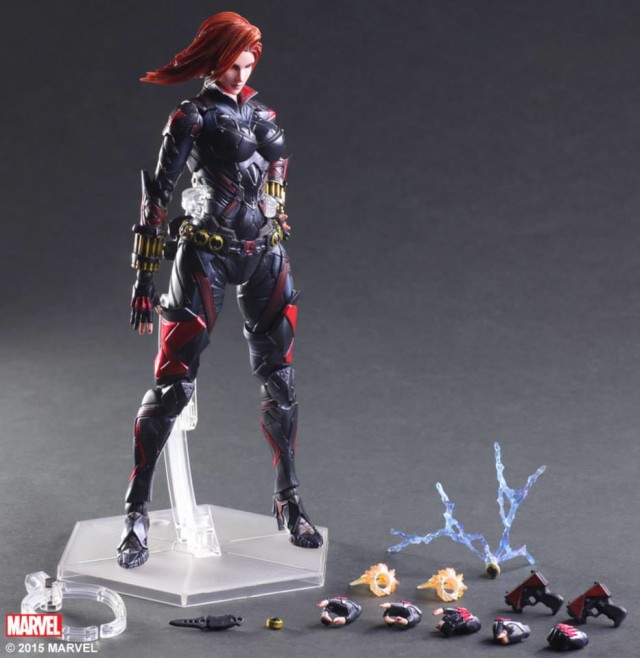 The Marvel Play Arts Kai Black Widow and Captain America Variant figure are now available for pre-order, and are expected to be released in December 2015. I'm not at all thrilled with the pricing on these (in case anyone couldn't tell), but I really love both figures, so I decided to place a pre-order for the duo anyway. If the cost of this line continues to go up, though, I'm going to be priced out of the Square-Enix Marvel Variant figures very quickly.
What do you think of the 11″ Captain America and Black Widow figures, Marvel collectors? Are these redesigns right up your alley, or are you too scandalized by their hefty price-tags to consider them?