Given the massive success of the all-out insane number of different Iron Man toys that have been released in the last decade, I've come to the conclusion that pretty much every Iron Man armor permutation that's ever existed is "on the table" as far as potential new figures that we could see from any company at any time. But if there's one armor I legit never thought we'd see revisited by anyone again, it's the Sapien Deathmatch armor.  Clearly Sentinel thought otherwise, though, because the Re:EDIT House of M Iron Man figure is now up for order!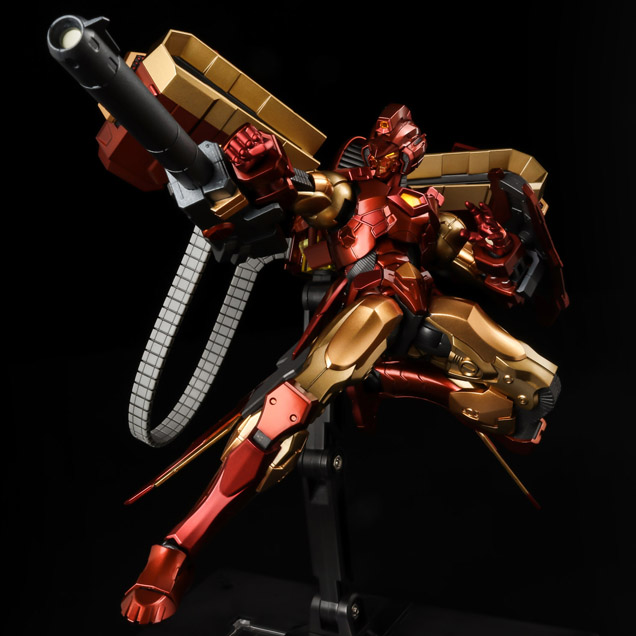 The 2005 House of M storyline was a weird sort of mega reality-altering crossover in that it wasn't particularly loved or hated or cared about at all… it was just sort of "there" as a means to getting to Scarlet Witch saying her iconic "No More Mutants" line and launching years of X-Men stories.
But while most of the House of M story isn't exactly memorable or iconic, there were certain ideas from the crossover that were pretty weird and unique. And one of those ideas was the bizarre take on Tony Stark as a competitor in a televised Robo Death Matches (no, seriously). And thus, the Gundam-like Sapien Deathmatch/Robo Death Match armor was born.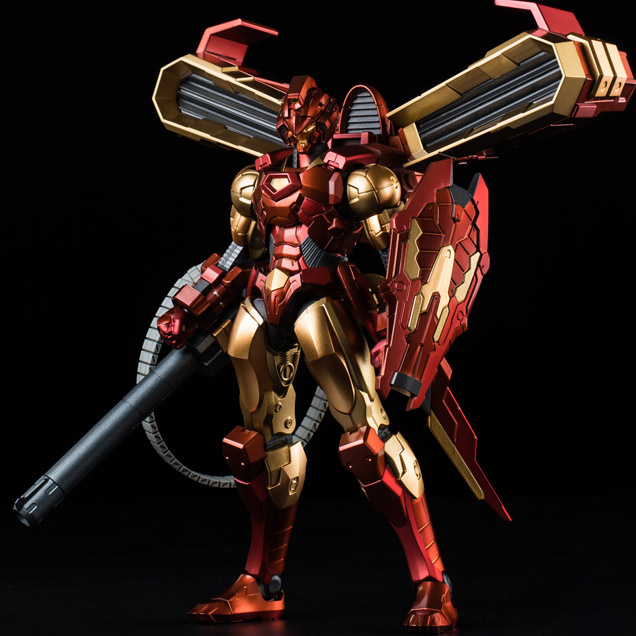 Sentinel's RE:EDIT line lets them reinterpret character designs with their own unique style, and their spin on the Iron Man House of M armor is apparently to mash it up with the beloved Astray Gundam armor–particularly the head.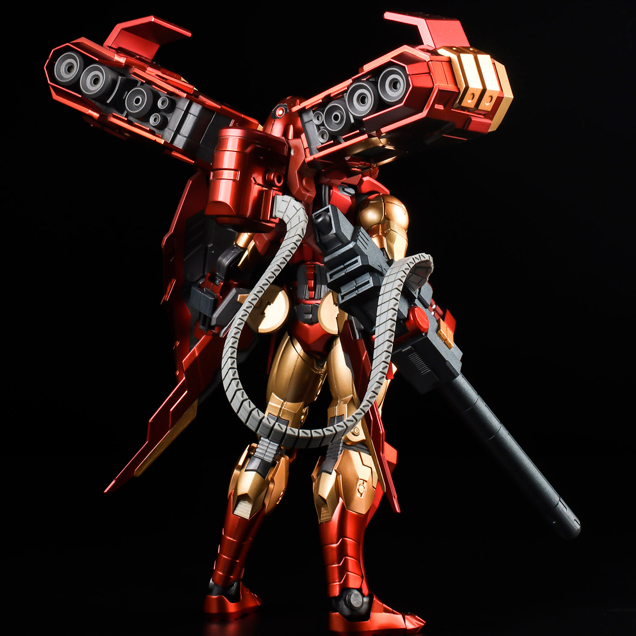 It's impossible to miss the similarities between the two mechs, and I don't imagine there's any way this is just a random coincidence.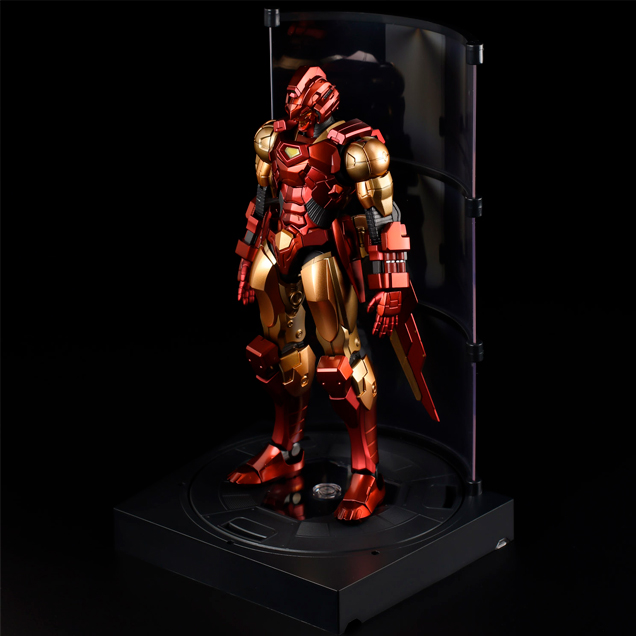 But hey, it's all good–to be frank, the Gundam-ized House of M Iron Man armor actually makes me like the design more than its original look. And most importantly, it makes for one sweet looking action figure.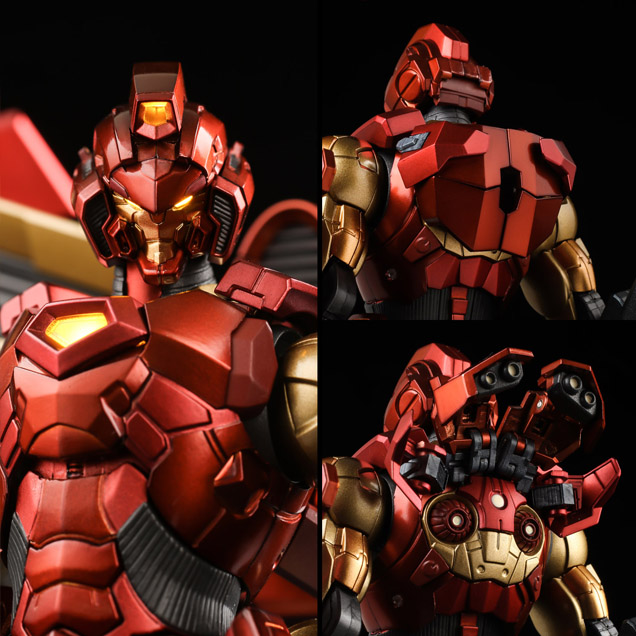 While the most outstanding feature of this Sentinel Iron Man action figure is that it looks slick as all hell, it's also worth mentioning that it comes with flight tech with LED electronic lights, interchangeable hands, an ammo belt, a knife hand, a cannon, and another Hall of Armor display base (which all the RE:EDIT Iron Man figures come with).
I know a lot of collectors never bother to turn the lights on on any of the figures, models or statues that they buy that feature electronics, but I'm pretty nutty about activating the lights as often as possible, so I'm psyched that I'll be able to light up this Iron Man figure's eye and helmet just like my Hot Toys Iron Man collection. Your amusement at such frivolities may vary.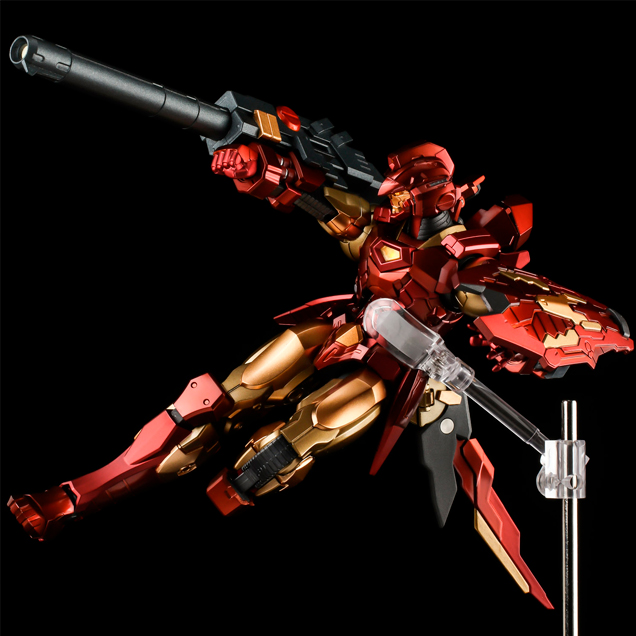 The Sentinel Re:Edit House of M Iron Man figure is now up for order, and is scheduled to be released in October 2017. I'm not avidly collecting this RE:EDIT line of action figures, as I simply don't have space or money for another high-end line of 7″ figures. But…! For this Iron Man Gundam? I'm going to make my one and only (probably) exception. For Gundam anime fans, this one is a can't miss.
Any thoughts on this figure–or the Sentinel Iron Man RE:EDIT line in general, Marvel collectors? How many of you have bought any of the figures in this series, and what do you think of the one(s) that you've purchased?