It's been a little while since Sideshow Collectibles has produced a new Captain America statue, but with the new "Captain America: The Winter Soldier" movie coming to theaters in early 2014, the time has arrived for an all-new Premium Format Captain America. Easily the most detailed and visually impressive statue of the character that Sideshow Collectibles has ever developed, the Sideshow Exclusive Captain America Allied Charge on Hydra Premium Format Figure is now up for order!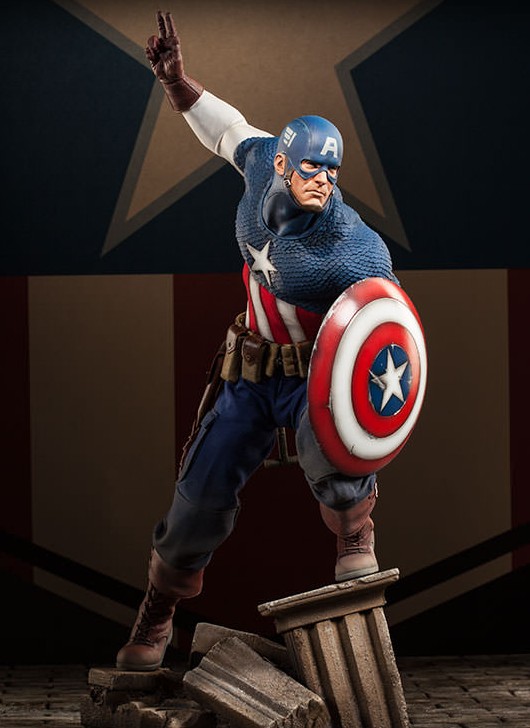 Captain America is one of Marvel's biggest icons, so it's no surprise that this latest Captain America Premium Format Figure isn't Sideshow's first, second, or even third dance with the character. That said, I've never been all that impressed with Sideshow's past attempts at Captain America. They've been "nice enough", but certainly not in the upper-echelon of the kinds of statues that we all know that Sideshow Collectibles is capable of producing.
I do like the museum pose of the original 2007 Sideshow Captain America Premium Format Figure, but I feel like that statue's execution is far below the quality of the Premium Format Figures Sideshow releases these days.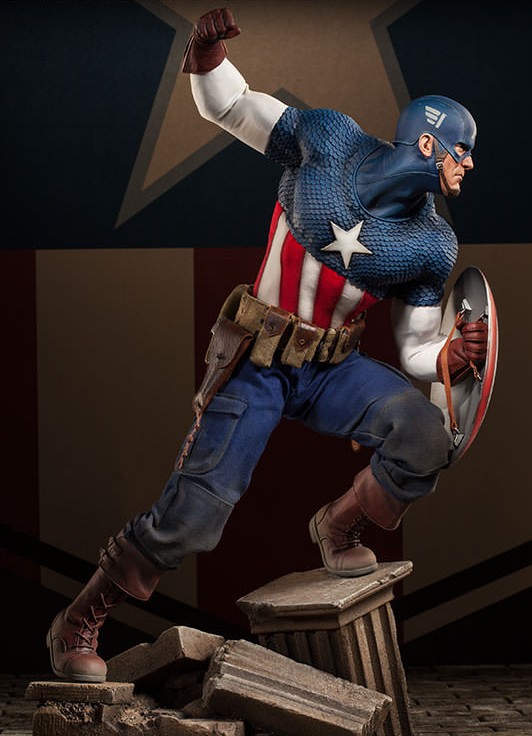 The 2014 Sideshow Captain America Allied Charge on Hydra Premium Format Figure definitely changes my feeling toward Sideshow as Captain America underachievers, however. This WWII inspired Captain America Premium Format Figure takes Captain America to a whole new level of detail and design. The weathering on Captain America's pants and boots look downright amazing, and I'm a huge fan of the broken pillars base that Sideshow has created for the statue.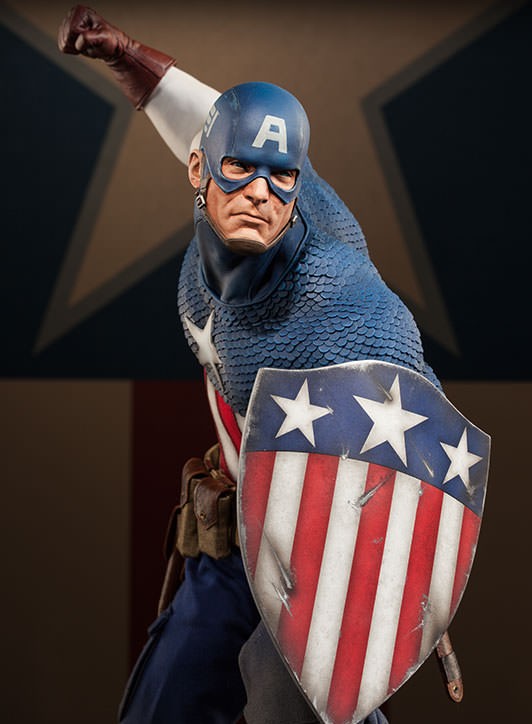 Sideshow Collectibles are no stranger to Captain America swag, so they're well-aware that some people love the traditionally-shaped classic Captain America shield, and some people hate it. Thus, Sideshow has included both the original Captain America shield and the more popular disc-shaped Captain America shield with this statue. Both shields have extensive paint deco on them to make them look battle-worn and realistic, rather than sparkling new out of the box.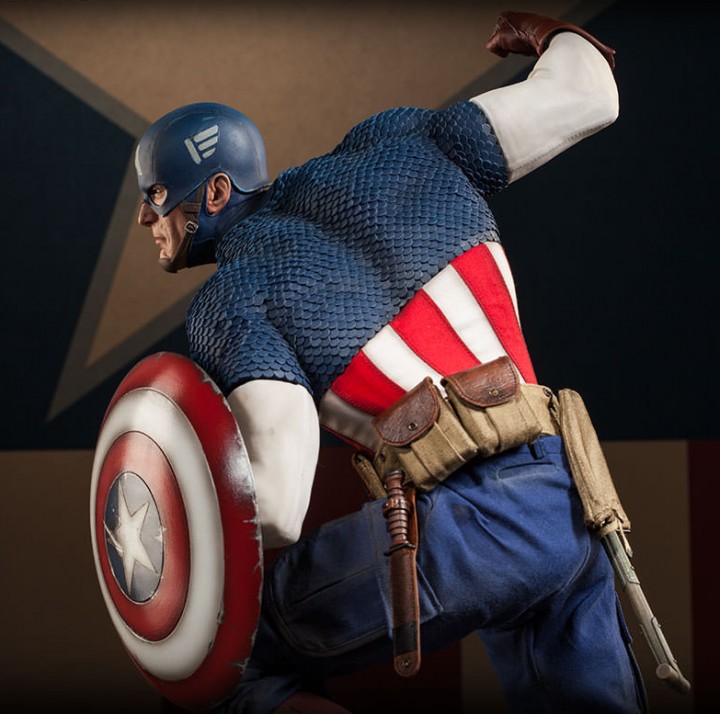 I've never taken an interest in men's fashions, but the hip and trendy WWII-style military belt on the Allied Charge on Hydra Captain America Premium Format Figure looks killer. Sometimes soft goods look awful on a statue and sometimes they look incredible–this is definitely the latter. The storage pouches, shovel and holstered nice on Captain America's belt all look outstanding.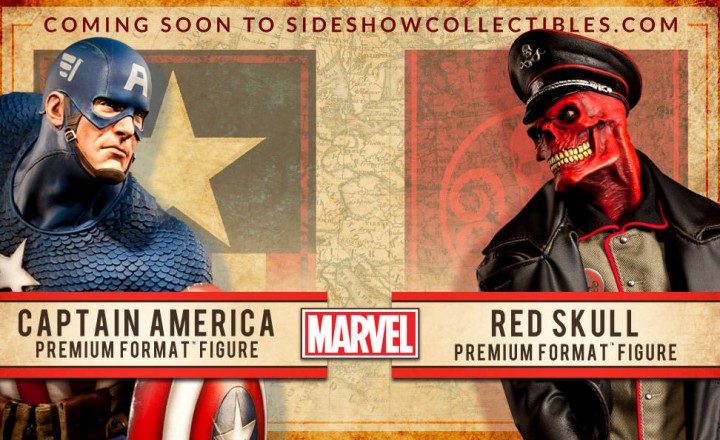 This Premium Format Figure Captain America Allied Charge on Hydra statue is meant as a companion piece to the Sideshow Red Skull Premium Format Figure that was unveiled at San Diego Comic Con 2013, but the statue is honestly well-designed enough that it can easily function as a standalone piece. I'm not planning on purchasing the 2014 Premium Format Red Skull Sideshow statue, but this Captain America looks so good that I'm definitely thinking about adding him to my collection on his own.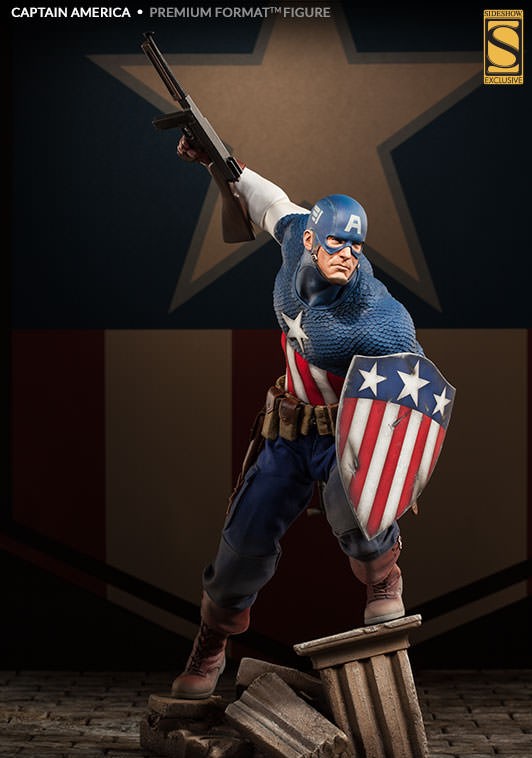 The Sideshow Exclusive Edition Captain America Allied Charge on Hydra Premium Format Figure is now available for pre-order, with an expected release date of June 2014. The Sideshow exclusive edition of the statue with extra Thompson submachine gun costs the same as the regular release and should have a much higher value long-term, so if you're thinking of getting this Premium Format Captain America statue, you might as well get the Sideshow Exclusive Edition.
What do you think of the Sideshow Collectibles Captain America Allied Charge on Hydra statue, Marvel fans? Is this Premium Format Figure worth your $399.99, or were you hoping for a bit more for your four hundred dollars' worth?