Sideshow defied expectations last month, when they chose to put the Premium Format Captain America Allied Charge on Hydra statue we hadn't previously seen up for pre-order before the new Red Skull Premium Format Figure we'd seen in its complete form during the summer. Red Skull fans can rejoice now, though, as the opportunity to drop another $370 is upon them–the Sideshow Exclusive Red Skull Premium Format Figure is now up for pre-order!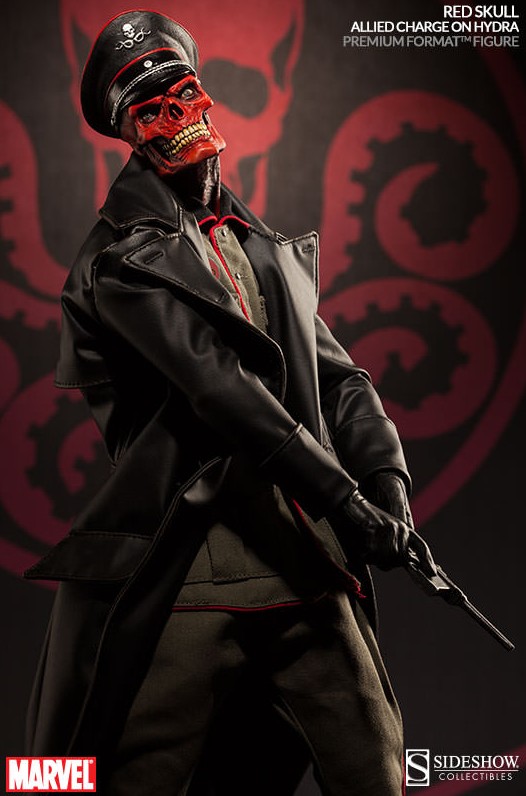 I don't have a deep-rooted love for the Red Skull (I'm a Baron Zemo guy myself), but even I wouldn't try to argue against Red Skull being Captain America's greatest adversary. So despite the fact that the Red Skull has already been featured before in Premium Format Figure form, it was a no-brainer for Sideshow to give the Red Skull PFF treatment again.
And you know what? The result is a pretty gorgeous Red Skull statue (or at least as gorgeous as a statue of an evil Nazi with a crimson skull for a head can be).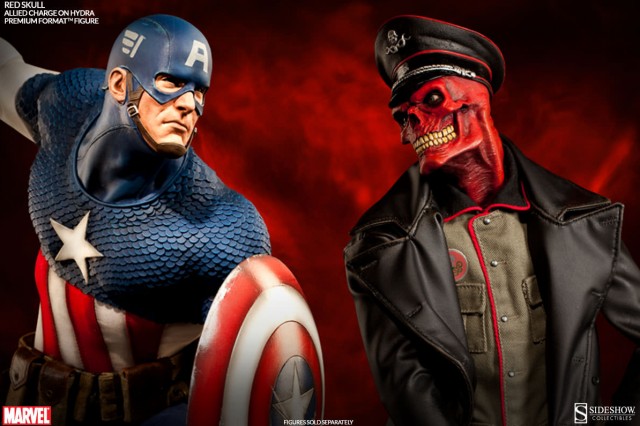 The soft goods trenchcoat on the Premium Format Red Skull Allied Charge on Hydra statue is among the best I've ever seen, and the head is a huge improvement over the head sculpt on the original Red Skull Premium Format figure. In fact, this new Sideshow Red Skull Allied Charge on Hydra Premium Format Statue beats the head of the original not once, but twice…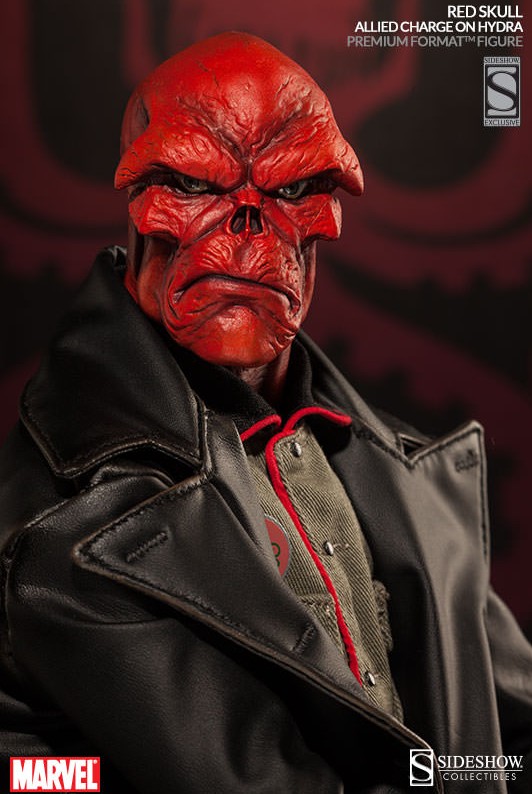 The Sideshow exclusive Red Skull Premium Format Figure exclusive accessory is another awesome one, as it's a complete alternate head swap for the Red Skull! The grumpy, scowling alternate portrait for the Red Skull is brimming with personality–to be totally honest, I love it a ton more than the regular head sculpt. This should have been the regular head, in my opinion, but it makes the Red Skull Sideshow Exclusive Edition a must since it isn't.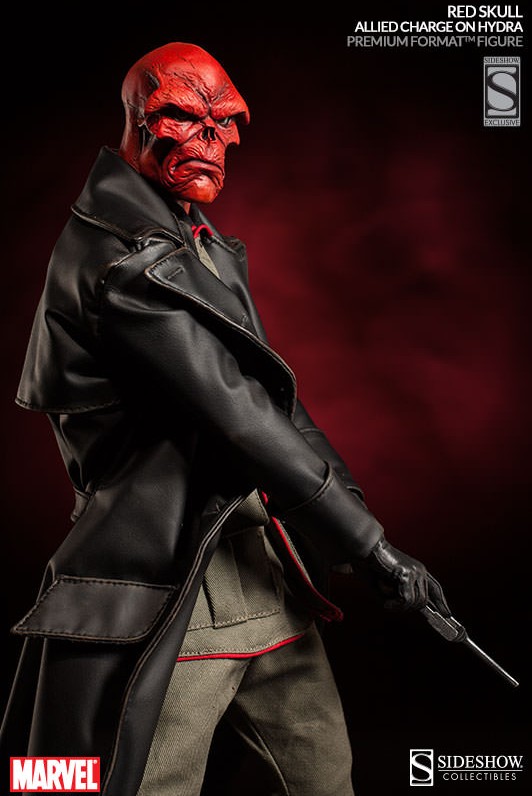 The Sideshow Collectibles Red Skull Premium Format Figure statue exclusive edition is now up for sale on the Sideshow website. The exclusive edition with the extra head costs the same price as the regular edition, so there's literally zero reason to pick the regular Premium Format Red Skull over the exclusive. The exclusive editions of these statues do tend to sell out quickly, so be sure to place an order in the very near future if you want one!
What do you think of the latest statue of the man who just may be the most pure evil in the whole Marvel Universe, Marvel collectors? Is this statue on your buy list, or is $370 beyond the price you're willing to pay for a Red Skull statue?