Earlier this week, Gentle Giant Ltd. announced and put up for order their quarter-scale Captain America: The Winter Soldier Stealth Captain America statue. Never one to be outdone by other companies, Sideshow Collectibles has now officially announced their own upcoming 1/4 Captain America The Winter Soldier Premium Format Figures statues! And while photos aren't available yet, Sideshow did let us know some interesting details…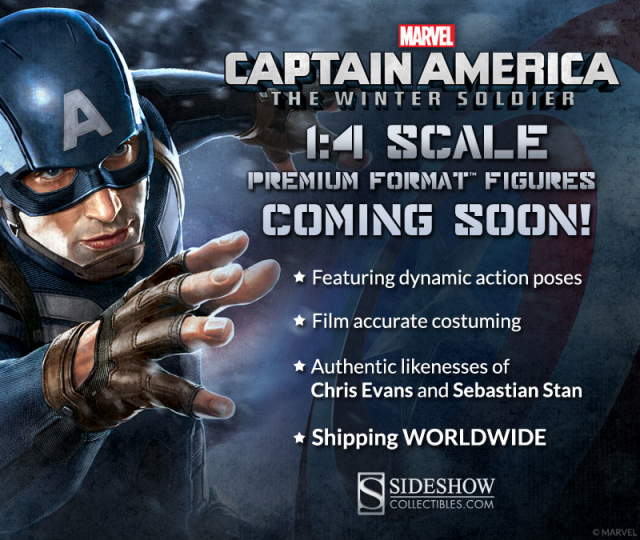 I don't think that there was ever any doubt that Sideshow would be producing statues for The Winter Soldier, but it is nice to get official confirmation that they will be doing so.
It's still a little too early for Sideshow Collectibles to debut images of their Captain America: The Winter Soldier Premium Format Statues, but the details that they gave us in their announcement/teaser actually do tell us some worthwhile things about the statues…
"Featuring Dynamic Action Poses": Evidently, these Captain America 2 Premium Format Figures won't be static, museum-style statues. Instead, we can expect some action-oriented combat poses this time out. This is a very different approach to what Gentle Giant is focusing on for this movie, which is Captain America movie statues that are just standing around casually.
The quality of these Captain America Winter Soldier Premium Format Figures is going to be largely dependent upon the quality of the poses that Sideshow Collectibles selects for the characters–a bad pose can totally ruin an otherwise amazing piece. I'm definitely curious to see what Sideshow comes up with for these statues.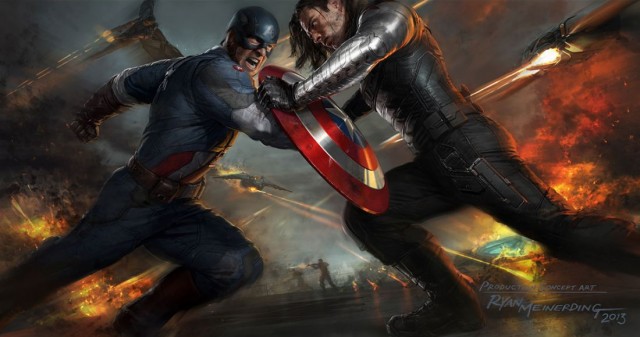 "Film Accurate Costuming": Not a surprise–Sideshow Collectibles Premium Format Figures based on movies do tend to have film accurate costuming as a rule (there's sort of the point). I'd expect to see the usual mix of sculpted materials and soft goods.
"Authentic likenesses of Chris Evans and Sebastian Stan": And here's the biggie–official confirmation that we'll be getting a Winter Soldier Premium Format Figure as well as a new Captain America 2 Premium Format Figure. This isn't exactly a shocker, but given that Sideshow produced a whopping zero Thor The Dark World Premium Format Figures, it's good to know we'll at least be getting Cap and Bucky from Captain America The Winter Soldier.
For now, that's all the information available about these upcoming Sideshow Winter Soldier movie statues. Are you excited by the announcement of Premium Format Captain America: The Winter Soldier statues, Marvel fans? Or are large-scale statues based off movie actors not your thing?