I'm expecting to see tons of surprise announcements of new Marvel toys and collectibles at New York Toy Fair 2017 this weekend (and I'll be in New York City all weekend long reporting in), but there's a quasi-surprise this week already! I wasn't entirely sure that the Sideshow Collectibles Marvel Sixth Scale figure line was legit going to continue (there hasn't been a new figure order since 2015), but the Sideshow Exclusive Daredevil figure is now up for order!
2017 is set to be a fantastic year for Daredevil fans… just as long as you're into Netflix Daredevil, as the Netflix character is getting a whole wave of new POP Vinyls, a just-announced ONE:12 Collective 6″ figure, an amazing Hot Toys figure and a Marvel Legends figure rumored to premier at the 2017 Toy Fair.
For comics-based Daredevil fans… there's not quite so much lined up. But one high-end Daredevil comic figure that is coming up soon in our future is going up for order this week: the Sideshow Collectibles Daredevil sixth scale figure!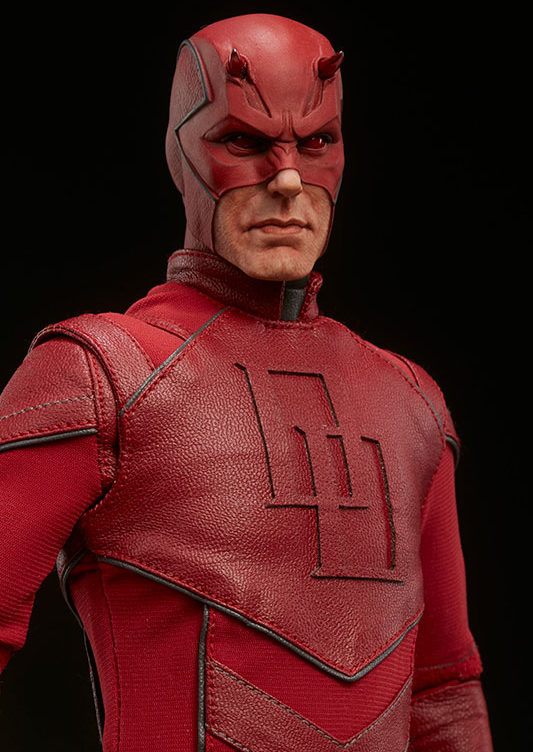 The last time that Sideshow Collectibles put one of their own comic book-inspired figures up for order was their hugely underrated Wolverine way back in December 2015, so I'm really pleased to see that the line is actually continuing after a long hiatus.
The head sculpt on this Daredevil Sideshow 1/6 figure looks awesome, and is easily one of the highest points of this figure.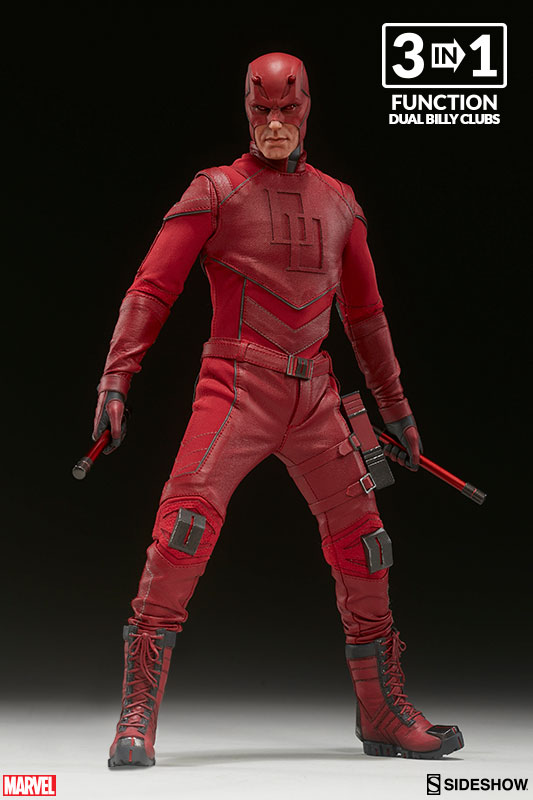 But I'd be remiss if I didn't point out another major highlight of this figure: his weapons! DD of course comes with his trademark billy clubs that he can dual-wield…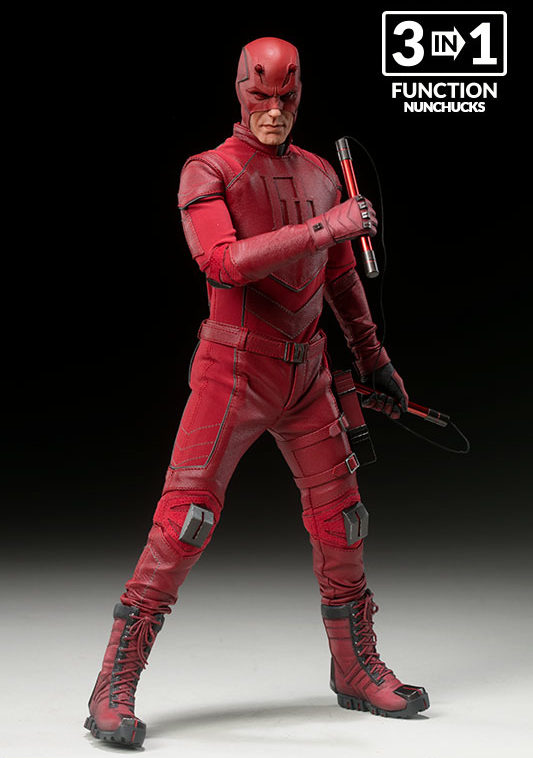 …but the same billy clubs can be modified into nunchucks! But wait–there's more!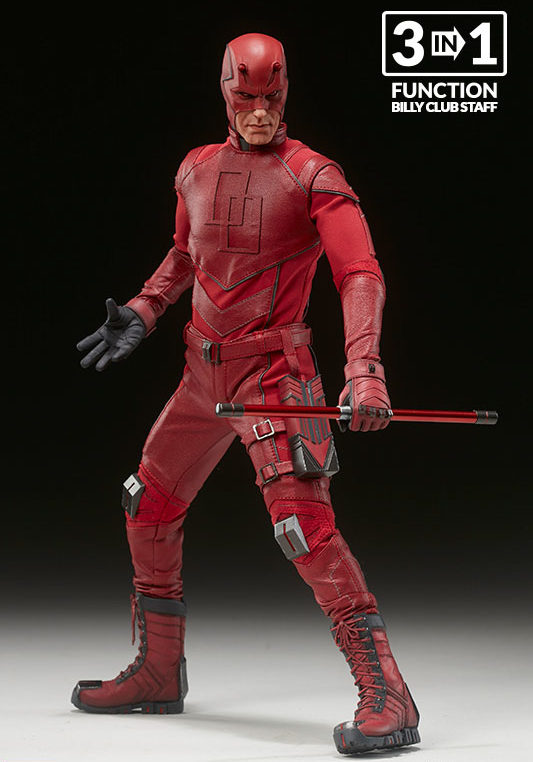 Daredevil's billy clubs can be combined into a large billy club staff that looks fun and deadly.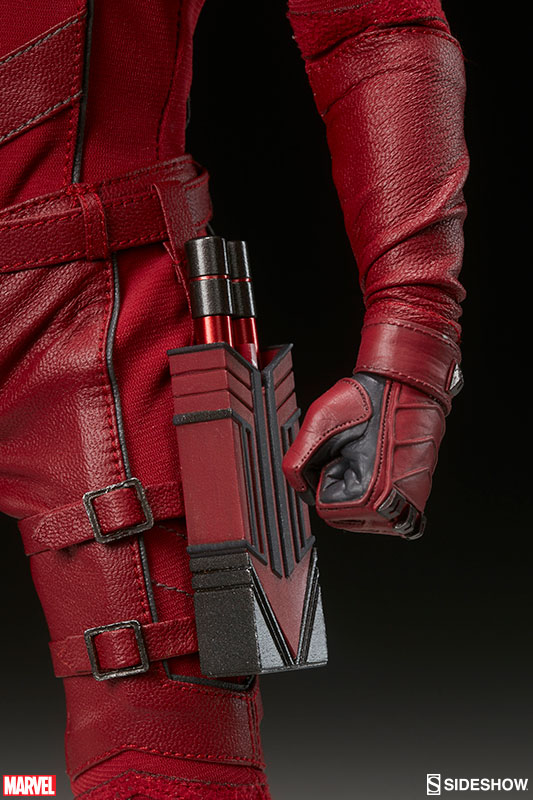 Heck (or perhaps "Hell" would be more appropriate in this instance, since we're discussing ol' Hornhead, after all), even the holster for the billy clubs looks wonderfully designed! Sideshow did a fantastic job with the weapons (and the way to store them) for this Daredevil figure.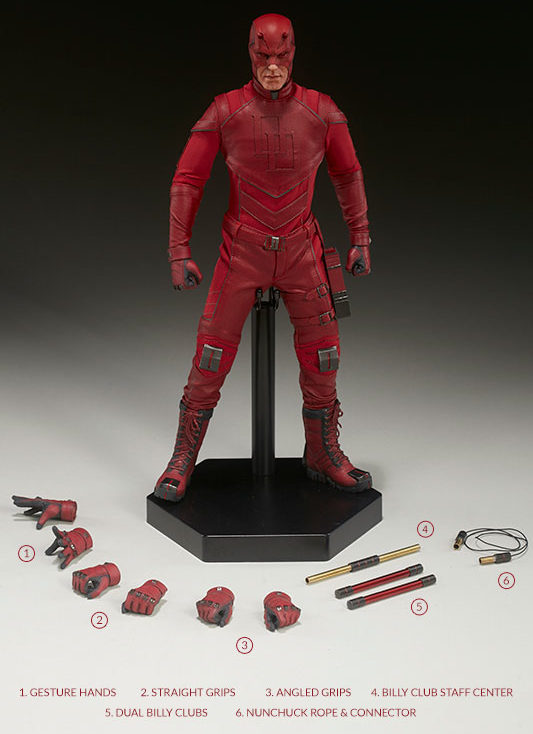 Along with the various billy club pieces and the obligatory figure display stand, Daredevil also includes four sets of varied interchangeable hands.
I know it can be tough to get excited when reading about extra hands, but they actually make a humongous difference in the poses you can achieve and how natural they look. I'm always thrilled to get alternate hands.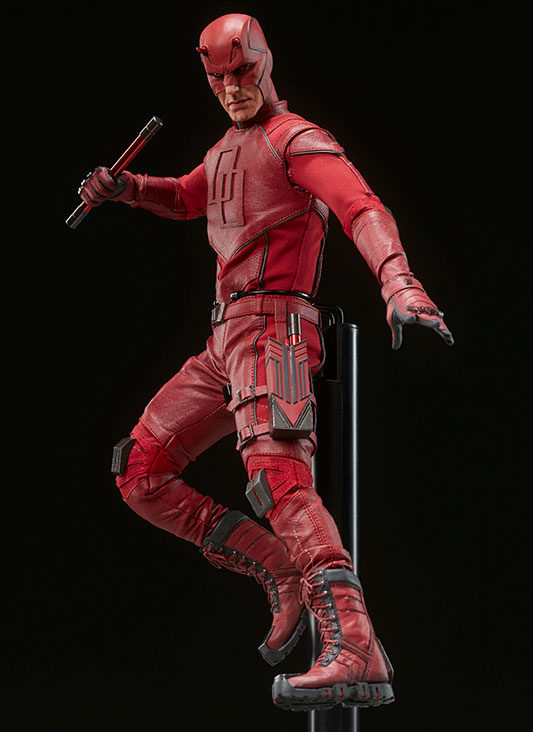 What I'm not so thrilled about is some of the design choices on this figure. While I appreciate some of the symbolic details Sideshow incorporated on this figure (such as the "devil tail" on the holster and the cross on the bottom of his boots), I'm not nearly as enamored with some of the weird angles of the costume, the limited boot articulation and the under-muscular body used. These aspects don't necessarily "ruin" the figure, but they do bring down some of the highest points of the figure.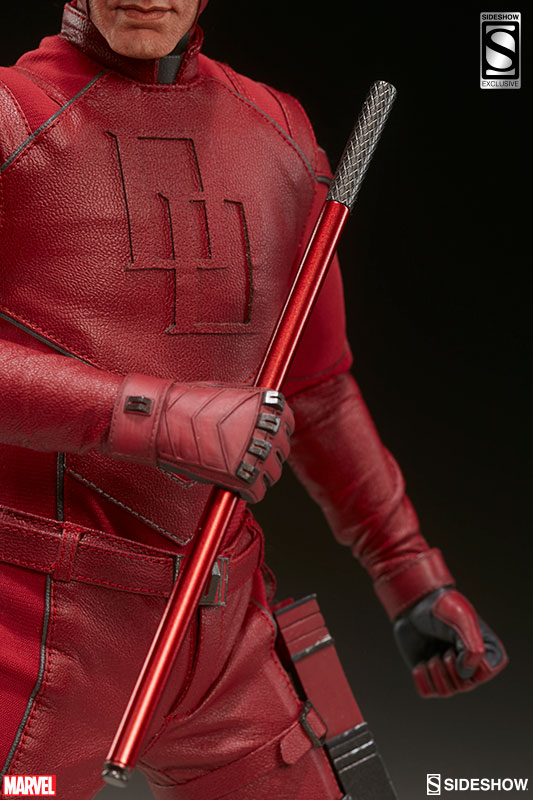 As usual, there's an Exclusive Daredevil edition that will only be available through the Sideshow Collectibles website. The exclusive bonus item this time is pretty neat: a walking cane that can be converted into an attack weapon!
The convertible walking stick is honestly a bit odd, but a really fun idea that's been well-executed by Sideshow. Since the exclusive edition costs the same price as the mass release version and will ultimately be the more valuable iteration, everyone who wants the Sideshow Daredevil 12″ figure should be aiming for this version.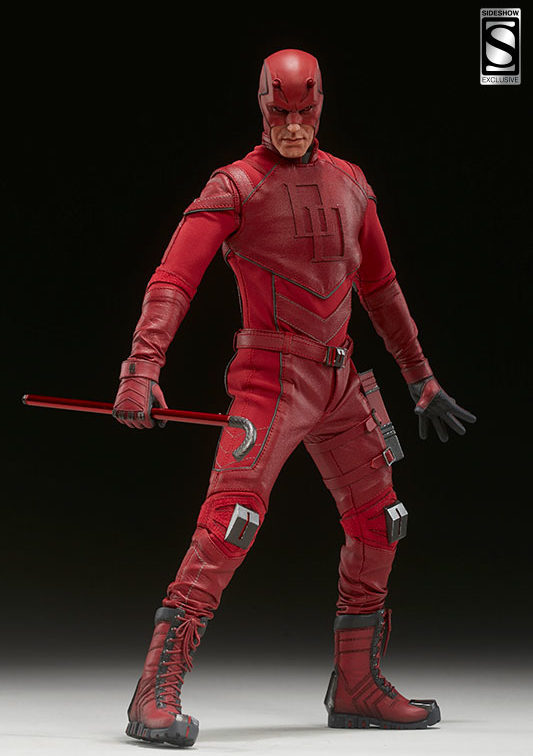 The Sideshow EXCLUSIVE Daredevil figure is now up for order, and will retail for $229.99, with payments plans available (and a prerequisite for anything I order off of Sideshow's website). Early pre-orders for DD are also going to receive free shipping, which is basically a $15-$20 discount that I'd much rather get than not get. I actually like this figure a lot more than I expected, so it's going on my list of potential buys this winter.
What do you think of the latest Sideshow Marvel 12″ figure, Marvel collectors? Are you planning to snap up a Daredevil of your own, and what other comics-based characters (if any) would you be interested in seeing Sideshow tackle after Daredevil and Ghost Rider?