Have you ever felt like there was something missing from your life, and you couldn't quite place what it was…? Well, perhaps Sideshow Collectibles has determined exactly what it is that your life has been devoid of (and perhaps not) with their final Marvel collectible pre-order of 2016! The Year of Deadpool concludes with an item I never even contemplated, much less expected to see produced: the Sideshow Deadpool Life-Size Bust is now up for order!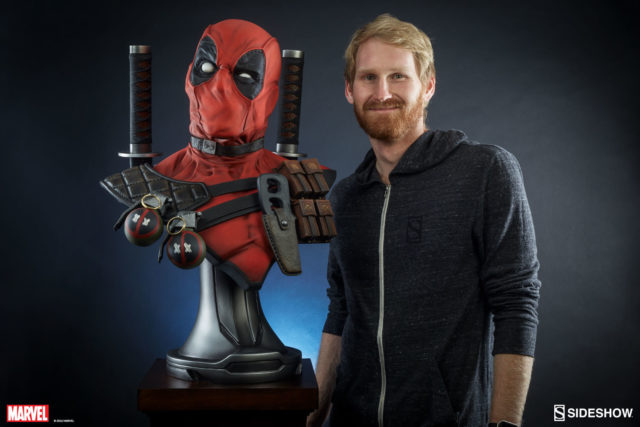 Bowen Designs mini-busts are what really got me into high-end collecting as an adult collector, so I have a soft spot in my heart for mini-busts. The keyword here is, of course, "mini". With all the various toys and statues that I buy each year, I just don't have space (or copious amounts of money) for busts that are, well… not "mini".
But for those of you who may be so inclined toward humongous busts like this one… heeeeeeeeere's Deadpool!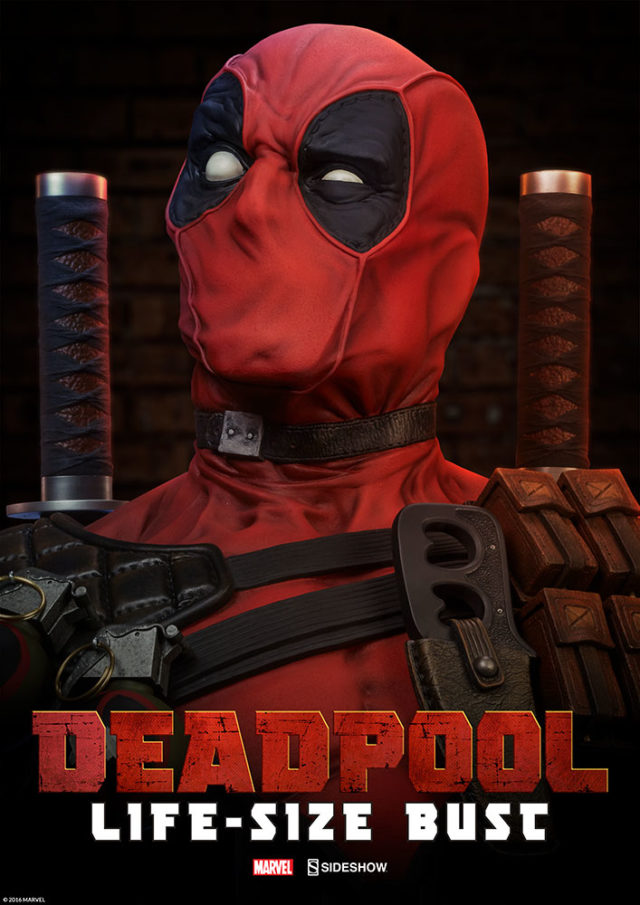 The first thing many collectors' eyes flash to isn't going to be this Deadpool statue itself–but its price. Yes, that price tag really does say $979.99. Yowza. That's far and away the most expensive Marvel Comics life-size bust price to-date, but sadly $1K seems to be becoming the typical price-point for busts this size in the current collectibles marketplace.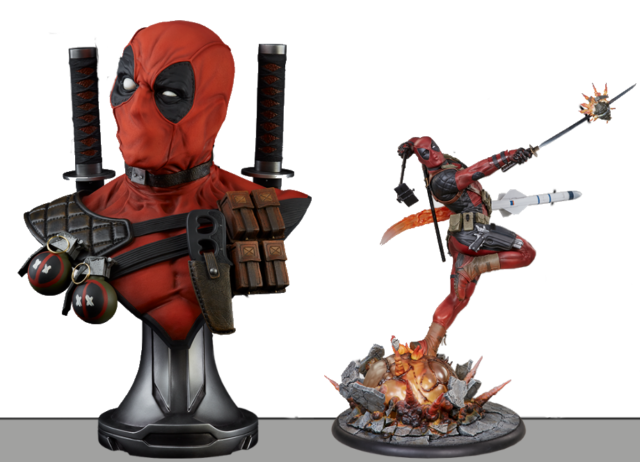 On the bright side, this Deadpool Life-Size Bust absolutely towers over the new $700 Premium Format Deadpool statue. At an immense 28″ tall, this colossal statue looks like it may actually be worth its imposing price-tag (provided you have an extra thousands dollars kicking around for it–which I do not).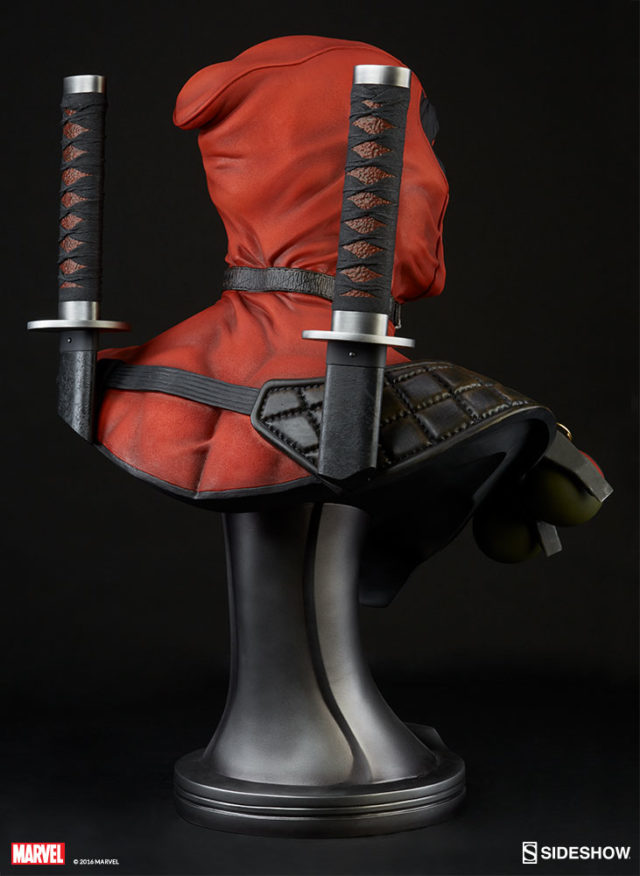 I imagine that a big part of the expense for this particular piece has to do with the hardware included–1:1 scale sword hilts and grenades add a lot of complexity and visual appeal to this Deadpool Sideshow bust (although the fact that the swords aren't crossed or even angled on Wade's back is pretty maddening).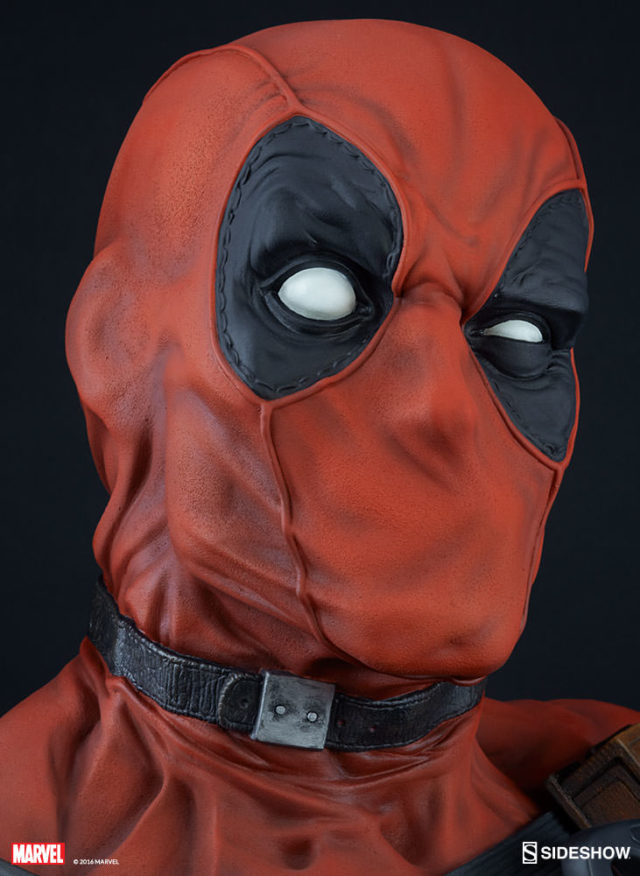 The sculpted folds and detailing on the 1:1 Deadpool bust's mask are absolutely mind-blowing, and the flat red paint looks amazing on this piece.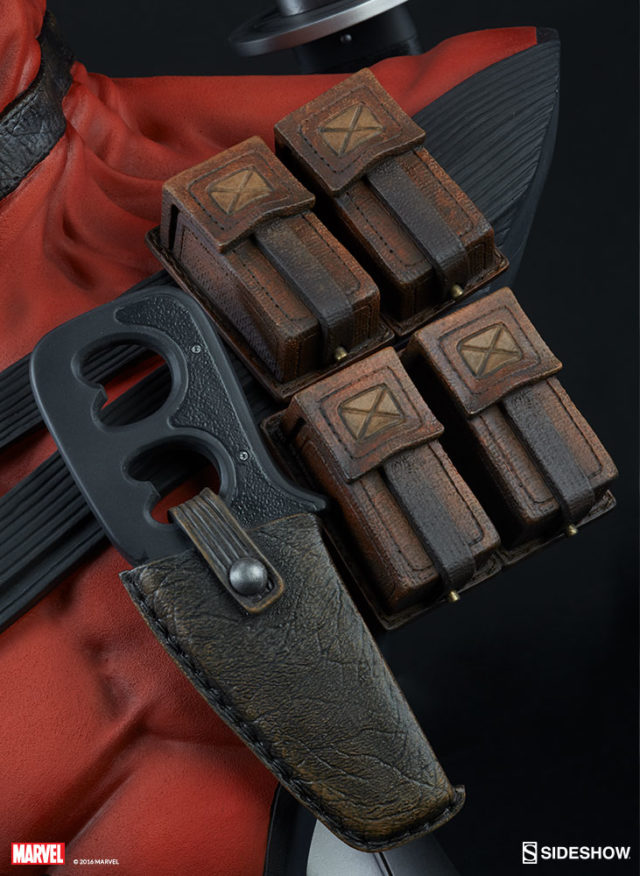 But besides the mask, the pouches, knife sheathe, grenades with little Deadpool faces painted onto them and black-and-red sword hilts all look phenomenal. If I was ever going to buy a 1:1 bust (and I am not), this would be the one.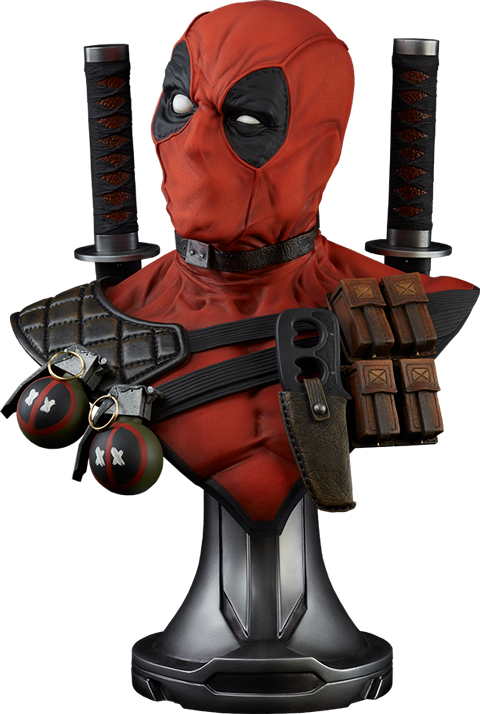 And before anyone complains about this not being movie-accurate, this is Marvel
Comics
Deadpool–not the movie version (though I'm sure that might have sold like gangbusters if that license had been allowed).
The pedestal base on this statue won't match those of any of the other life-size Marvel busts that Sideshow has put out, but that may be a non-issue, as these gargantuan busts aren't exactly collectibles that you can set up a bunch of next to each other.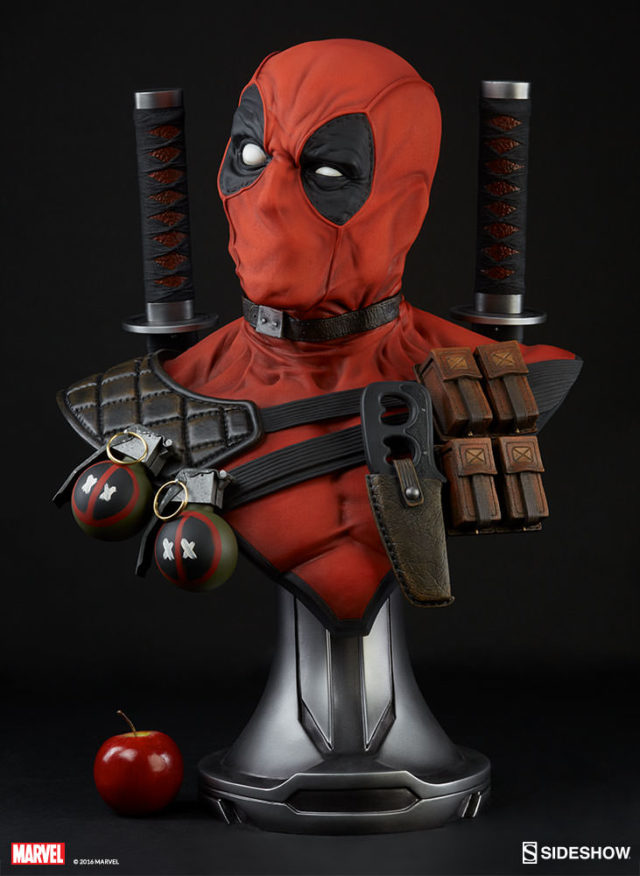 The Sideshow Collectibles Life-Size Deadpool Bust is now available for order, and is scheduled to be released in late 2017. I honestly have no idea how quickly this high-end collectible might sell out, though–traditionally full-size busts don't exactly sell like wildfire, but the current hysteria of Deadpool fandom is anything but traditional.
Anyone out there planning on scooping up what is likely to be the largest Deadpool bust ever made? Would you like to see Sideshow expand their Marvel life-size bust line, or is this a niche that's just not for you?