Sideshow Collectibles has shifted its focus a bit this year, with less Marvel Premium Format Figures being released and more emphasis on their new 1:5 scale statues from the Avengers Assemble and Spider-Verse statue lines. But fear not, quarter-scale lovers–Sideshow is throwing you a pretty juicy bone today! Ordinarily I find something to gripe about a ton, but that's not the case with today's new release: the Sideshow Exclusive Wolverine Premium Format Figure is now up for order!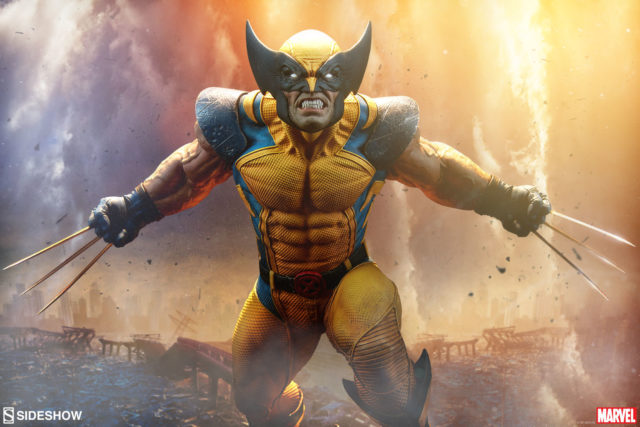 A couple years back, Sideshow released a Brown Costume Wolverine which is my personal pick for the very best Wolverine statue ever released.
But as much of a masterpiece as that Brown Costume Wolverine Statue was, it's got some serious competition in the form of the latest major solicitation from Sideshow: the Yellow Wolverine Premium Format Figure Statue that's going up for order today!
This piece made its debut in unpainted form at SDCC 2017 in July, and then became one of the most talked-about statues at New York Comic Con 2017 when it's painted prototype premiered.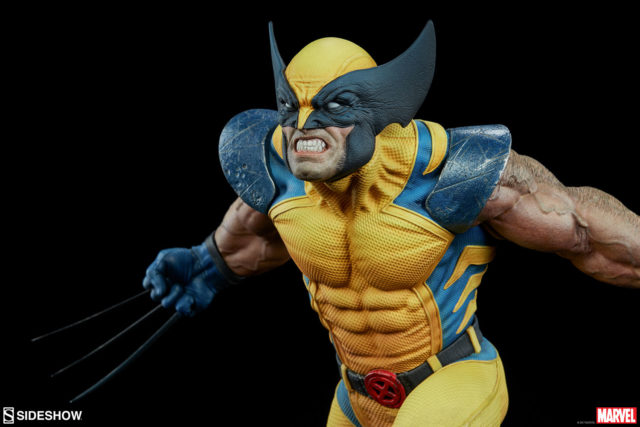 And today, the hotly-anticipated 1/4 scale Wolverine PF Statue is going up for sale—including an Exclusive Edition that I think most folks are going to want!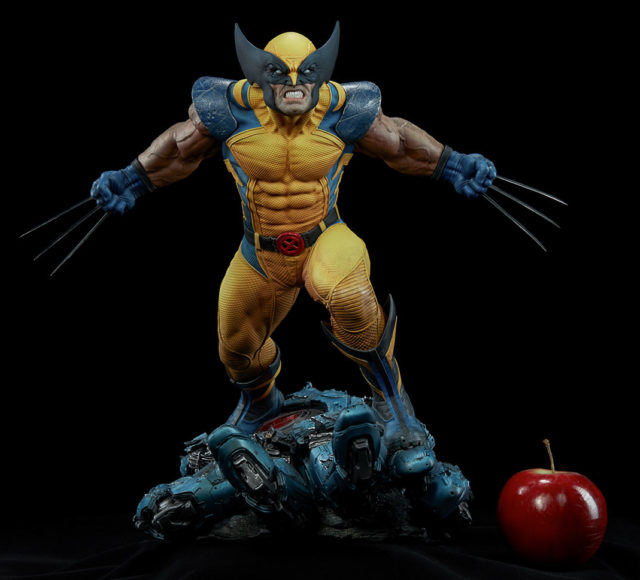 With the recent trend of Sideshow only giving us the unmasked heads for statues of characters like Silk and Spider-Gwen, I feared Logan would suffer the same fate.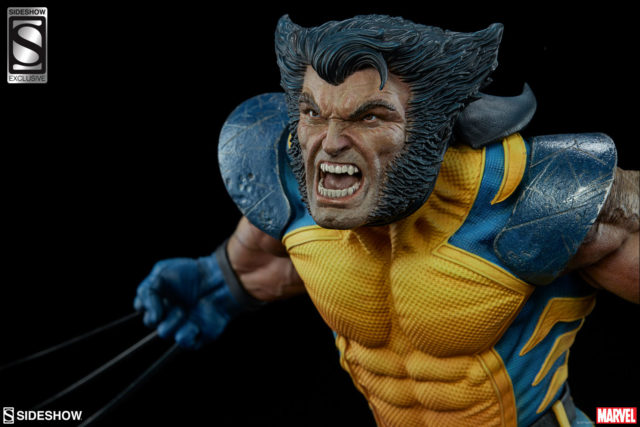 Thankfully, the reverse is true: the new Sideshow Exclusive Wolverine Premium Format Figure bonus accessory is actually the unmasked head, with the regular version coming with just the masked head.
I'm a little torn on this, as I'm unlikely to ever display a Wolverine statue with his mask off personally, and the Exlusive Edition adds twenty bucks to the already stiff $550 price-point in this piece.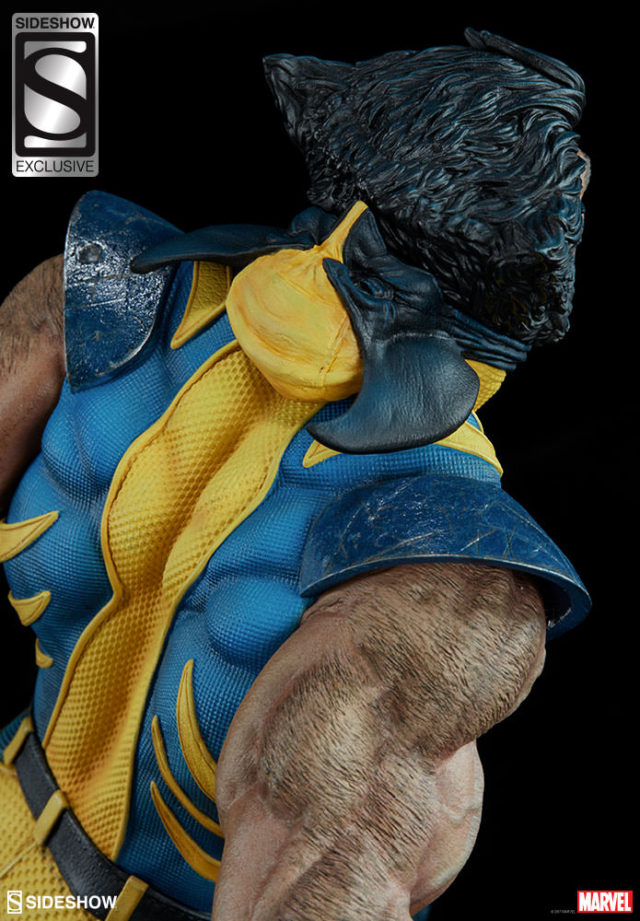 That said, the unmasked Wolverine portrait looks amazing. This is easily the most-detailed Logan head sculpt I've ever seen, and I dig the retracted mask that hands behind his neck.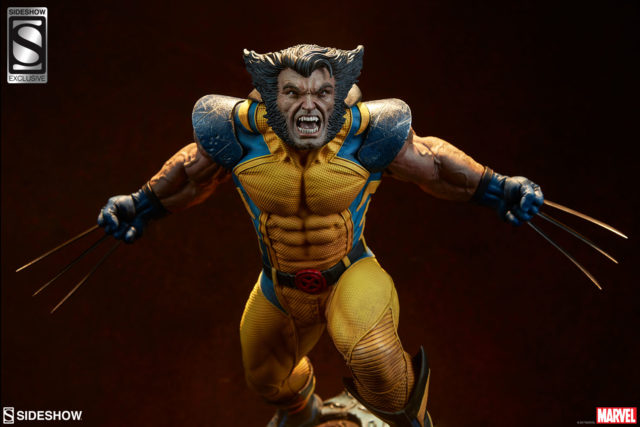 I'd rather have the extra head and not want it than want it and not be able to pay for it, so I can easily envision myself placing my pre-order for the Yellow Costume Wolverine Exclusive Edition today, just in case I do want a Logan head down the line.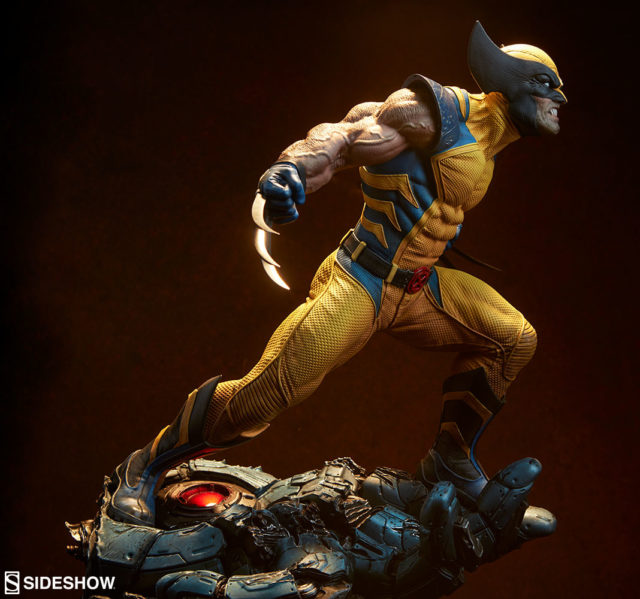 As outstanding as the head sculpts are (and they are outstanding), the rest of this statue stands up just as well. I was absolutely amazed by the texture on Wolverine's costume when I saw it up-close at NYCC 2017.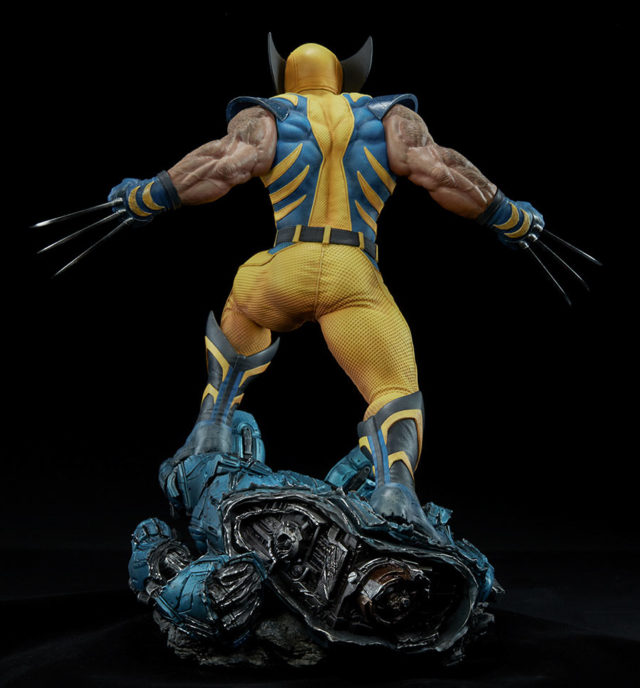 Wolverine's costume design isn't that complicated, but Sideshow has packed an incredible amount of detail into it.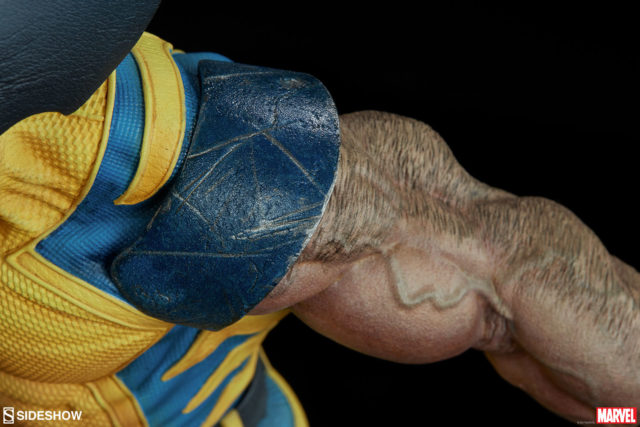 The battle stance, the hairy arms, the bulging veins, the snarling expression, the battle damage on the shoulder pads… the design and detail on this piece is straight-up amazing. Not every Marvel PFF that Sideshow releases is a grand slam, but this is one that definitely is.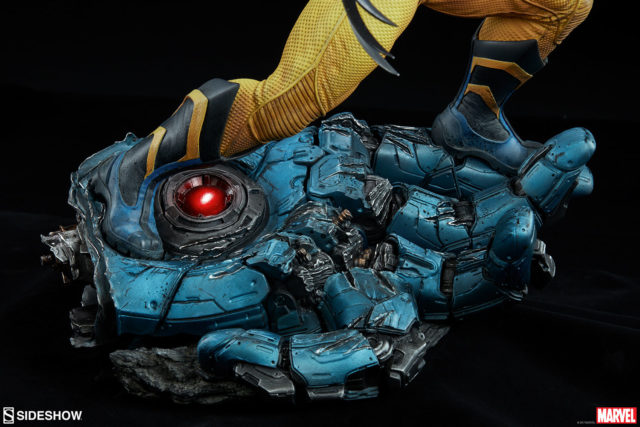 Even the Sentinel hand base on this 20" Statue has won me over, despite my general feeling that Sentinel bases are overdone these days. The metallic blue paint on the hand is really eye-grabbing and different from the usual purple we see on Sentinel bases, and it looks phenomenal with the Wolverine figure atop it.
And for those who don't have $500+ to drop on an X-Men statue, SS is thinking of you: they've got a giveaway contest that's still open as of writing where you can enter to win this Wolverine statue for free. No free lunches in this world, but at least someone will get a free statue…!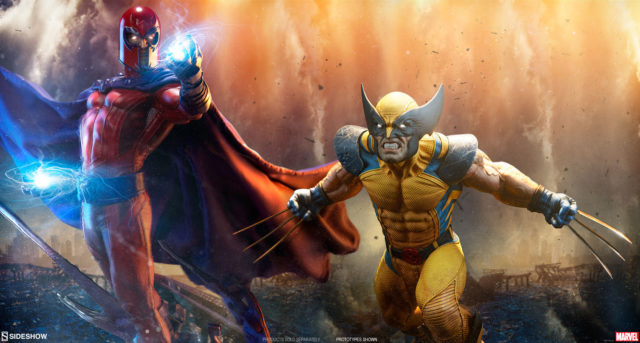 The 2018 Sideshow Premium Format Wolverine Exclusive Statue is now up for order, and is expected to ship in fall 2018. It hasn't been announced if there will be a preset limited edition on this piece like Thanos had, but if there is, it's going to sell out at the speed of the light. Stay alert!
Now that the long-awaited Sideshow Collectibles Yellow Wolverine Premium Format Figure is going up for sale today, where do you stand on this piece, Marvel collectors? Is this the best yellow costume Wolverine (or even best overall!) ever, or does another statue of Logan own your heart? And speaking of owning—do you plan on owning either edition of this statue yourself?