Husbands will get up to all sorts of mischief and debauchery while their wives are away. Me? I went to the Hallmark Ornament Premiere. Twice. I went out yesterday afternoon specifically to see if my nearest Hallmart store had put out their ornaments early so that I could photograph the Marvel and LEGO ornaments. And while the 2014 Hallmark Ornaments were out early, I totally forgot to look at the Marvel ones–instead, I bought the Jawa Sandcrawler and Cantina Band ornaments. And so, today I journeyed back to Hallmark to check out the Hallmark Captain America & Spider-Man ornaments…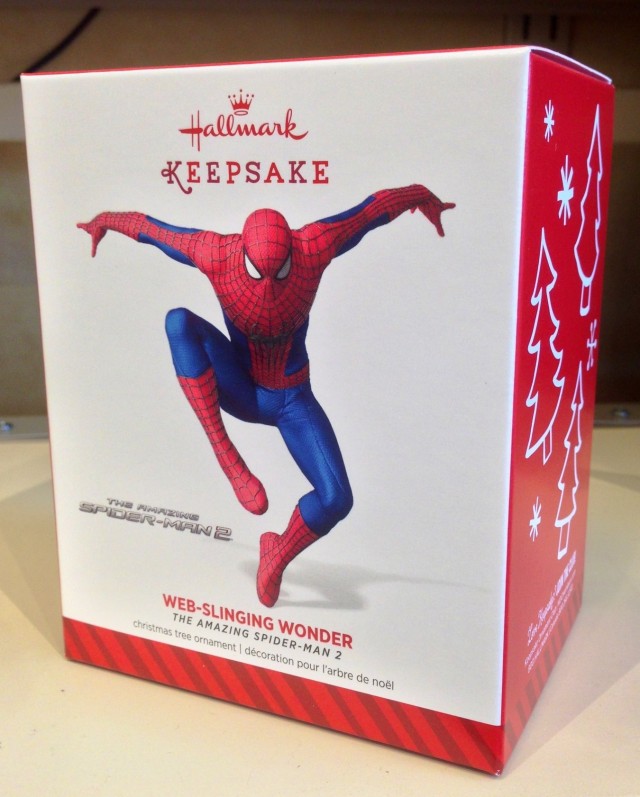 Decades ago, it might have been sacrilegious to have a Spider-Man on your Christmas tree. Thankfully, I wasn't born into that time period, so I have everything from Pikachu to Greedo to the Swedish Chef in Hallmark Ornament form. Popular characters making the crossover to ornaments has become expected, and that means we can expect at least a few Marvel superheroes as Hallmark ornaments each year.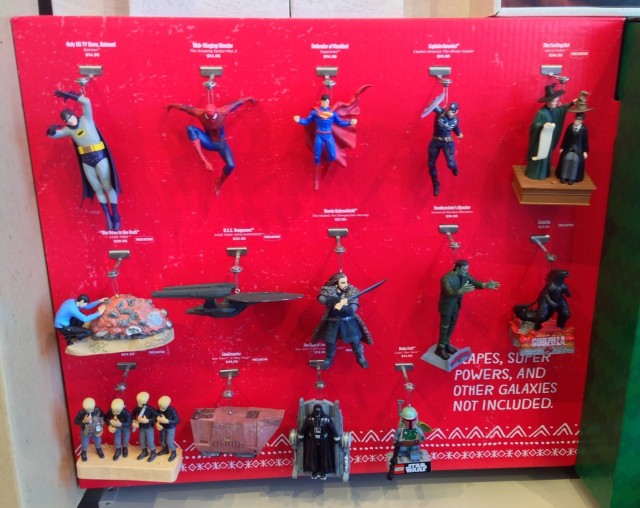 The two 2014 Hallmark Ornaments for Marvel are both based off movies: a Hallmark Amazing Spider-Man 2 ornament of Spidey himself and a Hallmark Captain America The Winter Soldier ornament of Captain America in his Stealth Suit.
Hallmark must feel that all superheroes are the same, because they've intermixed the Marvel and DC ornaments this year so that Spidey can mingle with Batman '66 and Superman. I don't blame Cap for hanging out with Professor McGonagall and Harry Potter, though–Maggie Smith is unquestionably more interesting to talk to than Superman.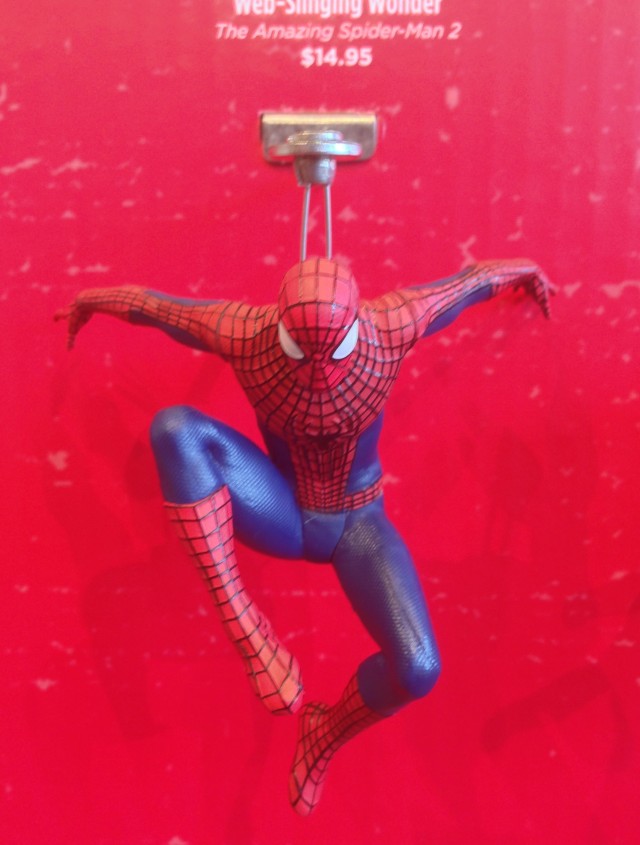 I actually rather like the pose for this year's Hallmark Spider-Man ornament–I like how Hallmark has captured Spidey in a graceful, acrobatic maneuver so it can look like he's leaping right off of the Christmas tree. Unfortunately, he's from the Amazing Spider-Man 2 movie that made me cry twice (once when Gwen Stacy died and once when I saw the awful animation of the Rhino moving around), so this is a definite "no buy" for my collection.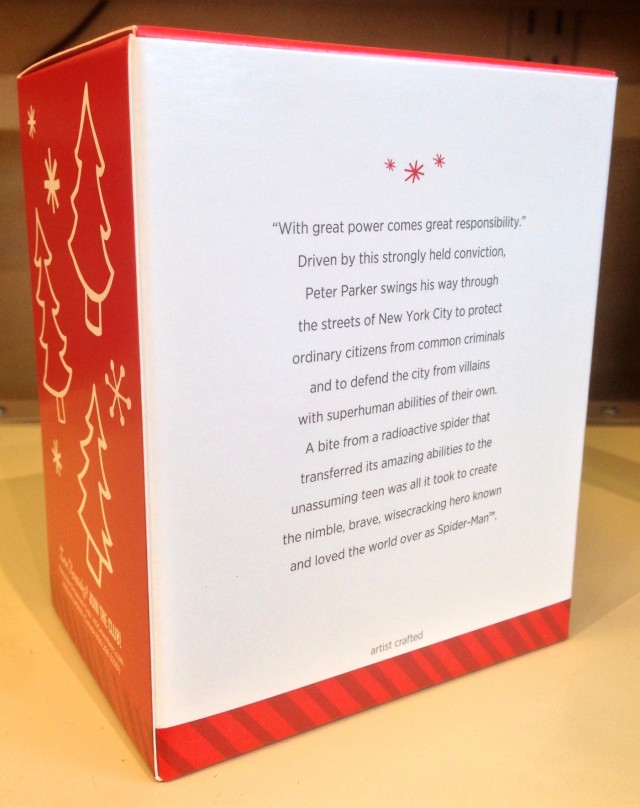 While this ornament is clearly based off the Amazing Spider-Man 2 costume, Hallmark chose to use a generic Spider-Man bio on the back of the box. That's probably a good call, as many potential buyers would be turned off buying a Christmas ornament that has a summary of Amazing Spider-Man 2 on the back (what with Spider-Man's girlfriend's spine being shattered and all).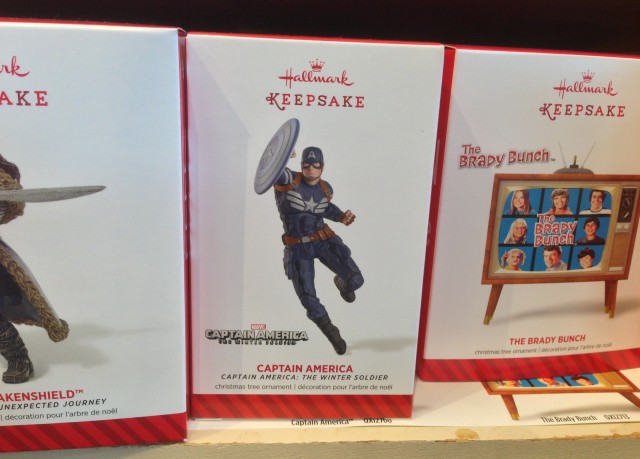 Meanwhile, for some unknown reason, the Hallmark shelving guide has placed the Hallmark Captain America ornament right between the Brady Bunch ornament and the Thorin Oakenshield ornament from The Hobbit.
Personally, I would have put Cap with the Spider-Man ornament–as people buying Spidey are more likely to buy Cap–but that's just me. On the bright side, this Captain America ornament will almost definitely outsell the ornaments surrounding it on the shelf, making Marvel look good (or at least more marketable than Thorin Oakenshield).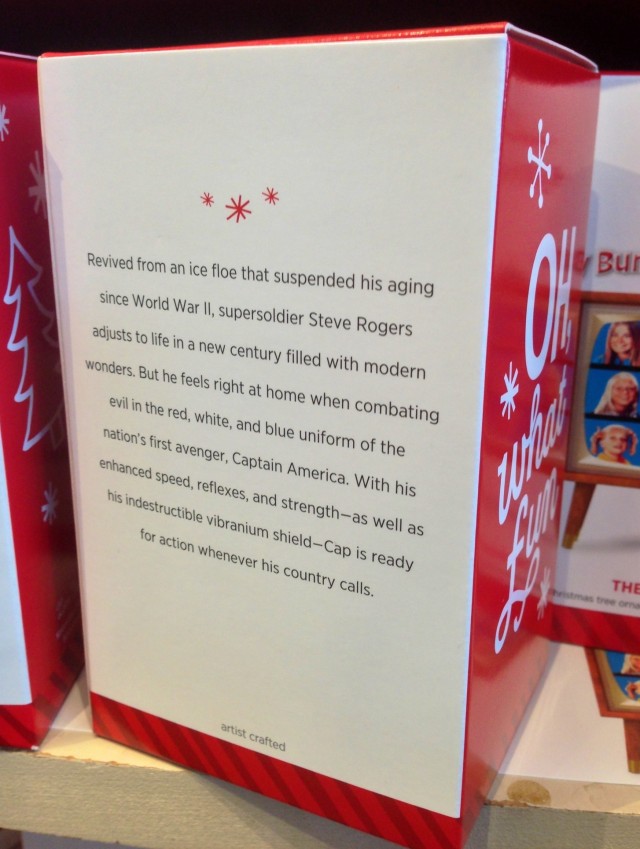 Captain America's box also features a generic Captain America description on the back. Again, this is likely a wise move–Grandma and Grandpa shopping for ornaments probably don't want to read anything about Captain America's brainwashed, dead best friend and the Nazi/Hydra/SHIELD conspiracy going on in the movies.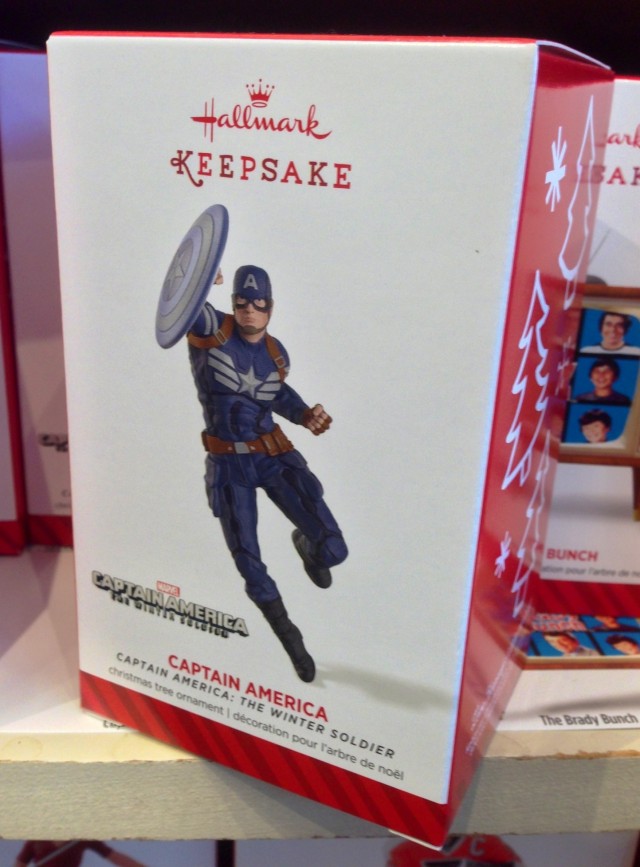 Both the Captain America and Amazing Spider-Man 2 Hallmark Ornaments are priced at $14.95 and are now available at your local Hallmark stores. If you're the type who plans to buy ornaments for 30-50% off after the holidays, I expect Captain America will still be on the shelf December 26th. Spidey? We'll see.
What do you think of the Marvel Hallmark Ornaments for 2014, Marvel collectors? Will you be adding the new Spider-Man or Captain America Hallmark ornaments to your holiday tree this year?ccc