I'm a firm believer in the idea that every character is somebody's favorite and needs to be treated with respect–but if there's one character Hasbro has ever produced a 6″ figure of that isn't anyone's favorite, it's likely Cottonmouth. Even so, produce him Hasbro has, and the Marvel Legends Cottonmouth figure is now available! Is it worth expanding your Marvel villains roster with this obscure baddie? Read on for my review…
The Right:
If there's one indicator that Hasbro is committed to giving us the wider Marvel Universe in six inch figure form and not just the heavy hitters, it's the occasional inclusion of characters that no one would ever expect to be released as toys (and who plenty of casual fans have never heard of)–characters like Cottonmouth.
So for broadening our Serpent Society and our overall Captain America Rogues Gallery, Hasbro gets a big ol' thumbs up.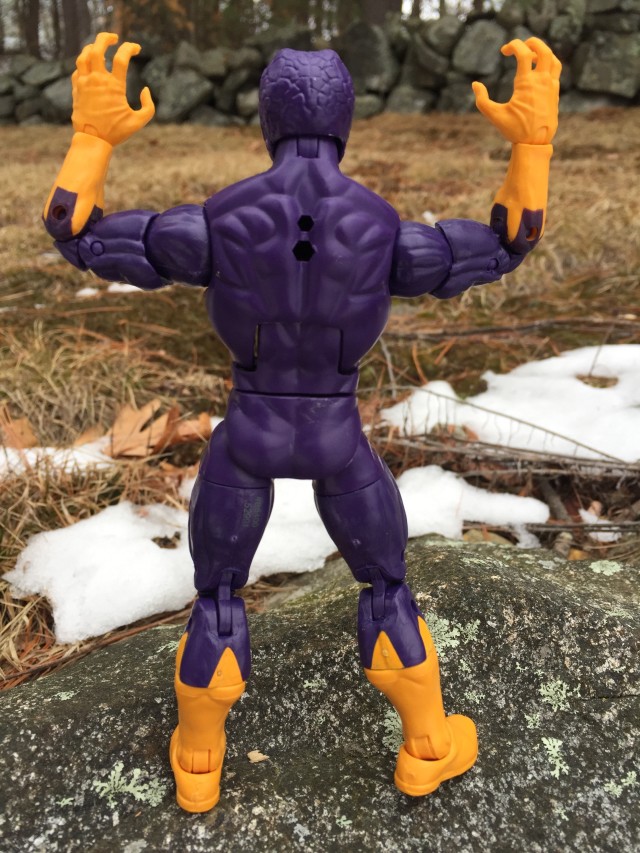 The Hasbro Cottonmouth Marvel Legends action figure is strong in all of the areas that you might expect–primarily articulation and paint deco.
While Burchell Clemens isn't a character who necessarily needs to be breaking into any kind of ninja stances, there's every point of articulation you can imagine built in to facilitate that kind of flexibility anyway: ball-hinge head, double jointed knees and elbows, swivel thighs, calves and biceps, upper torso ab crunch, swivel waist, ball shoulders and hips, ball-hinge wrists… they're all present and accounted for.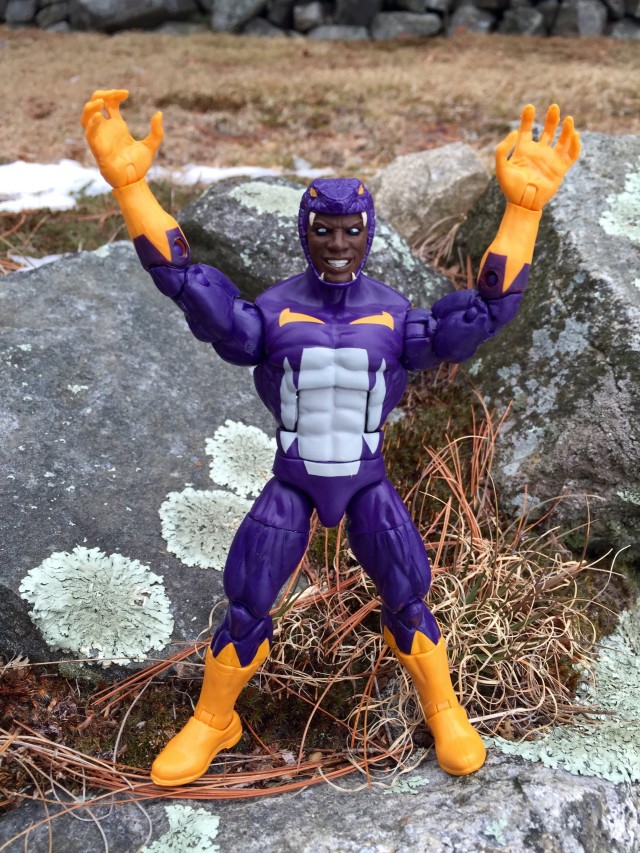 The paint deco on Cottonmouth is equally solid. When you have a character whose designs mixed a really dark color like purple with light colors such as white and yellow, you always run the risk of paint bleed and uneven lines ruining the aesthetic of the figure.
Thankfully, that's not an issue here–the paintwork is neat and clean and I've got no complaints about it.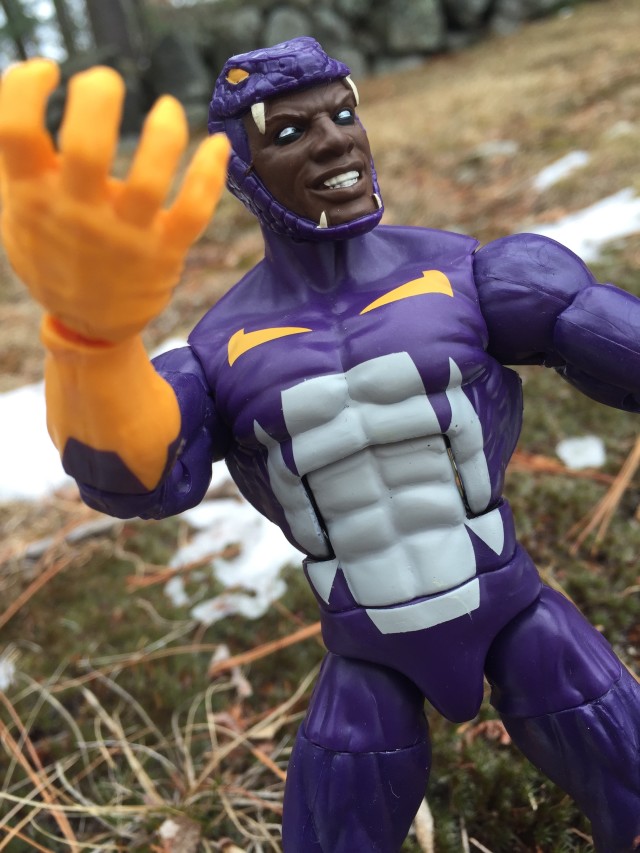 I believe the only piece of genuinely new tooling on this figure is the head, and while it's not at all what I wanted (and I will be ranting about that shortly), it's sculpted very well. Burchell's snake hood has a nice texture to it, and I greatly appreciate the fangs being sculpted on instead of just painted.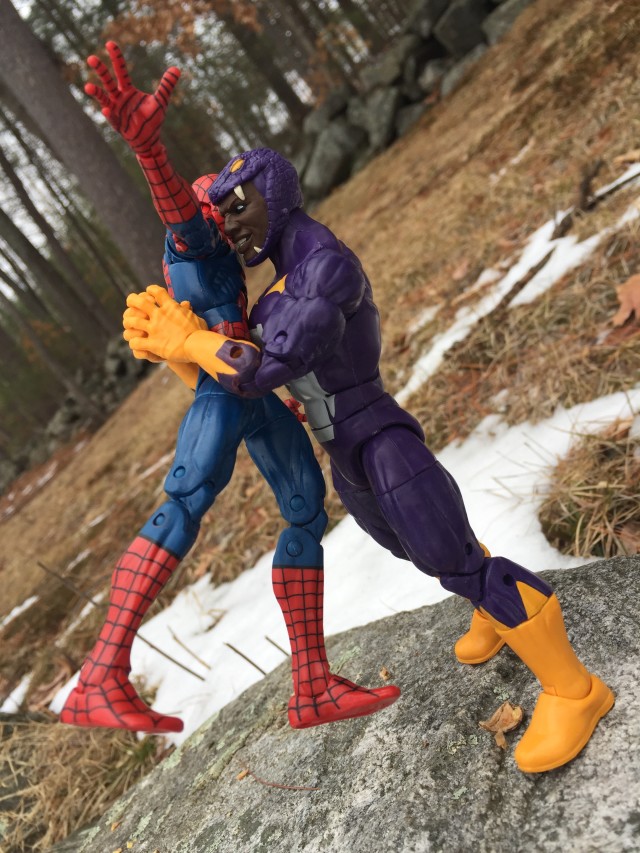 It's also worth noting that this figure is very strong and stable, to the point where he can hold up a lighter figure like Spider-Man and crush him in a bear hug, WWE style. I don't know that I ever particularly wanted to pose Cottonmouth doing a bear hug to another figure, but it is a mark of the stability of this mold.
The Wrong:
Cottonmouth is a slightly bulky Marvel Legends 6″ figure, but that does make it okay that he comes with a whopping zero accessories.
Even if there were no weapons that made sense to pack in, there's always alternate fist hands to go with Cottonmouth's grasping hands, so at least Cottonmouth would have some offensive capabilities. Including nothing but a Red Onslaught Build-A-Figure arm is incredibly lame.
There's one other thing that bugs me about this figure, but it's to the extent that it jumps out of "The Wrong" and into…
The Ridiculous:
Let me get this straight: Hasbro is creating an action figure of a guy whose whole schtick is that he can extend his jaw to insane proportions and bite through steel (and people's faces), and
Hasbro gives him a closed, grinning mouth?!?
WHAT!?!
This makes literally no sense to me, and eliminates 100% of the action poses that I'd imagined sticking the Marvel Legends Cottonmouth action figure into.
I don't know if Hasbro couldn't figure out how to get an extended jaw head sculpt to work with the existing tooling for the buck or what, but the absent extended jaw head is a shocking and disappointing omission.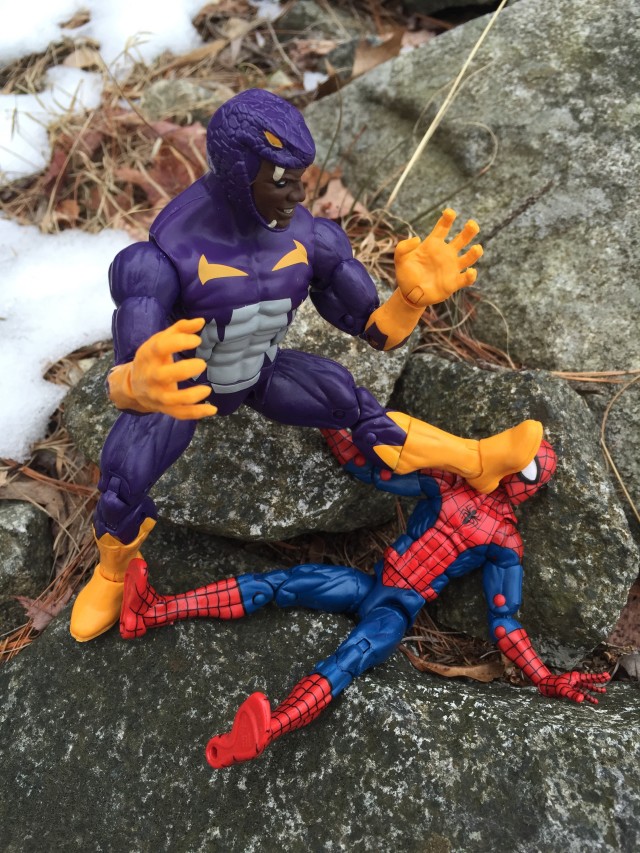 Overall: I almost dropped this ML Cottonmouth figure straight to an 'F' because of how silly it is that he doesn't have an alternate head with extended, open jaw, but cooler heads prevailed. However, without that feature, this figure is really boring. The only new tooling is the head, and the head wasn't what I wanted at all. There's plenty of articulation and the paint apps are nice, but as what will almost certainly be the only 6″ version of this character ever produced, Marvel Legends Cottonmouth ends up being a disappointment.
GRADE: C