When Kotobukiya had official photos to show over the weekend alongside the first public look at the painted prototype of their Bishoujo Spider-Gwen statue at Japan's Winter Wonder Festival 2016, the writing was on the wall that the immensely-anticipated Gwen Stacy staue pre-order was imminent. And as it turns out, we didn't have long to wait for her: the Kotobukiya Spider-Gwen Bishoujo statue is now up for order!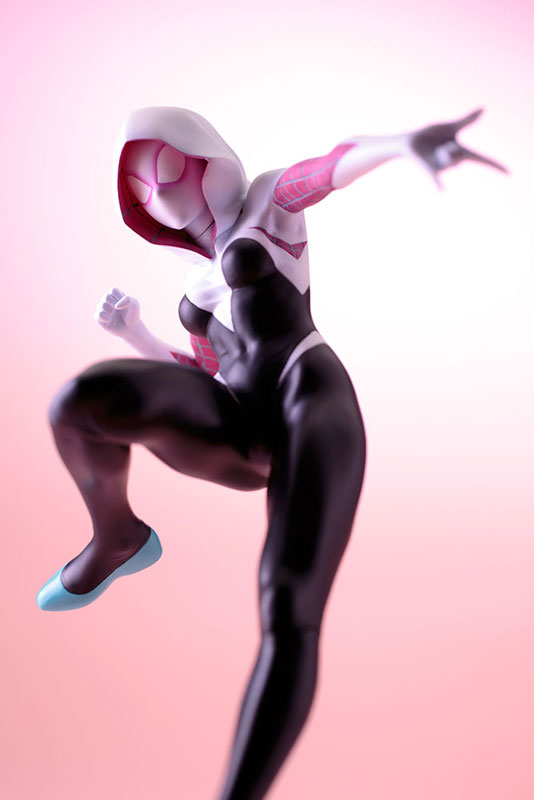 I've been pretty outspoken about my distaste for many of the Marvel Bishoujo statues that Kotobukiya has previously released, and my wife is an even harsher critic about them than I am. The poses on the statues in this line can be downright scandalous at times, and there's more than a few folks who find the statues to be, well… demeaning.
And so, I (obviously) had concerns when one of my favorite new Marvel characters of the past decade was announced for this particular line.
Thankfully, Koto has done right by the beloved, super-powered alternate universe version of Gwen Stacy! And as it turns out, this 1/7th scale Spider-Gwen statue's realistic anatomy and proportions serve as absolute proof to us that the artists at Koto have genuinely seen an actual woman before!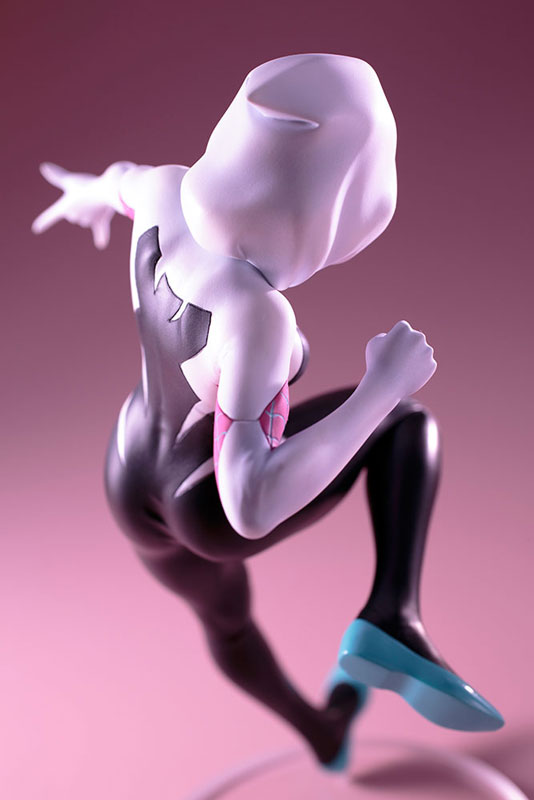 Kotobukiya has authentically recreated Spider-Gwen's costume from the 2014-2016 Marvel comic books, right down to the teal slippers and awesome pink plaid pattern on Gwen's arms and the interior of her hood. I'm just as in love with this costume as I was when it debuted in "Edge of Spider-Verse #2" back in fall 2014!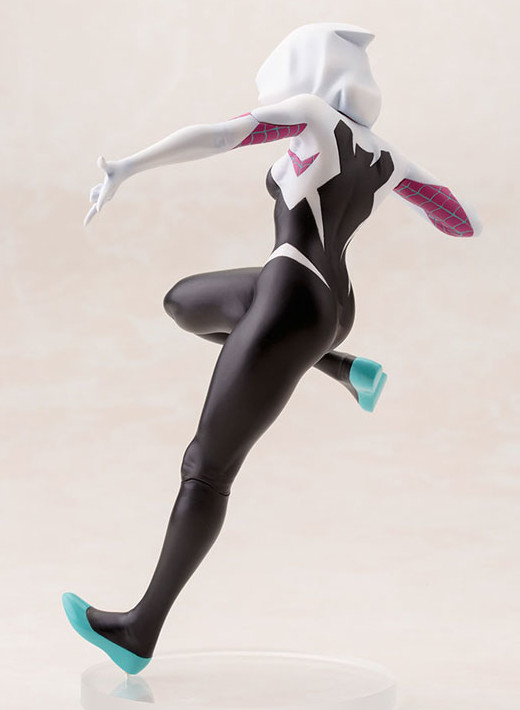 And rather than choosing one of their more, uh, "controversial" poses, Koto has wisely gone with a dynamic, natural-looking action pose–and it looks grand!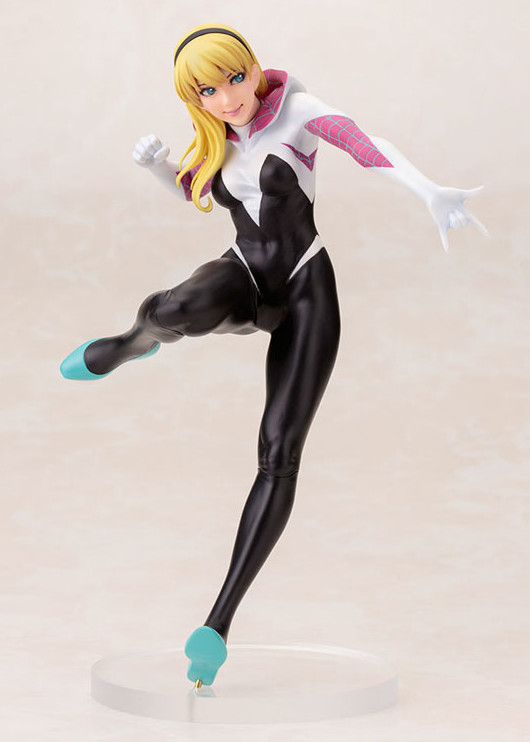 The cherry on top is that this beautiful Kotobukiya Bishoujo Spider-Gwen statue will include both a masked head and also an interchangeable unmasked Gwen Stacy head!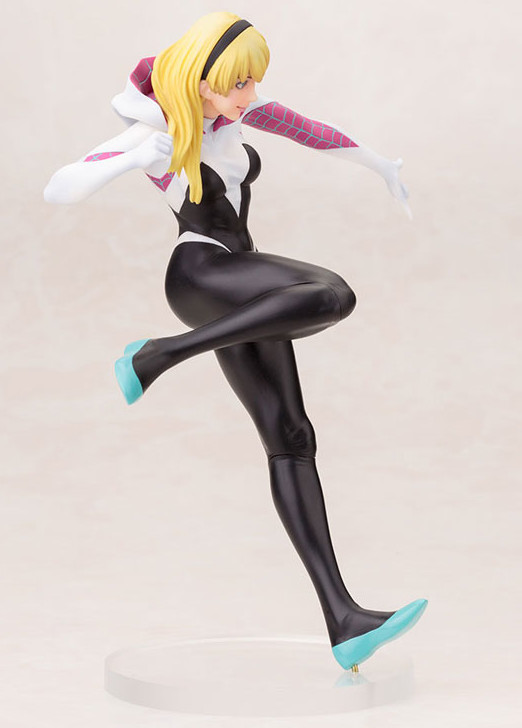 While Gwen looks younger and more anime-like than she does in the comics, the Koto Gwen head sculpt definitely captures a lot of character's charm and vibrant personality, without making her look even the slightest bit trashy. In short–I like it!
As far as pricing goes, the $70-$75 price-point on this statue may sound like quite a bit to non-statue collectors. That said, while the price is slightly more than what we've come to expect from Kotobukiya's Bishoujo line, it's still a very fair price for a 8.7″ figure of the size and quality of this Spider-Gwen Bishoujo–especially when you take into account the alternate portrait and the retracted hood piece.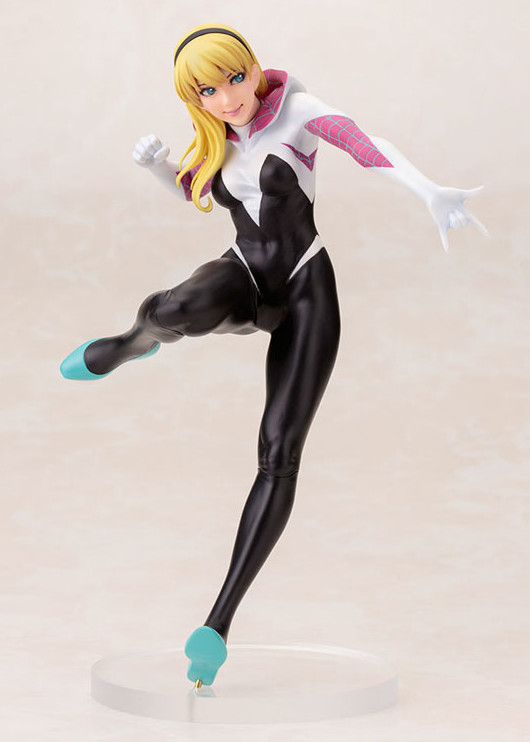 The 1/7 Spider-Gwen Kotobukiya Statue is now available for pre-order, and is scheduled to be released in August 2016. If there's any character at Marvel that I think is hot enough to sell out a Bishoujo statue during pre-orders, it's Spider-Gwen. You might want to reserve one now if you've got your heart set on owning Gwen this fall (and I definitely do).
Now that we've seen the final official photos and the price-point, who's down for the very first Spider-Gwen statue to be released by any company? Are you as satisfied with the design for this piece as I am, or did you have a different look for Gwen Stacy in mind?