With his own FOX movie coming next year, an all-new comic book series this fall and figures and statues coming down the pike from almost every merchandisers, everything's coming up Deadpool! But one thing I don't remember anyone asking for is a statue of a sexy female Deadpool. However, maybe Kotobukiya knows what we want even more than we do ourselves, because the Lady Deadpool Bishoujo statue is now up for order!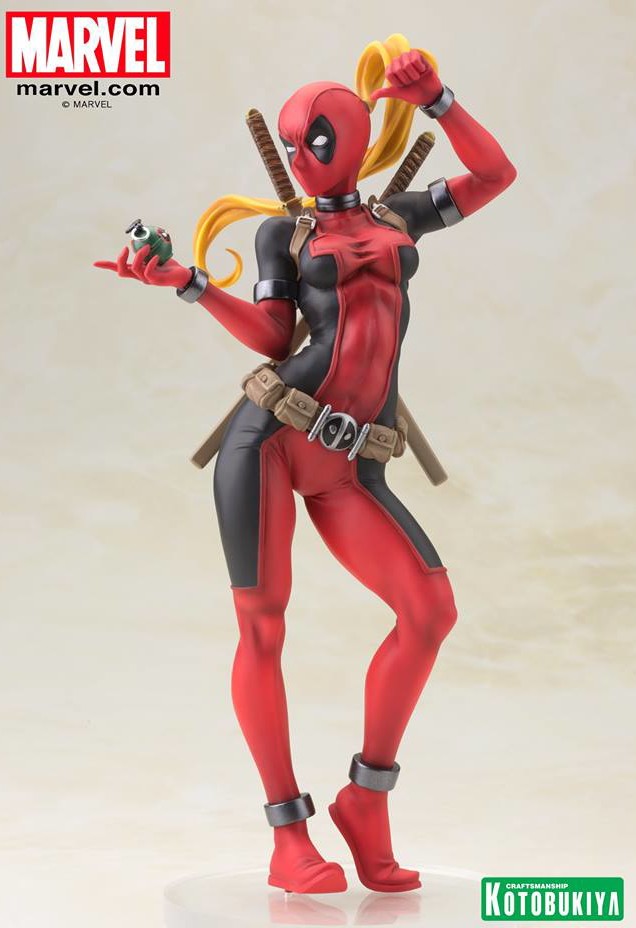 Ah, Lady Deadpool. She may not have appeared in very many comic books–or did much of anything of importance before dying–but she's gotten her fair share of merch nonetheless!
First there was the limited Gentle Giant Lady Deadpool mini-bust, followed by the Lady Deadpool Minimates figure and the Hasbro Lady Deadpool Marvel Universe 4″ figure! And now: the first Lady Deadpool statue by Kotobukiya!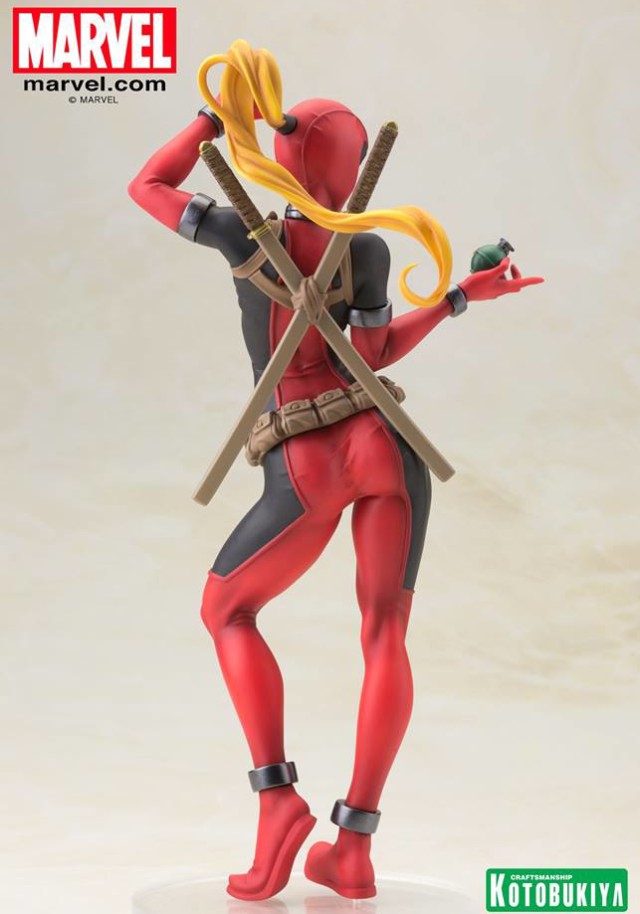 With the vast majority of marketable Marvel females already captured in Bishoujo form and only a handful of viable possibilities left (c'mon, Squirrel Girl and Kamala Khan Ms. Marvel!), I was only a smidgen surprised when Koto announced the 1/7 Bishoujo Lady Deadpool earlier this year.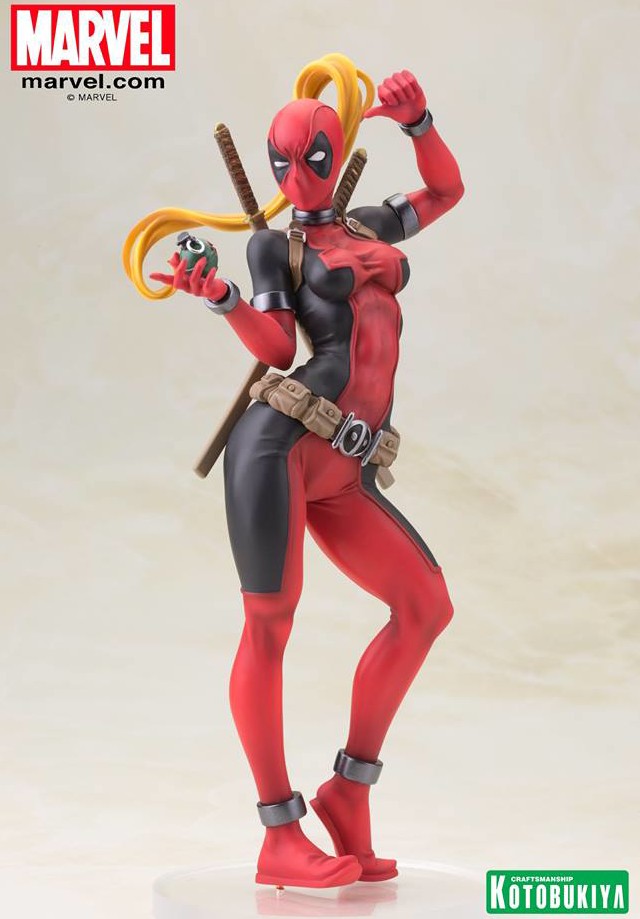 While Wanda Wilson (the Deadpool of Earth-3010–no, really) isn't exactly a character I was dying to see in statue form, I have to admit that she did come out look pretty spiffy. The grenade-holding, self-pointing pose on Lady Deadpool is loaded with personality, and I love the dynamic nature of her flowing ponytail.
Her torso seems rather oddly proportioned and a bit too long, but Wanda's colors really pop and the sculpt is full of life and energy. Lady Deadpool has a really great look–it's a shame she died after so few appearances!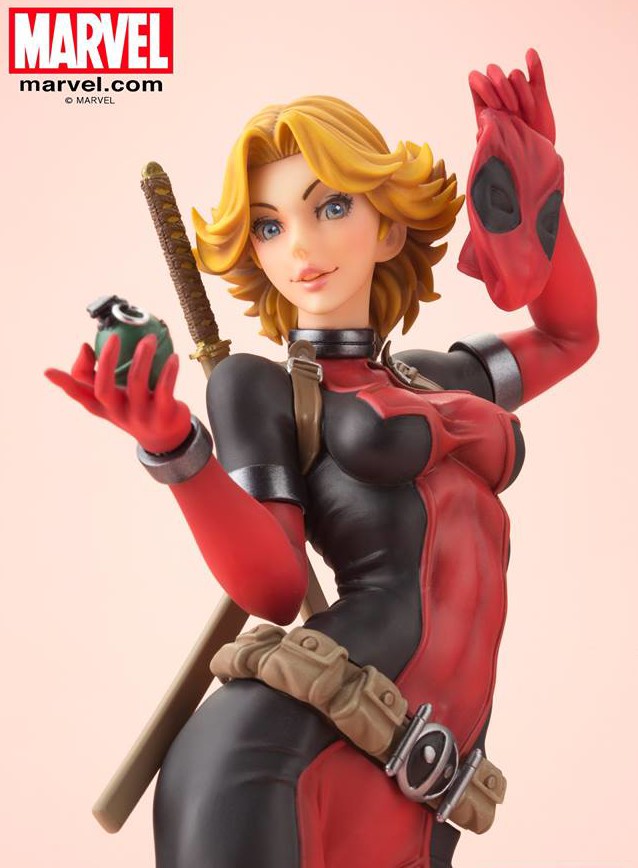 In a true rarity for the Kotobukiya Marvel Bishoujo statue line, the 9.5″ Lady Deadpool statue will include an extra interchangeable head! Who woulda thunk that Deadpool would make such an attractive woman?! It's not the mangled face Deadpool Corps fans may be expecting, mind you (meaning it's not canonical), but there's no argument that this is a better-looking Wanda than we see in the comics.
I'm not sure exactly how Wanda Wilson's hair magically grows between when she has her mask on and off, but both heads look terrific on this statue nonetheless.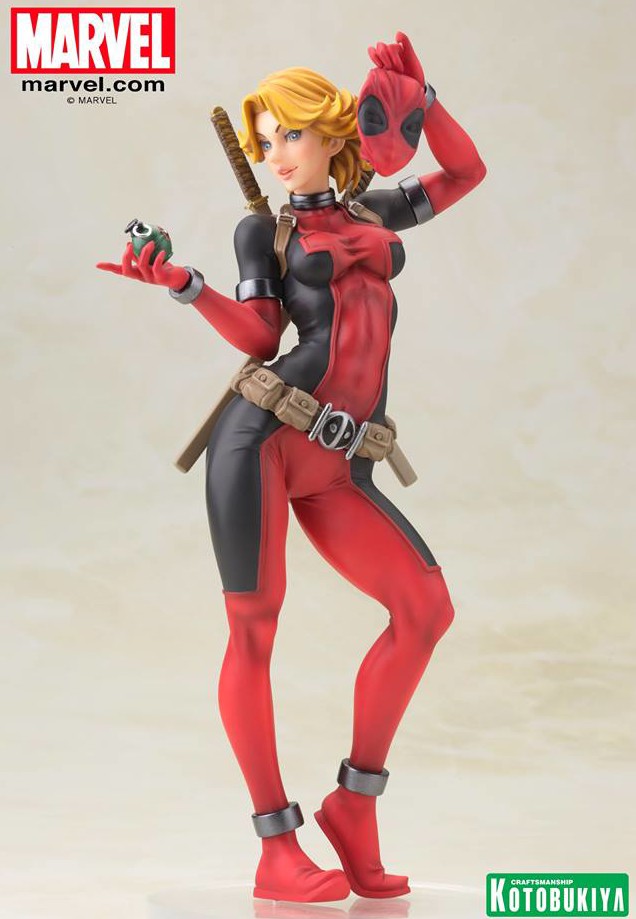 The Bishoujo Lady Deadpool Kotobukiya statue is now available for pre-order, and is scheduled for release in February/March 2016. That's actually a fairly short turnaround time for a Kotobukiya statue, so Lady Deadpool fans won't have to wait too long for this piece!
Are you planning to pick up the female Deadpool statue from Kotobukiya, Marvel collectors? Is Wanda Wilson a character you'd like to see get more representation, or are you satisfied with the merchandise of her that's now available?