A couple days ago, Kotobukiya posted a small piece of a drawing of what appeared to be Bishoujo Lady Deadpool statue concept art. I figured that that was the teaser that would lead up to Kotobukiya debuting the full concept art for Lady Deadpool at the New York Toy Fair 2015 next weekend. But, surprise! Kotobukiya had other ideas, as they premiered the full Kotobukiya Lady Deadpool Bishoujo statue concept drawing in Japan today!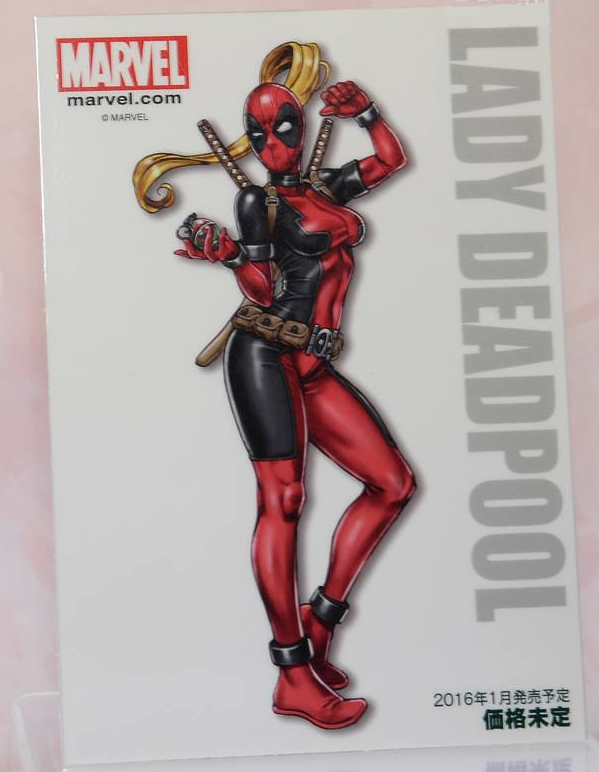 At this point, Kotobukiya has hit on the vast majority of the prominent women in the Marvel Universe (something sounds wrong about that), so they're having to get a bit more creative to keep the Marvel Bishoujo statues line going. And what better way to cash in on the fanboy phenomenon that is Deadpool than with the
female
version of the character–Lady Deadpool?
And at this weekend's Wonder Festival 2015 Winter event in Chiba, Japan, Kotobukiya was not only in attendance, but they gave con-goers the world premiere first look at the Kotobukiya Bishoujo Lady Deadpool statue!
Sometimes (okay, a ton of times) I complain about the Bishoujo line, but I think the design for the Kotobukiya Lady Deadpool Bishoujo is very nice. Lady Deadpool has a strong and deadly vibe to her, without having to look, well… slutty.
But we'll have to wait almost a whole other year to get our hands on Lady Deadpool (that also didn't sound quite right), as she's not scheduled for release until January 2016.
I highly doubt that Kotobukiya will have any kind of sculpted prototype at the 2015 New York Toy Fair next week, but I'll post an update here and to the Facebook Page with whatever they do end up showing. And be sure to 'Like' Marvel Toy News on Facebook if you want to have news and photos from the 2015 Toy Fair beamed right to your Facebook Newsfeed!
What do you think of Koto's selection of Lady Deadpool for the next Bishoujo statue, Marvel collectors? Are you up for a Bishoujo Lady Deadpool, or is there some classic character you'd have preferred get this slot instead?