When it comes to the Kotobukiya line of Bishoujo statues, I'm one of the harshest critics out there. As much as I love most of Kotobukiya's offerings, I often find their Bishoujo statues (such as Starfire and Spider-Woman) to be posed both demeaning and objectifying. There's a first time for everything, though, and tonight I'll be raving about the Kotobukiya Jubilee Bishoujo statue. Bishoujo Jubilee is available now for 20% off and free shipping online–Should you buy her…? Does a mall babe eat chili fries?
The Right:
While I've been a New Mutants fan all my life, I didn't fall in
love
with the actual X-Men until the Jim Lee era and the 90's X-Men cartoon. And that means I have a special place in my heart for Jubilation Lee herself, that era's Wolverine sidekick!
For whatever reason, collectibles companies have always avoided Jubilee like the plague (she's even the only Jim Lee X-Men team member that Bowen Designs never captured in statue form)–but Jubilee's finally beginning to get her due in the past few years. And now–the first-ever high-end Jubilee statue has arrived!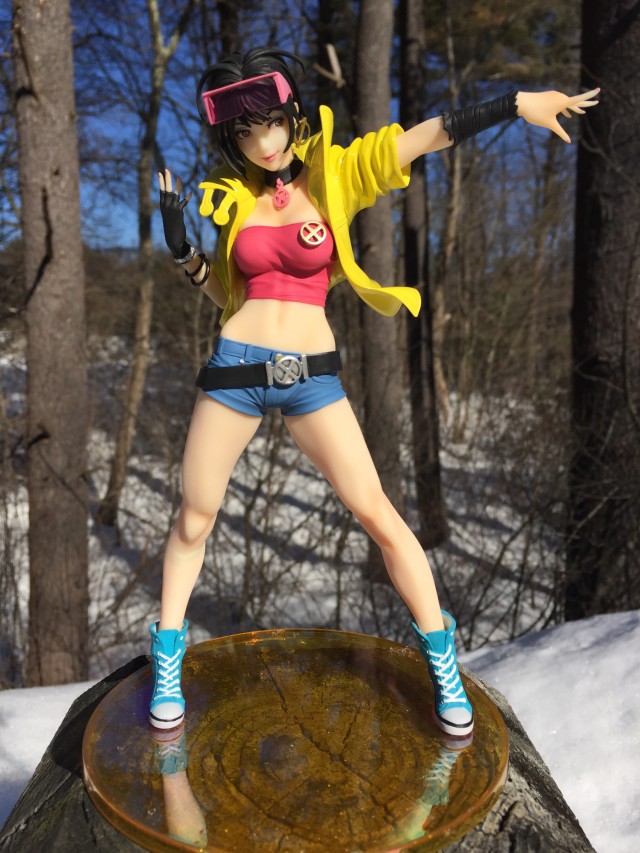 While this is a more modernized interpretation of Jubilee, all of the most important features of classic Jubilee are present in some form or another. And quite simply put, this Kotobukiya Jubilee statue is a thing of beauty!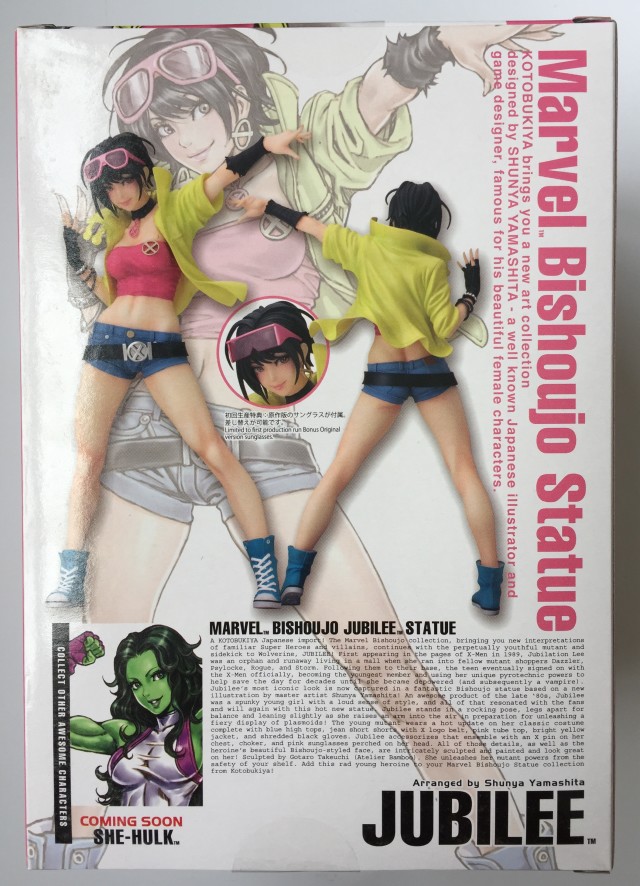 Just like in my teenage days, Jubilee is still sporting a yellow jacket, a pink top and Jean shorts. But, well–all of these clothing items have gotten a bit… shorter. Even so, the clothing feels totally natural and appropriate for Jubilee's attitude, so the Jubilee Bishoujo doesn't feel at all skanky to me in the way that so many Bishoujo statues do.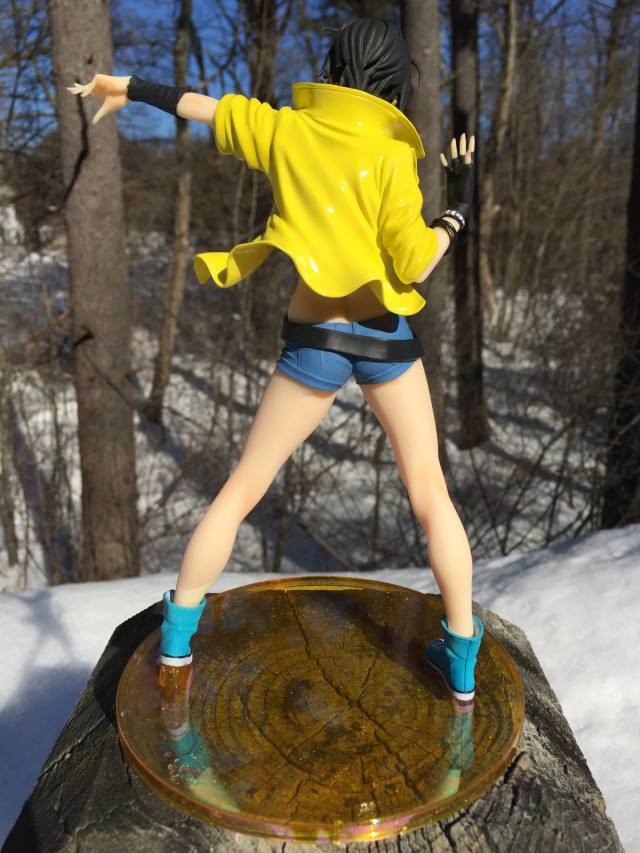 Jubilee's yellow jacket is particularly nice, as the glossy paint Koto used only on the jacket makes it look like it's really made out of leather (or plastic)! When you see the statue in person, the jacket is incredibly impressive.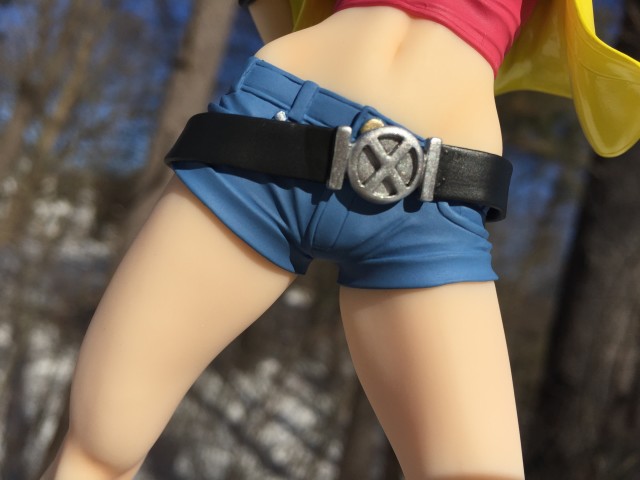 Meanwhile, the sculpting details for Jubilee are plentiful and plenty awesome. From sculpted shoe strings to large hoop earrings to her spiked bracelet and 'X' belt buckle, the sheer amount of detailing on this statue is off the charts.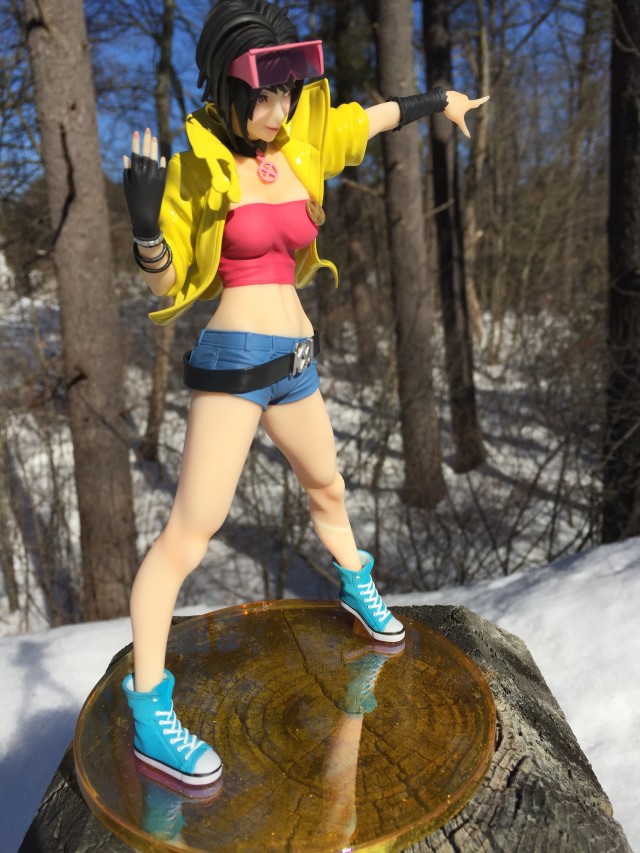 And thankfully, the paint apps on this Jubilee Kotobukiya statue are every bit as good as the sculpting. Tiny pink nails, individually painted shoelaces, emblems on her shorts–every millimeter of Jubilee has been painted expertly. From a paint perspective, this statue is absolutely perfect.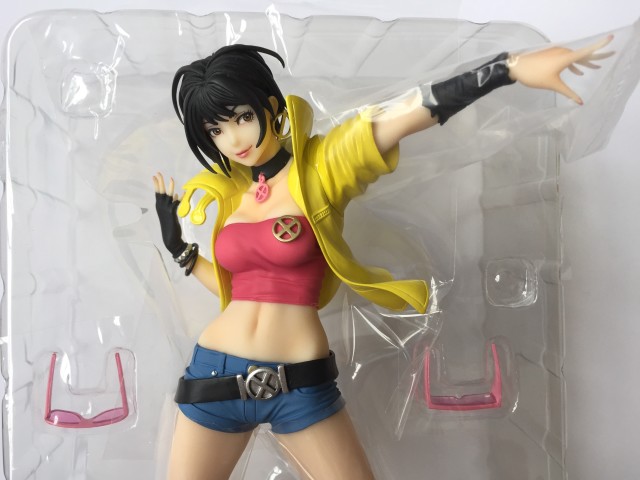 As a special bonus, all of the Jubilee statues in this first production run (which is every one currently available) include an extra accessory: the visor-like glasses that Jubilee wore in the 90's X-Men cartoon and the Jim Lee X-Men comic books! These are an essential inclusion for most Jubilee fans, and I commend Kotobukiya for including the pink visor sunglasses.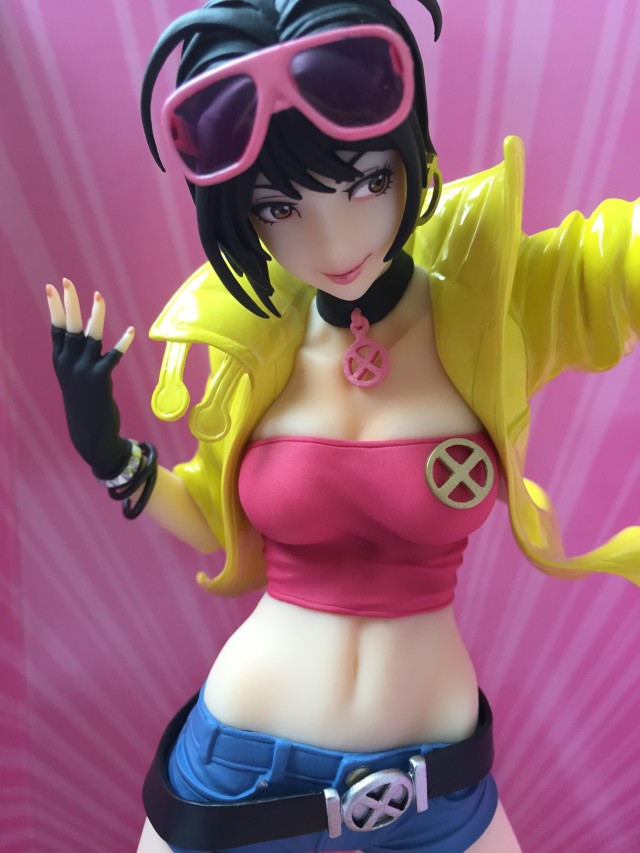 Jubilee also includes a pair of regular, more "normal" looking sunglasses (at least as normal as a pair of pink sunglasses with pink lens and frame can look), although I literally only put the plain glasses onto Jubilee once to take a photo, and then immediately took them off and put them back in the box (where they'll stay forever more). The 90's glasses are just way too iconic to be replaced, in my opinion.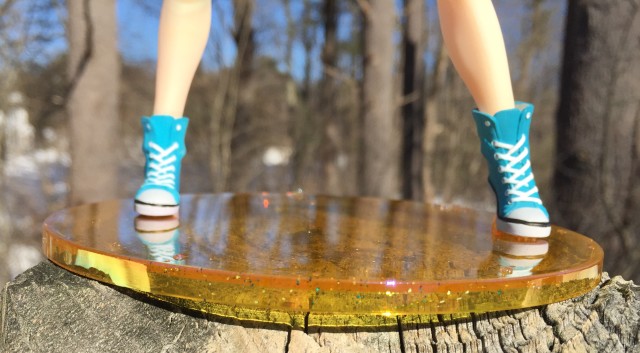 Like all Bishoujo statues, Jubilee comes with a base to hold her up. I was initially dismayed to see that Jubilee's figure stand was clear yellow instead of pink, as I felt like pink (for fireworks) would have made sense.
But after spending some time gazing at this statue, I feel like pink would have been overwhelming–whereas the translucent yellow creates the illusion of more yellow being on the statue, compensating for Jubilee's shorter jacket than she wore in the 1990's.
The Wrong:
This is unusual for me, but I honestly don't have a single complaint about the actual Bishoujo Jubilee Kotobukiya statue itself. It might have been nice if we got some sort of fireworks effects piece with the statue, but as Jubilee hasn't has her mutant powers in many years now, I can live without.
Really, the only thing I don't like about this statue is the high price-point. The $69.99 MSRP seems a mite high for a PVC statue as small as Jubilee. The $55 shipped price-tag that Amazon has the Kotobukiya Jubilee on sale for as of writing is a much better value than the full price that I paid (although I can't really say I regret paying full price, as I love this statue to death).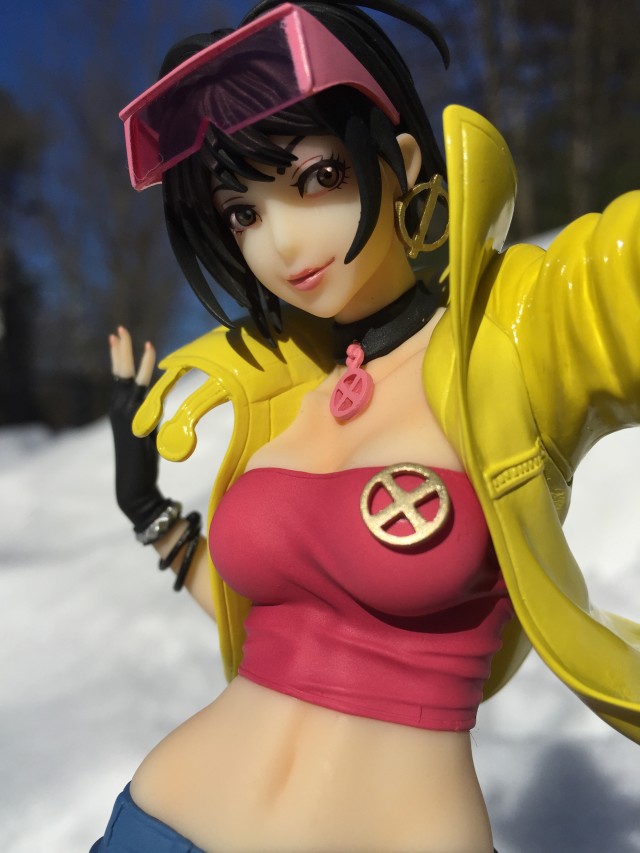 Overall: With top-notch sculpting, exemplary paint applications, a complementary base and an excellent pose, this Kotobukiya Jubilee Bishoujo statue is absolutely excellent. The $70 retail price is a bit hard to swallow, but if you're a Jubilee fan and can get her for a discount, this Jubilation Lee statue is an absolute must-have. Bishoujo style or no, this just may be my favorite Marvel Kotobukiya statue ever.
GRADE: A