Over the weekend, Kotobukiya revealed the full concept artwork for the upcoming Lady Deadpool Bishoujo statue. I figured that Koto might at least be saving the official photos of the final Bishoujo Wasp prototype until after the New York Toy Fair 2015 (so that they could debut the actual Wasp statue at the event), but clearly that was not the plan: the Kotobukiya Wasp Bishoujo statue is now fully-revealed and up for order!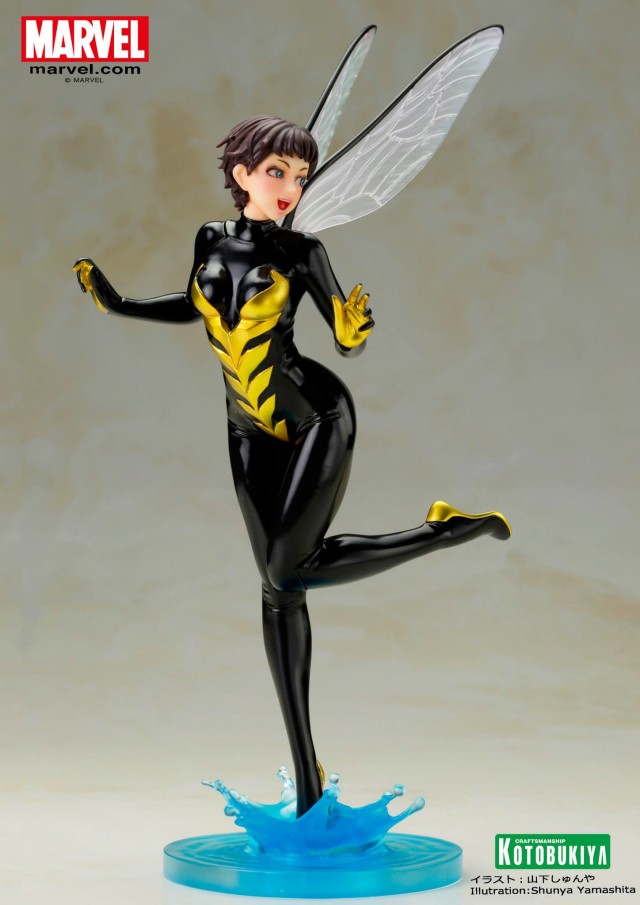 2014-2015 have been some good years for collectors who are fans of Janet Van Dyne. First, Janet finally got her due when the 4″ Marvel Infinite Series Wasp figure shipped out from Hasbro last winter–with rumors of a new 6″ Marvel Legends Wasp figure running rampant for this year.
And now, it looks like the long-awaited Wasp Bishoujo statue is on track to be released later on in 2015!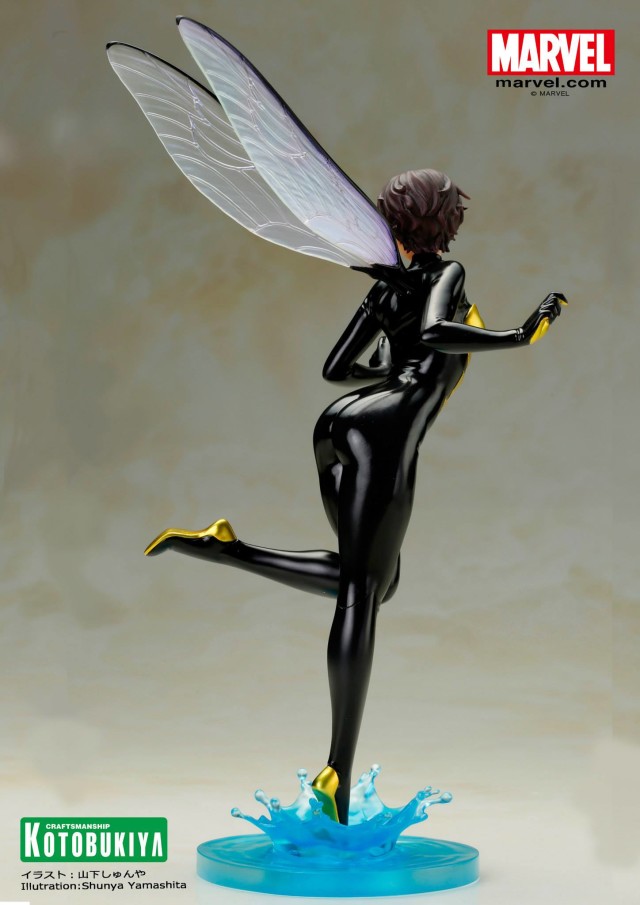 We first saw the teaser art for the Wasp Kotobukiya statue way back in summer 2014, so it's been quite a journey from teaser art to prototype stage for this particular Bishoujo statue.
While not her original costume–and certainly just one of literally dozens upon dozens of costumes she's worn over the years–Koto opted to portray the Wasp in her black costume with yellow/gold as a secondary color. This is the costume that most companies have chosen for merchandising Wasp in, making it virtually as iconic to fans as her original costume is.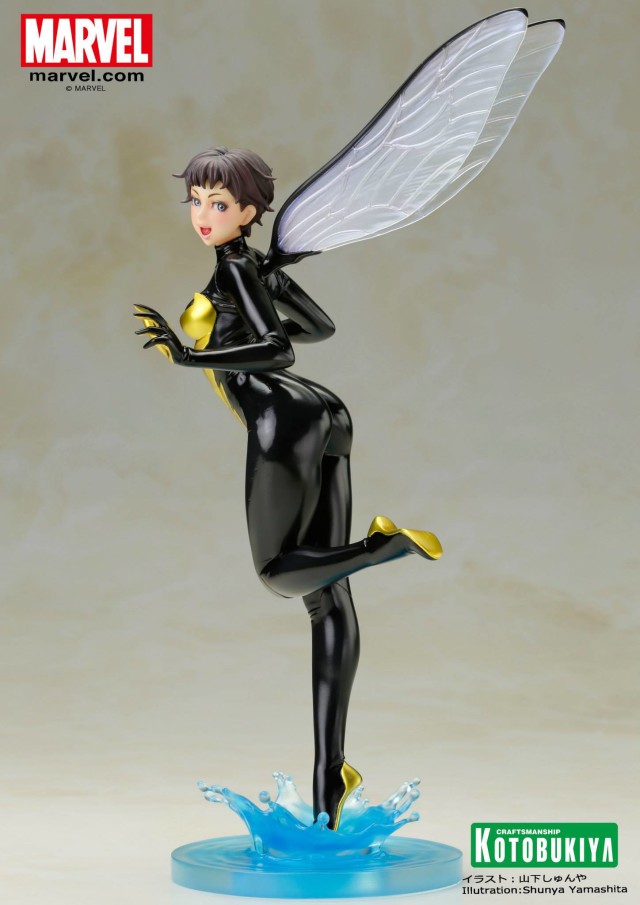 And while it doesn't always work out as such, this time out, Kotobukiya has done a terrific job of capturing the illustration that this Wasp sculpture is based off of in physical form. I gripe a lot about many of the Marvel Bishoujo statues released (literally more than any other person, most likely), but I think the Bishoujo Wasp looks more adorable than she does slutty (thankfully).
It's a bit funny, really. With her cute face and fanciful translucent wings, the Bishoujo Wasp looks rather fairy-like, just like a Disney fairy (ie Tinkerbell)–and now Wasp really is a Disney property (although obviously not a real fairy)!
Unfortunately, I'm not much of a fan of the face on this particular piece. Janet's mouth looks to be a bit too big to me, and coupled with the paint shading, Wasp's face ends up looking quite bizarre.
The Kotobukiya Wasp Bishoujo statue is now up for order, with an estimated arrival date in Q3 2015. I'll post an update here on the site and also to the Marvel Toy News Facebook Page once we have a more specific release date for this piece, so stay tuned if you're a fan of the sole founding female Avenger.
What do you think of the finished Wasp Kotobukiya Bishoujo statue, Marvel collectors? Will this pretty-girl Wasp statue be joining your harem of Marvel girls later this year?