With Bowen Designs still on hiatus for an indeterminable amount of time (which I'm starting to fear may be forever), the 1/6th scale Marvel statues world is definitely a boring place to be. But all hope is not lost, as Kotobukiya is still fighting the good fight for sixth scale statue collectors. And in 2016, T'Challa will be on the prowl–the 2016 Kotobukiya Black Panther Fine Arts Statue is now up for order!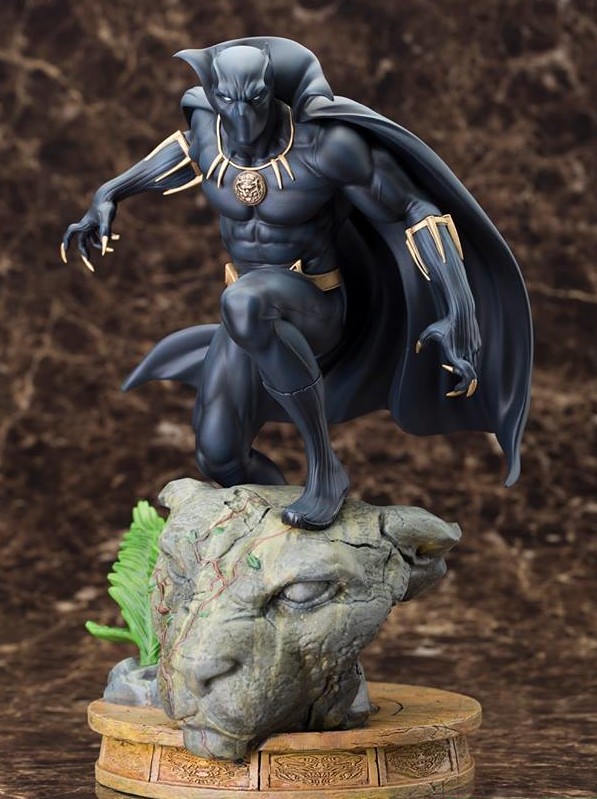 Although the Black Panther is one of the most recognizable African superheroes in the Marvel universe and has had some legendary comic book runs over the years, his TV series and comic series always meet the same fate: network shenanigans or low sales, followed by premature cancellation.
But next year, T'Challa will be getting his biggest push ever when he becomes a household name by debuting in the Marvel Cinematic Universe in the "Captain America: Civil War" movie. And to celebrate, Kotobukiya is making their first Black Panther statue ever!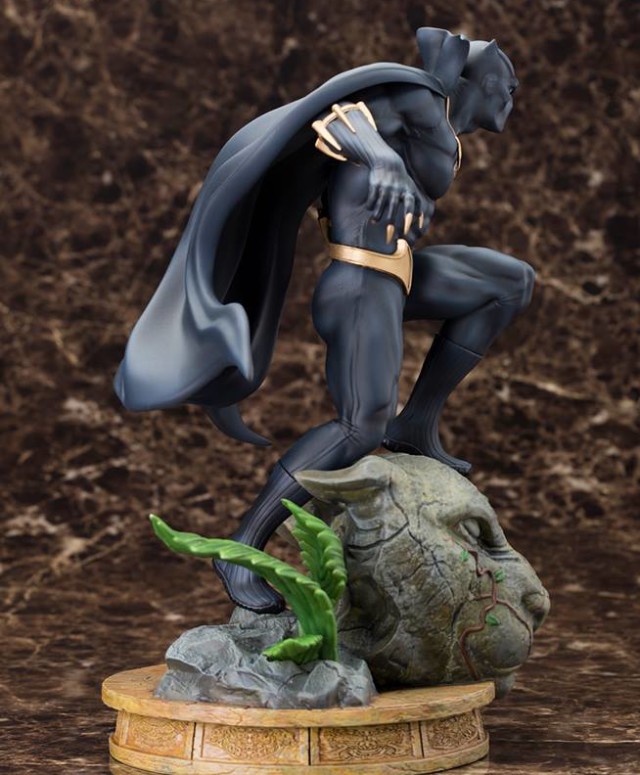 The Black Panther Kotobukiya Fine Arts Statue made its debut at San Diego Comic-Con 2015 in July, where it made the jaws of many attendees drop with its majesty and gorgeous detail.
While pure classic Black Panther fans may be scandalized, Koto (wisely, I think) went with the more modern "Marvel Knights" Black Panther costume. This is my favorite costume for the Black Panther by far, and I think the cape and necklace really go a long way in making T'Challa look deadly, yet regal.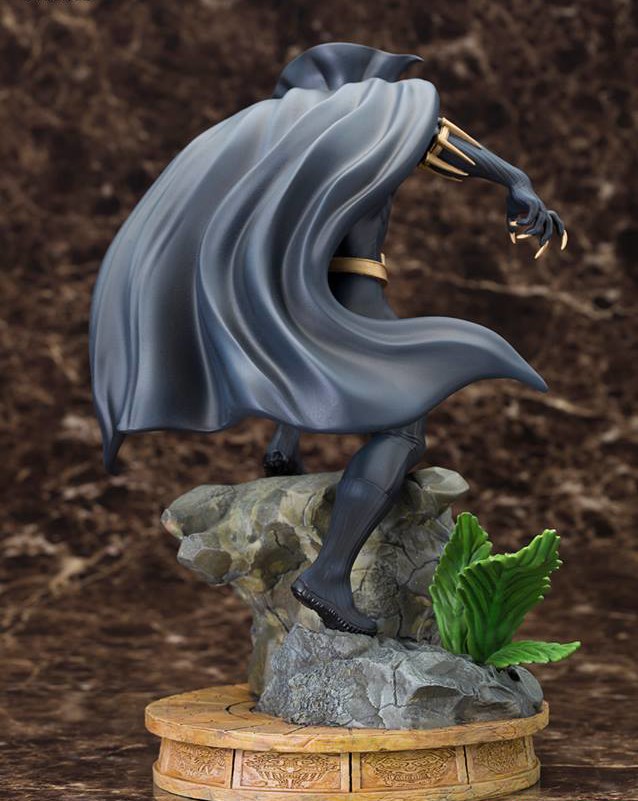 Once again, Kotobukiya does not let us down with a lazy or boring base. Instead, T'Challa stands atop an immensely-detailed stone panther statue, which looks downright sick it's so well-sculpted. I love that stone texture and the vines growing on the panther head!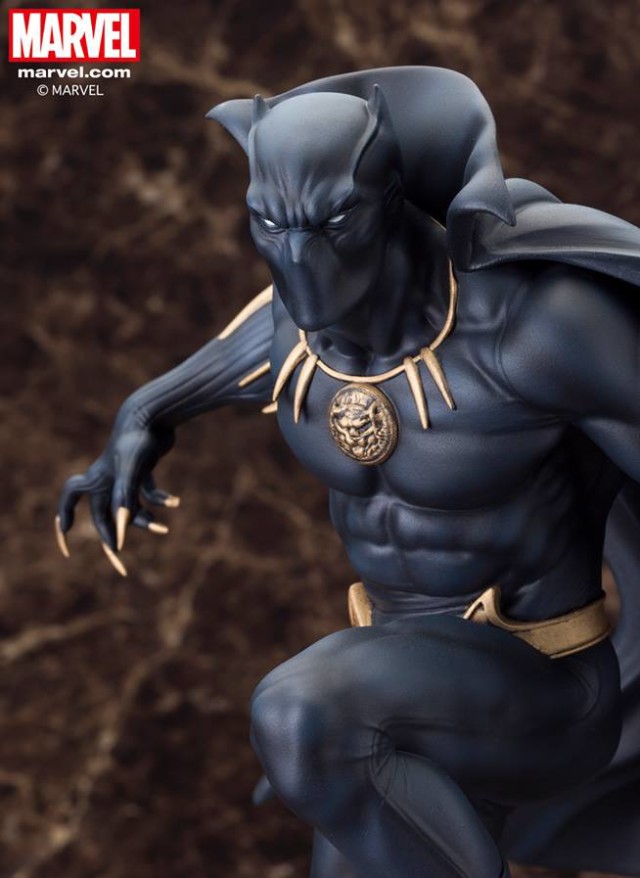 Considering that Sideshow is now charging around $500 for 18″ statues, I would say that this Black Panther is a
steal
at the low suggested retail price of $239.99. Given the rising costs of statues from virtually every other manufacturer, I wonder how long Koto will be able to keep pricing their Marvel statues so low?
Having had to wait many months–and sometimes many years–for Kotobukiya to put statues up for sale after unveiling them at events–I suspected it'd be quite a while before the Koto Black Panther Fine Arts statue went up for order. But I was mistaken…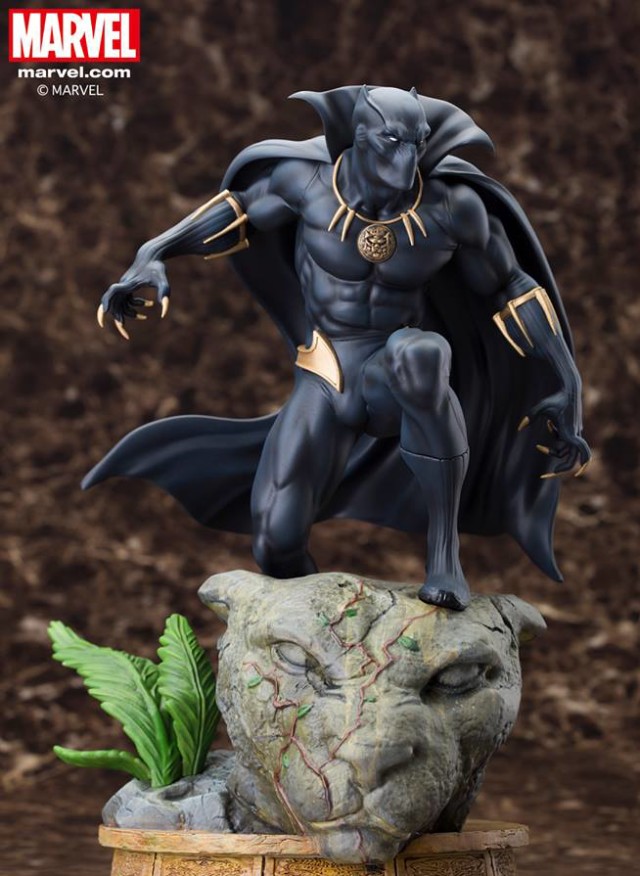 The 1:6 Kotobukiya Black Panther statue is now available for order, and is scheduled to be released in April 2016. Coincidentally, that's just one month before Civil War hits theaters! Coincidence…? I think not. No doubt about it–this statue is gonna be hot once Black Panther-mania begins next summer! Also, pre-order deal alert: the MSRP for this statue is $240, but collectors who pre-order early can snag this sculpture for $219.99 from BBTS.
What do you think of the Koto Black Panther Fine Arts Statue, Avengers fans? Will you be adding this sure-to-be future grail to your collections, or are you waiting to see how much of an impact T'Challa has on the Marvel Cinematic Universe before deciding if you want this piece in your collection?