If she was a real woman, I would marry She-Hulk. Aside from being a brilliant lawyer and a virtuous superhero, She-Hulk is also quite the looker. So when I heard Kotobukiya was bringing the painted Bishoujo She-Hulk statue prototype to New York Comic 2014 to be shown off for the first time, I knew what my first stop at the show (after attempting to pick up my Funko exclusives) was going to be…
UPDATE 10/21: The Kotobukiya She-Hulk Bishoujo statue is now up for order!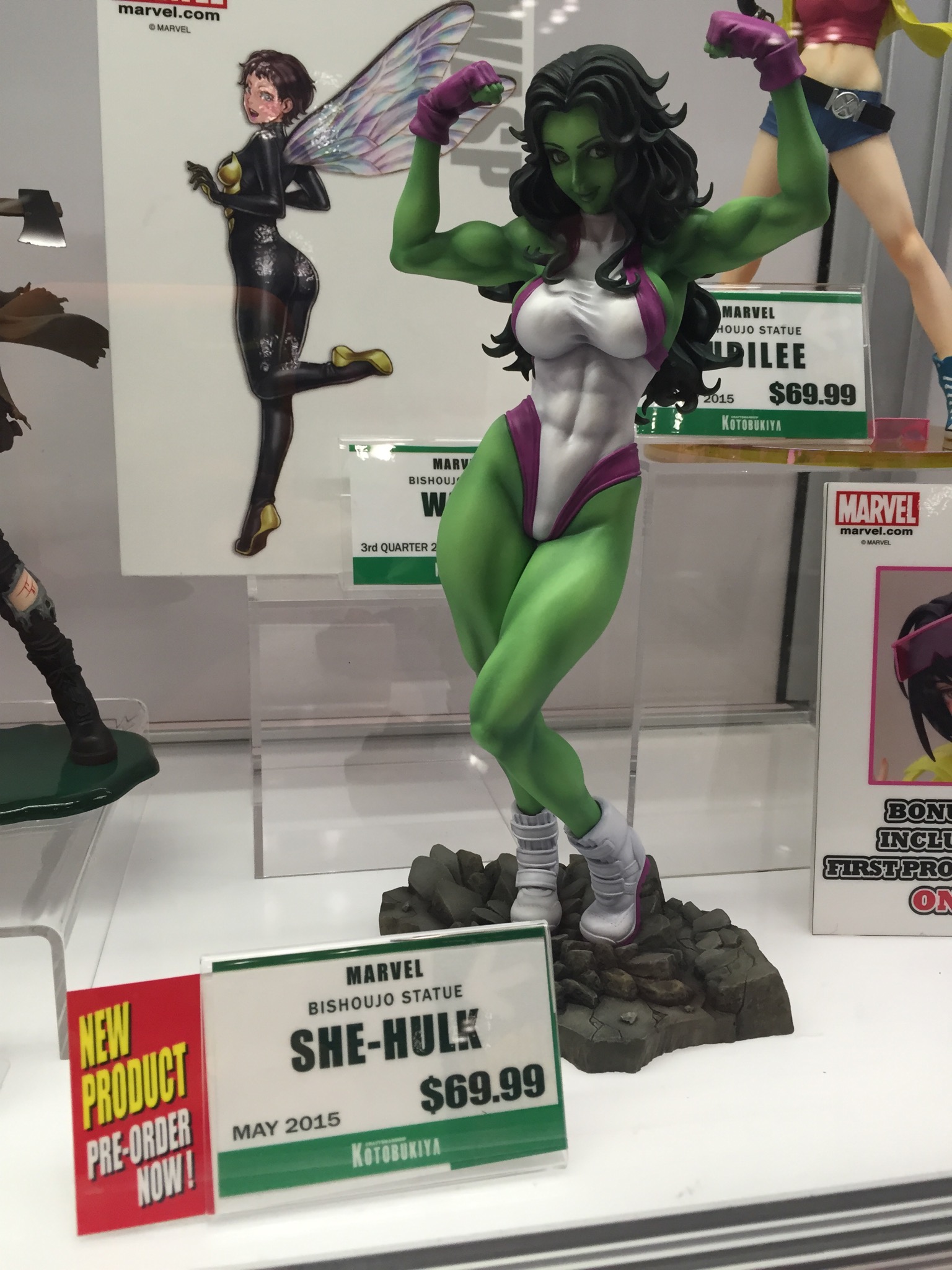 Anybody who knows me knows that I am a
very
harsh critic of the Kotobukiya Bishoujo statues line. That said, they've really hit some home runs lately with their Psylocke and Jubilee Bishoujo statues, and I've been waiting anxiously to see Shulkie since Kotobukiya announced her around San Diego Comic Con 2014.
Well, I finally got to see the final painted Kotobukiya Bishoujo She-Hulk statue prototype today at New York Comic Con 2014–being shown off publicly for the first time ever–and for the most part, I am very, very pleased.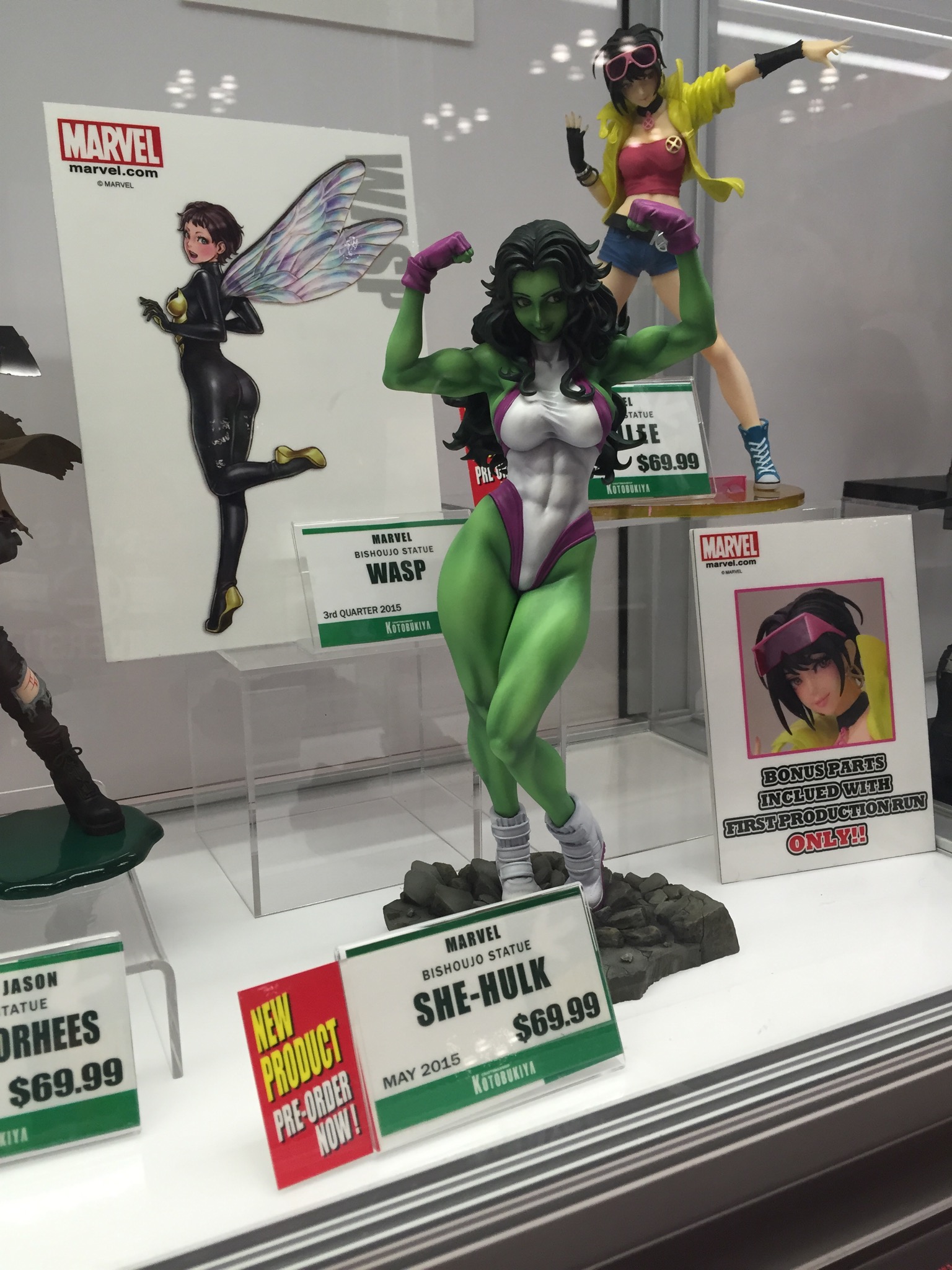 Now, let me be frank: I still feel like this She-Hulk statue should be saying "tee hee, is this how you flex? *sexy wink*". Even so, I don't feel like a pervert just looking at this statue, which is a big win for the Kotobukiya Bishoujo line in and of itself.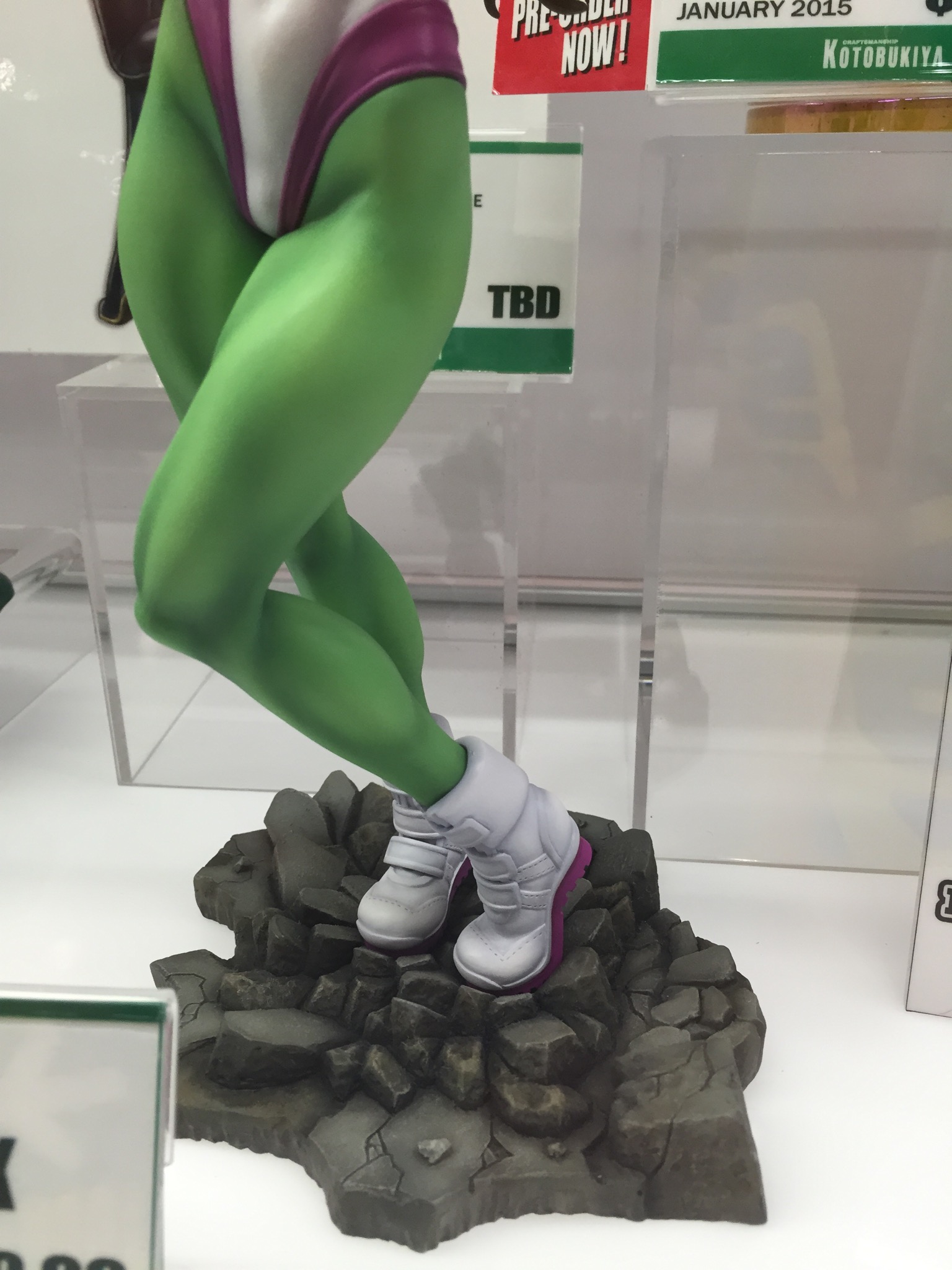 This Bishoujo She-Hulk Kotobukiya statue looks powerful and confident without being awkwardly posed like poor Spider-Woman, and Koto has done a terrific job getting She-Hulk's skin and hair just the right shades of green.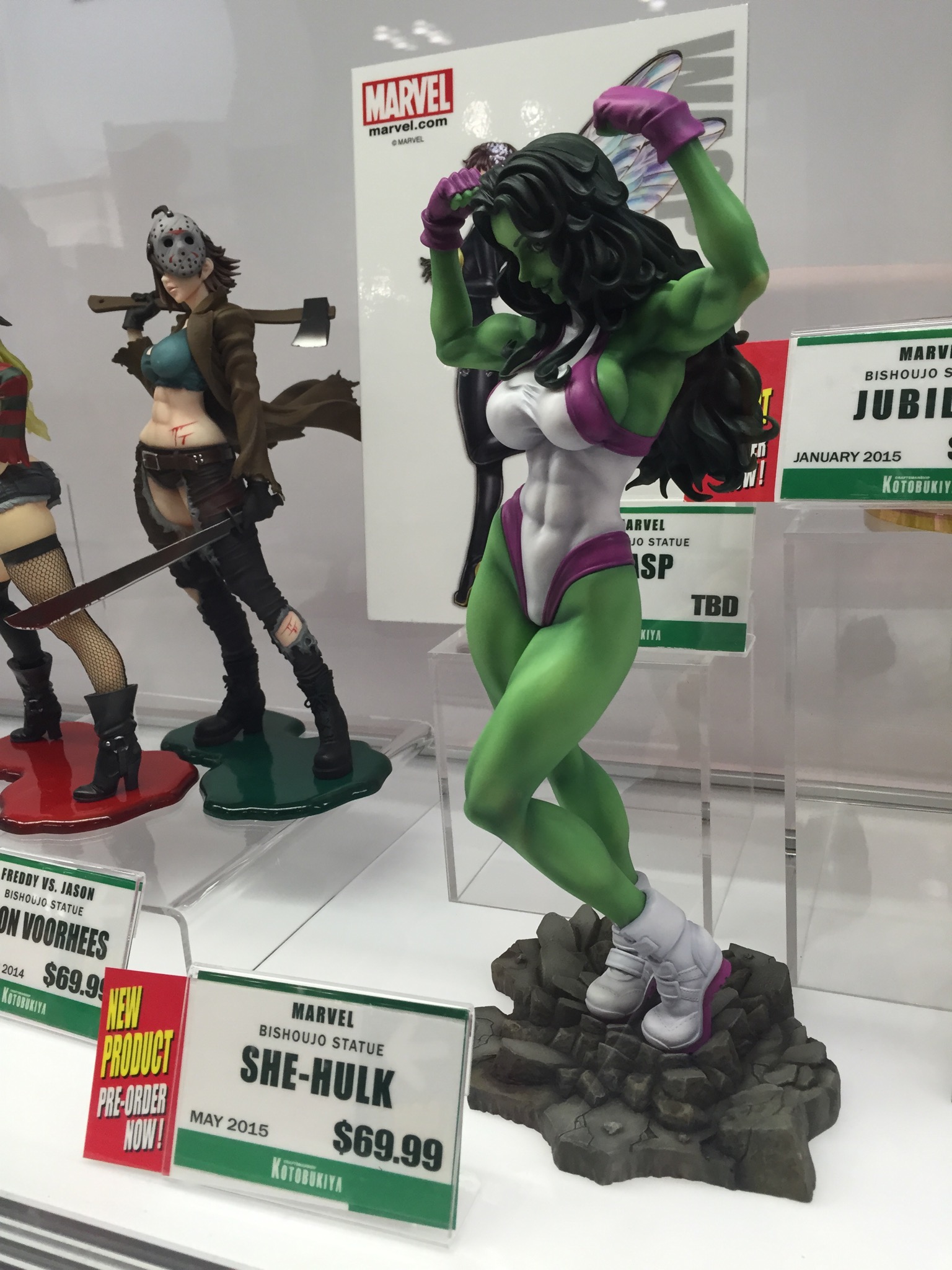 I absolutely don't buy every Kotobukiya Marvel Bishoujo statue, but their She-Hulk is a winner in my eyes, and she was a must-buy for me the day that pre-orders opened.
The Kotobukiya Bishoujo She-Hulk statue is now available for order, and is expected to ship in May 2015 for a retail price of $69.99 (or a discounted $64.99 if you order early from some retailers).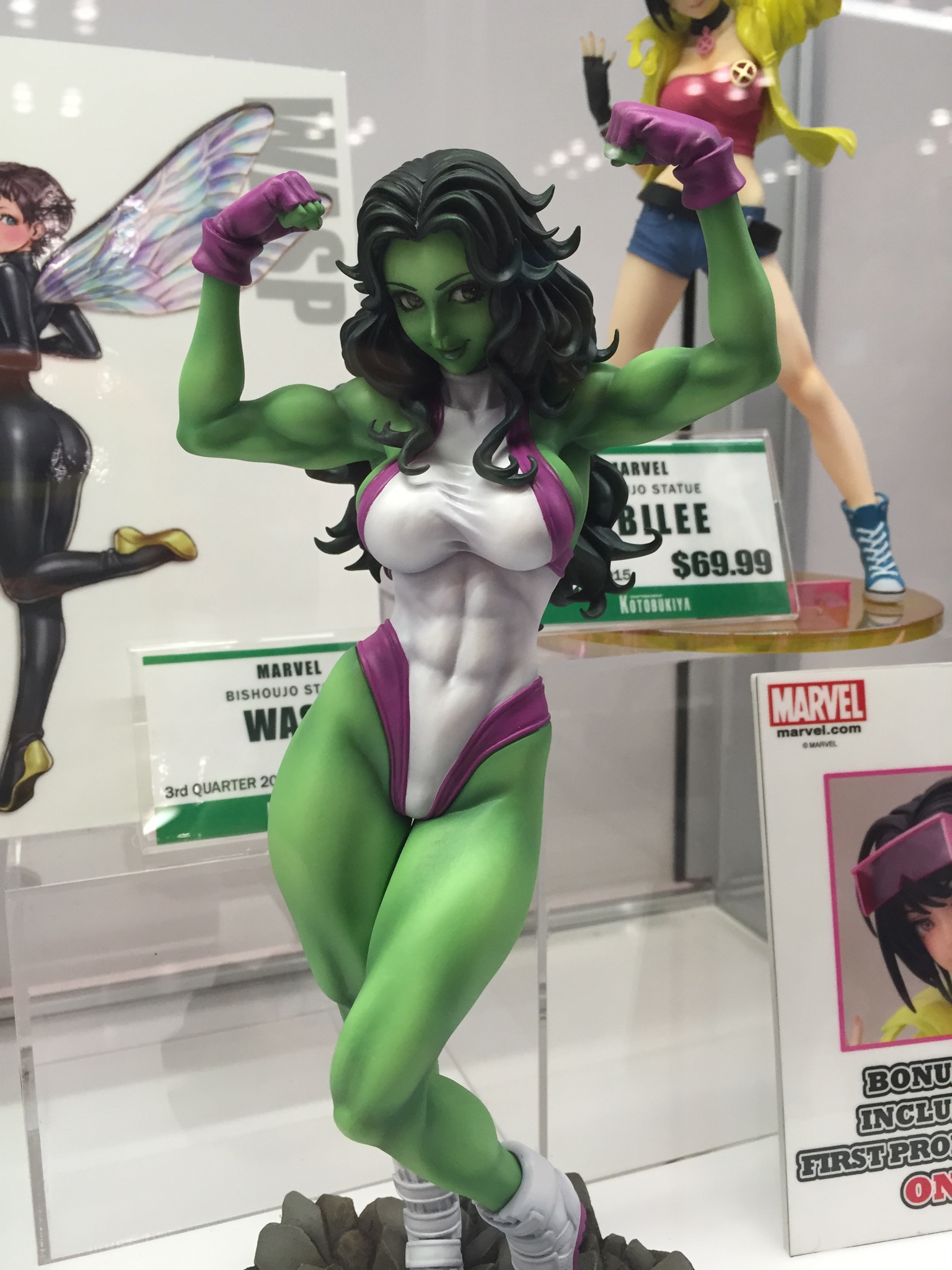 How do you like Kotobukiya's She-Hulk, Marvel collectors? Is Marvel's most successful non-blind lawyer going to be joining your shelves in 2015?