There aren't a whole lot of Marvel action figures that hit stores every year that I hadn't known all about for weeks (or months) beforehand, so when I walk into a store and see something I had no idea even existed, it's sort of like Christmas! And while I was out today looking for a, uh… Jedi Holocron (don't laugh), Christmas arrived early: a Toys R Us Exclusive Ultimate Spider-Man Minimates have now been released!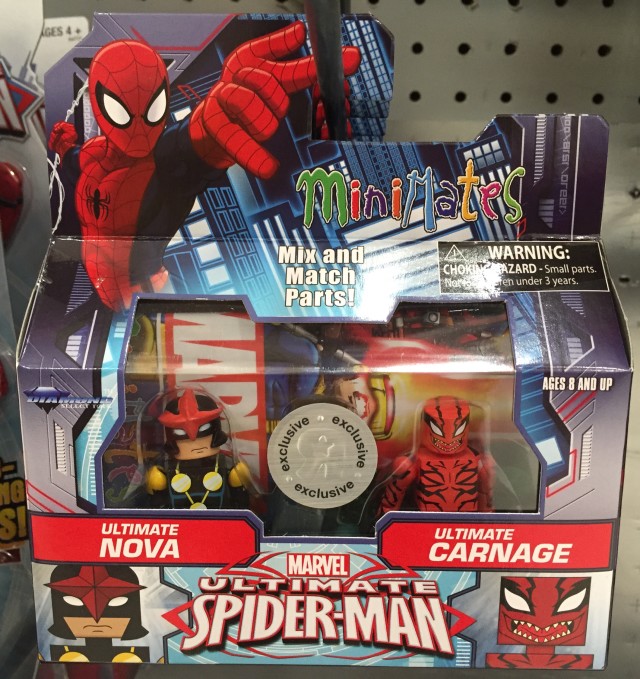 While walking past the sadly-shrunken aisle of Marvel toys at Toys R Us today, I spotted a weird translucent Spider-Man out of the corner of my eye. And sure enough–brand new Minimates figures were front-and-center on the pegs!
Although the Walgreens exclusive Marvel Animated Minimates Series has gotten an awful lot of hype, there's apparently another sub-series of Marvel Minimates hitting stores this fall that I've heard literally nothing about: Exclusive Toys R Us Ultimate Spider-Man Minimates two-packs!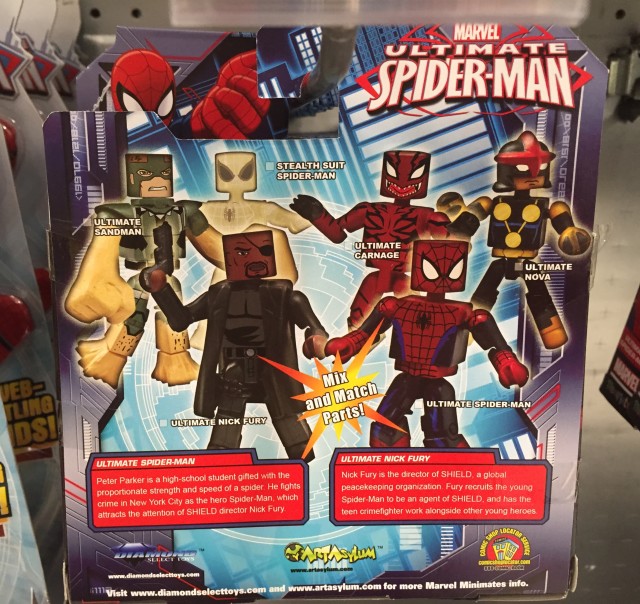 Like most recent Marvel Minimates Toys R Us figures, this wave is made up of three different two-packs:
Minimates Ultimate Spider-Man & Ultimate Nick Fury
Minimates Ultimate Carnage & Ultimate Nova
Minimates Stealth Suit Spider-Man & Ultimate Sandman
Other than Spider-Man himself, none of these 2″ figures are in the Walgreens series, so this wave complements the Walgreens exclusive series smashingly.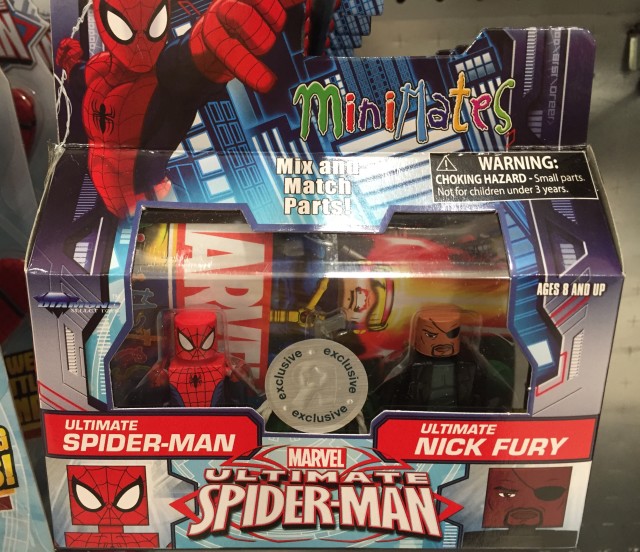 Overall, I'm pretty pleased with this new Ultimate Spider-Man figures series. While we've gotten a decent number of Spidey and Nick Fury figures in the last year or so, we can
always
use more Carnage and Nova figures.
Meanwhile, the Sandman Minimate is something totally different as it's the first figure of Sandman I've seen in his old non-striped-sweater costume inspired by the comics. Even the Stealth Suit Spider-Man figure feels fresh–we need more translucent Spider-Man figures!
The price sticker at my local TRU store reads "Wave 19", but that's actually a different set of figures. However, these two-packs still ring up at the standard price of $7.49 in-store. There were several of all three two-packs in-stock and on the shelf at the store, so none of these Ultimate Spider-Man Minimates packs seem to be shortpacked (thankfully).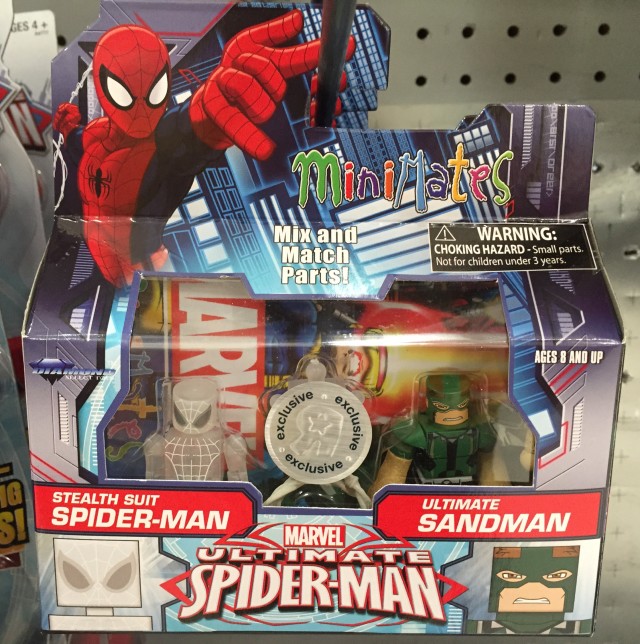 I didn't have any burning need for yet another Spider-Man or Nick Fury Minimate action figure, but I did decide to scoop up the other two sets for the cool Carnage, clear Stealth Suit Spidey and animated Nova figures. I strongly suspect that the Nova/Carnage set will be the first pack to sell out, so if you can only afford one, that's my recommendation to prioritize.
As I don't even recall this series itself being announced officially, I have no idea when or if there's a second wave of these Minimates Ultimate Spider-Man figures on the way. It sure would be neat to get animated White Tiger, Iron Fist and Power Man Minimates though, wouldn't it…? I'll post an update here and to the Marvel Toy News Facebook Page when I hear anything about the future of this TRU exclusive series.
What do you think of this unexpected new series of Minimates Marvel figures? Are you excited to see another line of animated Minimates, or are you sticking to the comic and movie-based Minimate figures?