Yesterday I kicked off my series of reviews of the Marvel Legends Avengers Wave 1 figures with my Marvel Legends Machine Man review, but I thought I'd shake things up a bit today by jumping straight to the Build-A-Figure… or rather, Build-A-Figures! The identity of the Allfather varies depending upon the time period in the Marvel Universe you're reading about, but now you can pick from two for your display: it's the Marvel Legends Odin Review (and King Thor Review)!
The Right:
Odin has never been anywhere near the top of my Marvel Legends figure wish list, but he is a longtime classic and prominent character in the Marvel Universe. So while I'm not jumping for joy over his selection as the first Marvel Legends 2015 Build-A-Figure, I'm not disgusted by the choice either.
Of course, for those like me who aren't in love with Odin, Hasbro has given us another choice for this wave in the form of the Marvel Legends King Thor Build-A-Figure!
Now, neither of these characters will appeal to some folks, but I adore it when Hasbro gives us "two-for-the-price-of-one" Build-A-Figures like this one (and previously the Red Skull/Arnim Zola). So thanks for giving us a little something extra, Hasbro! (Although I imagine the fact that they can sell us extra figures may have more to do with it than generosity…).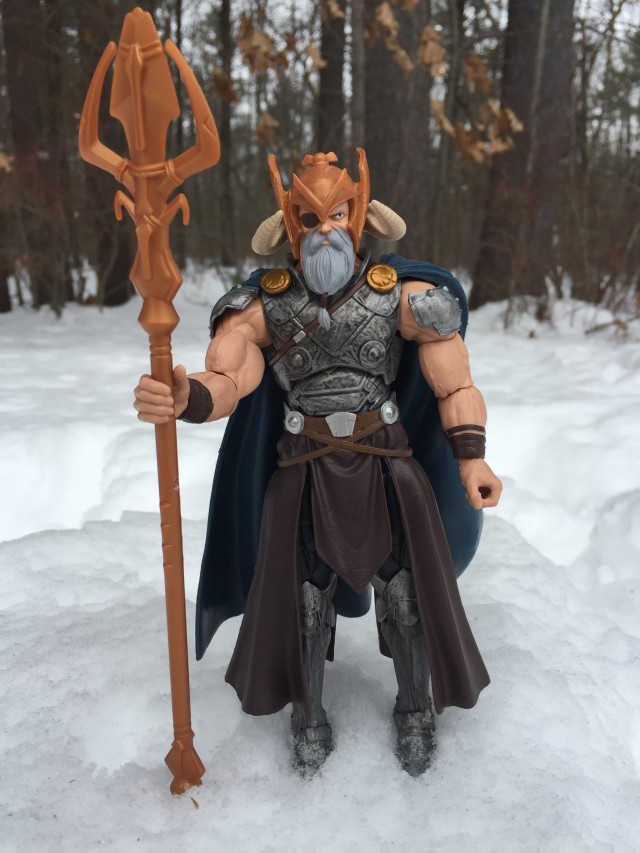 By buying all seven figures in this series, you get all of the parts necessary to build King Thor or Odin–not both. You'll need to buy an extra Hawkeye, Thor and Iron Fist if you want to have both Marvel Legends Odin and Thor at once. In Hawkeye's case, that won't be a problem, as the Marvel Legends 2015 Hawkeye figure is the only figure packed at two-per-case. Thor and Iron Fist, however, may be a bit tricker with this one-per-case ratios.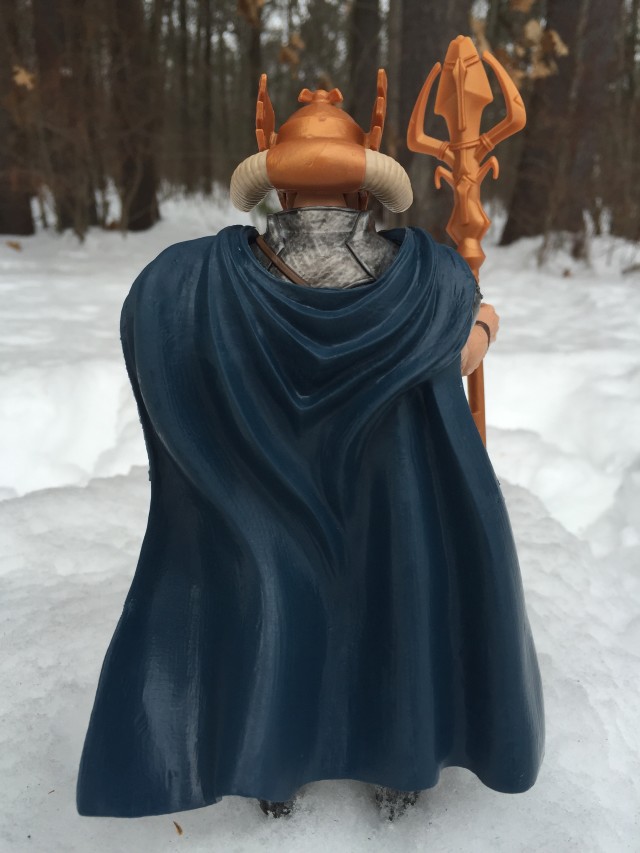 Although I'm not a fanboy for either of these characters, I will say that both these figures are solid and generally well-done. I have my qualms about both (which I'll get to in a minute), but for the most part I'm satisfied with these.
I've heard a lot of complaining lately that we don't get gigantic Build-A-Figures like the Marvel Legends Fin Fang Foom and Sentinel anymore, but those days are long gone. I'm satisfied with getting a bonus figure with a lot of unique tooling that we otherwise wouldn't get these days–especially when the figures are as impressive as Odin and King Thor, rather than itty-bitty little figures like Hit-Monkey.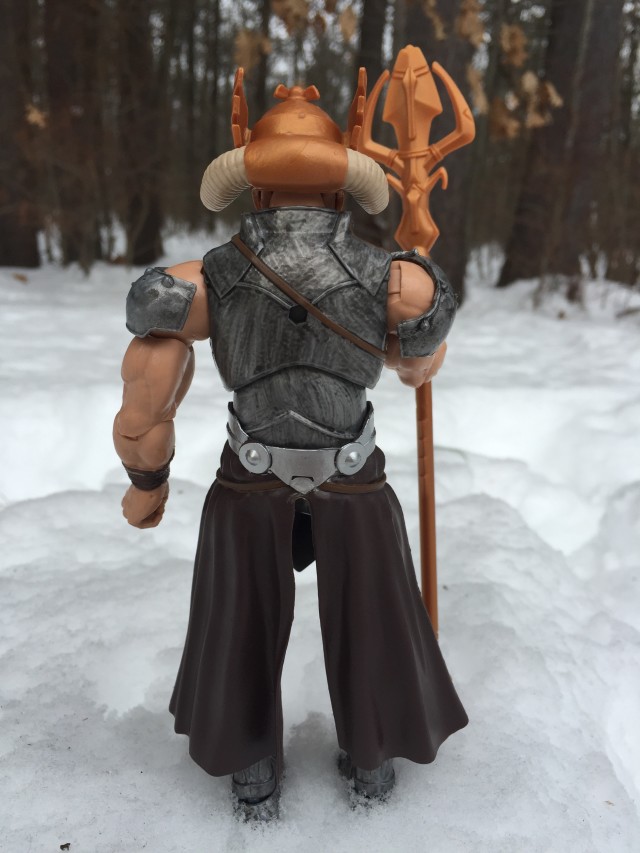 Hasbro probably could have cheaped out and just given us a King Thor head and called it a day, but they went the extra mile to make both figures feel authentic. The Odin and King Thor BAFs have totally different heads, capes, left arms and weapons. Odin has his huge and trusty battle staff, whereas King Thor has his recognizable enchanted axe, Jarnbjorn.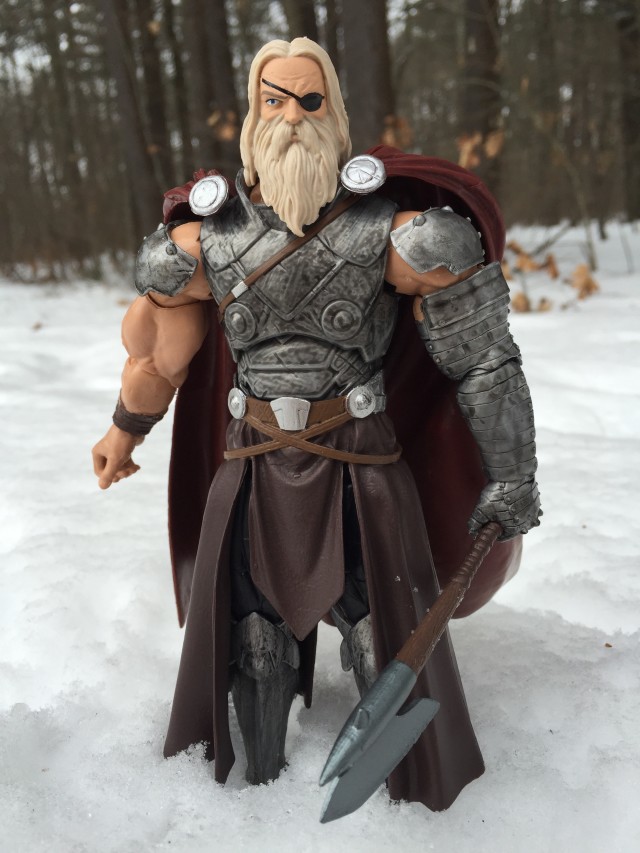 The joints on these Marvel Legends figures are really tight, so I don't have any issues getting Odin and King Thor to hold the poses I put them into (although the articulation limits what those poses can be).
Sculpting-wise, these are easily the most impressively detailed figures in the 2015 Marvel Legends line this far. From the layered body armor to the horns on Odin's helmet and the dynamically flowing capes, these are very finely-sculpted figures, making them worthy of the extra tooling dollars Hasbro spent on King Thor and Odin (which is also likely why these characters necessitated the Build-A-Figure treatment).
And while I have some issues with the paint deco on these figures, some of the paintwork is all-out fantastic. The paint weathering on the armor in particular is excellent–it's so good that I honestly thought that there was more sculpting detail on the armor than there actually is!
The Wrong:
As you'd expect from any modern Marvel Legends action figure, the Odin and King Thor Build-A-Figure is chock full of articulation. Unfortunately, Odin and King Thor end up having much more restricted articulation than most.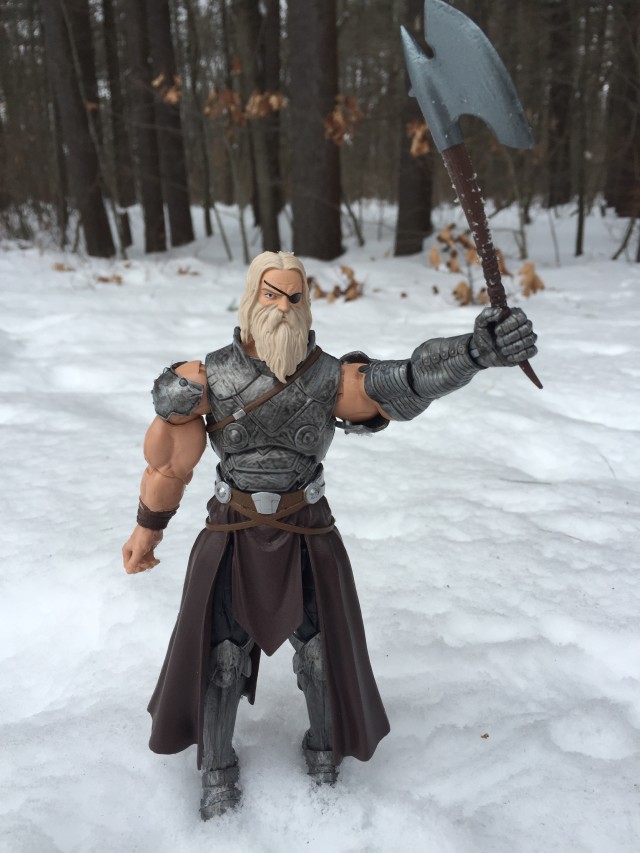 The ball-hinge elbows on the figures (particularly King Thor's metal arm) have a much smaller range of motion than we're used to, and the ball-jointed heads can't look around or up and down very much at all.
In addition, King Thor/Odin's foot armor restricts the hinge ankles, and he has no thigh or calf articulation T all, which can get in the way of standing the King Thor or Odin Build-A-Figure up stably.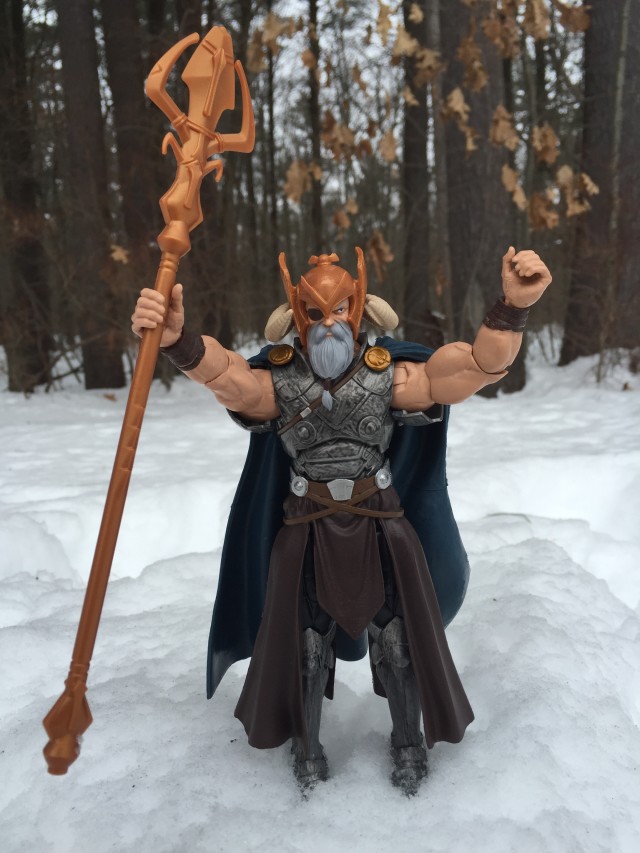 Aside from the articulation, there are some other aspects of these figures that bother me. First off, the color for Odin's staff and helmet looks really cheap and toy-like. If painting details onto Odin's staff and helmet was to expensive, it would have at least been nice if they were painted in a shiny, brass-like paint instead of a flat orange-brown color.
And while the Marvel Legends King Thor figure is free from those problems of his father, his red cape won't snap stably into place and pops out easily and frequently. It's not a deal breaker, but it really is quite annoying.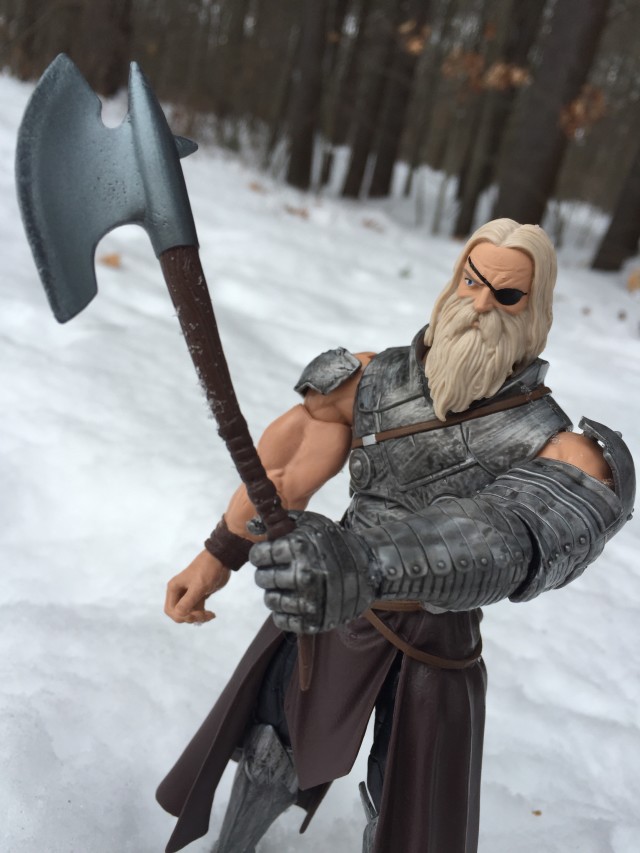 Overall: I have mixed feelings about the Marvel Legends King Thor/Marvel Legends Odin figures. The sculpting on the figures is top-notch and I appreciate the new tooling, but the restricted articulation leaves a lot to be desired. I'm also displeased with the lack of paint deco on Odin's staff, how easily King Thor's cape pops off and how plastic-y looking Odin's helmet is. Overall, Marvel Legends Odin and King Thor are very good–but not great–Build-A-Figures. If you love either of these characters, you should be reasonably happy with what Hasbro's made for us.
GRADE: B