Despite the fact that he's had three ongoing series and a huge number of guest star appearances in various comic books over the years, Machine Man has never really caught on as a "top-tier" Marvel character. In fact, as far as merchandise goes, there weren't many Machine Man toys out there at all, with the most prominent being a cool Bowen Designs Machine Man mini-bust. But that all changed this year, when Hasbro finally gave Machine Man his due. And even though my case still hasn't arrived, I ordered an extra Marvel Legends Machine Man from Amazon to review early…
The Right:
When I went onto social media and asked who readers wanted me to review first from this 2015 Marvel Legends Avengers Wave 1 series, I was expecting an overwhelming victory for Scarlet Witch or Carol Danvers. Instead, the landslide winner turned out to be Machine Man. Color me surprised!
But in retrospect, the popularity for this Marvel Legends Machine Man action figure makes a lot of sense. This is the first time Machine Man has ever had any kind of major figure release, which is something that none of the other figures in Avengers Marvel Legends Wave 1 can say. Hasbro is giving collectors a classic, never-before-done character in a collector-oriented line, and collectors are responding positively to it. So as far as character selection goes, this figure is a definite "right".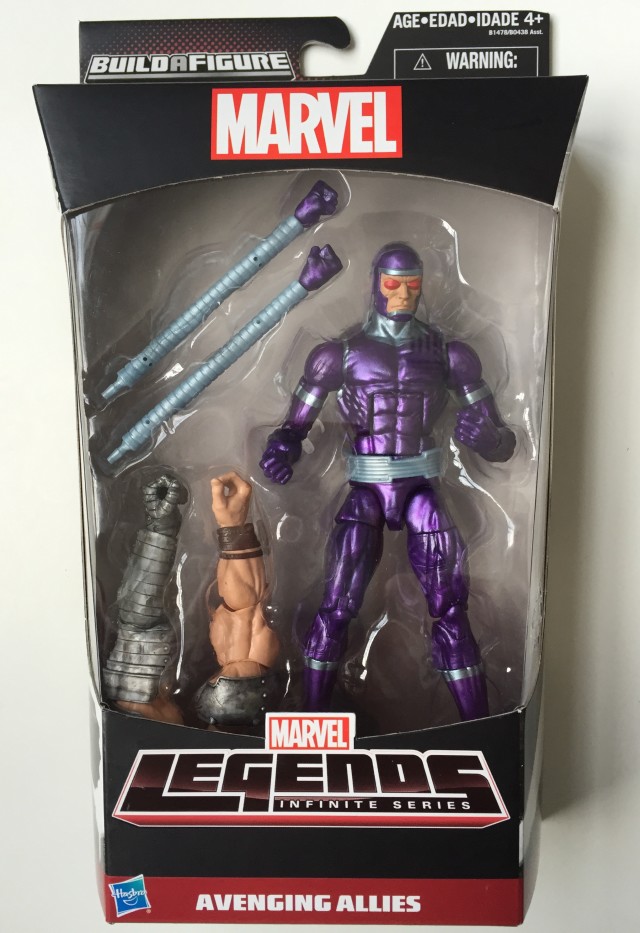 Oftentimes I use a thought like that to segue into a discussion about what's wrong with a figure anyway–but not this time. The Marvel Legends Avengers Machine Man figure is actually pretty great all-around. Even the packaging for this year's Marvel Legends Avengers Infinite Series figures shows improvement, with cool illustrations on the side of the boxes for each character.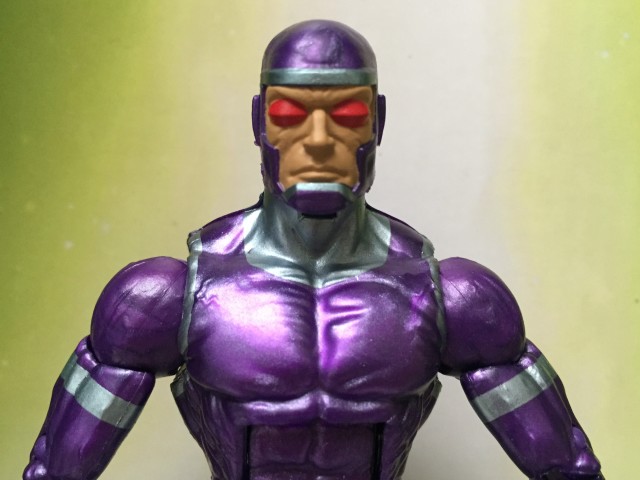 The Hasbro Machine Man Marvel Legends figure does utilize a lot of existing parts–as we have become accustomed to in the Marvel Legends 6″ line–but he gets the necessary new tooling as well. The head sculpt is 100% new (as it needed to be), and is an excellent representation of X-51's iconic neutral expression.
In addition to the new head, Machine Man gets a new belt piece that looks accurate and fits reasonably well over his waist. It can be nudged out of position and is a bit looser than I'd like, but it's tight enough to be nowhere the pain that belts for characters like Jean Grey and Drax the Destroyer have been in the past.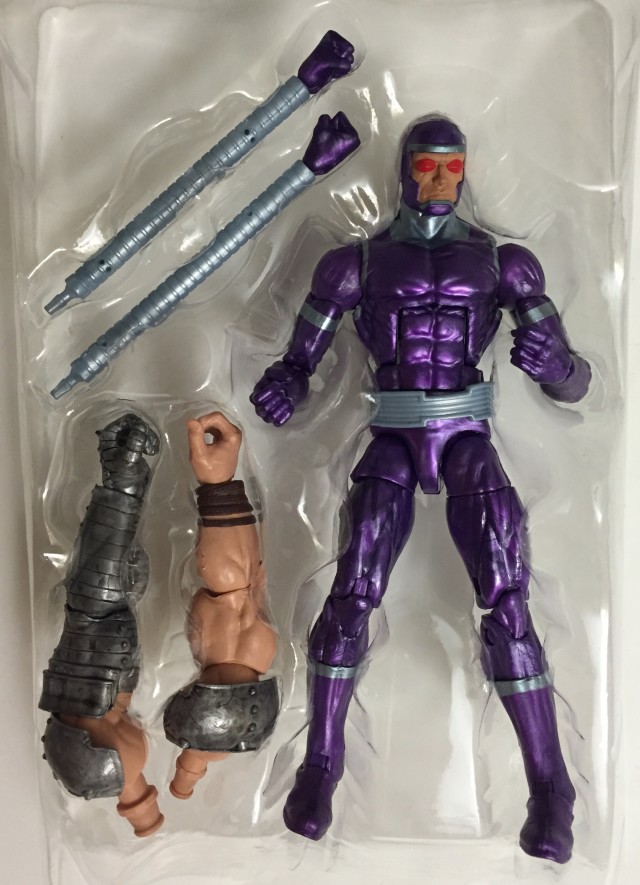 Besides his Marvel Legends King Thor Build-A-Figure pieces (Machine Man includes both of the arms for the King Thor BAF), Aaron Stack comes with two all-new accessories: extended Machine Man arms! Machine Man's most well-known ability is that he can extend his arms and legs up to 100 feet, and it brings a huge smile to my face being able to swap out his regular hands for these 3″ extended ones.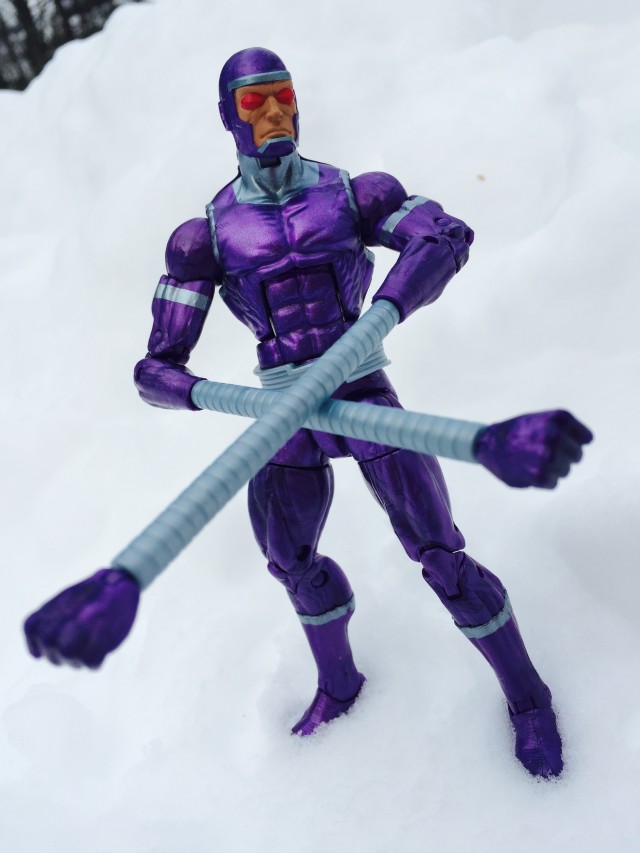 I had actually already written a paragraph for "The Wrong" discussing how the only other accessories I would have liked with this Marvel Legends Avengers Machine Man figure were one more pair of regular hands with closed fists. His default hands are open for grasping, but I wanted X-51 to be able to take on some fighting poses without having to have his (way-cool) extended hands swapped on.
And then I played with Machine Man a tad more and realized that the hands on the extended bits are removable and can be swapped out and put onto Aaron. Genius, Hasbro!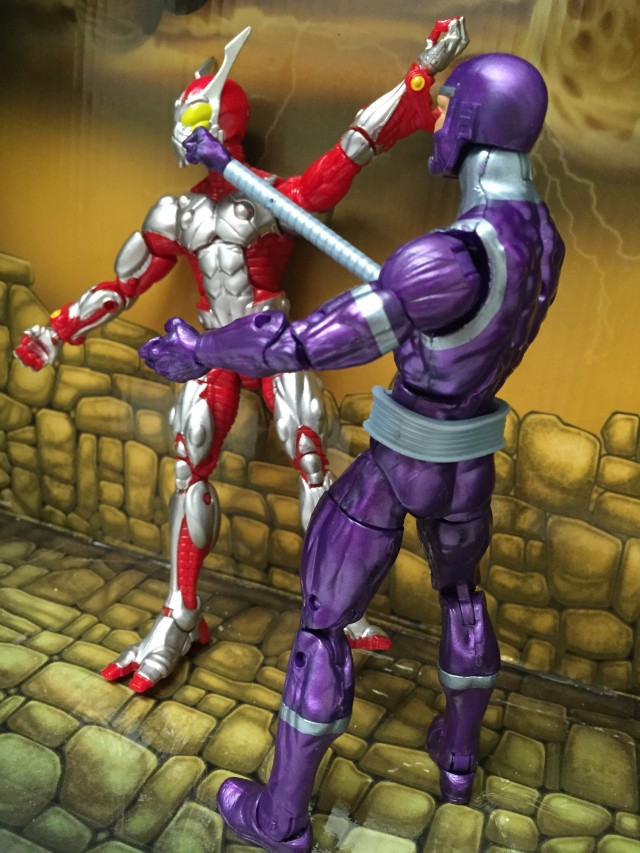 Despite the hands being mere reprints, Hasbro still had to create unique tools for the extended arms themselves–which they did. That's pretty generous, considering that this tooling is basically going to be totally useless for any other figure that Hasbro ever makes. Thanks, Hasbro!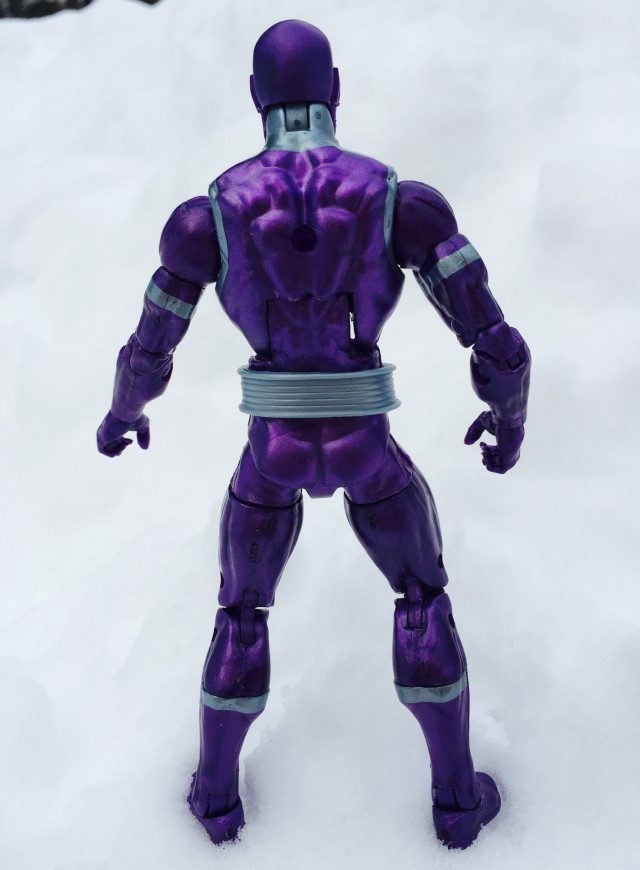 Bad paint can ruin a great figure, but good paint can enhance it all the more. Thankfully, Machine Man is the latter. Hasbro picked out a shiny purple paint with a metallic feel to it, and it really makes Machine Man pop out as a robotic entity and not just a guy wearing an ugly purple costume.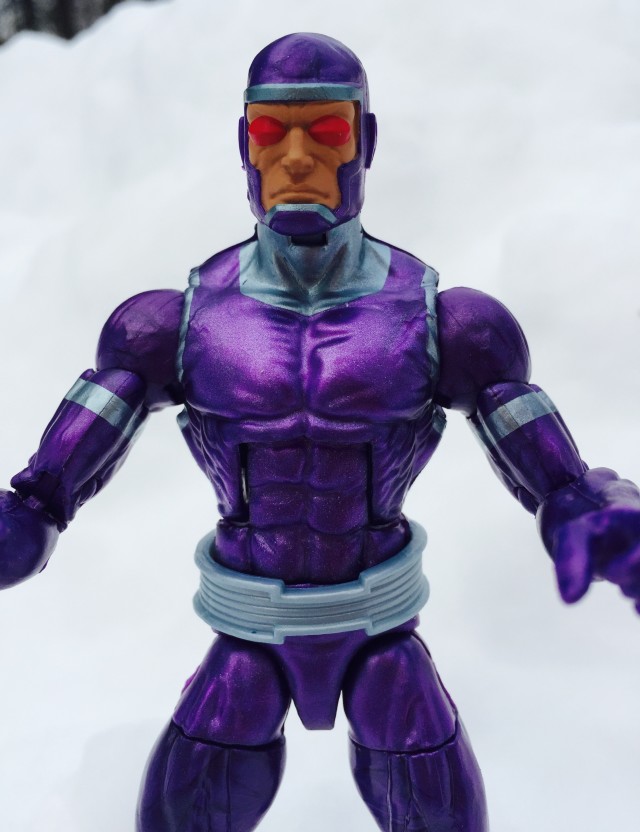 The paint applications on Machine Man are almost entirely neat and clean, including X-51's eyes and face deco and his alternate arms. I've complaint about the quality control on many Hasbro figures over the past year, but the Machine Man Marvel Legends figure has solid paint all-around.
And as far as articulation goes, Machine Man has essentially every point of articulation I care about, including: ball-hinge neck, upper torso ab crunch, double-jointed elbows and knees, swivel wrists, swivel waist, ball-hinge shoulders, ball-jointed hips, swivel biceps, thighs and calves, and even hinge ankles with ankle rockers. If this isn't enough articulation for you to get Machine Man into a pose you like, then you are really hard to please.
The Wrong:
Bigger Machine Man fans than I may come up with some major gripes about this figure, but I have very few. I wish his belt was glued into place properly so I didn't have to worry about it getting knocked out of place when trying to pose Aaron, but that's a qualm I can live with. Otherwise, I've really got nothing to complain about.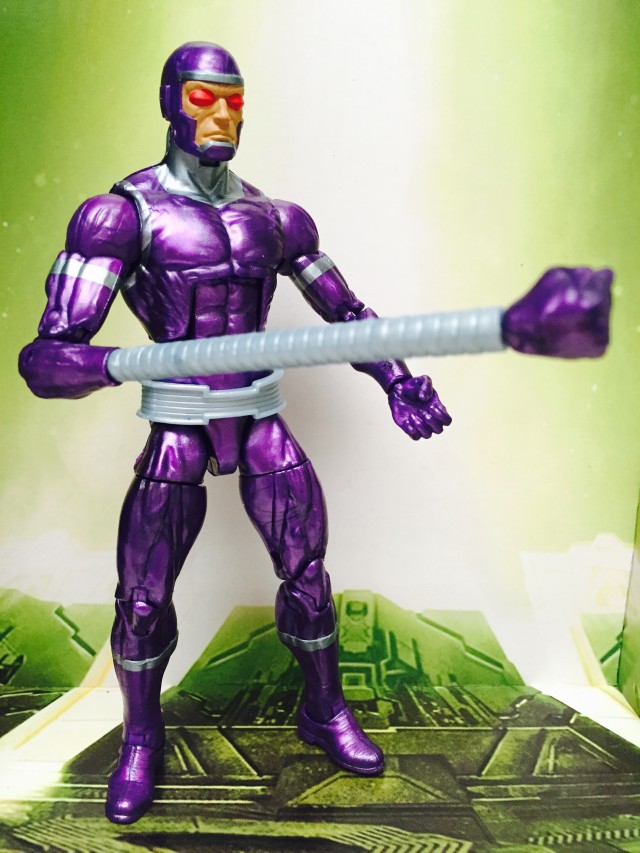 Overall: First-ever major figure release of a classic character? Check. Newly-tooled and appropriate accessories? Check. Great head sculpt? Check. Awesome shiny paint that's been skillfully applied? Check. Yep–this Avengers Marvel Legends Machine Man figure is an excellent figure all-around, just as I thought. The extra interchangeable hands that can be swapped on and off the extended arms put him over the top and into 'A+' territory.
Machine Man is an outstanding figure that's highly recommended. If you've ever liked Machine Man, it's definitely worth ordering the Machine Man Marvel Legends figure online or hunting him down at a local store.
GRADE: A