It used to be that you could count on some dead characters in the Marvel Universe staying dead–namely: Bucky, Uncle Ben and Gwen Stacy. But evidently nothing is holy anymore when it comes to dead folks, because iterations of all those characters are alive and active in current Marvel storylines. But of that triumvirate, one of them is far hotter than the others, and now she's getting her first superhero statue: the Kotobukiya Spider-Gwen Bishoujo is coming in 2016!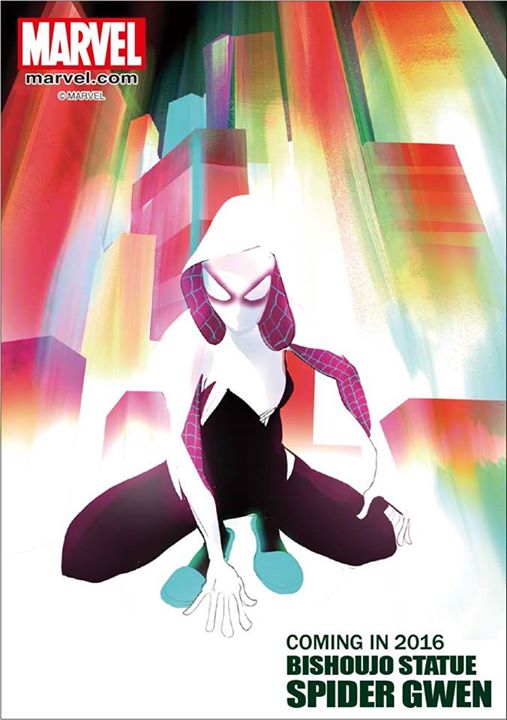 With Kotobukiya having already released Marvel Bishoujo statue for every classic A-List (and even B-List) Marvel female from Invisible Woman to Elektra to Jubilee and X-23, I was beginning to think that the well was running dry on recognizable women for Kotobukiya to represent with sometimes-skanky statues.
But Marvel has introduced another best-selling female character in the past year, and she's now ready for the fastest turnaround time to Bishoujo statue yet: Spider-Gwen!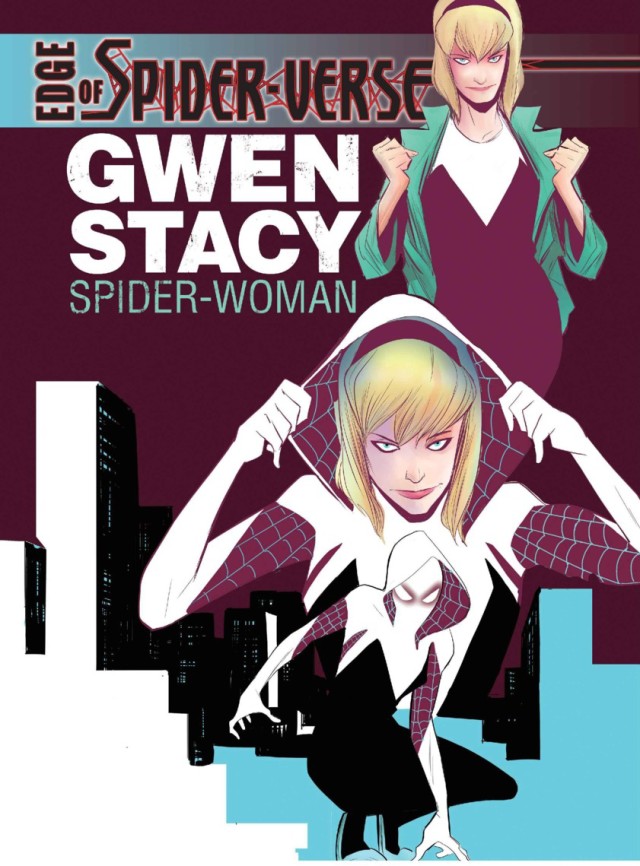 The spider-powered Gwen Stacy of an alternate universe first appeared last year in the build to the (awesome) "Spider-Verse" event, and has quickly become the star of her own popular series. Hasbro drew first blood by revealing the first-ever Spider-Gwen figure as part of the next series of Spider-Man Marvel Legends figures at SDCC 2015, but on the statue front, Kotobukiya also came to the show ready to stake their claim to first dibs on super-powered Gwen Stacy!
We got our first reveal teaser of the Kotobukiya Bishoujo Spider-Gwen statue in the San Diego Comic-Con 2015 catalog at the start of the show, and then Kotobukiya officially announced Gwen during their panel at SDCC 2015.
The artwork Kotobukiya showed of Spider-Gwen was just the cover from this year's Spider-Gwen #1 comic book. It's possible this crouching pose will be the actual pose chosen for the piece, but I suspect it's just placeholder art at this point and the final statue will be more dynamic.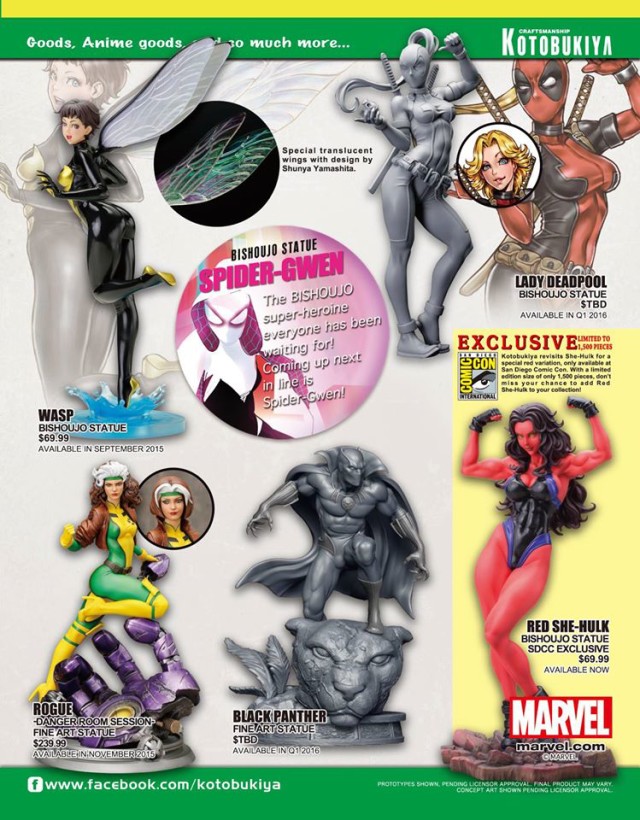 As of now, no additional details at all are available about the Bishoujo Spider-Gwen Kotobukiya statue, but hopefully we'll see an unpainted prototype of Gwen at New York Comic-Con 2015 in just a few months. I suspect Spider-Gwen will carry the usual $64.99-$69.99 price-point for this line, since she isn't an especially large or visually-complicated character. I'll post an update here and to the Marvel Toy News Facebook Page once we get our first look at the actual Spider-Gwen statue.
Are you happy to see the Spider-Gwen Bishoujo announced, Marvel fans? Or would you have preferred a different and more classic character entered the line next instead ofthis modern alternate universe Gwen Stacy?